Berkshire Cycle Routes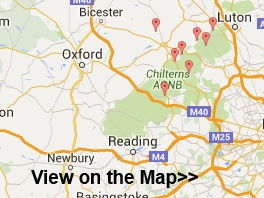 Berkshire is a fine choice for cyclists that enjoy beautiful scenery and cycling near water. The main highlights of the county are the waterbased rides along the Kennet and Avon Canal towpath and the River Thames.

There is also some beautiful countryside and the famous town of Windsor with its iconic castle and Great Park.
Please use the links below to view full route information including descriptions, elevation profiles, interactive maps and GPS downloads.
You can also view an overview map of all the routes in the using the Berkshire Cycle Map
There are several National Cycle Network signed routes in the county many of which have been mapped and can be viewed and downloaded below.
For more information on NCN routes in the county (including free cycle maps) please click here

For more information on cycle routes in Berkshire including tips, advice and free cycle maps please click here
Route Name
Photo
Distance
Description
Andover to Newbury
21 miles (34 km)
Follow National Cycle routes 246 and 4 from Hampshire into Berkshire on this attractive route.
You start off at Andover railway station and head north along country lanes through Hurstbourne Tarrant, Faccombe and Kintbury where you join the Kennet and Avon Canal for the final pleasant waterside stretch to Newbury.
There's some beautiful countryside to enjoy as well as a peaceful section through Faccombe wood and a short run through Inkpen common.
The route is easily accessible with train stations at either end. View Full Details>>
Basingstoke to Reading
24 miles (38 km)
This route takes you along National Cycle route 23 from Hampshire into Berkshire. The route starts in the war memorial park in Basingstoke heading north east through Little Basing. You'll then head into the countryside mainly on quiet roads with some short off road sections. A short stretch along the Kennet & Avon Canal takes you into Reading, finishing near the tourist information centre. View Full Details>>
Bisham Woods
2 miles (3 km)
These woods near Marlow have some nice walking trails to try. Bisham Woods actually consists of several woods including Quarry Wood, Fultness Wood and Inkydown Wood. The area covers nearly 400 acres and are considered 'the richest ancient woods in Berkshire'. There's lots to see with bluebells, beechwoods, ponds, woodland orchids and some climbs with great views over the Chilterns and Marlow. Other features in the wood include an ice house constructed in the 1760's and Bisham Quarry which provided the stone for Windsor Castle.
The circular walking route below takes you along various trails in the central and southern section of the woods but there are also bridleways running through Quarry Woods which are suitable for cyclists. Please stick to the marked bridleways if you are on your bike.
Bisham Woods are thought to have been the original 'Wild Wood' in Kenneth Grahame's 'Wind in the Willows', which he wrote in the nearby village of Cookham Dean.
The woods are located very close to the River Thames so it's easy to extend your walk. You could pick up the Thames Path and head east to Cliveden House. Here you'll find a fine Italianate mansion with lots of parkland and gardens to explore. View Full Details>>
Bradford-on-Avon to Hungerford
50 miles (80 km)
Follow National Cycle route 4 from Bradford-on-Avon to Hungerford via Chippenham and Avebury on this route through the countryside.
Highlights include a stretch through Avebury site of the ancient stone circles and the pretty village of Calne (below). Also look out for the famous Cherhill White Horse also pictured below.
This is an attractive route with lovely views of the Wiltshire countryside and several off road sections. View Full Details>>
Bucklebury Common
3 miles (5 km)
This large area of common land in Berkshire covers 350 hectares (860 acres). It consists of heathland and broadleaved woodland of oak, ash and beech. There are miles of public footpaths and bridleways suitable for cycling. Other features include 12 ponds, several greens and a variety of flora and fauna.
The common is located just to the north of Thatcham so if you would like to continue your walking in the area you could head to the excellent Thatcham Discovery Centre. You could also head north to the village of Bucklebury and then continue to Stanford Dingley by picking up the riverside footpath along the River Pang. View Full Details>>
Dorney Lake
4 miles (6 km)
This purpose-built rowing lake in Buckinghamshire has a traffic free National Cycle Network trail running past it on one side and the Thames Path on the other. As such you can make a circular walking trail using these two trails or a linear ride from Eton Wick to Dorney Reach if you are on your bike. The lake was used as the rowing venue for the 2012 Olympics in London.
It's a lovely area with the riverside path and views across the lake to enjoy. There's also 450 acres of parkland including an Arboretum and Nature Conservation area. Look out for water loving birdlife including the grey heron.
You can park at the north western end of the lake just off Court Lane to start your walk. Alternatively you could catch the train to Windsor and then follow the Thames Path to the lake. It's about 1.5 mile walk passing Eton, Eton Wick and Dorney Common. A National Cycle Network Path also runs from the train station to the site.
If you would like to extend your exercise then you could visit the nearby Windsor Great Park. The park has miles of cycling and walking trails with woodland, parkland and lakes to enjoy. You could also continue along the Thames Path to Maidenhead which is only a couple of miles to the north.
The Jubilee River also runs past Dorney. This river has a great waterside cycling and walking trail running from Maidenhead to Eton.
You can virtually explore the cycle path on the northern side of the lake using the google street view link below. View Full Details>>
Jubilee River
6 miles (10 km)
Follow the Jubilee River path from Maidenhead to Eton on this waterside walk or cycle on the border of Berkshire and Buckinghamshire. It's a delightful, peaceful trail with the gentle river surrounded by attractive woodland and countryside. The river path follows National Cycle Route 61 for most of the way.
The route starts in Taplow and heads south past Taplow Lake. The 30 acre lake is popular with swimmers and wakeboarders.
You continue through Dorney, passing Dorney Common and the 15th century Tudor manor house of Dorney Court. The route then heads east passing the pretty village of Eton Wick before finishing in the fields just north of Eton and Windsor. Here you can pick up the Thames Path to extend your walk. The river also passes Dorney Lake where there is a nice surfaced cycling and walking trail with views across the Olympic lake. View Full Details>>
Marlborough to Reading
43 miles (70 km)
This lovely ride takes you along National Cycle route 4 from Marlborough in Wiltshire to Reading in Berkshire via Newbury & Hungerford.
Much of the ride is traffic free with a long attractive stretch along the Kennet and Avon Canal and a lovely run through Savernake Forest at the start. View Full Details>>
Reading to Maidenhead
17 miles (27 km)
This ride takes you along National Cycle route 4 from Berkshire into Surrey. The route starts on Caversham bride in Reading taking you along the Thames path for a short stretch before continuing to Wargrave on minor roads and paths. A short wooded section at Knowl Hill then follows before an on road section takes you into Maidenhead, finishing at the train station. View Full Details>>
Reading to Oxford
35 miles (56 km)
Travel along National Cycle route 5 from Reading in Berkshire and on through Oxfordshire to the famous university town.
Highlights include views of the Chiltern Hills and the River Thames, while pretty towns on the route include Wallingford and Abingdon where the river is particularly picturesque (below). View Full Details>>
Reading to Windsor
31 miles (50 km)
Travel along National Cycle route 4 from Reading to Windsor.
This attractive route follows the River Thames and passes through Sonning (below), Maidenhead and Cookham. You will also go through Eton - home of the famous school for boys - just before arriving at Windsor with its famous castle. View Full Details>>
The Ridgeway
43 miles (69 km)
This is the cycle friendly opening 43 miles of The Ridgeway - one of the UK's National Trails.
This section runs from Overton Hill, near Avebury in Wiltshire, to Streatley, in Berkshire, on the River Thames. The path passes through some lovely scenery including rolling downland and the woods and valleys of the Chilterns. Highlights on the route includes Wayland's Smithy - a Neolithic long barrow and chamber tomb, and the Uffington White Horse in the Berkshire Downs.
This ride is only really suitable for mountain bikes, taking place on an off road track from start to finish. View Full Details>>
Three Downs Link
102 miles (164 km)
This is a walking and cycling path following bridleways through Hampshire, Berkshire, Wiltshire and Oxfordshire. The trail runs from Exton, in Hampshire, to Dean Hill, near Hungerford. You will pass through open chalk downland, along rivers and canals and through some pretty villages.
The route passes through or near Basingstoke, New Arlesford, Malborough, Winchester, Newbury and Hungerford. It uses the South Downs Way National Trail for part of the route and also links with the Ridgeway National Trail. It is waymarked with a light blue arrow.
For cyclists a mountain bike is advisable as most of the route takes place on off road tracks. View Full Details>>
Windsor Great Park
8 miles (12.2 km)
A circular cycle or walk around the beautiful Windsor Great Park in Surrey. The park includes 5,000 acres of parkland, which includes a Deer Park, lakes, avenues, gardens, woodland and open grassland. National Cycle Network route 4 runs right through the park while the Three Castles Walk runs along the Long Walk Avenue where there are fabulous views of Windsor Castle. Cyclists please note that cycles are not permitted in the Long Walk.
If you'd like to continue your exercise you could head to Virginia Water Lake. This large man made lake is located in the southern end of the park. It has a delightful walking trail running around its perimeter. Also of interest are the beautiful Valley Gardens. Located next to the lake they consist of 250 acres of landscaped gardens and woodlands and a series of well defined walking trails.
You can also enjoy a walk along the Thames Path from Windsor to Dorney Lake. The lake has a nice surfaced cycling and walking trail to try.
The Jubilee River also runs past Dorney. The river has a great waterside cycling and walking trail running from Maidenhead to Eton.
Also of interest is our Windsor Circular Walk which will take you to Eton Wick and the famous Eton College. View Full Details>>
Windsor to Putney
34 miles (55 km)
This fabulous cycle ride follows National Cycle route 4 from Windsor to Putney along the River Thames.
Starting in Windsor travel past the famous castle and through the great park with its beautiful scenery.
Then follow the river Thames along National Cycle route 4 through Staines and then past the famous Hampton Court Palace (below). You then continue through Kingston upon Thames before passing through Richmond park with its resident deer and ending in Putney. View Full Details>>
Windsor to St Albans
31 miles (50 km)
This fairly flat route takes you along National Cycle route 6 from Windsor on the river Thames to the pretty Hertfordshire town of St Albans.
Sights on the route include the Jubilee River near Slough and the iconic Windsor Castle. There are several off road sections including lovely rides along the Grand Union Canal and the river Colne. The route finishes at St Albans with its beautiful cathedral. View Full Details>>
Your Submitted Routes
Panoramio: Photos are copyrighted by their owners