West Midlands Cycle Routes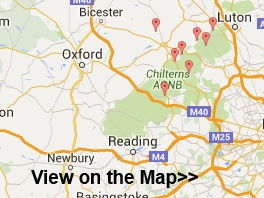 There is much to enjoy for the cyclist in the county with a large number of signed routes now in place in and around the Birmingham area.
Highlights include the Birmingham canal which has cycle sections and also the lovely Sandwell Valley Country Park with its lovely woodlands and meadows.
Please use the links below to view full route information including descriptions, elevation profiles, interactive maps and GPS downloads.
You can also view an overview map of all the routes in the using the West Midlands Cycle Map
There are several National Cycle Network signed routes in the county many of which have been mapped and can be viewed and downloaded below.
For more information on NCN routes in the county (including free cycle maps) please click here

For more information on cycle routes in West Midlands including tips, advice and free cycle maps please click here
Route Name
Photo
Distance
Description
Birmingham and Fazeley Canal
15 miles (24 km)
Enjoy a walk or cycle along the Birmingham and Fazeley Canal from the city centre of Birmingham to the town of Fazeley in Staffordshire. Along the way there's lots of pretty locks, old bridges, nature reserves and wildlife to look out for.
You start off at Old Turn Junction near the National Indoor Arena in Birmingham and head through Aston and Tyburn where you pass close to Pype Hayes Park. The large park has 100 acres to explore with a lake, ornamental gardens and woodland. It's just north of the canal at Tyburn and worth a short detour. Just next to the park there is the pretty Plantsbrook Nature Reserve which consists of open water, wetland, woodland and meadow.
You leave the city and head through Minworth and Cudworth before coming to the splendid Kingsbury Water Park. The 600 acre country park is a major highlight on the route. It consists of 15 lakes with miles of good cycling and walking trails to try.
The final section takes you from Kingsbury Water Park to the town of Fazeley near Tamworth. On the way you'll pass Middleton Lakes RSPB reserve with 400 acres to explore. It's a great place for wildlife watching with common pochard, tufted duck and smew to look out for.
At Fazeley you have the option of continuing along the canal towards Whittington and Lichfield. This section passes Hopwas Woods which is good for mountain biking.
National Cycle Network route 535 runs through Aston so this is the best section for those on a bike. View Full Details>>
Birmingham to Burton-Upon-Trent
43 miles (70 km)
On this ride you will follow National Cycle routes 5 and 54 through the West Midlands in to Staffordshire. You start near Birmingham New Street Station and head west along the Birmingham Canal. You then turn north towards West Bromwich passing through Sandwell Valley Country Park with its lovely woodlands and meadows. The route continues onto Walsall where a dismantled railway line takes you onto Pelsall, crossing the Wyrley and Essington Canal. You continue north on and off road passing through Chasewater Country Park with its attractive lake. The route then turns east along National Cycle route 54 towards Burntwood and Lichfield before heading north towards Burton-Upon-Trent on a mixture of country roads and off road paths. View Full Details>>
Birmingham to Lichfield
28 miles (45 km)
This route follows National Cycle routes 5 and 54 through the West Midlands in to Staffordshire. You start near Birmingham New Street Station and head west along the Birmingham Canal. You then turn north towards West Bromwich passing through Sandwell Valley Country Park with its lovely woodlands and meadows. The route continues onto Walsall where a dismantled railway line takes you onto Pelsall, crossing the Wyrley and Essington Canal. You continue north on and off road passing through Chasewater Country Park with its attractive lake. The route then turns east along National Cycle route 54 towards Burntwood finishing in Lichfield. View Full Details>>
Birmingham to Walsall
14 miles (22 km)
This route follows National Cycle route 81 from Birmingham to Walsall. The route starts by the railway station in Birmingham and heads west along the Birmingham Canal to Smethwick. You then turn north towards West Bromwich where a lovely off road section through Sandwell Valley Country Park follows. The ride continues to Walsall on road before finishing at the train station. View Full Details>>
Birmingham to Wolverhampton
16 miles (25 km)
This route follows National Cycle routes 5 and 81 through the West Midlands in to Staffordshire. You start near Birmingham New Street Station and head west along the Birmingham Canal along National Cycle route 5. You then join National Cycle route 81 at Smethwick, following the canal on to Coseley and Wolverhampton, finishing at the train station. View Full Details>>
Chasewater Country Park
4 miles (6 km)
Enjoy a lovely waterside walk or cycle around Chasewater in Burntwood, near Lichfield. The park is nearly 900 acres in size with over 200 acres of water. A cycling and walking path runs right around the perimeter of the large lake. There is also a miniature railway, bird hides and a visitor centre.
For those wishing to continue their exercise the Beacon Way walking route and National Cycle Network Route 5 link to the park. View Full Details>>
Coventry Canal
38 miles (61 km)
Enjoy waterside cycling and walking along the 38 mile long Coventry Canal towpath. Walkers can follow the whole of the route while cyclists can enjoy lovely sections through Coventry and from Marston Junction to Nuneaton.
The canal runs from the centre of Coventry to Fradley Juction, passing through Bedworth, Nuneaton, Atherstone, Polesworth and Tamworth.
Highlights along the canal include the vibrant Coventry Canal Basin with its shops, businesses and art gallery. You'll also pass the splendid Hartshill Country Park which has miles of footpaths and wonderful views over the Anker Valley. There's also some wonderful countryside to enjoy and a series of artworks by local artists on the Arts Trail from the Basin to Hawkesbury Junction. At the end of the route at Fradley Junction there is a nature reserve with excellent bird watching opportunities.
The canal links with the Ashby Canal just north of Bedworth and with the Trent and Mersyet Canal at the end of the route at Fradley Juction near Lichfield. Around here you can also pick up the Lichfield Canal through the city. View Full Details>>
Coventry to Leicester
42 miles (68 km)
Follow National Cycle routes 52 and 63 through the West Midlands, Warwickshire and into Leicestershire. The route starts on the Coventry Canal on the outskirts of Coventry and heads north along the canal and National Cycle route 52 to Bedworth. A short on road section then takes you through Bedworth before rejoining the tow path of the canal which takes you into Nuneaton in Warwickshire. A short stretch along the lovely off road Weddington Country Walk follows before an on road section by the Ashby-de-la-Zouch canal takes you onto Market Bosworth. You then turn east along National Cycle route 63 just after Shackerstone. A pleasant off road section then follows through Grange Wood before country roads take you onto Thornton, passing Bagworth Heath Woods and Thornton Reservoir. A mixture of off road paths and quiet roads takes you onto the finish point in Leicester on the Grand Union Canal. View Full Details>>
Coventry to Nuneaton
12 miles (20 km)
Follow National Cycle route 52 from the West Midlands into Warwickshire on this pleasant waterside route. The route starts on the Coventry Canal on the outskirts of Coventry and heads north along the canal to Bedworth. A short on road section then takes you through Bedworth before rejoining the tow path of the canal which takes you into Nuneaton. View Full Details>>
Harborne Walkway
2 miles (2.5 km)
Follow the Harborne Walkway along a disused railway line from Summerfield Park to Harborne on this easy walk or cycle in Birmingham. The path is well surfaced so it's an easy, safe cycle ride to try in the city centre. It's also a nice atmospheric stroll with shady woodland and the pretty Summerfield Park to explore at one end of the route.
Right next to the park you will find Edgbaston Reservoir. You can follow the surfaced track around the water to extend your walk. You are also very close to the Worcester and Birmingham Canal so you could pick this up and enjoy a waterside walk or cycle. View Full Details>>
Kingfisher Country Park
3 miles (5 km)
Enjoy walking and cycling along the River Cole in this pretty country park in South Birmingham. The area includes a number of nature reserves, Babbs Mill Lake and Shard End Lake. In the park you'll find grassland, wetland and woodland. The main attraction is the nice waterside cycling and walking path along the river. There's also lots of wildlife to look out for including herons, kingfishers, skylarks, water voles and mink.
The Solihull Way passes along the eastern end of the park so you could pick this up to continue your walk. You can follow it to Chelmsley Wood and Alcott Wood along the Kingshurst Brook. View Full Details>>
Malvern and Brueton Park
2 miles (3 km)
This lovely park in Solihull has nice footpaths and a cycle trail to follow. The 130 acre site includes a large lake, woodland, ornamental gardens and a local nature reserve which includes the delightful Brueton Tree Trail. Follow the trail and look out for several different tree species including English Oak, Giant Redwood, Maidenhair and Indian Bean Tree. There's also an excellent visitor centre with a wealth of information about the area.
There is a car park off Warwick Road where you can start your exercise. Solihull train station is less than a mile away so you could come by public transport too.The park also hosts a popular parkrun every Saturday morning at 9:00 am.
To contiinue your walk you could pick up the Solihull Way which passes the park's western side. If you head north you will soon come to the Grand Union Canal where you can enjoy a waterside stroll along the towpath. Head south along the trail and you will come to the Stratford Upon Avon Canal.
Also nearby is Tudor Grange Park which includes a lake, the Alder Brook stream, a cycle track and a pitch and putt course. View Full Details>>
New Hall Valley Country Park
2 miles (3 km)
This pretty country park in Sutton Coldfield has good cycling and walking trails to try. National Cycle Network route 534 runs through the park and there are other surfaced paths for walkers. There are waterside paths along the Plans Brook, wildflower meadows and woodland trails. It's great for wildlife with lots of different bird species and butterflies. Look out for Kingfishers, Grey Heron, Dippers and Reed Bunting around the brook. You may also see birds of prey such as Buzzards, Kestrel and Sparrow Hawks.
Other interesting features include the 18th century water mill and the 16th century Vesey Cottage.
If you would like to continue your exercise then you could head a mile south to Pype Hayes park. National Cycle Network route 534 runs from New Hall Valley to Pype Hayes along the brook. At Pype Hayes Park you will find more cycling and walking trails. Also nearby is Sutton Park with 200 acres of open heathland, woodlands, wetlands, marshes and lakes. View Full Details>>
Pype Hayes Park
2 miles (2.5 km)
Enjoy cycling and walking trails in this large park in Sutton Coldfield. National Cycle Network route 534 runs through the park along the Plans Brook and there are other cycle trails on the western side of the park. There's 100 acres to explore with a lake, ornamental gardens and woodland. It's a nice area for a safe, family cycle or an afternoon stroll.
To extend your outing you could head a mile north to New Hall Valley Country Park. You can follow National Cycle Network route 534 along the Plans Brook to get to New Valley where you will find more good cycling and walking trails and an 18th century water mill. Also nearby is Sutton Park with 200 acres of open heathland, woodlands, wetlands, marshes and lakes.
Just to the south of the park you can pick up the Birmingham and Fazeley Canal at Tyburn and enjoy a waterside cycle or walk. View Full Details>>
Redditch to Birmingham
26 miles (42 km)
This route follows National Cycle route 5 from Redditch in Worcestershire to the metropolis that is Birmingham. The route starts near the centre of Redditch and heads for Bromsgrove on quiet country roads crossing the Worcester and Birmingham Canal near Aston Fields. You then continue to the outskirts of Birmingham on road before an off road stretch starting at Birmingham Great Park.
Waterside runs along the River Rea and Birmingham canal take you through King's Norton and the lovely Cannon Hill Park on your way to the centre of Birmingham finishing near New Street station. View Full Details>>
Sandwell Valley Country Park
4 miles (7 km)
This super country park in West Bromwich is perfect for a short cycle or walk. In the park you will find a fully restored working Victorian farm with grazing meadows, walled kitchen gardens, Grade II listed buildings, a small museum and tea rooms. The park is also a RSPB nature reserve with several small lakes and bird hides.
For cyclists there is an excellent mountain bike trail and National Cycle Network route number 5 runs through the park. There are also several lovely walking trails taking you along the lakes and the River Thame to the nature centre. With 660 acres to explore there is plenty to keep you busy for the day but if you'd like to continue your walk the Beacon Way walking route runs through the park. View Full Details>>
Sheldon Country Park
5 miles (7.6 km)
A short walk or cycle through the pretty Sheldon Country Park in Birmingham. The park covers just over 300 acres and includes open grassland, wetlands and mature woodland. There is also a restored Rectory Farm with Jersey cattle, pigs, goats, ponies, ducks, chickens and geese.
A local cycle route runs through the park as does the Solihull Way walking route. The route outlined below also runs onto the nearby Elmdon Park and House which is worth seeing if you have time. The park is located next to Birmingham International Airport, near to the NEC. View Full Details>>
Stratford Upon Avon Canal
26 miles (42 km)
Enjoy waterside cycling and walking on this 26 mile canal which runs from Stratford Upon Avon to Birmingham. The whole route can be walked while cyclists can enjoy the sections from Stratford Upon Avon to Wilmcote at one end and through the outskirts of Birmingham at the other.
The route starts in the centre of Stratford Upon Avon and passes through a series of pretty villages before entering the outskirts of Birmingham and finishing in King's Norton. There's lots of pretty locks and some lovely Warwickshire countryside to enjoy. Around Solihull you'll pass close to Earlswood Lakes which is well worth a small detour. You'll also pass close to the lovely Baddesley Clinton. Here you will find a moated manor house surrounded by gardens and woodland. Also, around Kingswood the canal links up with the Grand Union Canal Walk so you can easily pick up another super canal trail. View Full Details>>
Sutton Park
4 miles (7 km)
This splendid park in Sutton Coldfield in Birmingham is the largest urban park in Europe and the largest outside a capital city. It covers 2,000 acres and includes numerous cycling and walking trails. A National Nature Reserve and a Site of Special Scientific Interest, Sutton Park is a mixture of open heathland, woodlands, wetlands, marshes and lakes. For walkers there are currently 5 self-guided routes around the site. Cyclists please note that National Cycle Route 534 travels through the park and is part of an extensive new route between Sutton Coldfield and Castle Vale.
There is an excellent visitor centre with gift shop, interpretive displays and maps. Sutton Park is located about six miles north of Birmingham City Centre.
If you would like to extend your outing then you could visit the nearby New Hall Valley Country Park and Pype Hayes Park where you will find more good cycling and walking trails. View Full Details>>
Walsall Canal
8 miles (13 km)
Enjoy a waterside walk or cycle along the Walsall Canal on this easy route in the West Midlands. The canal runs for about 8 miles through western Walsall with a nice towpath to follow along the water. It makes for a pleasant afternoon stroll or a nice flat ride suitable for beginners or families. Along the way you'll pass a series of pretty locks, interesting old mills and the Tame Valley Canal. Near the start of the route you pass close to Walsall Arboretum which is well worth a small detour.
The route starts at Birchills Junction just to the east of Reedswood Park. You can also pick up the canal from the train station or bus station. It's about 5-10 minute walk from both.
You follow the canal south through Birchills before turning west towards Darlaston. Here you pick up a section of the Monarch's Way heading to Moxley before finishing at Ryders Green Junction where you meet the Wednesbury Old Canal.
If you would like to extend your exercise you could pick up the Birmingham Canal and head west towards Dudley, passing the Sheepwash Nature Reserve. View Full Details>>
Wolverhampton to Telford
22 miles (35 km)
This route follows National Cycle route 81 through the West Midlands to Shropshire. The route starts in the centre of Wolverhampton and heads through the town and West Park to join the Staffordshire and Worcestershire canal towpath which takes you towards Bilbrook. Country roads then take you onto Codsall, Albrighton and Shifnall before a short off road section takes you past Priorlsee lake and then into Telford. View Full Details>>
Woodgate Valley Country Park
3 miles (4.5 km)
A short route around the delightful Woodgate Valley Country Park in Birmingham. The park contains 450 acres of rich meadows, woodland and small ponds with the Bourn brook running through the heart of the park. There is also an excellent visitor centre and an Urban Farm with a variety of animals to see.
To continue your walking in the area you could head a couple of miles to the west and visit the pretty Leasowes Park. Here you'll find more good footpaths taking you to 141 acres of woodland, grassland, streams, waterfalls and large ponds.
The Illey Way also starts from Woodgate. The path runs along an old railway line from Waseley Hills to Woodgate, passing through some nice countryside. View Full Details>>
Photos are copyrighted by their owners