Hertfordshire Cycle Routes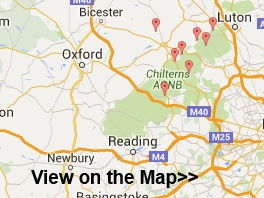 Hertfordshire has many cycling opportunites with highlights including Lee Valley Park and some lovely countryside.
There is also some interesting towns including St Albans and Welywn Garden City which are surrounded by cycle friendly scenic countryside.
Please use the links below to view full route information including descriptions, elevation profiles, interactive maps and GPS downloads.
You can also view an overview map of all the routes in the using the Hertfordshire Cycle Map
There are several National Cycle Network signed routes in the county many of which have been mapped and can be viewed and downloaded below.
For more information on NCN routes in the county (including free cycle maps) please click here

For more information on cycle routes in Hertfordshire including tips, advice and free cycle maps please click here
Route Name
Photo
Distance
Description
Alban Way
6 miles (9 km)
Follow the disused Hatfield to St Albans railway line on this route from St Albans to Hatfield. It is a shared cycle and walk path and makes for an easy and safe stroll or ride. View Full Details>>
Aldenham Country Park
3 miles (5.5 km)
Enjoy 100 acres of woodland and parkland adjacent to a 60 acre lake at this splendid park near Elstree/Borehamwood. The park also has a rare breeds farm, pony rides and nature walks. The lakeside trail also makes for a lovely, peaceful cycle ride. View Full Details>>
Ayot Greenway
5 miles (7.5 km)
Follow this disused railway line from Wheathampstead to Welwyn Garden City on this easy cycle or walk in Hertfordshire. It's a nice flat, traffic free path making it ideal for families or beginners looking for an easy cycle ride. Along the way there's good views of the River Lea and a woodland section through Sherrardspark Wood at the end of the route. The woods are also a nature reserve with lots of birdlife and butterflies to look out for.
If you're on foot you can extend your walk by picking up the Lea Valley Walk which runs alongside the greenway. If you're on a bike then you could head east to Hertford from Welwyn Garden City along the Cole Green Way. It's another similar rail trail along National Cycle Network Route 61. View Full Details>>
Barnet to Welwyn Garden City
14 miles (22 km)
Follow National Cycle Route 12 from the outskirts of London into Hertfordshire on this fairly easy route. The route starts by High Barnet tube station and follows minor roads and tracks to Hatfield and then onto Welwyn Garden City. Route highlights include a spell through Monken Hadley Common at the start and Hatfield House and Gardens which is an ideal spot to stop for some refreshments. There are also several off road sections to enjoy making this a leisurely ride. View Full Details>>
Bishop's Stortford to Braintree
22 miles (35 km)
This route follows National Cycle route 16 from Hertfordshire into Essex. You start in Bishop's Stortford with views of the River Stort and soon come to the Flitch Way - a decomissioned railway line dotted with Victorian railway stations which takes you through Hatfield Forest Country Park and the town of Great Dunmow to Braintree. It forms part of National Cycle route 16 so is well signed, largely flat and traffic free so ideal for families. View Full Details>>
Bishop's Stortford to Witham
32 miles (52 km)
The route starts in Bishop's Stortford and after a short spell along the Flitch Way you will follow a succession of minor roads to Witham through attractive countryside. View Full Details>>
Broxbourne Woods
9 miles (14.5 km)
Follow the Broxbourne Woods Nature Trail on this splendid walk in Hertfordshire. The site is Hertfordshire's only National Nature Reserve and includes Wormley Woods, Cowheath Wood and Hoddesdonpark Wood. You'll pass attractive Hornbeam coppice, tranquil ponds, pretty meadows and field edges as you make your way along the figure of eight trail. The woods have car parks on White Stubbs Lane where you can pick up the waymarked trails.
This 9 mile walk takes you around most of the site but there are shorter walks and mountain bike trails for cyclists too. In the heart of the forest there is a 1km sculpture trail with several beautifully carved wooden pieces. These include a life size Roman soldier and a magnificent stag.  Each sculpture illustrates something interesting about the forest, highlighting the historical importance of the woods and taking a close up look at the nature and wildlife that lives there.  The video below gives and example of what you can expect to see on the trail. For cyclists there are some fun single-track rides to enjoy too.
If you'd like to extend your walking in the area then there are several good options. You could head west and visit Northaw Great Wood. This country park has 300 acres of woodland to explore.
The Hertfordshire Chain Walk and the Hertfordshire Way also pass the site. The Hertfordshire Chain Walk actually passes through the western end of the woods. You could pick this up and head south towards Cuffley and Enfield where you will pass Whitewebbs Park. View Full Details>>
Cheshunt to Hertford
16 miles (25 km)
This route follows National Cycle route 1 passing through Hertfordshire and Essex. The ride starts by Cheshunt rail station by Cheshunt lake and begins with a spell through the lovely Lee Valley Park taking you onto Clayton Hill Country Park in Lower Nazeing. You then follow the towing path of the River Lee, first to St Margarets, and then onto the finish point in Hertford by the tourist information centre.
This is a nice easy ride taking place on off road paths and tracks and taking you past some lovely waterside scenery. View Full Details>>
Cole Green Way
5 miles (8 km)
Travel from Welwyn Garden City to Hertford along a disused railway line on this easy cycle or walk in Hertfordshire. The route follows National Cycle Network Route 61 on a flat, traffic free path. There's nice tree lined sections and views of the surrounding open countryside.
The route starts on the outskirts of Welwyn Garden City and runs through Letty Green before finishing at Hertford.
The route links with the Ayot Greenway at Welwyn Garden City. It's a similar rail trail which runs to Wheathampstead along National Cycle Route 57. The Alban Way also runs from nearby Hatfield to St Albans. Walkers can pick up the Lea Valley Walk and enjoy a riverside stroll. View Full Details>>
Colne Valley Trail
7 miles (11 km)
Follow the Colne Valley Trail from Uxbridge to Rickmansworth and enjoy riverside and canalside walking or cycling.
The trails follows the Grand Union Canal and the River Colne while also passing a series of pretty Lakes including Lynsters, Stocker's and Batchworth Lake. The trail finishes at Batchworth Lake by the car park in Rickmansworth. View Full Details>>
Ebury Way
3 miles (5 km)
This is an easy short cycle and walking route ideal for families. It runs along National Cycle route 61 and a dismantled railway line from Ricksmanworth to Watford and passes through a variety of habitats, including open moor, woodland, and wetlands. The trail crosses a number of waterways including the rivers Colne, Chess and Gade and the Grand Union Canal.
Please click here for a pdf guide from watford council View Full Details>>
Fairlands Valley Park
3 miles (5 km)
Enjoy a cycle or walk through this popular park in Stevenage. There are several pretty lakes with waterside cycling and walking paths to enjoy. View Full Details>>
Great North Way
30 miles (48 km)
This is a well signed, official cycle route running along National Cycle route 12 from Potters Bar to Letchworth. The route passes through Hatfield and Welwyn Garden City and includes several traffic free sections. Route highlights include the splendid Knebworth House and Hatfield House (see videos). Both have extensive parkland and gardens to explore and are well worth visiting if you have time. Also of interest are the Mill Green and Letchworth Heritage museums.
The route is easily accessible with train stations at either end. View Full Details>>
Greenwich to Cheshunt
21 miles (34 km)
Follow National Cycle route 1 on this pleasant ride or walk through north London into Hertfordshire. You start by the Thames at the Cutty Sark in Greenwich and crosses to the Isle of Dogs via the Greenwich tunnel. This section gives splendid views of the River Thames and Canary Wharf.
Shortly after leaving the Thames behind you will come onto the Lee Valley path which will take you along the Regent's canal and through Tower Hamlets and Victoria Park. You then join the River Lee near Lea Bridge for some more waterside riding. The off road path then takes you past various Reservoirs until you reach the lovely Lee Valley Park - London's largest open space. After going through the park you will soon pass close to Waltham Abbey before you arrive at the finish point at Cheshunt station next to Cheshunt lake. View Full Details>>
Heartwood Forest
3 miles (5 km)
This large forest near St Albans has some fine cycling and walking trails to try. The forest includes over half a million trees, ancient woodland, wildflower meadows and miles of waymarked walks. There's also bridleways suitable for mountain biking. It's great in the spring with carpets of bluebells and lots of wildlife to look out for. This includes barn owls, tawny owls, kestrels and 27 species of butterfly. There is also a community orchard with apple and pears trees plus an arboretum which, once fully grown, will be the only one known in the UK to contain all 57 of our native tree species.
There's three waymarked walks to try all of which are fairly easy and of similar lengths. These take place on a mixture of surfaced tracks and grassy paths.
You can park at the car park near the village of Sandridge to start your walk. The bridleways can also be picked up from the High Street in the village.
The area includes Langley Wood and Pudler's Wood with Nomansland Common just to the north. If you are on a bike please keep to the marked bridleways.
The forest is located near to a number of excellent cycling and walking trails. If you head north towards Wheathampstead you can pick up the Ayot Greenway. This rail trail will take you to Welwyn Garden City on a marked National Cycle Route. You can also pick up the Lea Valley Walk and enjoy a riverside stroll. View Full Details>>
Hertford to Harpenden
16 miles (26 km)
This route starts in Hertford by the tourist information centre and heads west to Welwyn Garden City along National Cycle route 61. This section is almost all off road following the Lee Valley Walk through some lovely countryside before passing through the attractive Welwyn Garden City. From there you will join National Cycle route 57 on the Ayot Greenway path which takes you along the River Lee to Harpenden finishing at the train station. View Full Details>>
Lee Valley
9 miles (14 km)
This short, pleasant traffic free ride takes you through Lee Valley Park and along the River Lee.
This is an easy ride through a scenic country park with designated cycle paths.
The nearest town to the route start point is Broxbourne just to the north. View Full Details>>
Nicky Line-Hemel-Hempstead to Harpenden
8 miles (13 km)
This short off road cycle or walking route runs along the Nicky Line - a disused railway track running from Hemel Hempstead to Harpenden.
This is a nice safe and easy route making it ideal for a family ride. View Full Details>>
Sherrardspark Wood
1 miles (1.5 km)
Enjoy a walk or cycle around these pleasant woods near Welwyn Garden City. There's lots of footpaths for walkers and bridleways for cyclists to try. The area is great for wildlife. Look out for nuthatches, treecreepers, woodpeckers, thrushes, robins, tits and wrens. You may also see Muntjac Deer and foxes.
The Ayot Greenway runs through the woods so you can extend your exercise on this great rail trail. View Full Details>>
St Albans to Harlow
28 miles (45 km)
Starting in St Albans follow National Cycle route 61 from St Albans to Harlow via Welywn Garden City and Hertford.
You start with a lovely off road section along the Smallford Trail taking you from St Albans to Hatfield. Highlights include some off road tracks and a pleasant stretch along the River Lea.
View Full Details>>
Stevenage to Baldock
9 miles (15 km)
This route starts in Stevenage near the train station and heads north along National Cycle route 12 and the Hertfordshire Way to Baldock via Graveley. Much of the route is off road making it a plesant, easy short route. View Full Details>>
Uxbridge to Watford
12 miles (20 km)
This ride takes you along a section of the London Loop that runs along the Grand Union Canal from Uxbridge to Watford.
The canal has some lovely sections at Denham and Harefield and there are also views of Stocker's and Batchworth Lakes near Rickmansworth.
This is a a nice easy ride in a pleasant area of Greater London and Hertfordshire. View Full Details>>
Welwyn Garden City to Letchworth
19 miles (30 km)
This route follows National Cycle route 12 through Hertfordshire. The route starts in Welwyn Garden City near the train station and heads out of the town through Sherrardspark Wood. You then continue on road to Stevenage passing Knebworth Country Park on the way. From there you will join the off road Hertfordshire Way path which will take you into Letchworth, finishing near the train station. View Full Details>>
Welwyn Garden City to St Margarets
12 miles (20 km)
This pleasant ride along National Cycle route 61 is mainly off road running along the Lee Valley Walk and cycle path from Welywn Garden City to Hertford. You then join the River Lee for a lovely easy stretch along the towing path which takes you on to Ware and then St Margarets, finishing by the train station. View Full Details>>
Windsor to St Albans
31 miles (50 km)
This fairly flat route takes you along National Cycle route 6 from Windsor on the river Thames to the pretty Hertfordshire town of St Albans.
Sights on the route include the Jubilee River near Slough and the iconic Windsor Castle. There are several off road sections including lovely rides along the Grand Union Canal and the river Colne. The route finishes at St Albans with its beautiful cathedral. View Full Details>>
Panoramio: Photos are copyrighted by their owners