Amersham Walks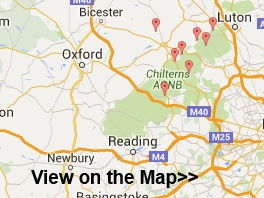 The Buckinghamshire town of Amersham has some lovely walking trails to follow through the Missenden Valley area of the Chilterns.
There's nice riverside trails to follow along the River Missenden and the River Chess which runs to the north of the town.
The long distance South Bucks Way also runs right through the area and is a great option for exploring the hills, villages and countryside surrounding the town.
Please use the links below to view full route information including descriptions, elevation profiles, interactive maps and GPS downloads.
You can also view an overview map of all the routes in the using the Amersham Walk Map
Route Name
Photo
Distance
Description
Amersham Circular Walk
9 miles (14 km)
This circular walk around the market town of Amersham visits the nearby village of Chalfont St Giles while exploring the attractive countryside of the Misbourne valley. There's riverside paths, woodland trails and a series of moderate hill climbs with splendid views of the Chilterns countryside.
The walk starts near the train station and passes through Parsonage Wood before heading east towards Little Chalfont. You then skirt the edge of Pollards Wood and continue into Chalfont St Giles. It's a pretty village with a duck pond fed by the River Misbourne. Other highlights include the church of Saint Giles which is of Norman architecture and dates from the 12th century. You can also visit the former home of John Milton, author of the epic poem 'Paradise Lost'. The house is now a open to the public as a museum and includes an extensive collection of 17th-century first editions of John Milton's works, both poetry and prose.
The village is roughly the half way point on the walk so a great place to stop for refreshments on one of the nice pubs or cafes.
After exploring the village the route then follows footpaths through the attractive farmland to the south of the river. You'll pass close to the pretty Hodgemoor Woods which is worth a short detour if you have time. The 250 acre bluebell wood has miles of good footpaths and mountain bike trails. The woods also have a healthy population of muntjac deer to look out for.
The South Bucks Way long distance trail runs through the area. You can use the waymarked path to go directly to Chalfont St Giles if you prefer a shorter walk. The path continues south through Chalfont St Peter before coming to the splendid Colne Valley.
Just to the north of the town you can pick up the Chess Valley Walk and enjoy a riverside stroll along the River Chess. View Full Details>>
Chess Valley Walk
10 miles (16 km)
Follow the River Chess through the Chess Valley on this delightful trail through Buckinghamshire and Hertfordshire.
You start at Chesham Station passing Latimer, Chenies and Loudwater before finishing at Rickmansworth Station. This is a nice easy waterside walk with plenty of attractive countryside and a series of quiet little villages to enjoy. It is also easily accessible with train stations at either end. Route highlights include the Grade I listed Chenie Manor House with its beautiful gardens and the splendid grounds of the Chorleywood House Estate near Loudwater.
Click here for more information on this walk.
The walk links with the long distance Chiltern Heritage Trail around Chenies so it's easy to extend your walk on this path. View Full Details>>
Chiltern Heritage Trail
51 miles (82 km)
Travel through the Chilterns Hills on this splendid circular walk and visit numerous delightful hamlets, villages and towns in Buckinghamshire. The walk begins at Chesham and passes Amersham, Chenies, Chorleywood, Chalfont St Peter, Chalfont St Giles and Great Missenden.
Highlights on the walk include the splendid Chenies Manor House and Gardens. Located in the village of Chenies the estate is highly recommended with its enchanting Tudor Manor House and award winning gardens.
Near Chalfont St Peter you will find the fascinating Chiltern Open Air Museum. The museum rescues and restores common English buildings from the Chilterns and relocates them to its 45-acre site, which includes woodland and parkland.
At Chalfont St Giles you will find John Milton's cottage where the famous poet completed Paradise Lost. Now a musuem it houses an extensive collection of his works and also includes a Grade II Registered Historic Garden.
Also of interest is the 13th century St Mary's Church and the award winning Amersham Musuem. As well as the sequence of interesting historical attractions there is some beautiful countryside and a long waterside stretch along the River Chess from Chesham to Chenies to enjoy. View Full Details>>
Chiltern Link
8 miles (13 km)
Travel through the beautiful Chiltern Hills on this path which links the Chess Valley Walk and the Ridgeway National Trail. The route runs for 8 miles between Wendover and Chesham passing through some really splendid countryside and the lovely Wendover Woods. View Full Details>>
Chipperfield Common
1 miles (1.5 km)
The 117 acre common in Chippefield has some waymarked woodland walking trails. Features on the common include eight veteran Spanish sweet chestnut trees, two early Bronze Age burial mounds and the Apostles Pond which is surrounded by willow trees.  After your walk you can enjoy a stroll around the pretty village of Chipperfield with its nice pubs, cricket pavilion, war memorial, village green and old churches.
To extend your walking in the area you could pick up the Grand Union Canal towards Hemel Hempstead or Watford. The Chess Valley Walk also passes to the south of Chipperfield, near Sarrat and Chenies. View Full Details>>
Colne Valley Trail
7 miles (11 km)
Follow the Colne Valley Trail from Uxbridge to Rickmansworth and enjoy riverside and canalside walking or cycling.
The trails follows the Grand Union Canal and the River Colne while also passing a series of pretty Lakes including Lynsters, Stocker's and Batchworth Lake. The trail finishes at Batchworth Lake by the car park in Rickmansworth. View Full Details>>
Hertfordshire Way
166 miles (267 km)
Explore some of the finest countryside and prettiest towns and villages in this fascinating county. The path is circular, visiting Ashridge Forest, St Albans, Hetford, Codicote, Tring, King's Langley, Cuffley and Bishop's Stortford. There's also some lovely scenery to enjoy with much of the walk taking place with the Chiltern Hills in the background. Places of interest include the beautiful Ashridge Estate near Berkhamsted (video below) and Shaw's Corner - the former residence of playwright Bernard Shaw located at Ayot St Lawrence, near Welwyn. The Friends of the Hertfordshire way have split the walk into the following manageable sections, each of about 12 miles in length:



| | |
| --- | --- |
| Royston to Wallington | 11.1 miles |
| Wallington to Willian (Letchworth) | 11.4 miles |
| Willian to Codicote | 11.8 miles |
| Codicote to St. Albans | 12.6 miles |
| St. Albans to Markyate | 11.0 miles |
| Markyate to Tring Station | 10.9 miles |
| Tring Station to Kings Langley | 15.0 miles |
| Kings Langley to Shenley | 12.8 miles |
| Shenley to Cuffley | 11.5 miles |
| Cuffley to Hertford | 12.6 miles |
| Hertford to Broxbourne | 12.0 miles |
| Broxbourne to Hertford | 12.5 miles |
| Hertford to Widford | 13.6 miles |
| Widford to Bishop's Stortford | 11.1 miles |
| Bishop's Stortford to Hare Street | 11.4 miles |
| Hare Street to Royston | 12.7 miles |


The walk is waymarked with a green sign featuring the head of a deer. View Full Details>>
Hodgemoor Woods
2 miles (3 km)
These woods near the town of Amersham have some good footpaths and mountain bike trails to try.
You can start off at the car park on Bottrells Lane at the northern edge of the site. From here you can pick up miles of footpaths and bridleways across the 250-acre woods.
It's a delightful area with lots of pretty bluebells in the spring and a healthy population of Muntjac Deer to look out for. Also keep your eyes peeled for tawny owls, buzzards, kites and numerous other woodland birds.
This basic circular route is designed for walkers but cyclists can also enjoy a series of permissive trails and a bike park with bumps and jumps. See the video below for an idea of what you can expect from the ride. Click here for a map showing the trails and visit the website below to get a permit for cycling in the woods.
Our Amersham Circular Walk skirts the northern edge of the woods. You can pick it up to extend your walk and explore the countryside surrounding Amersham and the nearby village of Chalfont St Giles. The long distance South Bucks Way also passes just to the north of the woods. It's a great way to explore the Misbourne valley area of the Chilterns and extend your exercise. View Full Details>>
Hughenden Park
2 miles (4 km)
The 1,500 acres of parkland surrounding the red brick Victorian mansion of Hughenden Manor is great for a short walk in lovely surroundings. There's woodland trails, pretty formal gardens and riverside paths to enjoy. The area is also surrounded by some beauitful Chilterns countryside.
The house and parkland is run by the National Trust so there are four good waymarked paths to try. There also beautiful formal gardens with an Italian influence, a walled garden, a willow maze and orchards.
Hughenden Manor was home to Prime Minister, Benjamin Disraeli during the 19th century. You can explore the house with its wonderful collection of personal memorabilia and Victorian playroom.
If you enjoy this walk then you could head to the nearby West Wycombe Park to extend your exercise. View Full Details>>
South Bucks Way
23 miles (37 km)
The South Bucks Way runs from Coombe Hill near Wendover to Denham near Uxbridge.
You begin at the top of Coombe Hill with splendid views of the surrounding countryside and descend towards Great Missenden where you will pass the Abbey and join the River Misbourne. The route then follows the river through Amersham and Chalfont St Peter before joining the River Colne for the final stretch into Denham, where you finish by the Grand Union Canal. View Full Details>>
Panoramio: Photos are copyrighted by their owners