Surrey Cycle Routes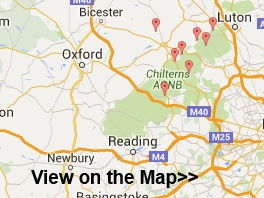 Surrey is another glorious Green Belt county with an abundance of fabulous scenery to enjoy.
The North Downs (Area of Outstanding Natural Beauty) offers the county's best scenery with its rolling chalk hills and splendid countryside.
There is also some lovely riverside riding along the Thames through Staines and Egham- please see the Windsor to Putney route below for more information.
Please use the links below to view full route information including descriptions, elevation profiles, interactive maps and GPS downloads.
You can also view an overview map of all the routes in the using the Surrey Cycle Map
There are several National Cycle Network signed routes in the county many of which have been mapped and can be viewed and downloaded below.
For more information on NCN routes in the county (including free cycle maps) please click here

For more information on cycle routes in Surrey including tips, advice and free cycle maps please click here
Route Name
Photo
Distance
Description
Ashtead Common National Nature Reserve
3 miles (5 km)
This 500 acre ancient wooded common is also a National Nature Reserve. There are miles of quiet cycling and walking paths taking you to woodland, scrub grassland, a meadow, ponds and streams. There are also two ancient Scheduled Monuments - a Roman villa and a triangular earthwork.
The route below begins and ends at the conveniently located Ashtead Railway Station at the southern end of the common. The adjacent Epsom Common is a great option if you would like to continue your outing. Horton Country Park is nearby while the Thames Down Link also runs past the site.
Banstead Heath
3 miles (5 km)
This large open space in Banstead has lots of walking trails to follow. There's also bridleways which are suitable for cyclists. Part of the Banstead Commons the heath covers 760 acres with miles of paths popular with dog walkers and cyclists. It's a very pretty area with meadow grasses, wildflowers, woodland and mixed heather. It's great for wildlife too with Linnet, Yellowhammers, Redpoll, Reed Bunting and a variety of butterflies to look out for.
The Epsom Downs circular walk skirts the heath so you could pick this up to extend your walk. Also nearby are Banstead Downs and Banstead Woods.
Blackheath Common
2 miles (4 km)
This large area of heathland and woodland near Albury is very popular with walkers and cyclists. There's 250 acres to explore on a myriad of footpaths and bridleways. The area consists of lowland heathland, woodland and acid grassland.
You can park at the Blackheath car park on Blackheath Lane to start your outing. Chilworth railway station is also just to the north of the common. This is another good start point if you are coming by public transport. The paths then take you across the common and through Blackheath Forest. There's some nice sandy paths and lots of pretty heather to look out for in the late summer.
It's easy to extend your walking in this lovely area. You can follow the Downs Link to St Martha's Hill. It's a couple of miles to the north of the common with the path passing Chilworth Manor on the way. From the  574 feet (175 m) hill summit there are great views over the North Downs.
Other footpaths head north east from the common taking you to Albury Park. The 150 acre estate includes parkland, woodland and pretty lakes.
Boxhill Country Park
19 miles (30 km)
This quiet circular route starts at Dorking Rail station and takes you on a tour of Ranmore Common and Boxhill Country Park.
This ride is easily accesible from London and is ideal for a pleasant afternoons cycling in the peace of some lovely woodland and countryside. The views are lovely but bear in mind there are a few climbs on this ride.
Chobham Common
3 miles (5.5 km)
Enjoy a circular walk or cycle around this large common in Surrey. The common covers hundreds of acres and has a series of good footpaths over grassland, lowland heath and woodland. The area is also crisscrossed with wide bridleways which are ideal for an off road cycle.
Chobham Common is the largest National Nature Reserve in the south east of England. As such there is a diverse range of flora and fauna. Look out for over 100 species of bird including the rare dartford warbler, the hobby and the nightjar. In the wetland areas look out for frogs, newts, adders, grass snakes, lizards, slow worms, foxes and possibly deer. Plants and flowers include purple heather, gorse and orchids. It's a really attractive area with lots of nice stony footpaths to follow. You could easily spend a few hours strolling around looking out for wildlife.
This circular walk starts at the car park on Staple Hill and follows various footpaths past Albury Bottom to Gracious Pond. You then follow woodland paths and bridleways back to the car park.
If you would like to continue your walk then you could head a few miles north to the lovely Virginia Water Lake.
Croydon to Redhill
22 miles (35 km)
Follow National Cycle Network route 21 from Croydon to Redhill passing through the attractive (but hilly!) North Downs. The ride heads through New Addington, Warlingham and Caterham passing through some lovely countryside. There are several off road sections to enjoy on this ride with pleasant stretches through Holt Wood near Warlingham and Mercers Country Park near Redhill.
Devil's Punch Bowl
5 miles (8 km)
This walk in the Surrey Hills AONB takes you through Hindhead Common, up Gibbet Hill and to the Devil's Punch Bowl - a large natural amphitheatre and beauty spot. The area is National Trust owned so there is a car park, cafe and well marked footpaths.
You start at the car park and head through the Devil's Punch Bowl which has become a natural nature reserve, filled with heathland, streams and woodland. You then climb Gibbet Hill - the second highest hill in Surrey at 272 metres (892 ft). From here there are magnificent views over the Devil's Punchbowl, Thursley, Hankley Common, Crooksbury Hill, the South Downs, Godalming and Guildford. The hills of Haslemere and Blackdown can also be seen, while on a clear day the iconic buildings of London are also visible. You then follow more woodland tracks across the common before returning to the start point.
The area is good for walkers but also popular with mountain bikers as there are many wide downhill tracks to enjoy.
If you would like to extend your walk you could head to the nearby Leith Hill-the highest point in the South East with fabulous views over London and the English Channel. The Greensand Way also runs through the area so you could pick this up to continue your walk.
The delightful Frensham Country Park is also just a few miles away.
Thursley National Nature Reserve is located a couple of miles to the north and has miles of footpaths through heathland and woodland with a huge variety of wildlife.
Dorking to Epsom
11 miles (17 km)
Follow NCN route 22 on this short route through Surrey. The route starts near Dorking train station and heads through Boxhill country park on off road paths and country lanes with views of the River Mole as you go. A pleasant stretch through Epsom Downs and around the famous Epsom racecourse then follows before finishing in Epsom near the train station.
Downs Link
36 miles (58 km)
This is a terrific walking or cycling path running from St Martha's Hill to Shoreham-by-Sea and linking the North and South Downs National Trails.
You start on St Martha's Hill will terrific views of the Surrey countryside before heading south to Cranleigh along the Wey and Arun Canal. The path continues to Rudgwick and then onto the delightful Southwater Country Park. The next stage takes you to Henfield and then onto Bramber with its ruined castle. The final stage runs along the River Adur taking you to Shoreham-by-Sea.
Epsom Common
2 miles (4 km)
Follow this cycle and walking track around this large open space in Surrey. There are peaceful woodland trails, several ponds, fields with grazing cows and a wide variety of wildlife (the site is also a local nature reserve).
If you would like to continue your exercise why not visit the nearby Horton Country Park or follow the Thames Down Link which passes through the common. The adjacent Ashtead Common National Nature Reserve also has miles of cycling and walking paths to enjoy.
Just to the south east you will find Epsom Downs. You can follow a footpath across the famous racecourse and enjoy attractive chalk downland, grassland and woodland.
Esher Common
4 miles (6 km)
Enjoy a cycle or walk around this large open space in Surrey. There are miles of peaceful woodland footpaths and a nice off road cycle track. The route will take you to two large ponds and the nearby Fairmile common. The common is a local nature reserve so look out for a variety of wildlife.
If you would like to continue your exercise why not visit the nearby Claremont Park with its beautiful landscaped gardens and the adjacent West End Common.
Farnham to Guidlford
12 miles (20 km)
Follow NCN route 22 through the North Downs on this short but attractive route. The route starts near the train station in Farnham and follows a mixture of quiet roads and off road tracks through the Surrey countryside. You finish by crossing the River Wey in Guildford and then stopping at Guildford castle. Most of the route is on road but there are some pleasant traffic free sections through Puttenham Heath and Sunnydown to enjoy.
Frensham Country Park
5 miles (8.5 km)
This park is run by the National Trust and contains the lovely Frensham Ponds which attract a variety of rare birds such as the reed bunting, sedge warbler, great crested grebe, nightjars and woodlarks. There are a number of peaceful footpaths taking you around the ponds and through the heathland which includes a mixture of purple heathers, bright yellow gorse and rich green bracken. The park also contains bridleways which can be used by cyclists.
If you'd like to continue your outing you could head to the nearby Devil's Punch Bowl and Gibbet Hill. Here you'll find miles of cycling and walking trails through a natural nature reserve, filled with heathland, streams and woodland. Thursley National Nature Reserve is located a few miles to the east and has miles of footpaths through heathland and woodland with a huge variety of wildlife.
Just to the south you will find the splendid Sculpture Park in Churt.
Gomshall and Hurt Wood
14 miles (22 km)
Starting at Gomshall train station follow quiet country roads to Hurt Wood and then proceed onto Abinger common on this short circular route.
Guildford to Chertsey
11 miles (18 km)
Follow NCN route 223 from Guildford to Chertsey on a mixture of traffic free paths and quiet roads.
You start at Guildford train station and head north through Stoke Park to the River Wey where you begin a short riverside section through the Riverside Park Nature Reserve. You continue to Woking on quiet roads, passing Sutton Green Golf club and Westfield common before heading through the town centre and crossing the Basingstoke Canal. The final section then heads to Chertsey, passing through Horsell Common and Ottershaw. You finish at the train station at Chertsey.
Guildford to Dorking
17 miles (28 km)
Travel through Surrey along NCN route 22 on this cycle ride from Guildford to Dorking.
You start in Guildford near the train station and head south along a nice traffic free section which follows the River Wey and the Wey and Arun Canal to just outside Shamley Green. You then join country lanes taking you through Shamley Green and Farley Heath to Farley Green. This section takes you through a pleasant wooded section although some climbing is involved towards Farley Heath.
The route then heads through Shere, Gomshall and Deerlap wood with much of this section on off road trails. The ride ends by passing through Dorking and finishing at the train station.
Guildford to Horsham
22 miles (35 km)
This route follows the Downs Link Bridlepath from Guildford to Horsham via Cranleigh.
The route starts by Guidlford rail and first follows the Wey Path along the River Wey before joining the Downs Link trail. This takes you through the North Downs along a disused railway line track bed before a short on road section takes you into Horsham, finishing at the train station.
Headley Heath
3 miles (5 km)
Enjoy cycling and walking trails in this large area of open heathland, woodland and chalk downland in the Surrey Hills. The heathland is very attractive with yellow gorse, bluebell woods and purple heathers in the warmer months. It's great for wildlife too. Look out for badgers, deer and birds such as stonechats, linnets, meadow pipits and woodlarks. It's a great area to visit from London as it's only a short distance from the capital.
This circular route starts at the car park and takes you around the edge of the common on good bridleways. There are other trails to try such as the butterfly walk where you could see 25 species of butterfly. There's also the Lizard Trail which visits ponds with newts, frogs and many different water plants.
If you'd like to continue your exercise then you could head to the nearby Box Hill Country Park.
Horton Country Park
3 miles (5.5 km)
This country park and nature reserve is located near Epsom in Surrey. Here you will find a rural landscape of fields, hedgerows, woods and ponds of great wildlife and historical value.  There are 400 acres of park to explore on a series of well laid out trails. The park is open to cycles with lovely flat paths like the one in the video below to enjoy.
If you would like to continue your exercise you could head to the nearby Epsom Common or Ashtead Common National Nature Reserve which have more cycling and walking paths. The Three Downs Link and the London Loop trails also run past the park.
London to Brighton
65 miles (104 km)
Travel from the banks of the River Thames in Greenwich to the South Coast on this popular route along National Cycle Network Routes 21 and 20.
The ride starts by the Cutty Sark on the Thames in Greenwich and heads south along the Ravensbourne and Pool Rivers to New Beckenham. From there you continue south to Elmers End where you will pass through the lovely South Norwood Country Park. The route continues through the pretty Addington golf course and on to Addington Hill along the London Loop.
The ride then heads through New Addington, Warlingham and Caterham to Redhill. There are several off road sections to enjoy on this section with pleasant stretches through Holt Wood near Warlingham and Mercers Country Park near Redhill.
From Redhill you continue to Crawley, passing Horley before an interesting traffic free section through Gatwick Airport take you to Crawley.
The final section runs from Crawley to Brighton first passing through Tilgate Forest and its golf course. The route continues to Handcross where you can see the pretty Nymans Gardens before passing the villages of Staplefield, Bolney and Hickstead. A long traffic free section then follows taking you to the outskirts of Brighton with views of the South Downs as you go. The final stretch takes you through Brighton passing the attractive pavillion gardens before finishing near the prom.
London to Paris
314 miles (506 km)
This ride takes you along the proposed route for the Avenue Verte - a traffic-free cycle path, safe enough for a child, linking London and the French capital.
The ride includes some climbs - the toughest being the North Downs for people cycling the route from south to north. Most of the route is rolling countryside, apart from Redhill to Crawley (via Gatwick airport!) in the UK, and the capital cities themselves. There are some pleasant waterside stretches to enjoy too, notably a run along the River Wandle in London and then a lovely spell along the wooded banks of the Seine in France.
For a fantastic full route guide from Stephen Mulvey of the BBC, please click here
Nonsuch Park
3 miles (5.5 km)
This large park between Cheam and Ewell Village is ideal for a peaceful afternoon stroll or safe family cycle. There are wide lawns, pretty gardens, woodland and Nonsuch Mansion where you can enjoy refreshments and learn about the history of the park and Palace.
The park is the site of Nonsuch Palace, a Tudor royal palace, built by Henry VIII in the 16th century. It stood from 1538 to 1682–3 and was one of his grandest building projects.
The London Loop runs through the park so you could pick up this trail if you wanted to continue your walk. If you follow it south for just over a mile, you will come to Banstead Downs. The downs are well worth a visit with open grass chalkland, wildflowers and nice views towards London from the high points.
Putney to Coulsdon
16 miles (25 km)
Follow NCN route 20 through south London on this easy ride. The route starts in Wandsworth Park and heads along the Thames to Wandsworth. You'll then head south through Southfields and Earlsfield where you'll join the River Wandle. Here you join the cycle friendly Wandle Trail (mostly off road) through South Wimbledon, Morden and Carshalton. Highlights on the trail include Merton Abbey Mills and the lovely Morden Hall and Poulter Parks. The final on road section from Wallington takes you through the Oaks Park and Mayfield Lavender farm to the finish point at Coulsden rail station.
Reading to Maidenhead
17 miles (27 km)
This ride takes you along NCN route 4 from Berkshire into Surrey. The route starts on Caversham bride in Reading taking you along the Thames path for a short stretch before continuing to Wargrave on minor roads and paths. A short wooded section at Knowl Hill then follows before an on road section takes you into Maidenhead, finishing at the train station.
Redhill to Tunbridge Wells
36 miles (58 km)
Starting in Redhill first travel south through Gatwick airport (easier and more pleasant than it sounds!) and then onto the off road Worth Way, Forest Way and Sussex border paths that will take you through East Grinstead and some lovely countryside before finishing in Royal Tunbridge Wells.
The ride follows NCN route 21 and has a number of traffic free sections making it an attractive, leisurely ride.
River Wey Navigation
20 miles (32 km)
Follow the River Wey Navigation towpath from Godalming to the River Thames at Weybridge on this super waterside walk. The whole of the route is suitable for walkers while cyclists can enjoy a super waterside section in Guildford.
You start off in Godalming and pass Guildford, Sutton Park, Pyrford and Byfleet before finishing in Weybridge where you can pick up the Thames Path. There's lots of pretty Surrey countryside to see and a series of pretty locks and bridges on the way.
Route highlights include the delightful riverside nature reserve in Guildford and the wonderful Wisley Gardens near Woking. The route also links with the Wey South Path around Guildford.
Riverside Park Nature Reserve
2 miles (3 km)
This lovely nature reserve in Guildford has nice boardwalks and footpaths to follow through the site. The reserve is located next to the River Wey and has a man made lake, a woodland area and lots of wildlife to look out for.
There's lots of interesting flora with wildflowers including ox-eye daisies, bluebells and the white flowered meadow sweet, yellow flag iris and bright rose-pink flowers of the willow herb. Water loving birds such as Great crested grebe, water-rails, herons and reed buntings can also be seen in the wetlands area. Keep and eye out for roe deer and rabbits in the woods.
National Cycle Network route 223 runs through the reserve so you can bring your bike too. The route runs from Guildford town centre right to the reserve so it's easy to visit by bike.
To extend your walk you can pick up the Wey South Path and continue along the river to Parsonage Water Meadows which is about a half a mile west of the reserve.
Also nearby is Whitmoor Common where you will find extensive heathland, woodland, grassland and ponds crossed with miles of footpaths.
Winchester to Farnham
33 miles (53 km)
Travel from Hampshire to Surrey on a series of country roads and off road tracks on this fairly challenging route.
The route starts by Winchester bus station and follows the Rivers Itchen and Alre to New Alresford. On this section you will pass the striking Avington Park and Arlebury Park country houses. The route then continues to the town of Alton before a pleasant off road stretch through Alice Holt Forest. The final stretch takes you into Farnham on quiet roads.
Windsor Great Park
8 miles (12.2 km)
A circular cycle or walk around the beautiful Windsor Great Park in Surrey. The park includes 5,000 acres of parkland, which includes a Deer Park, lakes, avenues, gardens, woodland and open grassland. National Cycle Network route 4 runs right through the park while the Three Castles Walk runs along the Long Walk Avenue where there are fabulous views of Windsor Castle. Cyclists please note that cycles are not permitted in the Long Walk.
If you'd like to continue your exercise you could head to Virginia Water Lake. This large man made lake is located in the southern end of the park. It has a delightful walking trail running around its perimiter. Also of interest are the beautiful Valley Gardens. Located next to the lake they consist of 250 acres of landscaped gardens and woodlands and a series of well defined walking trails.
You can also enjoy a walk along the Thames Path from Windsor to Dorney Lake. The lake has a nice surfaced cycling and walking trail to try.
The Jubilee River also runs past Dorney. The river has a great waterside cycling and walking trail running from Maidenhead to Eton.
Windsor to Putney
34 miles (55 km)
This fabulous cycle ride follows NCN route 4 from Windsor to Putney along the River Thames.
Starting in Windsor travel past the famous castle and through the great park with its beautiful scenery.
Then follow the river Thames along NCN route 4 through Staines and then past the famous Hampton Court Palace (below). You then continue through Kingston upon Thames before passing through Richmond park with its resident deer and ending in Putney.
Winterfold Forest
4 miles (6 km)
This lovely area of the Surrey Hills is a popular place for walkers and cyclists. Winterfold Wood and the adjacent Hurt Wood have many miles of footpaths and bridleways which are suitable for mountain bikers.
There are Hurtwood Control car parks on Greensand Lane where you can start your walk or ride. The car park is near to a number of mountain bike trails including the Charles Bronson and the Northern Monkey. These are located just south of the car park. You can see them marked on the open street map link below. There's also the Secret Santa trail. See the video below to give you an idea of what you can expect on this exhilarating ride.
For walkers there are miles of woodland trails with some decent climbs, picnic areas and great viewpoints.
This circular route starts at the Hurtwood Control car park on Winterfold Hill and follows bridleways to the northern part of the forest, visiting Winterfold Heath and Reynards Hill.
The Greensand Way long distance footpath passes through the woods. If you follow it east you can visit Hurt Wood, Pitch Hill and climb to Holmbury Hill. The hill stands at an impressive 856 feet (261 m), giving fine views over the surrounding area.
Woking to West Byfleet
9 miles (14 km)
This easy cycle or walk follows the Basingstoke canal and NCN route 221 from Brookwood, near Woking, to West Byfleet.
You start at Pirbright Bridge, Brookwood and head east along the towpath through Woking and then onto the finish point at West Byfleet. With pretty locks and woodland views, this tree lined path makes for a nice relaxing ride or stroll. Also there are train stations at either end of the route making it easily accessible.
Photos are copyrighted by their owners