Belper Walks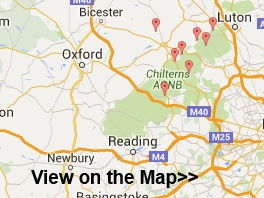 The Derbyshire town of Belper has some lovely riverside walks along the River Derwent to enjoy. There's great views of the historic old mills, some lovely woodland trails in the nearby Shining Cliff Woods and splendid views of the Amber Valley from the hills to the west of the town.
Several long distance trails also pass through the attractive countryside surrounding the town.
Use the filter to show walks of a certain type such as woods, reservoirs, hills, long distance, country parks, canals and rivers.
In the spring walkers flock to the beautiful bluebell woods in Belper. Click the 'Woodland' button below to see these.
Use the links to view full route information including elevation profiles, interactive maps and GPS downloads.
You can also view an overview map of all the routes in the using the Belper Walk Map>>
Route Name
Distance
Description
Allestree Park
2 miles (3 km)
This large park in Derby covers 320 acres and includes miles of good footpaths for walkers to try. In the park you will find a lovely large lake and peaceful woodland with nature trails. The park is also a nature reserve with lots of interesting flora and fauna to look out for on your walk. Keep your eyes peeled for White letter hairstreak butterflies, Brown Hare and a variety of woodland birds.
The park also includes the Grade II listed Allestree Hall. The 19th-century former country house has an interesting history and some pretty gardens to explore. There's also an 18 hole golf course with a cafe where you can enjoy refreshments after your walk.
To continue your walking in the Derby area you can head to the nearby Elvaston Castle Country Park. There's hundreds of acres of cycling and walking trails surrounding the 17th century Elvaston Castle.
Also nearby is Kedleston Hall. This much larger park features grassy meadows, serpentine lakes, pleasure grounds, woodland and contoured hills.
The long distance Bonnie Prince Charlie Walk also runs through the area so you could pick up the trail to further explore the Derbyshire countryside. View Full Details>>
Ambergate
5 miles (8 km)
This Derbyshire based village is notable as the point where the River Amber joins the River Derwent. It's a great place for waterside walking with the Cromford Canal also running through the area. The village is notable for its railway heritage and for being located at the spot where the River Amber joins the River Derwent. View Full Details>>
Around Belper
12 miles (19.5 km)
This long circular walk makes use of two of the waymarked long distance trails running through the countryside surrounding the Derbyshire town of Belper. There's much to enjoy with waterside paths along the River Derwent and the Cromford Canal. There's also woodland trails and some moderate hills climbs with great views over the Peak District and the Amber Valley.
Belper forms part of the Derwent Valley Mills World Heritage Site. The modern factory, or 'mill', system was born here in the 18th century to accommodate the new technology for spinning cotton developed by Richard Arkwright.
This walk starts on Belper Bridge, just to the north of the train station, where there are nice views of the Belper Mills. Here you pick up the Derwent Valley Heritage Way and follow the trail north to Ambergate, passing the pretty Wyver Lane Pool on the way. You then follow the Cromford Canal past Shining Cliff Woods to Crich Carr, where you turn west until you come to the Midshires Way. Follow the trail south through Blackbrook to Farnah Green, where you turn east to head back to the river and the town. You'll pass the delightful Belper Riverside Gardens which have been offering visitors a tranquil setting to view the River Derwent for over 100 years.
To extend your walk you could continue south along the Midshires Way towards Duffield and Derby. In this area you can visit Allestree Park and Kedleston Hall.
A few miles to the west is the splendid Carsington Water where there are some great waterside walking and cycling trails to try. View Full Details>>
Carsington Water
7 miles (12 km)
This route follows the circular cycling and walking trail around Carsington Water in Ashbourne, Derbyshire. The trail starts at the excellent visitor centre where cycle hire is available. It includes long shoreline sections and several woodland sections with great views of the surrounding countryside. The route runs for just over 7 miles on a fairly flat path so it's suitable for most abilities.
The lake is also a great place for birdwatching. Look out for little owl, little grebe, great northern diver, Eurasian oystercatcher, common tern and breeding common redshank.
If you enjoy this route then you could head to the nearby Ogston Reservoir where there are more fantastic bird watching opportunities.
The Pennine Bridleway and Midshires Way long distance trails run just to the north of the site. You can pick up these trails to extend your walking around Wirksworth. The town is a good base for walkers with the High Peak Trail and the Black Rocks near Cromford to visit.
Just to the north of the site you will find Middleton Top. There's an excellent visitor centre here and fine views back down to the reservoir from the hill top. View Full Details>>
Centenary Way
25 miles (40 km)
Follow the Centenary Way from Ilkeston to Ashbourne on this 25 mile walk through the Derbyshire countryside. The walk visits several pretty villages including West Hallam, Duffield , Brailsford, Edmaston, Shirley and Osmaston.
Highlights on the route include the delightful Kedleston Hall which is just to the south of the trail near Duffield. View Full Details>>
Cromford Canal
5 miles (8 km)
Enjoy a waterside stroll along the Cromford Canal on this easy walk in Derbyshire. This section of the canal runs from Cromford to Ambergate and is designated as a Biological Site of Special Scientific Interest and a Local Nature Reserve. The walk passes the Leawood Pump House by the aqueduct over the River Derwent and a series of pretty bridges. You'll also pass Shining Cliff Woods and enjoy lovely views of the Derwent Valley. The walk makes use of the Derwent Valley Heritage Way so you could continue along this long distance walking route to extend your walk.
The canal is located just a few miles south of Matlock. View Full Details>>
Derwent Valley Heritage Way
51 miles (82 km)
Follow the River Derwent through the Derbyshire Peak District on this stunning walk. The path runs from Derwent Mouth, Shardlow and passes through Derby, Belper and Matlock on your way to the finish point at Ladybower Reservoir, Heatherdene.
Highlights on the route include a lovely section along the Cromford Canal from Cromford to Ambergate. You'll also pass the splendid Chatsworth Park with its 1000 acres of parkland with woodland trails and fallow deer. At Matclock you will pass High Tor hill where you can enjoy some wonderful views over the surrounding area. View Full Details>>
Kedleston Hall
2 miles (3.6 km)
Explore the 820 acres of parkland surrounding this country house near Derby in the Peak District. The landscape features grassy meadows, serpentine lakes, pleasure grounds, woodland and contoured hills with clumps of trees. There are also sculptures, a summer house and an orangery. The walk gives fantastic views of the gardens, the hall and the surrounding countryside.
The hall is a classical Palladian mansion built for the first Baron Scarsdale in the mid 18th century. Inside there are grand state rooms with fine collections of paintings and original furniture.
The Centenary Way walking route runs just to the north of the grounds. You could pick this up and head towards Duffield or Brailsford to continue your walk. The Bonnie Prince Charlie Walk runs just to the south of the hall. Pick this up to head into Derby. View Full Details>>
Midland Railway Centre
3 miles (5 km)
This heritage railway in Derbyshire's Butterley has a delightful 35 acre country park with a wide range of wildlife areas and great views of the passing steam trains. The walk takes you around Butterley Reservoir, through Butterley park and on to Codnor Park Reservoir before finishing at Riddings station where you could catch the train back to the start point at Butterley. View Full Details>>
Midshires Way
225 miles (362 km)
This route follows public bridleways and quiet country lanes through Middle England, from Bledlow, near Aylesbury in Buckinghamshire, to Stockport in Greater Manchester. The path links The Ridgeway National Trail with the Trans Pennine Trail passing through the countryside of Buckinghamshire, Northamptonshire, Leicesteshire, Nottinghamshire and the Derbyshire Peak District National Park.
Highlights include waterside sections along the Grand Union Canal, the Peak Forest Canal and the River Ouse. There is a splendid wooded section through Salcey Forest near Northampton where you could try the Tree Top Trail. View Full Details>>
Shining Cliff Woods
1 miles (2 km)
Enjoy waymarked walking trails through this peaceful woodland near Ambergate. In the spring you'll find carpets of bluebells. Wildlife includes warblers, flycatchers and bramblings. The woods are near to the Derwent Valley Heritage Way, so you could pick this up and follow the River Derwent to continue your walk. Our Around Belper circular walk makes use of this trail to take in the river and the nearby Cromford Canal. View Full Details>>