Northamptonshire Cycle Routes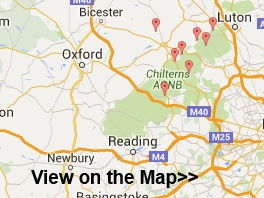 There is much to enjoy for the cyclist in Northamptonshire with National Cycle Network Route 6 and the Great Central Cycle Ride passing through the county.
Also of interest is the lovely traffic free Brampton Valley Way which is covered below in the Northampton to Market Harborough route.
Please use the links below to view full route information including descriptions, elevation profiles, interactive maps and GPS downloads.
You can also view an overview map of all the routes in the using the Northamptonshire Cycle Map
There are several National Cycle Network signed routes in the county many of which have been mapped and can be viewed and downloaded below.
For more information on NCN routes in the county (including free cycle maps) please click here

For more information on cycle routes in Northamptonshire including tips, advice and free cycle maps please click here
Route Name
Photo
Distance
Description
Brampton Valley Way
14 miles (23 km)
This walk and cycle trail runs from the outskirts of Northampton to Market Harborough along the trackbed of a disused railway line and National Cycle route 6. The route passes Brixworth, Maidwell and Great Oxendon with Brixworth Country Park just off the route. This is well worth a small detour as you will find the lovely Pitsford Water and cycle hire if needed.
As well as the beautiful rural scenery you will also pass Northampton & Lamport Railway with its old steam railway on this pleasant trail. View Full Details>>
Brixworth Country Park
11 miles (18 km)
A circular cycle or walk around the expansive Brixworth Country Park in Northamptonshire. Pitsford Water Reservoir is the main feature of the park. It is the third largest reservoir in the UK and has a fabulous cycle and walking path running around the perimeter and a Nature Reserve at the northern end. There is also a sensory garden and a sculpture trail.
The route below visits the pretty villages surrounding the reservoir including Brixworth, Walgrave and Scaldwell. Cycle hire is available at the western end of the park and there is also a cafe for refreshments. View Full Details>>
Buckingham to Banbury
26 miles (42 km)
This route follows The Great Central Cycle Ride and the Oxfordshire cycleway from Buckingham to Banbury. The route follows a series of quiet roads through the countryside of Buckinghamshire, Northamptonshire and Oxfordshire and takes you through some pretty villages and lovely scenery.
Highlights on the route include the lovely Stow Avenue at the start of the ride and the attractive Biddlesden park (below) View Full Details>>
Buckingham to Daventry
25 miles (40 km)
Follow the Great Central Cycle ride from Buckingham to Daventry.
This is a fairly challenging ride taking place mainly on country lanes. Highlights on the route include the lovely Stow Avenue at the start of the ride and the attractive Biddlesden park (below). You will also pass through the pretty villages of Canons Ashby with its manor house and Preston Capes. View Full Details>>
Daventry Country Park
2 miles (3.5 km)
Enjoy woodland, meadows and the lovely Daventry Reservoir on this waterside route in Northamptonshire. The southern part of the reservoir is a designated nature reserve with bird hides. There is also a delightful nature trail through the sensory garden to the pond, with useful information boards along the way.
The park has a Visitor Centre, fitness equipment and a cafe. It is located just north of Daventry town centre. The Grand Union Canal is only about 1/2 a mile from the park so you could continue the route along the towpath if you have time. View Full Details>>
Daventry to Rugby
19 miles (30 km)
This route starts near Daneholme park in Daventry and follows The Great Central Cycle Ride to Rugby in Warwickshire.
The route largely takes place on quiet country roads and passes through the villages of Ashby St Ledgers and Crick. There are also pleasant views of the Grand Union Canal along the way. The ride finishes near the train station in Rugby. View Full Details>>
Fermyn Woods
2 miles (2.5 km)
This country park and forest has a number of walking trails and two bridleways for cyclists. Formerly known as Brigstock Country Park, it is located a few miles north east of Kettering.
For walkers there are three waymarked trails to enjoy:
The Skylark Nature trail is an all abilities trail on good surfaced paths. It takes you around the ponds and woods located next to the car park.
The Woodland walk is about a mile long and takes you a little further into the woods on good footpaths.
The Fermyn Forest Walk is just over two miles taking you deep into the woodland on a mixture of hard and soft tracks.
In the park you will find semi-natural oak and ash woodland, ponds, a visitor centre and cafe. It's a splendid area for wildlife watching - look out for Red kites, bullfinch, hawfinch, nightingales, skylark and green woodpeckers. You may also see badgers, fallow deer and Purple emperor butterflies. View Full Details>>
Fineshade Woods
5 miles (8 km)
View Full Details>>
Harrold Odell Country Park
3 miles (5 km)
This park has two pretty lakes set in 144 acres of country park. It is located between Bedford and Northampton on the River Great Ouse near the villages of Harrold and Odell in Bedfordshire. You will find river meadows, a nature reserve, two picturesque lakes and a range of managed habitats. There is also free parking and refreshments in the Tea-Zels Cafe.
There are a number of well maintained walking paths around the lakes and through the nature reserve while cycling is permitted along the lakeside bridleway. The North Bedfordshire Heritage Trail also runs through the park so there is scope for continuing your walk if you have time. View Full Details>>
Irchester Country Park
2 miles (3.5 km)
Enjoy numerous walking and cycling trails in this splendid country park in Wellingborough. The park has peaceuful woodland paths, open meadows and the interesting Irchester Narrow Gauge Railway Museum. There is also plenty of wildlife with Muntjac Deer, hedgehogs, stoats and squirrels.
The Nene Way walking trail also runs through the park so you can continue your walk to the River Nene if you have time. View Full Details>>
Milton Keynes to Northampton
21 miles (33 km)
Follow National Cycle route 6 and the River Ouse from Milton Keynes to Northampton.
The route follows many off road paths including the Midshires Way, Swan's Way and the River Ouse path as you make your way from Buckinghamshire into Northamptonshire.
Further highlights on the route are a spell through Salcey Forest and views of the Grand Union Canal. View Full Details>>
Northampton to Market Harborough
20 miles (32 km)
This ride passes from Northamptonshire into Leicestershire along National Cycle route 6. You start near the tourist information centre in Northampton and soon join the lovely Brampton Valley Way - a 14 mile cycle path following the track bed of a disused railway line. This takes you all the way to the finish point at Market Harborough train station. View Full Details>>
Peterborough to Kettering
31 miles (50 km)
This route takes you from Cambridgeshire to Northamptonshire along National Cycle route 53. The route starts by the railway station in Peterborough and begins with a series of off road sections before country roads take you onto Warmington, Brigstock and finally Kettering. This is a pleasant route passing near several wooded areas around Brigstock and Grafton Underwood. View Full Details>>
Salcey Forest
4 miles (7 km)
Enjoy peaceful cycling and walking trails in this popular forest in Northamptonshire. For cyclists there is a lovely, family cycle trail starting at the car park. It's a gentle circuit of the forest on surfaced paths but with a couple of road crossings to look out for.
Walkers can enjoy three waymarked routes of varying lengths. The easy Elephant walk takes you past Elephant pond and the super Tree Top Way. Here you climb to a walkway 15 metres above the woodland floor for splendid views of the forest and surrounding countryside. For a longer walk you could try the 10km (6 mile) Woodpecker trail where you can look out for all three British species of woodpecker - the lesser spotted, greater spotted, and green.
The forest has good facilities with parking spaces and a very good cafe. It is located about 7 miles south of Northampton.
Several long distance cycling and walking trails run through or past the forest so it's easy to continue your exercise in the area. You could pick up the Hanslope Circular Ride, The Swan's Way or the Midshires Way to extend your outing. View Full Details>>
Stanwick Lakes
3 miles (5.5 km)
Explore 750 acres of parkland and nature reserve in the heart of Northamptonshire's beautiful Nene Valley. The park has a lovely cycle and walking track passing between the many lakes. In addition to the circular cycle routes around the lakes there is a four mile linear route running from Irthlingborough towards Thrapston, along a former railway line. Cycle hire is available within the park and there is an excellent visitor centre with interactive displays.
The Nene Way walking route passes through the park so you could continue your walk along the River Nene to the nearby town of Wellingborough and the lovely Irchester Country Park. View Full Details>>
Wakerley Woods
3 miles (5 km)
Enjoy several cycling and walking trails in this forest near Peterbrough. Mountain bikers can have a go on the Scar Tree Trail. This blue graded, single-track ride is three miles in length and starts at the car park.
Walkers can enjoy the 2 mile Deer Park Trail where you will pass two Bronze age burial cairns and hopefully spot a few of the deer that roam through the forest.
The route below is designed for walkers and starts at the car park, taking you through the forest on various trails. Cyclists should please stick to the Scar Tree Trail which you can also pick up at the car park.
If you would like to continue your outing you could head a couple of miles east to Fineshade Woods where you'll find more cycling and walking trails. View Full Details>>
Westbury Circular Ride
12 miles (19 km)
This is a circular walk or cycle ride around Westbury in Buckinghamshire. Route highlights include Turweston Airfield and Biddlesden House and Park. The house occupies the site of a Cistercian Abbey, founded in 1147 and sits behind a small lake.
There's also some lovely countryside and views of the River Great Ouse to enjoy. The route mainly follows country lanes and bridleways so for cyclists a mountain bike or hybrid is required. View Full Details>>
Your Submitted Routes
Panoramio: Photos are copyrighted by their owners