Amberley Walks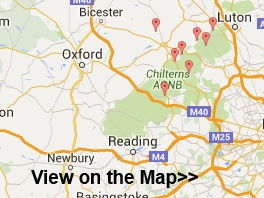 The West Sussex village of Amberley is located in an excellent position for walking with direct access to the South Downs. There's hill climbs, riverside walks, woodland trails and great views towards the coast and countryside.
Use the filter to show walks of a certain type such as woods, reservoirs, hills, long distance, country parks, canals and rivers.
In the spring walkers flock to the beautiful bluebell woods in Amberley. Click the 'Woodland' button below to see these.
Use the links to view full route information including elevation profiles, interactive maps and GPS downloads.
You can also view an overview map of all the routes in the using the Amberley Walk Map>>
Route Name
Distance
Description
Amberley Circular Walk
6 miles (9.5 km)
The delightful village of Amberley is located at the foot of the South Downs, in the Horsham District of West Sussex. There's lots of lovely walking trails to follow through the surrounding countryside and along the River Arun.
This circular walk makes use of the South Downs Way and Wey South Path long distance trails to take you along the river and through the surrounding South Downs countryside. It's about a 6 mile hike with some moderate hill climbs and great views to enjoy from the high points.
The walk starts from the train station which is on the Arun Valley Line, with regular services to Bognor Regis Portsmouth and London. You could also start from the village centre if you prefer.
After leaving the train station you head south along the river toward North Stoke. Here you turn east and follow country lanes to Camp Hill and The Burgh.
The route then turns north to Downs Farm before heading into the village. It's very picturesque with several thatched houses and the 12th-century Amberley Castle. There's also the splendid Amberley Museum & Heritage Centre. Here you will find a 36-acre open-air museum, dedicated to the industrial heritage of South East England and with a special interest in aspects of the history of communications and transport. It's located next to the train station so you can pay a visit at the start or end of the walk.
To extend your walking in the area head north from the village and visit the lovely Amberley Wild Brooks Nature Reserve.
You could also head east along the South Downs Way and climb to Rackham Hill and Kithurst Hill. If you head west you can visit Eartham Woods and explore the expansive Slindon Estate. Here you'll find miles of footpaths and bridleways to follow through the 1400 hectare estate.
There's also the Amberley to Arundel Walk which takes you along a lovely waterside footpath next to the River Arun. View Full Details>>
Bignor Hill
7 miles (11.2 km)
This walk or cycle climbs to Bignor Hill from the village of Amberley in West Sussex. It's a moderate climb of about 3.5 miles, following the South Downs Way for the duration of the route. It's a good path which is also suitable for cycling. If you prefer a shorter walk then you could park at the car park just half a mile west of the hill, and start your climb from there.
This route starts off from Amberley train station, following a section of the River Arun out of the village. The waymarked path then heads west, past Coombe Wood before skirting the northern edge of Houghton Forest. You then climb past Bury Hill and Westburton Hill before arriving at the Bignor Hill summit. At over 700ft the hill commands wonderful views over the South Downs to the coast.
To extend the walk you could follow the Monarch's Way south west along the Stane Street Roman Road to visit Eartham Woods. To turn it into a circular route you could head south east into Houghton Forest and return on the woodland trails to the village.
You could also explore the countryside around the village on our Amberley Circular Walk. View Full Details>>
Chanctonbury Ring
4 miles (6 km)
Climb to this early Iron Age hill fort on the South Downs and enjoy wonderful views over the surrounding countryside and coast. The hill is also an important area for flora and fauna, including the protected Great Crested Newt which can be found in the dew pond on the hill.
Chanctonbury hill stands at a height of 238 metres (781 ft) a few miles north of the coastal town of Worthing. You can start this circular walk from the car park on Washington Bostal, just off the A24. From here you pick up the South Downs Way and follow it east to the hill. After exploring the fort and taking in the views you descend to Chalkpit Wood where you follow the Wiston Bostal track towards Chanctonbury Ring Rd. Here you turn west and follow a bridleway through woodland passing Owlscroft Barn and Combe Holt, before returning to the car park.
A shorter alternative route is to start from the car park on Chanctonbury Ring Road and climb to the hill fort from there.
If you would like to extend your walk then we recommend you head south from the hill to the nearby Cissbury Ring. The historic site can be reached by following a bridleway south from Chalkpit Wood for about 2 miles. It is the second largest hill fort in England, dating back to around 250 BC.
You can also continue along the South Downs Way in either direction. Head west and you will come to Kithurst Hill, Springhead Hill and the village of Amberley. Head east and you will come to Bramber Castle on the River Adur.
Also nearby is the mysterious Clapham Wood near the village of Clapham. View Full Details>>
Eartham Woods
3 miles (5 km)
This large area of beech woodland near Slindon has some nice footpaths to follow. The woods are a great place to see bluebells in the spring months. You may also see deer, woodland birds and various butterflies as you make your way through the forest. You can start your walk from the car park located at the south eastern end of the woods, just to the north of the village of Eartham.
The woods are part of the wider National Trust owned Slindon Estate. The 1400 hectare estate has miles of excellent trails with wonderful views over the South Downs to enjoy.
The Monarch's Way also runs through the woods. You could pick up the long distance trail and head east to the nearby Houghton Forest. The expansive Goodwood Country Park is just to the west while the Grade II listed Halnaker Windmill and viewpoint is also very close by. View Full Details>>
Houghton Forest
4 miles (6 km)
These woods near Arundel have good mountain bike trails and some nice footpaths to try. You can park at the Whiteways Countryside car park, just off the A29 at the south eastern end of the forest. From here you can pick up the trails heading north west through the woods. You could also follow either the Monarch's Way or South Downs Way from the village of Houghton. You can also extend your walking in the area by continuing along either of these long distance trails or the Midhurst Way which also passes through the forest. View Full Details>>
Parham House
1 miles (1 km)
Explore the parkland and gardens surrounding this Elizabethan House near Storrington and Amberley. The gardens include a four-acre Walled Garden, herbaceous borders, a glasshouse, vegetable garden, orchard and a 1920s Wendy House. View Full Details>>
Slindon Estate
7 miles (10.5 km)
The Slindon Estate is a fantastic place for walkers and cyclists with miles of footpaths and bridleways to follow through the 1400 hectare estate. It is made up of a variety of habitats including woodland, downland, farmland, and parkland.  All the while there are wonderful views over the Weald, the South Downs and the coast with the Isle of Wight beyond.
This circular walk starts at the village of Slindon on Butt Lane and climbs towards Bignor Hill and Gumber Corner. Here you pick up the Stane Street Roman Road and the Monarch's Way which leads you into a long woodland section through Nore Wood. It's a lovely section with bluebells, wild flowers and other woodland plants to enjoy. The final section takes you back to Slindon passing the eye-catching Nore Hill Folly.
If you would like to continue your walking in the area then you could head a few miles to the east and enjoy a walk around Arundel Castle and Arundel Park with a riverside stretch along the River Arun.
This route skirts the edge of Eartham Woods which has bluebells and deer to look out for. Houghton Forest is also close by and has more mountain bike trails to try. View Full Details>>
The South Downs Way
99 miles (160 km)
This beautiful 100 mile long trail runs from Winchester to the coastal town of Eastbourne. View Full Details>>
West Sussex Literary Trail
55 miles (89 km)
This walk runs from Horsham to Chichester with many literary connections along the way. The walk begins at Horsham, near Percy Bysshe Shelley's millennium fountain, and heads through the South Downs to Chichester with its connections to William Blake and John Keats.
You will pass through a series of interesting and picturesque towns and villages including Sinfield, Storrington, Amberley and Duncton before finishing near the iconic cathedral in Chichester. View Full Details>>
Wey South Path
36 miles (58 km)
Follow the Wey River and the Wey and Arun Canal on this wonderful waterside walk through Surrey and Sussex. The route starts off in Guildford and heads south to Rowly and then onto Billinghurst. This section passes through Sidney Wood and the delightful village of Loxwood. There's some pretty locks and the picturesque Drungewick Aqueduct to admire here.
The walk continues towards Pulborough before passing through the delightful Amberley Wild Brooks wetland with its variety of interesting wildlife. The route then comes to an end near Amberley in Sussex. View Full Details>>