Bedfordshire Cycle Routes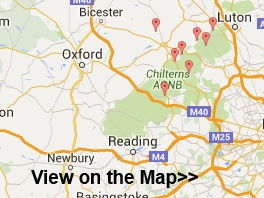 Bedfordshire has many attractive options for the cyclist with several National Cycle Network routes passing through the county. Highlights include the Luton and South Beds Way with its long traffic free sections and the Grand Union Canal - ideal for a leisurely afternoon cycle.
Please use the links below to view full route information including descriptions, elevation profiles, interactive maps and GPS downloads.
You can also view an overview map of all the routes in the using the Bedfordshire Cycle Map
There are several National Cycle Network signed routes in the county many of which have been mapped and can be viewed and downloaded below.
For more information on NCN routes in the county (including free cycle maps) please click here

For more information on cycle routes in Bedfordshire including tips, advice and free cycle maps please click here
Route Name
Photo
Distance
Description
Bedford to Sandy
7 miles (12 km)
This lovely route follows National Cycle routes 12 and 51 and the Bedford to Sandy way - an off road path perfect for walking or cycling. The ride is very flat with views of the Rivers Great Ouse and Ivel plus a spell through Priory Country Park the main highlights.
Also on the route is the National Trust owned Willington Dovecote & Stables - a Tudor stone-built stable, built for Henry VIII's 1541 visit
For more information on this route please click here View Full Details>>
Bletchley to Leighton Buzzard
8 miles (13 km)
Follow the Grand Union Canal and National Cycle route 6 from Bletchley to Leighton Buzard on this pleasant short waterside ride.
The route passes a series of pretty locks and the villages of Stoke Hammond and Leighton-Linslade as you follow the towpath along the canal. There are train stations at Bletchley and Leighton Buzzard for easy access. View Full Details>>
Clay Way
11 miles (18 km)
A lovely walk or cycle through the Forest of Marston Vale along the West Bedfordshire Clay Ridge . You start at Bromham, on the River Great Ouse, and head to Cranfield, passing through Hanger Wood, Astey Wood and Stagsden as you go. The final section then runs from Cranfield to Ridgmont Railway Station passing Holcott Wood, Brogborough Lake and Brogborough Hill.
There are some terrific views of the Vale, the Ouse Valley and Milton Keynes. The path mainly follows bridleways so is suitable for cyclists with a mountain bike or hybrid. View Full Details>>
Harrold Odell Country Park
3 miles (5 km)
This park has two pretty lakes set in 144 acres of country park. It is located between Bedford and Northampton on the River Great Ouse near the villages of Harrold and Odell in Bedfordshire. You will find river meadows, a nature reserve, two picturesque lakes and a range of managed habitats. There is also free parking and refreshments in the Tea-Zels Cafe.
There are a number of well maintained walking paths around the lakes and through the nature reserve while cycling is permitted along the lakeside bridleway. The North Bedfordshire Heritage Trail also runs through the park so there is scope for continuing your walk if you have time. View Full Details>>
Luton to Leighton Buzzard
17 miles (28 km)
Follow National Cycle route 6 through Bedfordshire on this attractive route known as the Luton and South Beds Way. The route starts by Luton rail and soon passes through Wardown park with its attractive lake and the Luton Museum & Art Gallery.
A short section along the River Lea and a series of off road paths then lead you to Dunstable. On this section you will pass Leagrave Common and Houghton Hall Park before arrving at the pretty Grove House Gardens in Dunstable. Just south of the route is the interesting Dunstable Priory and Friary which is worth a visit if you have time.
From Dunstable you join a splendid off road section along the Sewell Greenway taking you towards Stanbridge before a series of quiet roads takes you into Leighton Buzzard where you will cross the Grand Union Canal before finishing at the train station.
Please click here for more information on this route. View Full Details>>
Milton Keynes to Bedford
25 miles (40 km)
Follow National Cycle route 51 from Buckinghamshire into Bedfordshire on this pleasant route.
The route starts near Milton Keynes rail station and heads to Campbell park where you cross the Grand Union Canal. You then pass Willen Lake before a short stretch along the River Ouzel.
A mixture of on and off road sections through the countryside then takes you onto Kempston where you finish the ride with a short stretch along the River Great Ouse, taking you into Bedford.
The route is also know as the University Way - please click here for more information on this route. View Full Details>>
Priory Country Park
3 miles (4.2 km)
Explore 360 acres of lakes, meadows and woodland, in this park situated on the river Great Ouse in Bedford. The park includes the pretty Priory Marina and lake which are perfect for a peaceful waterside walk or cycle. National Cycle Network route 51 passes through the park so you can continue your cycle on the Bedford to Sandy cycle route. For walkers the John Bunyan Trail passes through Bedford if you wish to continue your walk. View Full Details>>
Rowney Warren Wood
2 miles (4 km)
These woods in Bedfordshire have walking trails, a BMX trail and mountain bike trails to try. In one half of the woods you will find the cycling trails and in the other peaceful woodland footpaths. There's good facilities as well with a good sized car park, picnic areas and a cafe.
At the northern section of the woods you will find Chicksands Bike Park. The park has a range of trails for all abilities. See the video below to give you an idea of what you can expect to find at the site!
The woods are in a good location for extending your walking. You could pick up the John Bunyan Trail and head to the nearby Chicksands Wood. The woods have nice wide trails and pretty bluebells in the spring.
You can also pick up the Greensand Ridge Walk and visit Maulden Woods near Clophill. Here you will find more walking trails taking you through semi-natural broadleaf woodland, acidic grassland and conifer plantations. View Full Details>>
Rushmere Country Park
3 miles (5.5 km)
Explore 400 acres of lakes, ancient woodland conifer plantations, meadows and heath in this country park in Leighton Buzzard. The park has numerous pleasant walking trails and a number of family cycle routes but a cycling permit is required for the trails in the park (see the link below for more information).
The park also has an excellent new cafe and a visitor centre. View Full Details>>
Stewartby Lake Country Park
4 miles (6.5 km)
Also known as Millennium Country Park, this lovely area covers over 500 acres and includes woodland, grassland, meadow, lakes and wetland habitats.
There are well surfaced paths for cyclists and walkers taking you along Stewartby lake and Pillinge Lake before passing the village of Marston Moretaine. If you are on foot you can also follow the Wetlands Trail throught the nature reserve within the park. Here you will find a number of bird hides from which you can observe a variety of winged visitors.
There is also an excellent visitor centre with a Lakeside Cafe bar, gift shop and bike hire.
If you want to continue your walk you could follow the Marston Vale Timberland Trail which visits some of the most interesting and attractive parts of Marston Vale and runs right through the park.
Stewartby Lake is located right next to Millbrook and Stewartby rail stations and about 5 miles south of Bedford. View Full Details>>
Your Submitted Routes
Panoramio: Photos are copyrighted by their owners