Coastal Walks Near London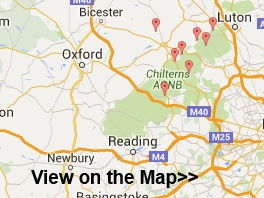 There's plenty of good options for coastal walking near the capital. The seaside resorts of Brighton, Southend and Eastbourne are not far away and perfect for a day trip.
The Isle of Sheppey and the Kent coast are also nearby, with lots of pretty coastal villages, lovely beaches and cliff top views to enjoy.
Please use the links below to view full route information including descriptions, elevation profiles, interactive maps and GPS downloads.
You can also view an overview map of all the routes in the using the Coastal Walks Near London Walk Map
Route Name
Distance
Description
Barton's Point Coastal Park
5 miles (8.5 km)
Enjoy a leisurely stroll or ride along the Queenborough Lines canal and the Isle of Sheppey Coast on this circular route in Bartons Point Coastal Park. The route begins on the coast near Sheerness train station and follows the canal path before returning to the start point through Minster Park. View Full Details>>
Beachy Head
4 miles (6 km)
This exhilarating walk takes you along the highest chalk sea cliff in Britain, at Beachy Head on the South Downs. The cliffs rise to a height of 162 metres (531 ft) with fabulous views along the coast to West Sussex and Dungeness in Kent.
You can start your walk from the good sized car park on Beachy Head Road which has a postcode of BN20 7YA for your sat navs. From here you can pick up the trails on to the The South Downs Way which will take you along the headland. You could also start the walk from the nearby town of Eastbourne and follow the Wealdway along the beach from the town centre. See our Eastbourne to Beachy Head Walk for details and a map.
As well as the magnificent views there's some lovely countryside to explore inland. Look out for lots of wildflowers in the summer and a variety of birdlife which includes Lapwing, Skylark and Perigrin Falcon.
After your walk you can enjoy refreshments at the Beachy Head cliff top pub which is next to the car park.
To extend your walk you can continue west along the coastal path to Birling Gap and the Belle Tout Lighthouse. Beyond there is the fantastic Seven Sisters Country Park at Cuckmere Haven. Here you will find more great cycling and walking trails along the coast and the River Cuckmere. View Full Details>>
Benfleet to Leigh on Sea
7 miles (11.5 km)
A nice coastal walk from Benfleet to Leigh on Sea in Essex. The circular route runs for about 7 miles along a series of fairly flat footpaths. The first section takes you along the sea wall through Hadleigh Marshes before returning inland via Hadleigh Country Park and the ruins of Hadleigh Castle.
The walk starts in South Benfleet next to the train station. You then head south east to the Benfleet Creek where you can pick up a footpath leading to Hadleigh Marsh. There's nice views over to Two Tree Island which you can easily visit from the path. The expansive nature reserve includes lagoons, pretty streams and great views across Hadleigh Ray to Canvey Island.
The route then reaches Leigh on Sea where you have the option of catching the train back to Benfleet. This route continues west up to Hadleigh Castle. The 13th century castle ruins are located in an elevated position with fabulous views of the surrounding Essex countryside, the Essex coast and the River Thames. It's located within the Hadleigh Country Park where you can enjoy 400 acres of woodland, pasture, hay meadow and marsh.
The route descends through the park to Benfleet Downs before returning to the finish point back at Benfleet. View Full Details>>
Brightlingsea
7 miles (11 km)
This attractive coastal town is located in the Tendring district of Essex. There's some lovely walking trails along the Colne Estuary to enjoy here. View Full Details>>
Brighton to Eastbourne
26 miles (42 km)
This coastal walk takes you between these two major Sussex settlements. At just over 26 miles the walk is of marathon length. You'll enjoy some of the best coastal scenery in the country, with pretty beaches and spectacular cliff tops.
Starting on the sea front in Brighton, the route heads east along the Undercliff Walk from Brighton Marina to Saltdean. The path runs for about 3 miles along the sea wall with the white cliffs on one side and the shingle beach on the other.
The next section takes you to Newhaven with a splendid clifftop trail to enjoy. You will pass Peacehaven and the Greenwich Meridian monument which marks the site where the Greenwich meridian crosses the English south coast. At Newhaven you pass the 19th century Newhaven Fort and Newhaven Harbour, where you cross the River Ouse.
You continue to Seaford passing the Martello Tower and the Seaford Head Nature Reserve where there's lots of wildlife to look out for. You then come to Cuckmere River and Cuckmere Haven where you follow a lovely riverside path to the Exceat Bridge. You continue through the Seven Sisters Country Park to the coast, enjoying wonderful views of the Seven Sisters Cliffs.
On the coast you pick up the South Downs Way and head east to Birling Gap where you can visit the National Trust owned Belle Tout lighthouse. It's a good place to stop for refreshments with a nice cafe and great sea views.
Continuing east you visit the highest chalk sea cliff in Britain, at Beachy Head.
From Beachy Head you descend into Eastbourne, passing along the beach before finishing at the pier. View Full Details>>
Burnham on Crouch
3 miles (5 km)
The Essex town of Burnham on Crouch is situated in a lovely location on the Crouch Estuary opposite the RSPB's Wallasea Island. View Full Details>>
Camber Sands
3 miles (5 km)
Enjoy a walk or cycle along National Cycle Network Route 2 from Rye to the beautiful Camber Sands. You can pick up the trail in the centre of Rye near to the train station. It's about a 3 mile ride to the beach, passing alongside Camber Road. There are lovely views of Northpoint Water and Rye Bay before passing Rye Golf Club and entering the village of Camber. It's a beautiful and popular beach with the only sand dune system in East Sussex. If you continue your cycle along the coast road you will come to Broomhill Sands and Lydd.
To extend your outing you could pick up the Saxon Shore Way long distance footpath and walk to the Rye Harbour Nature Reserve just south of Rye. The reserve a variety of habitats such as saltmarsh, lagoons, grazing marsh, shingle and reedbeds. You can also visit the ruins of Henry VIII's Camber Castle. The Device Fort was built to protect the Sussex coast against French attack in the 16th century.
The Sussex Border Path also passes through Rye. You can follow the path north from the town centre and enjoy a waterside walk along the River Rother.
You can also follow the England Coast Path east and visit the wonderful Dungeness RSPB Nature Reserve. The large reserve boasts lakes, lagoons and an expansive section of shingle beach with a wide variety of wildlife. View Full Details>>
Canvey Island
7 miles (11 km)
Enjoy a waterside walk along the Thames Estuary on this route on Canvey Island in Essex. You can follow coastal footpaths for several miles along the estuary. There's lots to see with several bays, beaches, creeks, lagoons, marshland and an abundance of wildlife. There's also great views across the water to Hadleigh Country Park and its castle. View Full Details>>
Crab and Winkle Way
7 miles (10.5 km)
This lovely cycling and walking route runs from Whitstable on the Kent coast to Canterbury along National Cycle route 1. It is largely flat and traffic free running along a disused railway line for part of the route while also passing through Blean Woods on the way.
Highlights on the route include the attractive harbour at Whitstable and the splendid Blean Woods National Nature Reserve which is the largest ancient broadleaved woodland in southern Britain. The magnificent Canterbury Cathedral is also a major attraction on this trail.
Starting on the sea front in Whitstable, the route heads south through Thurston Park and South Tankerton, on the outskirts of the town. A woodland section then follows through Clowes Wood. The woods are also designated as nature reserve and include attractive mixed woodland, heathland and wet meadow. Look out for wildlife which includes woodpeckers, Woodcock and if you're lucky an owl.
After leaving the woods the route heads through the countryside to the outskirts of Canterbury, where you will pass the buildings of the University of Kent. The final sections takes you into Canterbury, finishing near Canterbury West Station.
This route is also easily accessible with train stations at Whitstable and Canterbury. View Full Details>>
Dover Cliffs Walk
4 miles (6.6 km)
Enjoy a circular walk along the iconic White Cliffs of Dover on this route along the Kent Coast. There's attractive chalk grassland, pretty wildlflowers in the summer, a visit to a significant lighthouse and fantastic views over the English Channel to France.
Start the walk from the National Trust Car Park on Langdon Cliffs. There's a great visitor centre here with a wealth of information on the area. From her you can then pick up footpaths to join with the White Cliffs Country Trails which runs east along the cliffs to Langdon Bay, Crab Bay, Fan Bay and the South Foreland Lighthouse. The lighthouse was the first to display an electric light anywhere in the world. You can climb to the top of the structure and enjoy great views over to France. Also in this area you will pass the Grade II listed St Margaret's Windmill and the lovely Pines gardens. The gardens are well worth exploring with a waterfall and adjoining lake, a grass labyrinth and an organic kitchen garden with around 40 different species of fruit and vegetables.
After exploring South Foreland the route returns to the visitor centre where you can enjoy refreshments at the National Trust cafe. View Full Details>>
Dover to Deal
10 miles (15.5 km)
This coastal walk takes you from the famous port of Dover to the attractive town of Deal. It's about a 9.5 mile walk with the option of returning to Dover on the train. There's great cliff top views, a series of historic castles and a long stretch of lovely countryside with wildflowers and butterflies.
The walk starts by the marina in Dover and heads towards the wonderful Dover Castle. It's the largest castle in England and includes the fascinating Secret Wartime Tunnels and interesting exhibitions.
You climb past the castle and through the National Trust owned White Cliffs Country Park. There's a nice visitor centre here with information about the different trails you can try in the park. From the viewpoints there are great views of the famous Dover White Cliffs and the Dover Docks.
After passing through the park you continue east to the Victorian South Foreland Lighthouse. You can climb to the top of the structure and enjoy great views over to France. There's also a nice cliff top cafe which is a great place to stop for refreshments.
The route continues to St Margaret's Bay passing the delightful Pines Garden. The gardens include a waterfall, lake, a grass labyrinth and an organic kitchen garden with around 40 different species of fruit and vegetables. The site also includes the St. Margaret's Museum with interesting local history displays such as St Margaret's during WW2, and one-time resident Noel Coward.
The route then descends to Kingsdown, passing along the beach and the golf course. Shortly after you come to the very fine Walmer Castle. It was built during the reign of King Henry VIII and includes lovely 8 acre gardens and fascinating exhibitions.
The final section takes you into Deal, where you can enjoy a stroll along the pier. From here it is a short walk to the train station where you can return to Dover.
There's great scope for extending your walk by following the White Cliffs Country Trails from Deal to Sandwich. Here there are nice views of the River Stour and lots of nice pubs to choose from.
To head along the coast in the other direction try our Dover to Folkestone Walk which takes you between these two major ports. View Full Details>>
Dungeness
7 miles (11.5 km)
Explore this wonderful coastal nature reserve on this circular walk in Kent. The reserve contains a number of lakes and lagoons with several miles of good footpaths to follow around the expansive site. There's also coastal paths with great views of the sea and the long stretch of shingle beach. The reserve is superb for wildlife watching with lots of birds to look out for. Keep your eyes peeled for lapwings, smew, bittern and little ringed plover from one of the many bird hides. There's also over 600 different types of plant species. The RSPB site has good facilities with a car park and visitor centre.
You can start the walk from the car park off Dungeness Road, about a mile east of Lydd. From here you can pick up the trails taking you around the lakes to the coast. The path then heads south along Broomhill Sands to the village of Lydd-on-Sea, the lifeboat station and the lighthouse. The route then follows path across Denge Beach back to the car park. On this section you pass the nuclear power stations which warm the water in the area attracting large numbers of birds.
Also of intrest is the The Romney, Hythe and Dymchurch Railway. The narrow gauge railway was built in 1927 and is a fun way to see the area.
To extend your walk you can pick up the England Coast Path and follow it west to Camber Sands and Rye Harbour. Here you will find saltmarsh, lagoons, grazing marsh, shingle and reedbeds with a huge variety of flora and fauna.
You can also head to the nearby New Romney and explore Romney Marsh. View Full Details>>
Elmley National Nature Reserve
5 miles (8 km)
Enjoy a tranquil walk around this beautiful Nature Reserve on the Isle of Sheppey. View Full Details>>
Faversham to Whitstable
9 miles (14.5 km)
A popular walk along a section of the Saxon Shore Way from Faversham to Whitstable. It's a good, waymarked path with fine views of the Swale Estuary and Whitstable Bay. You'll also pass a number of marshes and nature reserves where there's a huge variety of wildlife to look out for.
Starting in Faversham, follow the path north east along Favesham Creek towards Nagden. You'll pass the pretty Nagden Cottages with lovely views across Graveney Marshes.
The path then snakes around Nagden Marshes before coming to the estuary where you pass along the sea wall.
The route heads east passing the South Swale Nature Reserve which is home to thousands of wildfowl and waders in winter, and some very special plants in summer. Look out for the colourful golden samphire, sea-lavender and sea-purslane. Birds you may see include skylark, reed warbler and breeding redshank. 
The path continues towards the village of Seasalter with views across across the estuary of the River Swale to the Isle of Sheppey. The village has a nice pebble beach and the Michelin starred Sportsman pub. The well known pub is located at the western end of the village on a site which has hosted an inn since 1642.
The final section of the walk takes you into Whitstable, passing the shingle and sandy beaches flanking the harbour.  A notable feature of Whitstable is The Street, a natural strip of shingle on clay bank which runs out to sea at right angles to the coast, for a distance of about 1⁄2 mile (800 m). The feature is only revealed at low tide, when it is possible to walk out along it.
You can explore the attractive town which is criss-crossed by numerous small alleys and home to the largest village green in England at Duncan Down. View Full Details>>
Hastings Country Park
3 miles (5 km)
Enjoy over 600 acres of beautiful parkland and coast on this circular route in Hastings. The park is located in the High Weald Area of Outstanding Natural Beauty, most of the park has been designated a Special Area of Conservation and a Local Nature Reserve. Peregrines, black redstarts and fulmars can be seen on the coastal cliffs, while Dartford warblers, stonechats and yellowhammers can be seen on the gorse covered hills.
The route below is most suitable for walkers but National Cycle Network route 2 also runs through the park and is a short cycle from Hastings. See the Eastbourne to Rye Cycle Route for more details. View Full Details>>
Isle of Sheppey
11 miles (17 km)
The Isle of Sheppey is located of the north coast of Kent. There's some lovely coastal walking trails here and several nature reserves with an abundance of wildlife to see. View Full Details>>
Leysdown Coastal Park
6 miles (9 km)
Enjoy fabulous views of the Thames Estuary on this circular walk through Leysdon Coastal park and Leysdon Marshes on the Isle of Sheppey. For cyclists please see the Isle of Harty Trail which also runs through the park. View Full Details>>
Lower Leas Coastal Park
2 miles (4 km)
This coastal country park is located in Folkestone and has fabulous views over the Kent coastline. National Cycle Route 2 also runs through the park.
The park is divided into three zones. These include a formal zone with lovely gardens and pine avenues. The fun zone includes a free adventure play area and an amphitheatre. Finally, there's the wild zone with lots of interesting flora and fauna to look out for.
It's a delightful place with imposing cliffs, interesting rock formations, wildflower meadows and lots in intersting plants and flowers. View Full Details>>
Margate to Broadstairs Coastal Walk
6 miles (9 km)
This walk follows a section of the Thanet Coastal Path between these two major Kent towns. You'll pass a number of pretty beaches and bays including the popular Botany Bay. It's also an area with connections to Charles Dickens, with the walk passing Bleak House, the former home of the famous 19th century author. The walk is fairly easy going with most of the route taking place on flat, waymarked footpaths.
The walk starts in Margate near to the train station. You head east along the beach passing the noteworthy Turner Contemporary Gallery. It is situated on the seafront, on the same site as the boarding house where J. M. W. Turner stayed when visiting the town.
You continue past Walpole Bay to Palm Bay in Cliftonville where you will often see water skiing and jet skis. Shortly after you come to Foreness Point which extends a short distance into the entrance of the Thames Estuary. It sits just to the west of Botany Bay, a popular spot with its lovely beach and notable chalk cliffs.
After enjoying Botany Bay, the path continues to Kingsgate Bay where you will pass Kingsgate Castle. The castle was built for Lord Holland in the 1760s as the stable block of his nearby country residence Holland House. The castle sits just to the north of the chalk headland of North Foreland where there's a fine lighthouse and good views over the North Sea.
The final section heads south past Joss Bay to Broadstairs and Bleak House. The house was built in 1801 and resides on a cliff overlooking North Foreland and Viking Bay. Charles Dickens spent summer holidays at the house in the 1850s and 1860s and wrote David Copperfield there.
Broadstairs is a very attractive seaside resort with a nice beach, good cafes and two 1950's ice-cream parlours called Morelli's and Chiappini's. There's also a number of good museums including the Dickens House Museum where you can see a variety of Dickens memorabilia including letters written about Broadstairs, his writing box and mahogany sideboard. In June, there is a week-long Dickens Festival with costumed characters, talks and plays.  View Full Details>>
Pegwell Bay Country Park
2 miles (4 km)
This park is located near Ramsgate and has splendid views over Pegwell Bay and Sandwich Bay. In the bay is a large nature reserve, known for its migrating waders and wildfowl. A local cycle route runs right through the park so you can take your bike. View Full Details>>
Rye Circular Walk
7 miles (10.5 km)
This route from Rye uses two of the area's long distance footpaths to create a circular walk around the town. You'll follow sections of the 1066 Country Walk and Saxon Shore Way waymarked trails to visit the lovely Rye Harbour, the ruins of Camber Castle and the nearby town of Winchelsea.
The route starts near the train station in the town and heads south along the River Brede to the Martello Tower and the nature reserve. Here you will find a wide range of habitats including saltmarsh, lagoons, grazing marsh, shingle and reedbeds. Keep your eyes peeled for wildlife including ringed plover, avocet, oystercatcher, redshank, lapwing, and sandwich terns. The path also passes close to the noteworthy Camber Castle. You can visit the interesting ruins of this 16th century Device Fort, built by Henry VIII to protect the Sussex coast against French attack.
The trail bends round to the west to visit the small town of Winchelsea which makes a great place to stop for refreshments at one of the pubs or cafes. In the town you pick up the 1066 Country Walk to take you along Cadborough Cliff back into Rye. The final section crosses the pretty River Tillingham and the Rye Windmill before returning to the town centre. View Full Details>>
Rye Harbour
2 miles (4 km)
This lovely walk takes you around Rye Harbour Nature Reserve on the Sussex coast. There's great scenery with a wide range of habitats including saltmarsh, lagoons, grazing marsh, shingle and reedbeds. You can follow miles of footpaths through the reserve while looking out for a huge variety of wildlife.  Birds you might see include ringed plover, avocet, oystercatcher, redshank, lapwing, and sandwich terns. There's also lots of colourful plants and flowers in the summer months.  Look out for 456 species of flowering plants including yellow horned-poppy, sea pea and sea campion.
The reserve also includes Henry VIII's Camber Castle. You can visit the interesting ruins of this 16th century Device Fort, built to protect the Sussex coast against French attack. View Full Details>>
Samphire Hoe Country Park
2 miles (3.5 km)
This coastal country park is located near Dover on the Kent coast. The park was created by using chalk marl from the Channel Tunnel excavations. There are fabulous views of the stunning Shakespeare Cliff and the Strait of Dover. The park is a Nature Reserve with a huge variety of wildlife and a number of nationally rare plant species including the Early Spider Orchid.
The North Downs Way long distance trail runs right past the park. you can pick this up and head west to visit East Cliff and Warren Country Park. Here you'll find more great views and three old Martello Towers. Our Folkestone Walk starts at Lower Leas Coastal Park and takes you to all three of Folkestone's coastal park.
You could also continue to Folkestone on our Dover to Folkestone Walk which takes you between these two Kent ports. View Full Details>>
Seaford to Eastbourne
13 miles (21 km)
This is a popular coastal walk between these two East Sussex towns. It passes through many of the highlights of this beautiful area of the South Downs. This includes visits to Cuckmere River and Cuckmere Haven, Birling Gap, Seven Sisters Country Park, Friston Forest and Beachy Head. The route uses sections of the long distance Vanguard Way and South Downs Way to guide you along the coast. As such the footpaths are waymarked and generally in good condition.
It's about a 13 mile walk with the option of returning to Seaford on a splendid coastal bus ride from Eastbourne.
The walk starts in Seaford and heads east along the coast, passing the Martello Tower and the Seaford Head Nature Reserve. From here there are spectacular views of the Seven Sisters Cliffs and the Cuckmere Valley. It's also a great place for flora and fauna with nationally rare and significant species of plants, birds and insects.
The route then follows a riverside path north along the Cuckmere River. It's a very pretty area with species-rich chalk grassland and wildflowers in the summer months. Look out for wildlife which includes a variety of butterflies and wildfowl.
The route crosses the Exceat Bridge over the river to enter Seven Sisters Country Park. Here you will find 700 acres of parkland with lots of footpaths and cycling trails. You pick up the South Downs Way here and follow it south through the park to the coast. The next section takes you to Birling Gap where you can visit the National Trust owned Belle Tout lighthouse. It's a good place to stop for refreshments with a nice cafe and great views.
The next stage takes you from Birling Gap to Beachy Head. Here you will find the highest chalk sea cliff in Britain, rising to a height of 162 metres (531 ft) with fabulous views along the coast to West Sussex and Dungeness in Kent.
The final section descends into Eastbourne, passing along the beach before finishing at the pier.
For a longer, marathon length route try our Brighton to Eastbourne Walk. View Full Details>>
Seven Sisters Country Park
3 miles (5.5 km)
Explore nearly 700 acres of parkland and coast on this delightful circular walk through the South Downs. The Country Park is named after the famous Seven Sisters chalk cliffs on the Sussex Heritage Coast. On the route you will enjoy fabulous views of the Cuckmere river before heading towards the beautiful coastline.
The walk starts from the country park visitor centre next to Exceat Bridge at a postcode of BN25 4AB for your sat navs. From here you can pick up the South Downs Way National Trail and follow the waymarked path south along the Cuckmere River to the Seven Sisters cliffs. The path then heads east along the wonderful coast path to a significant landmark at Birling Gap. This special area is run by the National Trust and includes the famous Belle Tout lighthouse. There's also fabulous views along to the nearby Beachy Head and 500 acres of open chalk grassland with a wide variety of butterflies and wildflowers to look out for.
The route then leaves the coast and heads north towards Friston Forest where you can enjoy some nice woodland trails and look out for rare butterflies and deer. These trails will lead you west back to the visitor centre where the route finishes.
There are a number of other footpaths and trails in the Park - further information and trail maps can be found in the Visitor Centre. Cycling is permitted on the valley floor and there is a concrete track which offers access to the beach. Mountain biking is also popular in Friston Forest so much of this area is great for cyclists as well as walkers. View Full Details>>
Sheerness Way
6 miles (9 km)
Opened in 2011 this super, circular cycle and walking route, follows a series of safe, traffic free paths around Sheerness on the Isle of Sheppey.
You will run along the attractive Isle of Sheppy coast and Sheerness beach, while there is also a pleasant waterside section along the Queenborough Lines or the canal bank as it is known locally.
This is a nice family cycle ride as it takes place on flat, off road paths. Walkers looking for an easy circular walk will also find it suitable.
The route is easily accessible, starting and finishing at Sheerness-on-Sea railway station. View Full Details>>
South Downs Circular Walk
8 miles (12.5 km)
This terrific 8 mile circular walk visits some of the major highlights of the East Sussex area of the South Downs National Park. You'll take in Birling Gap, Seven Sisters Country Park, Friston Forest and the Cuckmere River and Cuckmere Haven. There's wonderful coastal views, riverside paths, woodland trails and some moderate climbs to enjoy on this varied route which is one of the best circular walks on the South Downs.
The walk starts from the Birling Gap car park. This National Trust owned area has great facilities and includes the splendid Belle Tout lighthouse. From the car park you head west along the The South Downs Way National Trail. This section of the trail runs along the coast to Cuckmere Haven. This area has a nice shingle beach with wonderful views of the Seven Sisters Cliffs. There's also riverside trails along the Cuckmere River and a wide variety of flora and fauna to look out for.
The route then heads north through the Seven Sisters Country Park. Here you'll find 700 acres of parkland with lots of great cycling and walking trails.
The walk then turns east through Friston Forest, where there are miles of shady woodland trails. You can look out for rare butterflies and deer as you make your way through the forest.
After leaving the forest you turn south, passing through countryside around East Dean, before returning to the car park on the coast.
To extend your exercise you could head east along the South Downs Way and visit Beachy Head, the highest chalk sea cliff in Britain. View Full Details>>
South Foreland Lighthouse
2 miles (3 km)
This walk climbs to the Victorian South Foreland Lighthouse on the White Cliffs above St Margaret's. It's about a one mile walk from the town up to the lighthouse with great coastal views and a visit to the lovely Pines Garden on the way.
The route starts at the public car park at St Margaret's Bay and follows a section of the South West Coast Path up to South Foreland. On the way you will pass the coastguard office on Bay Hill before following St Margaret's Road and Beach Road to the Pines Garden. The Gardens are well worth exploring with a waterfall and adjoining lake, a grass labyrinth and an organic kitchen garden with around 40 different species of fruit and vegetables. The site also includes the St. Margaret's Museum. The museum features changing displays about local history including St Margaret's during WW2, and one-time resident Noel Coward.
After leaving the Pines the path continues past the Grade II listed St Margaret's Windmill before coming to the lighthouse. The lighthouse was the first to display an electric light anywhere in the world. You can climb to the top of the structure and enjoy great views over to France. There's also a nice National Trust tea room for refreshments after your climb.
An alternative route is to park at the White Cliffs visitor centre and follow the White Cliffs Country Trails along the coast to the lighthouse. It's a slightly longer walk at 2 miles.
If you wish to extend your walk from the lighthouse you can continue west along the coast path and visit Dover Castle. View Full Details>>
Southend Millennium Walk
24 miles (39 km)
Enjoy the coastline and surrounding countryside of this famous seaside resort on this interesting circular walk.
You will enjoy beaches, the famous Golden Mile with its numerous tourist attractions and the longest pier in the world on the coastal stretch which starts at Southend Tourist Information Centre. Highlights on the walk include Southend's pretty cliff gardens near the start. The elevated park includes formal and informal gardens with beautiful views across the Thames Estuary. You'll also visit Hadleigh Country Park and the ruins of the 13th century Hadleigh Castle before heading inland through the attractive Essex Countryside, passing through Rochford on the way. You then return to the coast for another pleasant coastal stretch through Thorpe Bay before finishing back at the Tourist information centre in Southend. View Full Details>>
Southend to Leigh on Sea
4 miles (5.8 km)
Enjoy a nice coastal stroll on this easy walk along the Essex coast. The route runs from the popular seaside resort of Southend to the town of Leigh on Sea, about 3 miles to the west.
You start off on the front at Southend next to the noteworthy pier. The structure stretches 1.34 miles (2.16 km) into the Thames Estuary, and is the longest pleasure pier in the world. It includes the Southend Pier Railway which will take you to the pier head. There's also views of the Adventure Island theme park in this area.
From here you head west passing the pretty cliff gardens which are worth a small detour from the front. The elevated park includes formal and informal gardens with beautiful views across the Thames Estuary.
The route then passes Westcliff-on-Sea, Chalkwell and Leigh Cliffs before finishing at Leigh-on-Sea. Here you can catch the train back to Southend or return on foot if you prefer. View Full Details>>
Swale Heritage Trail
12 miles (19 km)
Travel through Kent along the Swale Heritage Trail from Murston to Goodnestone. The walk runs parallel to The Swale - the strip of sea separating North Kent from the Isle of Sheppey. View Full Details>>
Thames Estuary Trail
115 miles (185 km)
Explore the Thames Estuary on this walk through Essex and Kent. View Full Details>>
Thanet Coastal Path
20 miles (32 km)
Travel from Reculver to Pegwell Bay and enjoy bays, beaches and spectacular cliffs along this beautiful coastal path. The walk passes through several delightful coastal towns and villages including Birchington, Westgate on Sea, Margate and Ramsgate before finishing at the lovely Pegwell Bay.
Route highlights include the variety of coastal wildlife, the popular Botany Bay and the attractive harbours at Margate and Ramsgate. You'll also pass the delightful town of Broadstairs with its strong connections to Charles Dickens and wonderful views over Viking Bay. View Full Details>>
Two Tree Island
2 miles (3 km)
This expansive nature reserve in Leigh-on-Sea covers 257 hectares (640 acres). The site is located just a few miles along the coast from Southend and contains miles of nice walking trails. View Full Details>>
Undercliff Walk Brighton
3 miles (5 km)
Follow the Undercliff Walk from Brighton Marina to Saltdean on this exhilarating coastal walk or cycle. The path runs for about 3 miles along the sea wall with the wonderful white cliffs on one side and the shingle beach and sea on the other. It can be a very exciting walk when the waves are crashing against the sea wall but do take care on particularly windy days as the water can come right over onto the path.
The route passes along National Cycle Network route 2 so it's open to cyclists as well. Please note that pedestrians have priority so please keep to a reasonable speed on your ride. The path is flat and well surfaced so it's a nice easy ride for beginners or families to try.
The path starts from the marina about a mile east from the town centre. You pass Roedean and Rottingdean before finishing at the village of Saltdean. Here you will find the Grade II Listed Saltdean Lido built in 1937-38 to designs by the architect Richard Jones.
There's plenty of nice cafes along the way where you can stop for refreshments before starting the return leg. You could return via Ovingdean and the East Brighton Golf course on more elevated paths as an alternative.
If you felt like extending your walk you can continue to Newhaven along the wonderful Brighton to Newhaven clifftop path. View Full Details>>
Wallasea Island
9 miles (14.5 km)
This walk visits the lovely Wallasea Island on the Essex coast. View Full Details>>
Whitstable to Herne Bay
5 miles (8 km)
Enjoy a coastal walk between these two attractive Kent towns. It's a nice easy, five mile walk, using a section of the Saxon Shore Way. You can return the same way or catch a train back to Whitstable. View Full Details>>
Whitstable to Margate Walk
15 miles (24 km)
This walk follows a section of the Thanet Coastal Path from Whitstable to Margate. The route runs for a distance of just over 15 miles along a fairly flat, waymarked footpath. As such it's possible to complete in a day for those with a good level of fitness.
The walk starts from Whitstable and heads east to Swalecliffe and Herne Bay. Here you'll find an award winning shingle beach, Victorian bandstand and gardens, and the world's first freestanding purpose-built Clock Tower, built in 1837.
The route then continues to Reculver where you'll skirt the edge of Reculver Country Park. Here you'll pass the noteworthy Reculver Towers. They are an important local landmark and are listed as a Scheduled Ancient Monument. View Full Details>>