Winchester Walks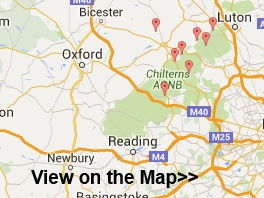 We've compiled a list of some of the best walks around the Hampshire city of Winchester.
Use the filter to show walks of a certain type such as woods, reservoirs, hills, long distance, country parks, canals and rivers.
In the spring walkers flock to the beautiful bluebell woods in the Winchester area. Click the 'Woodland' button below to see these.
Use the links to view full route information including elevation profiles, interactive maps and GPS downloads.
You can also view an overview map of all the routes in the using the Winchester Walk Map>>
Route Name
Distance
Description
Allan King's Way
42 miles (68 km)
Follow this splendid walking path from Portchester to Winchester and enjoy the wonderful Hampshire countryside.
You start off at the medieval Portchester Castle at the head of Portsmouth Harbour. The route then heads north towards Fareham and then onto Fort Nelson, one of five defensive forts built on the summit of Portsdown Hill in the 1860s. From here you continue to the town of Bishop's Waltham. View Full Details>>
Cheesefoot Head
7 miles (12 km)
This circular walk visits a large natural amphitheatre near Winchester before exploring the surrounding area on a network of footpaths. It's an undulating route with some moderate climbs and lovely views over the South Downs, The New Forest, the Isle of Wight and Butser Hill.
Start the walk from the Cheesefoot Head car park a few miles east of Winchester, near the small village of Chilcomb. From here you can pick up the King's Way and the South Downs Way to take you past the site and into the surrounding countryside.
Start by heading south along the King's Way through Longwood Warren before bending round to the east. You'll pass pockets of woodland before coming to Lane End and Beauworth. Here you turn north along Holden Lane, following the South Downs Way across Gander Down. You then turn south, passing the woodland in the Temple Valley before returning to the car park. View Full Details>>
Clarendon Way
24 miles (39 km)
Walk from Salisbury to Winchester on the Clarendon Way and enjoy some wonderful scenery. The route takes you through the counties of Hampshire and Wiltshire and runs for a distance of about 25 miles.
The path starts next to Salisbury Cathedral and heads through Milford and past the photogenic ruins of Clarendon Palace before a short wooded section takes you to Pitton.
You then cross the hills to West and Middle Winterslow and descend into Broughton where you join a lovely country lane that takes you onto Houghton.
Here you cross the River Test on your way to the worthy village of King's Somborne with its 17th century pub and 13th century church.
Another wooded section through Parnholt woods then leads to the beautiful Farley Mount Country Park where at the highest point there is a pyramid shaped folly that gives the park its name.
The final section sees the walker descend into the city of Winchester, passing through the outskirts and then along the River Itchen to finish next to the famous cathedral. View Full Details>>
Farley Mount Country Park
3 miles (5.5 km)
Farley Mount Country Park is located a few miles west of Winchester. It is a large area of open country and woods and a Local Nature Reserve. At the highest point there is a pyramid shaped folly that gives the park its name. From here there are fabulous views over the South Downs and the surrounding area. The route below is devised for walkers but cyclists can follow the marked bridleway that dissects the park and links to further routes in the surrounding countryside. View Full Details>>
Hinton Ampner
1 miles (1 km)
Explore the beautiful gardens surrounding this stately home near New Alresford in Hampshire. View Full Details>>
Hockley Viaduct
12 miles (20 km)
This circular walk in Winchester visits the historic Hockley Railway Viaduct. From the top of the viaduct there are fine views over the river towards Winchester and St Catherine's Hill. A Winchester City Council information board says 'The viaduct offers a unique opportunity to view contrasting local landscape features from a high level. To the north and west are some of the best views of the Itchen Valley (Winchester Meadows) Site of Special Scientific Interest.'
The walk starts in the centre of Winchester, near to the cathedral. Head east and you can pick up paths heading south along the Itchen to Wharf Hill Bridge which spans the river. Built in the 1760s, it is notable as the oldest surviving bridge over the River Itchen. There are nice views down the river to Winchester College Boat Club from here.
The route continues south passing St Catherine's Hill on your left before coming to the viaduct. The structure , was built in the late 1880s by the London and South Western Railway. It provided a link over the River Itchen and water meadows, from the Didcot, Newbury and Southampton Railway (DN&SR), to the LSWR's main line. The newly restored viaduct was officially opened on 26 February 2013 by the World Champion cyclist Dani King. It now forms part of the National Cycle Route 23 and is popular with walkers and cyclists. There are great views over the city of Winchester and the Itchen Valley countryside from the elevated position of the viaduct.
After crossing the viaduct you head north to St Cross where you pick up a section of the Clarendon Way to take you back into the city centre. View Full Details>>
Itchen Way
31 miles (50 km)
Follow the River Itchen from its mouth at Woolston to its source near Hinton Ampner on this beautiful waterside walk.
You start near Woolston station near Southampton Docks and head north through Southampton to a lovely riverside park near Swaythling and the Itchen Valley Country Park. The path continues past Southampton Airport and through Eastleigh before arriving at Winchester with its impressive cathedral. Here you can take a small detour to climb the lovely St Catherine's Hill and enjoy fine views over the town below, the River Itchen and the surrounding countryside of the South Downs.
From Winchester you then turn east towards Itchen Abbas and New Alresford with the final section passing through Cheriton and finishing at National Trust owned Hinton Ampner. View Full Details>>
Lakeside Country Park
1 miles (2 km)
Enjoy 60 acres of lakes, wet meadow and woodland located between Eastleigh and Southampton. The park has a range of birds, insects and small mammals as well as the occasional fox and deer. There is also a miniature railway and a cafe. View Full Details>>
Meon Valley Trail
9 miles (15 km)
This peaceful cycling and walking trail runs along a disused railway track from West Meon to Wickham via Droxford. There are splendid views of the beautiful Meon Valley and the River Meon to enjoy as well as a variety of wildlife including butterflies, redwing and egrets.
The route is reasonably flat, running along a surfaced path for just under 10 miles. View Full Details>>
Old Winchester Hill
9 miles (14 km)
This walk takes you up the 197 metres (646 ft) Old Winchester Hill in the South Downs. The hill and surrounding area is a National Nature Reserve with a wide variety of butterflies and wildlife to look out for. These include buzzards, kites, roe deer and foxes. The area is made largely of chalk grassland with extensive scrub and many orchid species. There is also an Iron Age hill fort and earlier Bronze Age barrows and burial mounds.
This circular walk starts at the village of Meonstoke and makes use of the South Downs Way to take you to Old Winchester Hill before returning via Warnford and Beacon Hill. There are super panoramic views of the South Downs and the Meon Valley from the high points. On a clear day you may even be able to see the Isle of Wight.
If you'd like to continue your walk then you could pick up the South Downs Way or the Monarch's Way which run past the hill. View Full Details>>
Oxdrove Way
25 miles (40 km)
The Oxdrove Way is an off road cycle trail and walking path which forms a figure of eight through the rolling downland, woods and farmland of the Hampshire countryside around New Arlesford. You will pass Preston Down, Bradley, Upper Wield, New Alresford, Abbotstone and Itchen Down. View Full Details>>
Pilgrim's Trail
29 miles (47 km)
This medieval walk runs from Winchester to Portsmouth through Bishop's Waltham and Southwick, following in the footsteps of the Miquelots, pilgrims who made the long journey to worship St Michael in Normandy. View Full Details>>
Pilgrims Way
133 miles (214 km)
Follow in the footsteps of the pilgrims who followed this ancient track from Winchester in Hampshire, to the shrine of Thomas Becket at Canterbury in Kent. View Full Details>>
Shawford to Winchester Walk
3 miles (5 km)
Enjoy a nice riverside walk from Shawford to Winchester on this easy route in Hampshire. It's about a 3 mile walk using a series of good surfaced paths along the River Itchen and the Itchen Navigation. You can return on the same paths or catch the train back from Winchester if you prefer.
The walk starts from Shawford train station and follows the waymarked Itchen Way north along the River Itchen. You'll pass Hockley Golf Course and the noteworthy St Catherine's Hill. You could take a small detour from the route and enjoy fine views over Winchester from the summit. It's a very pretty area with the chalk downland covered in wild flowers including bird's-foot trefoil, salad burnet, dropwort and several types of orchid.
Soon after passing the hill the route enters the outskirts of Winchester before finishing at the famous cathedral. View Full Details>>
St Catherine's Hill Winchester
1 miles (1.5 km)
Climb this small hill in Winchester for fine views over the town, the River Itchen and the surrounding countryside of the South Downs. It's a very pretty area with the chalk downland covered in wild flowers including bird's-foot trefoil, salad burnet, dropwort and several types of orchid. This attracts 25 different types of butterfly such as marbled white, chalkhill blue and brown argus. There are also the ramparts of an Iron Age hill fort, a 17th/18th century mizmaze and a copse of beech trees containing the site of a 12th century chapel.
There is a car park just north of the hill where you can pick up the footpaths to the hill. You could also walk from the centre of town which is only about a mile away. If you're coming by bike then National Cycle Route 23 runs right past the hill along the river. View Full Details>>
St Gile's Hill Winchester
1 miles (1 km)
This short walk climbs to a fine viewpoint above the city of Winchester. From the top of the hill there are great views of the city's main highlights including Winchester Cathedral, the College and Wolvesey Castle.
The hill is located just to the east of the city centre and can be reached by following The Broadway and then Bridge Street to the base of the hill. Here you follow a series of steep steps to the hill top where you will find a little park with benches, an information board and the observation area. View Full Details>>
St Swithun's Way
34 miles (55 km)
Follow the St Swithun's Way from Winchester to Farnham on this historical walk through the Hampshire and Surrey countryside. The trail gives the walker the opportunity to visit numerous churches with pilgrimage connections.
The walk begins at the splendid Winchester Cathedral and heads east, through the Itchen Valley towards Itchen Abbas. This opening section includes a long waterside stretch along the River Itchen, passing through the pretty village of Itchen Abbas as you go.
The next section takes you from New Alresford to Alton along country lanes and through a couple of peaceful woodland stretches. You will also pass through the village of Chawton - home to Jane Austen.
From Alton you head north-east, following the River Wey through Bentley, before finishing at Farnham in Surrey. Here you can enjoy a visit to Farnham Castle and Farnham Park where there's 320 acres (130 hectares) of hills, valleys, ponds and streams. View Full Details>>
Stoke Park Woods
3 miles (5 km)
These woods in Eastleigh have some nice cycling and walking trails to try. In the spring months there's also lots of bluebells to see.
Enter the woods on Stoke Park Road at the western side of the site where there is a small car park. From here you pick up a selection of cycle trails and footpaths to take you around the woods. On the eastern side of the woods you can enjoy refreshments at the Fox and Hounds pub at Pylehill. View Full Details>>
The South Downs Way
99 miles (160 km)
This beautiful 100 mile long trail runs from Winchester to the coastal town of Eastbourne. View Full Details>>
Three Downs Link
102 miles (164 km)
This is a walking and cycling path following bridleways through Hampshire, Berkshire, Wiltshire and Oxfordshire. The trail runs from Exton, in Hampshire, to Dean Hill, near Hungerford. You will pass through open chalk downland, along rivers and canals and through some pretty villages.
The route passes through or near Basingstoke, New Arlesford, Malborough, Winchester, Newbury and Hungerford. It uses the South Downs Way National Trail for part of the route and also links with the Ridgeway National Trail. View Full Details>>
Wayfarer's Walk
71 miles (114 km)
Starting at the town of Emsworth on Chichester Harbour, follow this fabulous 70 mile walk through the heart of Hampshire and on into Berkshire.
You will pass through the pretty Hampshire towns and villages of Cheriton, Droxford, Hambledon and New Arlesford while also experiencing the beautiful landscape and wildlife in this special county.
The path is easy to follow as it is waymarked by metal and plastic disks attached to wooden and metal posts.
Highlights on the route in include the National Trust owned Hinton Ampner stately home with its wonderful gardens and Watership Down - the delightful setting for Richard Adams' 1972 novel.
The route passes the wonderful 5000 acre estate surrounding Highclere Castle in Hampshire. The house is famous as the location of period drama 'Downton Abbey' and includes the excellent viewpoint at Beacon Hill. There are also some lovely waterside stretches to enjoy at Cheriton along the River Itchen and along the River Arle at New Arlesford. The walk finishes at Walbury Hill, the highest point in Berkshire and the South East of England. View Full Details>>
Wickham
15 miles (24.5 km)
This route from Wickham uses part of the Meon Valley Trail and the waymarked King's Way to create a circular walk around the village. The walk first follows the old railway line along the River Meon before heading into the attractive countryside and woodland to the east of the village. View Full Details>>
Winchester Circular Walk
3 miles (5 km)
This circular walk takes you around the city of Winchester in Hampshire. The walk makes use of the Itchen Way long distance footpath to take you along the River Itchen to St Catherine's Hill before returning to the town centre on other public footpaths. View Full Details>>
Winnall Moors Nature Reserve
2 miles (2.5 km)
Enjoy a short stroll around this pretty nature reserve in Winchester. In the reserve you will find wetland with chalk stream, reedbeds and grassland. View Full Details>>