Cranborne Chase Walks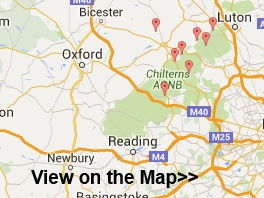 This Area of Outstanding Natural Beauty straddles the counties of Dorset, Hampshire and Wiltshire. It covers 379 square miles (981 square kilometres)  and is covered with miles of wonderful walking trails.
Please use the links below to view full route information including descriptions, elevation profiles, interactive maps and GPS downloads.
You can also view an overview map of all the routes in the using the Cranborne Chase Walk Map
Route Name
Photo
Distance
Description
Badbury Rings
2 miles (4 km)
Climb this Iron Age hill fort and enjoy wonderful views across the Dorset countryside on this circular walk near Wimborne.
The route starts at the car park on Blandford Road and takes you around Badbury Rings on good footpaths. The countryside surrounding the fort is very attractive with woodland, fields and nice views towards Kingston Lacey. You'll also pass the ancient woodland of the Oaks which was planted in the 14th century.
The site has evidence of Bronze Age, Iron Age and Roman occupation. It is named after the Iron Age hill fort with the three rings, which date from around 500 to 600 BC.
If you would like to continue your walk then you could visit the nearby Kingston Lacy. Here you will find miles of walking trails through woodland and attractive parkland and gardens. View Full Details>>
Cley Hill
1 miles (1.5 km)
Climb this distinctive hill in Warminster and enjoy wonderful views over West Wiltshire and Somerset. The chalk downland of the hill is covered in wildflowers in the summer months.
There is a car park about half a mile south of the hill. From here you can pick up the footpath to the hill summit. The hill is located very close to Longleat Park so you can continue your walk here. There are miles of woodland trails, a series of ponds and the famous safari park. You could try the Shearwater Lake Walk which takes you along a 37 acre lake with access to the surrounding forest. A short walk from here is the wonderful Heaven's Gate with fascinating sculptures and wonderful views over Longleat.
The Mid-Wilts Way also crosses the hill so you could pick this up and head towards Upton Scudamore or into Longleat Forest. View Full Details>>
Coombe Bissett Down
3 miles (5 km)
Enjoy a short walk around this pretty nature reserve near Salisbury. The reserve is located just a few miles south west of Sailsbury and has nice walking tracks to try. The area is a chalk downland valley with a variety of plants to enjoy such as delicate harebells, bee orchid, devil's-bit scabious and the burnt orchid. It's great for wildlife too with butterflies including Adonis blue, chalkhill blue and dingy skipper and birds including Yellowhammer, goldfinch, and skylarks. The reserve includes a mixture of grassland and woodland.
There are some slopes in the reserve so some climbing is required. You are rewarded with splendid views over the surrounding countryside of the Cranborne Chase AONB.
You can also enjoy a walk around the pretty little village of Coombe Bissett. There is a nice pub called the Fox and Goose, a church dating from the 12th century and lovely thatched cottages. The River Ebble also runs through the village. View Full Details>>
Dinton Park
5 miles (8 km)
Explore the extensive parkland and woodland surrounding this Neo-Grecian house in Dinton, Salisbury. There are good footpaths running past the pretty lake into extensive woodland. There are also great views across the Wiltshire countryside toward Salisbury Cathedral.
To extend your walking in the area you could head a few miles west and enjoy a circular walk around the lovely Fonthill Estate. The estate has nice footpaths with pockets of woodland and a large lake. View Full Details>>
Fonthill Estate
4 miles (6.5 km)
Enjoy a lovely circular walk around the village of Fonthill Bishop on this circular walk near Salisbury in Wiltshire. There's much to enjoy with woodland trails, countryside views and a waterside section along the pretty Fonthill Lake.
The walk starts in the village and then climbs south east towards Ridge Hill, passing through woodland along the way. It's a moderate climb to a height of over 500ft with great views of the Wiltshire countryside from the high points.
At Ridge Hill you turn south west, descending to Fonthill Lake. The large lake is 1.6 km (1 mi) long and about 100 m (328 ft) wide. It's a beautiful, peaceful spot with Mandarin ducks and Swans to look out for on the water. The lake was used as the location for the filming of all the river scenes in the film Chocolat with Johnny Depp. At the southern end of the lake you can pick up a footpath along the River Nadder and visit Tisbury if you have time.
This route then follows the lake north past Fonthill Park to the village. It's a lovely section with nice views across the lake to the surrounding woodland and farmland.
To extend your walking in the area you could pick up the Wessex Ridgeway Trail long distance footpath. The trail runs through nearby Hindon and will take you north to the Great Ridge Forest.
The Monarch's Way also runs right through Fonthill Bishop. You could pick up the trail and head west to the pretty Mackintosh Davidson Wood Nature Reserve.
Just to the east of the village is the splendid Dinton Park. Here you will find extensive parkland and woodland surrounding a Neo-Grecian house.
Click here for more walks in the Cranborne Chase AONB. View Full Details>>
Fontmell and Melbury Downs
5 miles (7.5 km)
Enjoy a variety of beautiful flora and fauna in this nature reserve in Compton Abbas on the Dorset/Wiltshire border. The area is associated with the novels of Thomas Hardy and includes a climb to Melbury Hill for wonderful views over the area. Also look out for a variety of birds, butterflies, wildflowers and orchids in this delightful area.
The walk starts from the car park at the top of Spread Eagle Hill and follows footpaths to Compton Abbas. From here you climb past Compton Down before reaching the 863 feet summit of Melbury Hill. From here there are splendid views over Blackmore Vale, Vale of Wardour and Shaftesbury. The walk then descends back to Compton Abbas before crossing Fontmell Down and returning to the car park.
At the end of your walk you can enjoy refreshments at the Compton Abbas Airfield Restaurant which is located just to the east of the car park.
If you would like to continue your walking in the area then you could head east to Win Green Hill. It is the highest point in the Cranborne Chase AONB and commands wonderful views over Shaftesbury, Salisbury Plain, Glastonbury Tor, the Mendips, the Quantocks, the Purbecks and the south coast. Also nearby is Melbury Down, Melbury Wood and Fontmell Wood.
If you head a few miles to the north west you could visit Duncliffe Wood where there is a nice climb to Duncliffe Hill, pretty bluebells in the spring and bridleways suitable for cycling. View Full Details>>
Grovely Wood
6 miles (9 km)
Enjoy cycling and walking trails in this large area of woodland near the Wiltshire village of Great Wishford.
This route starts in Great Wishford and makes use of the Monarch's Way and the Salisbury Country Way to take you into the woods. Start off in the village centre and then follow the Grovely Road south west to the woods. There's lots of nice wide trails with beech trees lining the way. Look out for a variety of birdlife and the Purple Emperor butterfly as you make your way around the expansive site.
A Roman road also passes through the centre of the woods. This makes for a good cycle path taking you from one end of the woods to the other. You can pick up the path from Wilton and head west to the forest, as an alternative route. It's a great area for mountain bikes with lots of additional trails to choose from.
If you would like to extend your walking in the area then the village of Great Wishford and the surrounding area is well worth exploring. The village has a fascinating parish church with a 13th-century chancel and 15th-century tower. You can also enjoy a stroll along the River Wylye which runs through the village.
If you continue west along the Monarch's Way it will take you to Great Ridge Wood where there are more good woodland trails to try. View Full Details>>
Hambledon Hill
2 miles (4 km)
Climb Hambledon Hill and enjoy far reaching views over the Cranborne Chase AONB on this walk near Child Okeford in Dorset. On the hill you will find one of the country's best preserved Iron Age hill forts. The area is also a National Nature Reserve so there is an abundance of interesting flora and fauna to look out for. Plants include pyramidal orchid and wild thyme while butterfly species include dingy skipper, grizzled skipper, chalkhill blue and adonis blue. From the 192 m (630 ft) summit there are fabulous views over rhe Blackmore Vale, the river Stour, Wiltshire and Somerset.
This circular walk starts from the village of Child Okeford and follows country lanes and the Stour Valley Way to the hill summit. You then descend back to the village via Fernhayes Copse.
The Stour Valley Way and the Wessex Ridgeway both cross the hill so you could pick up either of the long distance trails to extend your walk. One option would be to continue south east to Hod Hill for more great views. View Full Details>>
Heaven's Gate Longleat
1 miles (1 km)
Enjoy wonderful views over the Longleat Estate and the surrounding Wiltshire countryside on this short walk near Warminster. From the car park at the Nockatt Coppice there is a lovely footpath through attractive woodland which leads to the top of Prospect Hill and Heaven's gate. Here you will find a series of interesting stone sculptures created by the sculptor Paul Norris. In the right light the crystals and metals embedded within the stones are reflected meaning the stones appear to glow. From the top of Prospect hill you can also enjoy far reaching views towards Somerset. There's a series of benches where can you sit and relax or wide lawns where you could have a picnic.
To extend your walk you could head east through the woodland to Shearwater Lake. This 37 acre lake is surrounded by attractive woodland and interesting flora and fauna. You could also climb the nearby Cley Hill for more great views over West Wiltshire and Somerset. View Full Details>>
Jubilee Trail
88 miles (142 km)
This walk crosses from one side of Dorset to the other, taking you on a tour of some of the county's best scenery and prettiest villages. The Trail runs from Forde Abbey on the Somerset border in the west, across Dorset to Bokerley Dyke on the Hampshire border. You will pass through Winterborne Abbas, Upwey, West Knighton, Crossways, Moreton, Bere Regis, Milton Abbas, Winterborne Stickland, Durweston, Stourpaine, Pimperne, Tarrant Gunville, Chettle and Cranborne.
Route highlights include the lovely Sculpture by the Lakes near Dorchester and Mapperton House in Beaminster. On the border with Hampshire you will find the delightful Martin Down Nature Reserve which has a variety of lovely flora and fauna. View Full Details>>
Kingston Lacy
3 miles (5 km)
Explore the extensive parkland and gardens surrounding this lavish country mansion near Wimborne Minster in Dorset. Well laid out way-marked footpaths will take you across the wide lawns and through peaceful woodland to the beautiful Japanese Gardens with bamboo plants, granite lanterns and an authentic Japanese tea house. You can also follow the avenue of Lime trees to the arboretum known as Nursery Wood.  Here you'll find a beautiful collection of azalea, camellia, rhododendron and flowering cherry trees. Other features in Kingston Lacy Park include the restored Victorian Kitchen Garden, the ancient Egyptian obelisk, the Rose Garden, the South Terrace, the Parterre, the Fernery and the Cedar Walk.
You can also explore the Italian style house with its collection of ancient Egyptian artefacts and paintings including pictures by Rubens and Van Dyck.
If you have time you could also explore the wider estate which covers 8500 acres. Highlights include the nearby Badbury Rings Iron Age hill fort and the delightful two and a half mile long Beech Avenue. The Stour Valley Way long distance walking trail also runs past the estate so you could pick this up and follow the River Stour into Wimborne Minster. View Full Details>>
Martin Down Nature Reserve
2 miles (4 km)
This beautiful nature reserve on the Hampshire/Dorset border consists of 350 hectares of unspoiled chalk downland. It's a splendid area with miles of good footpaths taking you past wildflower meadows and sweeping grassland.
This circular walk starts from the car park off the A354 near Bokerley Junction. You then follow good footpaths around the reserve, passing along the Bokerley Dyke which defines the border between the counties of Hampshire and Dorset.
The area is great for flora and fauna. Look out for birds such as Cuckoos, yellowhammers, and skylarks. In the summer months there are various butterflies including Adonis blue and the dark green fritillary. The area is covered with an abundance of pretty plants and flowers including several species of orchid.
If you would like to extend your walk then you could pick up the Jubilee Trail which starts from the reserve. You could follow the trail to the nearby Pentridge Hill for great views over the Hampshire and Dorset countryside. You could also head north to Vernditch Chase where there are some nice woodland walking trails to try.
Martin Down is located near to both Fordingbridge and Salisbury. View Full Details>>
Mid-Wilts Way
68 miles (109 km)
A 68-mile walking route that takes in some of Wiltshire's finest countryside and downland areas. The walk runs from the village of Ham (near Inkpen) to Mere (near Warminster).
You will visit a series of pretty villages including Wilton, Wootton Rivers, Oare, Seend Cleeve, Keevil, Steeple Ashton, Bratton, Upton Scudamore, Horningham and Kingston Deverill. The walk includes several hill climbs with fabulous views of the Wiltshire countryside. This includes a climb to Cley Hill in the Cranborne Chase AONB. The hill is owned by the National Trust and commands great views over Wiltshire and Somerset.
There are also long waterside sections along the Kennet and Avon Canal and a section through Longleat Center Parcs towards the end of the walk.
The route is now officially open and has been waymarked with discrete MWW discs. The Visit Wiltshire website has some excellent downloadable guides . Please note the route has recently been extended so this link does not include the full current route. View Full Details>>
Old Sarum Way
33 miles (53 km)
This circular route takes you on tour through the river valleys, woodland and downland around Salisbury.
There is some beautiful scenery to enjoy including views of the Rivers Avon, Ebble and Bourne. You will also pass through a series of peaceful villages including South Newton, Alderbury, Burcombe, Downton, Durnford and Charlton with pretty thatched cottages and quaint pubs to enjoy. View Full Details>>
River Wylye Valley
3 miles (5 km)
Enjoy a peaceful stroll along the River Wylye on this waterside walk in the Wiltshire village of Great Wishford. You can start the walk at Stoford Bridge and then follow the riverside footpath to Serrington. It's a nice 1.5 mile stroll with lovely views across the countryside of the Wylye Valley. You can return the same way or head east at Serrington along the Chain Drove and then head south along the Monarch's Way to return you to the village.
Just to the west of Serrington you will find Steeple Langford where you can visit the Langford Lakes Nature Reserve. You can also follow the Monarch's Way south west from Great Wishford to visit Grovely Wood. The expansive wood has miles of nice woodland walking and cycling trails to enjoy.
The Salisbury Country Way also runs through the village. This long distance footpath takes you on a tour of the villages and countryside surrounding Salisbury. If you follow it north east you will soon come to the iconic Stonehenge. View Full Details>>
Salisbury Country Way
61 miles (98 km)
A super circular walk through the countryside around Salisbury. The walk visits the ancient stone circles at Stonehenge, Compton Park, Downton and includes a lovely riverside stretch along the River Avon. You'll also pass through the delightful Martin Down Nature Reserve. This beautiful nature reserve on the Hampshire/Dorset border consists of 350 hectares of unspoiled chalk downland with a variety of flora and fauna.
Other highlights include views of the River Wylye Valley and a stretch through Grovely Wood near the village of Great Wishford.
You can explore the Stonehenge site below using google street view. View Full Details>>
Shearwater Lake
2 miles (2.5 km)
Enjoy an easy waterside walk along this pretty lake on the Longleat Estate. The lake is located near Warminster and has a nice walking trail running alongside the 37 acre lake. It's a lovely area for a picnic with the lake surrounded by attractive flora and fauna. Look out for little sailboats and various wildfowl on the lake and fish in the water.
There are miles of woodland trails surrounding the lake so you can easily extend your walk here. One option would be to head west to Heaven's Gate for great views over the Longleat Estate.
There is a car park right next to the lake so access is easy. You can also enjoy refreshments at the lakeside cafe.
If you would like to continue your walking in the area then you could climb the nearby Cley Hill and enjoy wonderful views over West Wiltshire and Somerset. View Full Details>>
Stourhead
2 miles (2.5 km)
The 1,072 hectare (2,650 acre) Stourhead estate has miles of lovely walking trails to try. You can follow the well surfaced footpaths around the stunning lake and into the surrounding woodlands, parkland and gardens. There is a collection of exotic trees which look wonderful in the autumn months. You'll also pass some classical architecture including temples, mystical grottoes and the beautiful arched bridge over the lake.
If you would like to extend your walking in the area then you could follow the Stour Valley Way south towards Bourton. The Leland Trail also starts at Stourhead so you could pick this up and visit King Alfred's Tower.
To extend your walk you could climb White Sheet Hill for wonderful views over the Cranborne Chase AONB.
You can virtually explore Stourhead using the google street view link below! View Full Details>>
Wessex Ridgeway Trail
62 miles (100 km)
Follow the Wessex Ridgeway Trail and enjoy specatular views of the Dorset countryside on this shared walking and cycling path.
The trail begins at Tollard Royal in Wiltshire and heads to Hambledon Hill passing through Ashmore Wood and crossing the River Iwerne on the way.
A short section along the river Stour and a wooded spell through Blandford Forest take you to Ibberton and then onto Up Cerne and Maiden Newton. You then head to Beaminster before passing through the beautiful Marshwood Vale and finishing on the jurassic coast at Lyme Regis. View Full Details>>
White Sheet Hill
4 miles (7 km)
Climb to the 245 m (804 ft) summit of this hill in Wiltshire and enjoy wonderful views over the Stourhead Estate and the surrounding countryside. The hill is located about 2 miles to the east of Stourton. You can park at the Stourhead estate National Trust car park and follow footpaths to Drove Lodge before picking up a track to the hill. The area is covered with rare and protected fauna and flora including various wildflowers, several species of orchid, the chalkhill blue butterfly and the golden plover. It is also of archaeological significance with an Iron Age Hill Fort,  neolithic causeway camp and barrows. The views over the Cranborne Chase AONB and the Somerset, Dorset and Wiltshire countrsyside are extensive.
If you would like to continue your walking in the area then you could explore the Stourhead Estate. Here you will find mile of footpaths taking you around an exquisite lake and through woodlands, parkland and gardens. View Full Details>>
Win Green Hill
2 miles (2.5 km)
Climb to the highest point in the Cranborne Chase AONB and enjoy wonderful views over Shaftesbury, Salisbury Plain, Glastonbury Tor, the Mendips, the Quantocks, the Purbecks and the south coast.
There is a National Trust car park near the hill summit. You can park here and follow footpaths up to the 277 metres (909 ft) high point and enjoy the panoramic views over the beautiful surrounding coutryside. The summit has a distinctive look with a clump of beech trees growing on a Bronze Age bowl barrow. In the summer months you will find many interesting plants and flowers on the rich downland of the hill. 
You could extend your walk by continuing south along the Wessex Ridgeway to Tollard Royal via Ashcombe Bottom. As an alternative you could start the walk from the village of Tollard Royal and visit the hill from there. View Full Details>>
Wylye Way
33 miles (53 km)
Follow the River Wylye through Wiltshire on this interesting and varied walk.
You start at the splendid Stourhead - an 18th century landscaped garden owned by the National Trust. You then follow the river through a series of pretty riverside villages including Kingston Deverill, Monkton Deverill and Longbridge Deverill, before a wooded section through Southleigh Wood on the outskirts of Warminster.
The second section takes you through Heytesbury, Codford St Peter and Great Wishford to the finish point at the splendid Wilton House near Salisbury. View Full Details>>
Panoramio: Photos are copyrighted by their owners