Berkshire Walks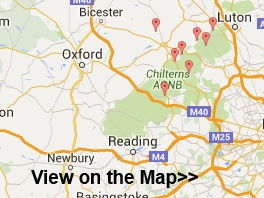 Please use the links below to view full route information including descriptions, elevation profiles, interactive maps and GPS downloads.
You can also view an overview map of all the routes in the using the Berkshire Walk Map
Route Name
Photo
Distance
Description
Basildon Park
3 miles (5 km)
A walk around the beautiful Basildon Park near Reading. There are 4 different waymarked trails through the 400 acres of parkland and woodland that surround the 18th century mansion house. The walk also takes you through the beautiful garden with its maze, wildflower meadows and rose garden.
The route also passes very close to Beale Park Wildlife Park and Gardens which are well worth a look. Here you'll find collections of small exotic animals, farm animals and birds, landscaped gardens and woodlands, and children's play areas. You will also pass very close to the River Thames so the walk can be continued along the river too.
Beeches Way
16 miles (25 km)
Follow the Beeches Way through the Chilterns AONB from the River Thames at Cookham to the Grand Union Canal at West Drayton.
You start off at Cookham and head east to the wooded Burnham Beeches Nature Reserve. The walk then passes through Fulmer before a lovely stretch through Black Park Country Park and Langley Park Country Park. The final stretch takes you around the lakes in Colne Valley Regional Park before finishing on the Grand Union Canal at West Drayton.
Blackwater Valley Footpath
23 miles (37 km)
This is a nice easy waterside walk along the Blackwater River from Aldershot to Swallowfield.
The walk starts at the delightful Rowhill Nature Reserve in Aldershot and heads along the river to Farnborough, passing Gold Valley Lakes and Willow Park on the way. From Farnborough you continue through Frimley Hatches Nature Reserve and Blackwater to the splendid Tri Lakes Country Park near Yately. The final section takes you on to Swallowfield via Eversley.
With lakes, wetlands, rivers, canals and ponds there is a huge variety of water loving wildlife to look out for on this super walk through the beautiful Blackwater Valley.
Bracknell Forest Ramblers Route
26 miles (42 km)
This circular walk takes you on a tour of the woodland and countryside of Bracknell Forest in Berkshire. The walk passes through varied scenery including coniferous forest, heathland and unspoilt open farmland.
Walk highlights include Easthampstead Park with its Victorian Country Mansion surrounded by 60 acres of parkland and Pope's Meadow where 18th century poet Alexander Pope lived. You will also pass a Site of Special Scientific Interest at Englemere Pond where the pond and surrounding land is full of wildlife.
The walk starts and finishes at The Look Out Discovery Centre, Nine Mile Ride, 2 miles south of Bracknell town centre where there is ample free parking.
California Country Park
2 miles (2.5 km)
This country park is located near Wokingham in Berkshire and has two lovely short walks. The Longmoor Lake walk is about a mile while The Woodland Walk is about two miles. The paths are well laid out while there are also boardwalks passing above the bogland. The park has various facilities including a cafe, paddling pool, and an adventure play area. There are also opportunities for wildlife watching particularly at Longmoor Lake.
Caversham Court Gardens
0 miles (0.5 km)
Explore these beautiful award winning gardens on the banks of the River Thames on this short walk in Reading.
There are three lovely trails in park:
Tree Trail - the park contains many fine specimen trees, some of which are over 100 years old. These include Lime, Yew and Magnolia.
The Detective Trail - a historical walk for children.
The Griffin's Trail - a family walk taking you to the pond, vinery, courtyard, font and riverbank.
The gardens have a wide variety of plants and flowers including Wisteria, Lavender, Tulips, Nepeta and Roses.
Caversham gardens are located just north of Reading town centre, over the Caversham Bridge.
The Thames Path runs past the park so there is plenty of scope for continuing your walk along the river. For example if you head west you will soon come to the beautiful Mapledurham House with its 15th century watermill and lovely parkland.
Chiltern Way Berkshire Loop
28 miles (45 km)
This walk runs from the outskirts of High Wycombe to Crowsley Park, near Henley on Thames. The route includes several long sections along the River Thames where you will pass a series of delightful riverside towns and villages. These include Cookham and then Henley on Thames, home to the famous annual regatta. The path also includes a couple of lovely wooded sections through Mill Wood and Cayton Park with the Chitern Hills providing a beautiful backdrop for the duration of the walk.
Cliveden House
2 miles (3 km)
Explore the stunning gardens and woodlands surrounding this Italianate mansion near Maidenhead. The grounds include several beautifully laid out gardens. The Rose Garden with red, orange and yellow flowers, the oriental water garden with Chinese pagoda and the Long Garden with stunning floral displays and topiary. There are also miles of woodland paths with stunning views back to the gardens and over the surrounding Berkshire countryside. Look out for elephant, bear and tiger wood carvings as you go. The grounds also extend down to the River Thames so there is the opportunity for some waterside walking too.
Other highlights include the recently restored maze, a number of exquisite temples, pavilions and follies, and the Fountain of Love located the end of the lime tree avenue which runs up to the house.
The house itself is now a luxury hotel but tours are available for the general public. The house has been home to an earl, three countesses, two dukes, a Prince of Wales and the Viscounts Astor. During the 1960s, it became the setting for key events of the notorious Profumo Affair.
The Thames Path and the Shakespeare's Way walking routes run past Cliveden. Both of these are good options if you would like to continue your walk.
Dinton Pastures Country Park
3 miles (5 km)
Enjoy 7 lakes, 2 rivers, 3 bird hides and several meadows in this terrific 335 acre park in Hurst. There are excellent facilities with a Rangers Office, cafe, picnic area and the Dinton Activity Centre where kayaking, canoeing, sailing, powerboating and climbing activities are available. The Museum of Berkshire Aviation and the headquarters of the British Entomological and Natural History Society are also located in the park.  
Finchampstead Ridges
2 miles (3.5 km)
This circular walk takes you through this peaceful common near Crowthorne. There are a number of delightful woodland trails, heather, bracken and two tranquil ponds to relax next to. From the high points on the ridges there are wonderful views over the  River Blackwater Valley. The walk also visits Simons Woods with the very large Heath Pond. Look out for a variety of wildlife including the Green Woodpecker.
You can easily extend your walk by heading to the nearby Tri Lakes Country Park or Yately Common Country Park for more lovely walking trails.
Greenham Common
4 miles (7 km)
Explore the Greenham and Cookham Commons on this circular walk near Newbury. Greenham Common is a former Royal Air Force station. Opened in 1942, it was used by both the Royal Air Force and United States Army Air Forces during the Second World War and the United States Air Force during the Cold War. 
Today this large green space is ideal for a long walk in peaceful surroundings. The expansive area of heathland is covered in heather and gorse and has nice wide footpaths to follow. There's also wildflower filled grasslands and wetland areas which attract dragonflies and birdlife. Look out for horses and ponies roaming the common too.
This walk starts from the car park on Bury's Bank Road and takes you around the central area of the common.
At the northern end of the common you will find Bowdown Woods Nature Reserve. Here you will find exceptionally rich woodland and a variety of wildlife including birds, reptiles, dragonflies and butterflies. To extend your walk from the common you could head north through Bowdown Woods to the lovely Thatcham Discovery Centre where there are splendid waterside footpaths to try.
Kennet and Avon Canal Walk
76 miles (122 km)
A splendid waterside walk from the Thames at Reading, through Thatcham, Hungerford, Pewsey, Devizes, Bradford-on-Avon to Bath. Most of the walk follows the towpath making for an easy, relaxing walk.
The route of the Kennet & Avon Canal takes you through some of the nation's best loved landscapes, including West Berkshire - an Area of Outstanding Natural Beauty - and the southern tip of the rolling Cotswolds. Highlights include the delightful Thatcham Nature Discovery Centre, Caen Hill Locks (video below), Cane Avoncliff Aqueduct, Claverton Pumping Station, numerous pretty canalside villages and the historic city of Bath.
Lambourn Valley Way
22 miles (35 km)
Travel from Oxfordshire into Berkshire along the Lambourn Valley Way and enjoy woodland, parkland and a series of quaint towns and villages.
The walk starts at the Bronze age fort at Uffington Castle and heads south, following the River Lambourn through Lambourn, Boxford and Speen before a lovely stretch along the Kennet and Avon Canal takes you into Newbury.
Maidenhead Thicket
2 miles (2.5 km)
Enjoy a short walk through the pretty Maidenhead Thicket located on the western outskirts of the town. There are miles of woodland walking trails with snowdrops, common spotted orchids and other wildflowers to see. You'll also visit the earth-banks and ditches of Robin Hood's Arbour, a Scheduled Ancient Monument. The glade was used by outlaws who used the woods as a hideaway.
The area attracts a variety of wildlife including butterflies, dragonflies and wetland birds.
Snelsmore Common Country Park
4 miles (6.5 km)
This circular walk takes you around the peaceful Snelsmore Common Country Park in Newbury and on into the surrounding countryside along public footpaths. The park comprises a variety of habitats including lowland heathland, heather, gorse, wet bog and woodland. Snelsmore is also home to a number of rare birds including Nightjar and Kestrel. You can also see ponies, small deer and rabbits as you make your way along the parks many footpaths.
Test Way
45 miles (72 km)
Travel through the Test Valley on this 44 mile walk through Hampshire and Berkshire.
The route starts at Lower Test Nature Reserve near Totton heading north towards Romsey along the river. The route continues through Kimbridge and then onto the impressive National Trust owned Mottisfont Abbey. This 13th century Augustinian priory is surrounded by glorious grounds and is a major highlight on the trail.
The path continues through Stockbridge, Wherwell and the pretty village of St Mary Bourne with its delightful thatched houses.
The final section is a gradual climb through Hurtsbourne Tarrant and Linkenholt towards Inkpen Beacon where the trail finishes.
Thatcham Discovery Centre
1 miles (2 km)
This delightful nature reserve in Thatcham is the perfect place for an easy waterside stroll in Berkshire. There are well laid out footpaths taking you to several lakes, reedbeds, along the Kennet and Avon Canal and to the Thatcham Community Orchard. There are very good facilities with a car park, bird hides, picnic area, a lakeside cafe and an excellent visitor centre with interactive wildlife and natural history displays.
The reserve is a great place for wildlife. Look out for birds including fieldfare and redwing. The wildflowers attract various butterflies such as garden tiger, butterbur, waved black, holly blue, and gatekeeper.
To extend your walk you could head south of the reserve to Bowdown Woods and Greenham Common. At Bowdown Woods Nature Reserve you will find exceptionally rich woodland and a variety of wildlife including birds, reptiles, dragonflies and butterflies. Greenham Common is covered in heather and gorse and has nice wide footpaths to follow. There's also wildflower filled grasslands and wetland areas which attract dragonflies and birdlife. The woods and common are located just half a mile south of Thatcham Discovery Centre.
Three Downs Link
102 miles (164 km)
This is a walking and cycling path following bridleways through Hampshire, Berkshire, Wiltshire and Oxfordshire. The trail runs from Exton, in Hampshire, to Dean Hill, near Hungerford. You will pass through open chalk downland, along rivers and canals and through some pretty villages.
The route passes through or near Basingstoke, New Arlesford, Malborough, Winchester, Newbury and Hungerford. It uses the South Downs Way National Trail for part of the route and also links with the Ridgeway National Trail. It is waymarked with a light blue arrow.
For cyclists a mountain bike is advisable as most of the route takes place on off road tracks.
Tri Lakes Country Park
5 miles (8 km)
Enjoy waterside walking trails in this lovely country park near Sandhurst and Yateley. The park has numerous pretty lakes, an animal park, an indoor play area and an excellent lakeside cafe. Sandhurst railway station is right next to the park so you can easily come by train.
The Three Castles Path, the Blackwater Valley Footpath and the Wokingham Way all run past the park so you could pick up any of these trails to continue your walk. Yately Common Country Park is also nearby.
Valley Gardens
3 miles (5.5 km)
Explore these stunning, colourful gardens located in Windsor Great Park. There are 250 acres of landscaped gardens and woodlands to explore using a series of well defined walking trails.
One of the main highlights on the walk is the amazing Punch Bowl. This area of the gardens contains numerous multi-coloured azaleas, exploding into a riot of colour in the springtime. Other plants/trees include Magnolia, Mahonia, Pernettya, Rhododendron Species, Glenn Dale azaleas, hardy ferns, Ilex and Dwarf conifers. 
This walk starts at the eastern end of the gardens next to the car park. You then pass the 100 foot high totem pole and the Wick Pond as you head to High Flyer's Hill. You return passing the Polo grounds where you may be able to watch a match. You then pass the pretty Obelisk pond before returning to the start point.
If you would like to continue your walk you could head to the nearby Virginia Water Lake where you'll find a delightful lakeside trail.
Virginia Water Lake
4 miles (7 km)
Enjoy a waterside walk around the beautiful Virginia Water in Windsor. The lake is located within the wonderful Windsor Great Park and is surrounded by woodland and gardens. A well defined walking path runs around the lake taking you to a number of interesting sites. You'll pass the 18th century ornamental cascade and the Leptis Magna Ruins - a Roman style temple built from columns and lintels brought from the ancient city of Leptis Magna in the early 19th Century. There is also a striking 100-foot high Totem Pole and the Virginia Water Pavilion built from wood from Windsor Great Forest.
Right next to the lake are the stunning Valley Gardens. Here you'll find 250 acres of landscaped gardens and woodlands to explore using a series of well defined walking trails. You could also head further into Windsor Great Park to extend your walk.
Wayfarer's Walk
71 miles (114 km)
Starting at the town of Emsworth on Chichester harbour, follow this fabulous 70 mile walk through the heart of Hampshire and on into Berkshire.
You will pass through the pretty Hampshire towns and villages of Cheriton, Droxford, Hambledon and New Arlesford while also experiencing the beautiful landscape and wildlife in this special county.
The path is easy to follow as it is waymarked by metal and plastic disks attached to wooden and metal posts.
Highlights on the route in include the National Trust owned Hinton Ampner stately home with its wonderful gardens and Watership Down - the delightful setting for Richard Adams' 1972 novel. There are also some lovely waterside stretches to enjoy at Cheriton along the River Itchen and along the River Arle at New Arlesford.
Please click here for more information on this walk.
Wellington Country Park
3 miles (5.5 km)
This 350 acre park is very popular with walkers with four splendid nature trails to follow. One trail even allows you to get up close to the resident herds of Red and Fallow deer. There is also a 35 acre lake with picnic and BBQ areas, an Animal Farm with a Petting Barn, Miniature Golf and a Miniature Railway. The park is located a few miles south of Reading.
Windsor Great Park
8 miles (12.2 km)
A circular cycle or walk around the beautiful Windsor Great Park in Surrey. The park includes 5,000 acres of parkland, which includes a Deer Park, lakes, avenues, gardens, woodland and open grassland. National Cycle Network route 4 runs right through the park while the Three Castles Walk runs along the Long Walk Avenue where there are fabulous views of Windsor Castle. Cyclists please note that cycles are not permitted in the Long Walk.
If you'd like to continue your exercise you could head to Virginia Water Lake. This large man made lake is located in the southern end of the park. It has a delightful walking trail running around its perimiter. Also of interest are the beautiful Valley Gardens. Located next to the lake they consist of 250 acres of landscaped gardens and woodlands and a series of well defined walking trails.
Wokingham Way
55 miles (89 km)
This circular walk follows the Wokingham Borough unitary boundary visiting Reading, Bracknell and Henley on Thames. The walk takes you through Wokingham's most delightful areas including : Bracknell Forest, Tri Lakes Country Park, Wellington Country Park, the Iron Age hill fort at Crowthorne Wood and the deer park at Cudham Court. The walk also includes a long riverside section along the River Thames through Reading and Henley on Thames.
Photos are copyrighted by their owners