North Wessex Downs Walks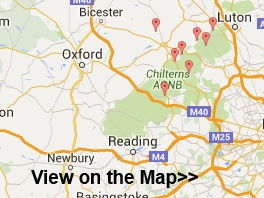 This  Area of Outstanding Natural Beauty straddles the counties of West Berkshire, Hampshire, Oxfordshire and Wiltshire.
It's a wonderful area for walkers with miles of trails taking you across the Berkshire Downs, the North Hampshire Downs, the White Horse Hills, the Lambourn Downs, the Marlborough Downs, the Vale of Pewsey and Savernake Forest. There's long distance footpaths, riverside walks, canal towpaths, wonderful hill climbs, woodland trails, nature reserves and lots of pretty villages.
Please use the links below to view full route information including descriptions, elevation profiles, interactive maps and GPS downloads.
You can also view an overview map of all the routes in the using the North Wessex Downs Walk Map
Route Name
Photo
Distance
Description
Avebury Stones
5 miles (8 km)
Visit the largest stone circle in Europe and then explore the lovely surrounding Wiltshire countryside on this circular walk in Wiltshire.
You start off in the car park in Avebury and walk a short way to the stones. You'll pass through the pretty village of Avebury where you can find refreshment at the Red Lion Pub with its thatched roof and outdoor seating with views of the stones. The stones cover a wide area and date from the Neolithic and Bronze ages.  Avebury is classified as a World Heritage Site. 
The walk then heads into the surrounding countryside making use of the White Horse Trail long distance walk. You follow the path to Windmill Hill near Winterbourne Monkton. The hill dates from the early Neolithic period and is the largest causewayed enclosure in Britain.  From the hill there are wonderful views over the surrounding countryside. After soaking in the views you descend the hill and then follow good footpaths and country lanes back into the village.
Avebury is located a few miles west of Marlborough. If you are coming by bike then there are good National Cycle Network routes running from Marlborough.
You can also use the google streetview link on this page to virtually explore the site.
If you would like to extend your walk then you could continue south along the White Horse Trail to the nearby Silbury Hill. Here you will find the tallest prehistoric man-made mound in Europe. View Full Details>>
Barbury Castle Country Park
4 miles (7 km)
Barbury Castle Country Park is a Scheduled Ancient Monument, Local Nature Reserve and part of the North Wessex Downs Area of Outstanding Natural Beauty. Part of the iron-age hillfort situated in the park has remained undisturbed since ancient times and is one of the best examples of its type. This circular walk takes you on a tour of the park which commands a splendid view across the Cotswolds and the River Severn.
To continue your walking in the area you could enjoy a climb to the nearby Liddington Hill and enjoy fine views over the countryside of the North Wessex Downs Area of Outstanding Natural Beauty. View Full Details>>
Basildon Park
3 miles (5 km)
A walk around the beautiful Basildon Park near Reading. There are 4 different waymarked trails through the 400 acres of parkland and woodland that surround the 18th century mansion house. The walk also takes you through the beautiful garden with its maze, wildflower meadows and rose garden.
The route also passes very close to Beale Park Wildlife Park and Gardens which are well worth a look. Here you'll find collections of small exotic animals, farm animals and birds, landscaped gardens and woodlands, and children's play areas. You will also pass very close to the River Thames so the walk can be continued along the river too.
Heading east will take you towards the pretty village of Pangbourne where you can visit the delightful water meadows and enjoy a stroll along the River Pang. View Full Details>>
Cherhill White Horse
2 miles (4 km)
This circular walk takes you to Cherhill Down and the Lansdowne Monument in Wiltshire. The Cherhill White Horse dates from the 18th century and is the third oldest white horse in the country. The downs are a lovely place for a walk with splendid views across rolling valleys and hills. On a clear day you can see the Tetbury water tower.
The walk starts in the pretty village of Cherhill with its thatched cottages, village hall and pub. The route then makes use of the White Horse Trail to climb the downs where you will pass the 120ft high Lansdowne Monument. The impressive structure was erected in 1845 by the 3rd Marquess of Lansdowne to commemorate his ancestor Sir William Petty. You will also pass Oldbury Castle, a hill fort which dates from the bronze age. The walk then descends the hill to the A4 where you pick up a roadside path to lead you back to Cherhill village.
If you would like to extend your walk then you could continue along the White Horse Trail to the nearby Avebury Stones and Silbury Hill.
A few miles to the south east you can visit the Devizes White Horse at Roundway Hill. The hill is also the site of a 1643 Civil War battle and Oliver's Castle Iron Age Hillfort. View Full Details>>
Chiseldon and Marlborough Railway Path
9 miles (14 km)
This is a nice easy cycle or walking route along the now disused Chiseldon and Marlborough Railway.
It starts in Marlborough where you cross the River Kennet and head into the countryside along the path. You will pass through the pretty villages of Ogbourne St Andrew and Ogbourne St George before finishing at Chiseldon. This is a nice easy, traffic free ride so ideal families looking for a safe route. This route is also suitable for walkers looking for a peaceful easy walk.
This route links nicely with the Chiseldon Timberland Trail which runs on from Chiseldon to Swindon.
You could also visit Coate Water Country Park which has nice cycling and walking trails around a large lake. View Full Details>>
Coate Water Country Park
3 miles (5 km)
This is a short circular walk around the delightful Coate Water Country Park in Swindon. The walk begins at the car park and takes you around the 70-acre lake and through the wildflower meadows. The park is a great place to bird watch with Herons, Shags and Grebes among the visitors to the lake. Also look out for deer and foxes in the wildflower meadows. The park also has a Ranger Centre and Information Point and a pitch and putt.
Although the route below is devised for walkers the park also has a cycle path running along the lake. For more details visit the Information Point at the car park.
To extend your outing you could pick up the Chiseldon and Marlborough Railway Path from the village of Chiseldon. The climb to Liddington Hill also starts from Chiseldon. It's a nice climb which includes a visit to Liddington Castle Hill fort which dates from 7th century BC. View Full Details>>
Combe Gibbet
2 miles (3 km)
This walk climbs to the interesting structure of Combe Gibbet and continues on to Inkpen Hill. The gibbet was erected in 1676 for the purpose of gibbeting the bodies of George Broomham and Dorothy Newman. The gibbet was placed high on Gallows Down as a detterent to other criminals. It's now a popular tourist destination with great views and a number of footpaths to follow through the surrounding countryside. The hill is also a popular climb for cyclists with a number of bridleways to follow across Inkpen and Walbury Hill.
This walk starts at the Inkpen Beacon car park and climbs to the gibbet along the Test Way long distance footpath. It's a good path which leads to the Inkpen long barrow and then up onto Inkpen Hill. From here there are wonderful views over the surrounding Berkshire countryside.
The walk can be extended to visit the nearby Walbury Hill. At 297 m (974 ft) Walbury Hill is the highest point in Berkshire and South East England. At the summit you can enjoy more great views over the county and explore the Iron Age Hill fort of Walbury Camp. If you continue along the Test Way you can visit Combe Wood. You could also pick up the Wayfarer's Walk and head south east along a wonderful ridge top path to the nearby Pilot Hill, the highest hill in Hampshire. View Full Details>>
Kennet and Avon Canal Walk
76 miles (122 km)
A splendid waterside walk from the Thames at Reading, through Thatcham, Newbury, Hungerford, Pewsey, Devizes, Bradford on Avon to Bath. Most of the walk follows the towpath making for an easy, relaxing walk.
The route of the Kennet & Avon Canal takes you through some of the nation's best loved landscapes, including West Berkshire - an Area of Outstanding Natural Beauty - and the southern tip of the rolling Cotswolds. Highlights include the delightful Thatcham Nature Discovery Centre, Caen Hill Locks (video below), Cane Avoncliff Aqueduct, Claverton Pumping Station, numerous pretty canalside villages and the historic city of Bath. View Full Details>>
King Alfreds Trail
9 miles (14 km)
Take a pad and pencil with you on this delightful circular walk around Pewsey and take brass rubbings of the engraved plaques along the route. The plaques have been developed by Wiltshire Walking for All and feature images of animals, insects and plants that you might see on the walk. The route also includes a pleasant waterside section along the Kennet and Avon Canal.
Good places to stop for refreshment include Pewsey Wharf and the pub by the village green at Wilcot. View Full Details>>
Lambourn Valley Way
22 miles (35 km)
Travel from Oxfordshire into Berkshire along the Lambourn Valley Way and enjoy woodland, parkland and a series of quaint towns and villages.
The walk starts at the Bronze age fort at Uffington Castle and heads south across the Lambourn Downs before following the River Lambourn through Lambourn, Boxford and Speen before a lovely stretch along the Kennet and Avon Canal takes you into Newbury. View Full Details>>
Liddington Hill
9 miles (14.5 km)
This circular walk uses the Ridgeway and the Aldbourne Circular Walk to climb Liddington Hill near Swindon. On the hill you will find Liddington Castle, a late Bronze Age and early Iron Age hill fort. The route climbs to a height over 900 feet with fantastic views over the countryside of the North Wessex Downs Area of Outstanding Natural Beauty.
You start the walk at the car park just south of the village of Chiseldon. You then follow footpaths up to Folly Farm before turning north to climb Liddington Hill. You can then explore Liddington Castle, one of the earliest hill forts in Britain, dating back to the seventh century BC. It's a fascinating and often tranquil area with few visitors.
After taking in the wonderful views the walk then descends to Sugar Hill and Shipley Bottom before returning to Folly Farm and the car park.
An alternative route is to follow the Aldbourne Circular Walk from the village of Aldbourne. It's located a few miles south east of the hill.
You could extend your walk by picking up the Chiseldon and Marlborough Railway Path. The disused railway runs to Marlborough through some lovely countryside with views of the River Kennet and a visit to some pretty Wiltshire villages.
Also nearby is Barbury Castle Country Park and the splendid Coate Water Country Park which has nice cycling and walking trails around a large lake. View Full Details>>
Marlborough
6 miles (9.6 km)
The town of Marlborough lies in the heart of the North Wessex Downs AONB, making it a great base for exploring this naturally beautiful part of England. There's a number of fine waymarked trails passing through the town and the surrounding area. There's also a number of hill climbs, waterside paths along the River Kennet and miles of woodland trails in the nearby Savernake Forest.
This short riverside walk takes you along the Kennet to the nearby villages of Mildenhall, Stitchcombe, Axford and Ramsbury. It's a lovely section of the river with old bridges, pretty villages and lovely views of the Kennet Valley.
The walk starts in the Stonebridge Meadow Nature Reserve just to the east of the town centre. The delightful wild river reserve is a great place to see Watervole, Heron, Little Egrets and Kingfishers.
Follow the path east and you will soon come to Mildenhall. The village has a nice pub, village shop and a noteable Grade I listed church, with a Saxon tower.
You continue through Stitchcombe and Axford with its 17th-century pub and Grade I listed farmhouse.
The final section takes you into Ramsbury with more lovely river views next to a pretty lake. From here you can catch the bus back to Marlborough.
The town sits right next to the expansive Savernake Forest. It's a great place for walkers with thousands of acres of ancient woodland to explore on numerous trails.
Also nearby are West Woods which you can easily reach by following the Wansdyke Path long distance trail to the site.
Chiseldon and Marlborough Railway Path is a great shared walking and cycling trail which you can pick up on the eastern side of the town. It will take you through the countryside to the village of Chiseldon, via Ogbourne St George and Ogbourne St Andrew.
The Wessex Ridgeway also starts from the town. It runs all the way to the coast at Lyme Regis through the North Wessex Downs and Cranborne Chase AONB's. You could pick up the trail and head west to visit the famous Avebury Stones.
The wonderful White Horse Trail also passes through the town. The circular long distance, waymarked trail visits a number of white horse hill figures and historical sites. View Full Details>>
Mid-Wilts Way
68 miles (109 km)
A 68-mile walking route that takes in some of Wiltshire's finest countryside and downland areas. The walk runs from the village of Ham (near Inkpen) to Mere (near Warminster).
You will visit a series of pretty villages including Wilton, Wootton Rivers, Oare, Seend Cleeve, Keevil, Steeple Ashton, Bratton, Upton Scudamore, Horningham and Kingston Deverill. The walk includes several hill climbs with fabulous views of the Wiltshire countryside. This includes a climb to Cley Hill in the Cranborne Chase AONB. The hill is owned by the National Trust and commands great views over Wiltshire and Somerset.
There are also long waterside sections along the Kennet and Avon Canal and a section through Longleat Center Parcs towards the end of the walk.
The route is now officially open and has been waymarked with discrete MWW discs. The Visit Wiltshire website has some excellent downloadable guides . Please note the route has recently been extended so this link does not include the full current route. View Full Details>>
Newbury to Kintbury and Hungerford Canal Walk
9 miles (14 km)
Enjoy an easy stroll along the Kennet and Avon Canal from Newbury to Hungerford via the lovely village of Kintbury. It's a beautiful section of the canal with several pretty locks, old stone bridges and views of the River Kennet which runs alongside the canal. There's lots of wildlife to see too with kingfishers, mute swans, coots, moorhens and herons visitors to the area. At the end of the walk you can catch a train directly back to Newbury.
The route starts at Newbury Wharf where there is an information centre and cafe run by the Kennet & Avon Canal Trust. You head west along the canal towpath passing the attractive Victoria Park and several buildings linked to the history of the canal. You continue to the 18th century Newbury Lock before passing Benham Lock and Hamstead Park. Soon you come to the delightful village of Kintbury, named by the Sunday Times in 2007 as one of the 'top ten most sought-after villages in England'. You could take the opportunity here of enjoying refreshments at a canal-side pub.
The final section runs from Kintbury to Hungerford, passing Brunsden Lock and the River Dun on the way. In Hungerford there is a pretty wharf and a number of nice pubs. You could head to the 16th century John O' Gaunt and enjoy a well earned drink after your exercise.
To continue your waterside walking in the Newbury area you could pick up the Lambourn Valley Way. Following it north from the canal will take you to Donnington Castle and then along the River Lambourn to Boxford. View Full Details>>
Pangbourne Circular Walk
2 miles (4 km)
This nice 3 mile circular walk around the Berkshire village of Pangbourne includes waterside stretches along the River Thames and the River Pang.
Start the walk from Panbourne train station and then head east along the Thames Path to Pangbourne Meadow. It's a delightful spot which is great for picnics and also hosts the annual Village fete in June. After passing along the pretty meadow the route turns south, following a footpath along the Sul Brook towards Sulham Woods. You can take a short detour south and visit the attractive woods which contain a series of waymarked trails. This walk heads west to meet up with the River Pang where you can follow a path along the river back to the village.
To extend your walking in the area you could continue east along the Thames towards Purley on Thames and visit Mapledurham House. The estate is a lovely place for a stroll and includes a 15th century watermill. Around here you can also pick up the long distance Chiltern Way which runs through the area.
If you head west along the path it will take you towards Basildon Park. Here you will find 4 different waymarked trails taking you through 400 acres of parkland and woodland. View Full Details>>
Pilot Hill
2 miles (3.5 km)
Climb to the highest point in Hampshire on this walk on the Berkshire/Hampshire border. The walk starts from the Inkpen Beacon car park about 2 miles north west of the hill. From here you pick up the Wayfarer's Walk and follow it past Walbury Hill and the pretty West Woodhay Down. At 297 m (974 ft) Walbury Hill is the highest point in Berkshire and South East England. At the summit you can enjoy more great views over the county and explore the Iron Age Hill fort of Walbury Camp.
The route continues to Pilot Hill where you pick up the Brenda Parker Way to take you to the Hampshire village of Faccombe. Here you can enjoy refreshments before returning to the car park the same way.
To extend your walk you can continue along the Brenda Parker Way to Faccombe Wood and St Mary Bourne. View Full Details>>
Ridgeway Circular Walk - Aldbourne
11 miles (18 km)
This circular route on the Wiltshire Downs explores the area around the village of Aldbourne. It's a 12 mile route on broad tracks which is also suitable for cyclists. The tracks are waymarked with 'Ridgeway Circular Route'. There's lovely rolling countryside with great views and some moderate climbs. Look out for a wide variety of flora and fauna on the attractive chalk downland. Wildlife includes deer, hares and birds such as skylarks and meadow pipits. In the summer butterflies can be seen around the widlflowers growing on the hills.
The route starts in the village of Aldbourne, about 5 miles to the south east of Swindon and 6 miles north east of Marlborough. It's a pretty village with an interesting history and the medieval church of Saint Michael which overlooks the village green. There's also a number of attrative old sarsen stone cottages.
You leave the village climbing in a north westerly direction to Sugar Hill where there are four Bronze Age barrows. You then turn west towards Liddington Hill. Here you will find Liddington Castle, a late Bronze Age and early Iron Age hill fort. From the 900ft hill there are splendid views over the beautiful countryside of the North Wessex Downs.
From the hill you descend to the hamlet of Woodsend and the abandoned medieval village of Snap. The route then heads east, passing Upper Upham before returning to Aldbourne. View Full Details>>
River Pang
4 miles (6 km)
Enjoy an easy stroll along the River Pang and through Sulham Woods on this circular walk in Berkshire. The walk starts in Pangbourne and heads south along the river towards Tidmarsh. You can continue along the river towards Bradfield and Stranford Dingley but this route heads into Sulham Wood where there are some nice woodland trails.
To extend your walk you can pick up the Thames Path and head along the river to Mapledurham House. Also nearby is the lovely Basildon Park where you will find 400 acres of parkland and woodland surrounding an 18th century mansion house. View Full Details>>
Roundway Hill
3 miles (5.5 km)
Visit this historically significant hill on this interesting walk in Devizes. The hill is the site of a famous Civil War battle where a Royalist cavalry force under Lord Wilmot won a crushing victory over the Parliamentarians in 1643. You'll also visit the iron age hillfort of Oliver's Castle and enjoy views of the Devizes White Horse and the surrounding Wiltshire countryside.
The walk starts from the Roundway Hill car park next to Oliver's Castle. You could also easily walk to the site from Devizes by following the Wessex Ridgeway north for about two miles. You can then follow a circular route around the site for about 4 miles. There's also the option of exploring the woodland of the Roundway Hill Covert with its 68 acres of broadleaf woodland.
This route is designed for walkers but the area is also good for mountain biking with trails running across Roundway Hill and the adjacent Beacon Hill.
To extend your walk you can continue along the Wessex Ridgeway towards Morgan's Hill where you can pick up the Wansdyke Path. It's located about two miles north east of the car park at the start of this walk.
You could also visit the nearby Cherhill White Horse which is also located near Morgan's Hill. View Full Details>>
Savernake Forest
6 miles (9.5 km)
This large area of woodland is located near Marlborough in the North Wessex Downs AONB.
In the woods you'll find miles of walking and cycling trails, with thousands of acres of ancient woodland to explore. As well as the peaceful trails there's a number of ponds, hill climbs, an arboretum, lots of bluebells in the spring and a variety of woodland birds to look out for. There's also some open farmland with grazing cattle and hundreds of beeches and oaks, with tree lined avenues, and coniferous plantations. 
You can start off from the parking area in the north western corner of the forest, next to the campsite. Then pick up the trails heading south east into forest.
For cyclists there's a nice trail running along the Grand Avenue through the centre of the forest. It's part of National Cycle Network Route 4 and you could continue your ride on our Marlborough to Reading Cycle Route.
To extend your exercise you could head south east from the forest and visit Bedwyn Common and Great Bedwyn village. Here there are some nice waterside paths along the River Dun to enjoy.
Just to the west of the forest you can pick up the long distance Wansdyke Path and visit the nearby West Woods where you'll find more good mountain bike trails and footpaths.
In nearby Marlborough you can enjoy a lovely walk along the River Kennet or pick up long distance trails including the Chiseldon and Marlborough Railway Path and the Wessex Ridgeway. View Full Details>>
Silbury Hill
1 miles (2 km)
This circular walk takes you around the Silbury Hill ancient monument near Avebury in Wiltshire. The hill stands at a height of 30 metres (98 ft) making it the tallest prehistoric man-made mound in Europe. It is thought to have been created around 2400 BC.
The walk starts from the car park off the A4, next to the hilll. You follow a good footpath around the hill and cross the River Kennet, before picking up the White Horse Trail to take you along the river. Look out for water voles on this section of the walk. A path along the A4 leads back to the car park.
If you'd like to extend your walk you could follow the White Horse Trail to the fascinating Avebury Stone Circle. View Full Details>>
Snelsmore Common Country Park
4 miles (6.5 km)
This circular walk takes you around the peaceful Snelsmore Common Country Park in Newbury and on into the surrounding countryside along public footpaths. The park comprises a variety of habitats including lowland heathland, heather, gorse, wet bog and woodland. Snelsmore is also home to a number of rare birds including Nightjar and Kestrel. You can also see ponies, small deer and rabbits as you make your way along the parks many footpaths.
You can extend your walk by picking up the Lambourn Valley Way and following the River Lambourn through the surrounding countryside. View Full Details>>
Sulham Woods
3 miles (5 km)
Follow a series of waymarked trails in this woodland area near Tidmarsh. There's lots of different trails to try with a mix of open countryside and woodland to enjoy. The site includes Broadleaved, mixed and yew woodland with lots of bluebells in the spring months. You can start your walk from Sulham village or from nearby Tidmarsh. There is a car park on Sulham Hill Road just to the east of the village.
The Thames Path runs just to the north of Sulham. You can pick this up to extend your walking in the area. Just to the east you can pick up a waterside path running north along the River Pang to Pangbourne. View Full Details>>
Tan Hill Way
12 miles (19 km)
This walk takes you through the beautiful Marlborough Downs in Wiltshire. You will pass Pewsey Downs, Milk Hill, Tan Hill and Morgan's Hill with fabulous views of the surrounding countryside for the duration of the walk.
The start point of the walk is the car park at Clench Common with the finish at Morgan's Hill which is also a nature reserve of the Wiltshire Wildlife Trust. View Full Details>>
The Chase Nature Reserve
2 miles (2.5 km)
This National Trust owned nature reserve has 143 acres of woodland to explore on a number of footpaths. It is located near to the villages of Woolton Hill and Enborne Row on the Hampshire/Berkshire border. The area consists of broadleaf and coniferous woodland with streams and lots of interesting flora and fauna to look out for. The snowdrops in early spring are particularly lovely. There is a car park just off station road which gives direct access to the trails.
It's easy to extend your walking in the area by heading into the adjacent Penwood forest. You can also visit the real Downton Abbey at Highclere Castle just to the south of the reserve. Walbury Hill and Pilot Hill, the highest points in Berkshire and Hampshire respectivley, are also close by. View Full Details>>
The Ridgeway
86 miles (139 km)
Step back in time on this wonderful 85 mile route which follows an ancient chalk ridge route used by prehistoric man The trail starts at Overton Hill in Wiltshire on the edge of the Marlborough Downs and heads east through the Chiltern Hills to Ivinghoe Beacon in Buckinghamshire.
Highlights on this fascinating route include a series of iron age forts, the beautiful Chiltern Hills and a lovely stretch along the River Thames at Goring-on-Thames. View Full Details>>
Three Downs Link
102 miles (164 km)
This is a walking and cycling path following bridleways through Hampshire, Berkshire, Wiltshire and Oxfordshire. The trail runs from Exton, in Hampshire, to Dean Hill, near Hungerford. You will pass through open chalk downland, along rivers and canals and through some pretty villages.
The route passes through or near Basingstoke, New Arlesford, Malborough, Winchester, Newbury and Hungerford. It uses the South Downs Way National Trail for part of the route and also links with the Ridgeway National Trail. It is waymarked with a light blue arrow.
For cyclists a mountain bike is advisable as most of the route takes place on off road tracks. View Full Details>>
Walbury Hill
1 miles (1.5 km)
This walk takes you to the highest point in Berkshire at Walbury Hill near Hungerford. The hill summit stands at 297 m (974 ft) and proffers wonderful views over the surrounding Berkshire countryside. At the summit you will also find the Iron Age Hill fort of Walbury Camp. The hill is also a popular climb for cyclists with a number of bridleways to follow across Inkpen and Walbury Hill.
The walk starts from the Inkpen Beacon car park and follows the Wayfarer's Walk to the hill. The car park is located about half a mile from the hill so it is a short climb.
The Test Way long distance footpath also passes the hill so it's easy to extend this walk and climb to Combe Gibbet, Inkpen Beacon and Combe Wood. You could then return through Combe and turn it into a longer circular walk.
You could also pick up the Wayfarer's Walk and head south east along a wonderful ridge top path to the nearby Pilot Hill, the highest hill in Hampshire. View Full Details>>
Wansdyke Path
12 miles (20 km)
Travel through the beautiful Wiltshire countryside on this lovely walk.
The path begins in Marlborough near the famous Marlborough White Horse before passing Knapp Hill and Tan Hill and finishing at Morgan's Hill. The walk passes through a mixture of chalk-land and attractive beech woodland at West Woods near Marlborough. There are also a few climbs which offer wonderful views of the surrounding Wiltshire countryside. View Full Details>>
Wessex Ridgeway Trail
62 miles (100 km)
Follow the Wessex Ridgeway Trail and enjoy specatular views of the Dorset countryside on this shared walking and cycling path.
The trail begins at Tollard Royal in Wiltshire and heads to Hambledon Hill passing through Ashmore Wood and crossing the River Iwerne on the way.
A short section along the river Stour and a wooded spell through Blandford Forest take you to Ibberton and then onto Up Cerne and Maiden Newton. You then head to Beaminster before passing through the beautiful Marshwood Vale and finishing on the jurassic coast at Lyme Regis. View Full Details>>
West Woods
4 miles (7 km)
This large area of woodland near Marlborough has miles of hard surfaced cycling and walking trails to try. It's nice for an easy family cycle and there are more challenging tracks for mountain bikers. Walkers can also enjoy various waymarked trails and an easy access route. The woods consist of a beautiful plantation of beech trees with carpets of bluebells in the spring.
The Wansdyke Path runs through the woods so you could pick this up to continue your exercise. You could also reach the woods from Marlborough by following the Wansdyke Path south west from the town centre for about 2 miles.
If you head east from the woods you can visit the expansive Savernake Forest where there's thousands of acres of woodland to explore. View Full Details>>
Wittenham Clumps
1 miles (1.5 km)
Climb to these two hills near Dorchester for wonderful views over the Oxfordshire and Berkshire countryside. The 'clumps' include Round Hill at 390 feet (120 m) and the 350 feet (110 m) Castle Hill which is about 380 yards (350 m) to the south-east. The Clumps are one of the most visited outdoor sites in Oxfordshire, attracting over 200,000 visitors a year.
You can park at the Wittenham Clumps car park right next to the hills to start your walk. Then follow the footpaths up to Round Hill where you can enjoy panoramic views, overlooking some of the villages and towns which mark some of the first settlements of the English. A viewpoint guide at the hilltop displays some of the features of interest you can see from the summit. These include significant locks on the River Thames, Faringdon Folly, Didcot Power Station and Dorchester Abbey. On a clear day there's also great views of the Chiltern Hills and Cotswold Hills.
After taking in the views from Round Hill you can make your way over to Castle Hill which is the site of an Iron Age Hillfort. Excavations of the site suggest it was occupied since the Bronze Age around 1000 BC. Artefacts recovered include an oval bronze shield and the Wittenham Sword and scabbard, dating from the late Iron Age.
Just to the north of the hill you will find Little Wittenham Woods where you can extend your walk on the woodland trails next to the river.
You can also continue your walk along the Thames Path which runs near to the hills. Heading south will take you to Wallingford where you can visit the ruins of the 11th century Wallingford Castle and enjoy more riverside paths.
You can also try our longer Dorchester Circular Walk which visits the clumps, Shillingford and Dorchester Abbey. View Full Details>>
Panoramio: Photos are copyrighted by their owners