Oxfordshire Cycle Routes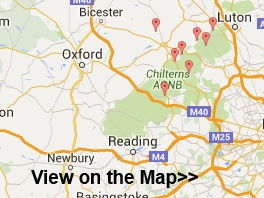 Oxfordshire is a wonderful place to explore on your bike with the lovely countryside and pretty villages of the Cotswolds coupled with the striking scenery of the Chiltern Hills proving major draws.
The famous university town of Oxford is also a great option with its wonderful architecture and cycle friendly streets.
It is also an area where the river Thames is at it's most appealing and there are plenty of other water based rides to enjoy in this lovely county.
Please use the links below to view full route information including descriptions, elevation profiles, interactive maps and GPS downloads.
You can also view an overview map of all the routes in the using the Oxfordshire Cycle Map
There are several National Cycle Network signed routes in the county many of which have been mapped and can be viewed and downloaded below.
For more information on NCN routes in the county (including free cycle maps) please click here

For more information on cycle routes in Oxfordshire including tips, advice and free cycle maps please click here
Route Name
Photo
Distance
Description
Badbury Clump
2 miles (3.5 km)
This walk explores Badbury Hill and the lovely wooded area of Badbury Clump near Faringdon. There is a car park next to the site just off the B4019 between Faringdon and Coleshill. You can then pick up the trails through the bluebell woodland to the summit of the hill where there is an Iron Age hill fort known as Badbury Camp. There are also nice views over the Vale of White Horse to the south and the Thames Valley. You can continue your walk in the surrounding Coxwell Wood.
The route below is designed for walkers but the area is also popular with mountain bikers. There is a downhill course on the side of the hill with jumps, rollers, tabletops, drops and loamy corners.
If you would like to continue your walking in the area then you could visit the nearby Buscot Park. There's 100 acres to explore with woodland, lakes and formal gardens.
Banbury to Stratford-Upon-Avon
36 miles (58 km)
Follow National Cycle route 5 from Oxfordshire to Warwickshire on this lovely rural route.
The route starts near the Oxford Canal in Banbury heading north west along a series of quiet country roads and off road tracks towards Shipston-on-Stour.
A short on road stretch then takes you to The Monarch's Way - an off road path that will lead you to the finish point in Stratford-Upon-Avon by the River Avon.
Buckingham to Banbury
26 miles (42 km)
This route follows The Great Central Cycle Ride and the Oxfordshire cycleway from Buckingham to Banbury. The route follows a series of quiet roads through the countryside of Buckinghamshire, Northamptonshire and Oxfordshire and takes you through some pretty villages and lovely scenery.
Highlights on the route include the lovely Stow Avenue at the start of the ride and the attractive Biddlesden park (below)
Claude Duval Bridleroute
63 miles (102 km)
This shared walking and cycle path runs from Quainton, near Aylesbury in Oxfordshire to Great Barrington in the Cotswolds.
This route is named after the well-known local highwayman, Claude Duval. It starts at Quainton and passes Stratton Audley, Bicester and Bucknell before crossing the Oxford Canal near Woodstock. The route then heads towards Chipping Norton and then Spelsbury where you join the River Evenlode for a short waterside stretch to Ascott d'Oyley. You then head onto Great Barrington via Fifield.
For cyclists a hybrid or mountain bike is required for this route. This is a fairly challenging route but with some fabulous Cotswolds scenery to enjoy.
Cotswold Water Park
10 miles (16 km)
This fabulous attraction has numerous waterside cycling and walking paths taking you around the park's 150 lakes. There are 40 square miles to explore within the water park but with the Thames Path National Trail and National Cycle Network route 45 running through the park there is great scope for continuing your exercise along these trails (bike hire is available in the park). There is a wide variety of wildlife to see too - look out for otters, water voles and beavers.
The western section of the park shown in the map is located between Swindon and Cirencester. There is also an eastern section located near Fairford and Lechlade.
Didcot to Wantage
11 miles (18 km)
This is a very leisurely ride taking place on off road tracks/paths and quiet country lanes.
The ride follows National Cycle route 44 and benefits from links to the Berkshire downs.
Highlights on the route are the pretty villages of Hagbourne and Lockinge and some lovely Oxfordshire scenery.
Please click here for more information on this route.
Hanson Way
16 miles (25 km)
Follow the Hanson Way (part of National Cycle route 5) from Oxford to Didcot via Abingdon.
This is a fairly flat route that has plenty of off road sections and a pleasant spell along the River Thames.

Oxford to Banbury
34 miles (55 km)
Travel through pretty Oxfordshire along National Cycle route 5 from Oxford to Banbury.
The route starts with a lovely stretch along the Oxford canal and a series of off road paths taking you to Woodstock. Here you will find the splendid Blenheim Palace. This wonderful country house is the birthplace of Winston Churchill and has beautiful gardens to enjoy. The ride continues on country roads passing through the pretty villages of Barford St Michael and Bloxham before finishing in Banbury near the Oxford Canal.
Oxford to Bicester
17 miles (27 km)
Starting in the historic University town of Oxford follow National Cycle route 51 from Oxford to Bicester. The ride takes you past the Oxford University parks and Colleges before heading to the village of Kidlington. The rides continues onto Bicester, mainly on quiet roads, but with some short traffic free sections. The ride also has views of the River Cherwell and some lovely Oxfordshire countryside.
Oxford to Milton Keynes
42 miles (67 km)
Starting in the historic University town of Oxford follow National Cycle route 51 from Oxford to Milton Keynes via Bicester.
This ride takes you through the lovely scenery of the Cotswolds along quiet country roads and some traffic free paths.
You will pass through the pretty villages of Twyford and Steeple Claydon as you travel through the Aylesbury Vale district. The run into Milton Keynes is particularly attractive, passing Furzton and Teardrop lakes (below) on a leisurely off road stretch before finishing near the train station.
Oxford to Princes Risborough
24 miles (38 km)
Follow National Cycle route 57 on this lovely route through the Oxfordshire countryside. The route starts near the tourist information centre in Oxford and heads east to Thame on minor roads. You then join the Phoenix Trail - a lovely off road path on a dismantled railway line which takes you to the finish point at Princes Risborough rail.
This route also has splendid views of the Chiltern Hills throughout.
Phoenix Trail
7 miles (11 km)
This is a lovely short flat ride running from Thame to Princes Risborough.
The route is largely off road and takes you along a safe tranquil path with splendid views of the Chilterns in the distance. Please click here for more information on this route.
Reading to Oxford
35 miles (56 km)
Travel along National Cycle route 5 from Reading in Berkshire and on through Oxfordshire to the famous university town.
Highlights include views of the Chiltern Hills and the River Thames, while pretty towns on the route include Wallingford and Abingdon where the river is particularly picturesque (below).
Shotover Country Park
3 miles (5 km)
Shotover country park is a 289 acre site located on the outskirts of Oxford. It encompasses ancient woodland, flowery meadows, marshes, ponds, bracken-covered slopes and Shotover Hill where you will find splendid views across South Oxfordshire. There's a wide variety of flora and fauna in the park with Bluebells, Orchids, Woodpeckers, Foxes and Roe deer. There are a number of peaceful woodland walking trails and a bridleway for cyclists.
To extend your walking in the area you could visit the CS Lewis Nature Reserve. It's located just to the north of Shotover Hill and includes a tranquil wood and a large pond with lots of interesting aquatic wildlife. The Oxford Green Belt Way also runs through the park. You can follow this long distance footpath north to Sandhill through Monk's Wood. Following it south will take you yo Horspath and Garsington.
You can cycle to the park from Oxford by following National Cycle Network Route 57 to Horspath and then turning north to the park.
The Ridgeway
43 miles (69 km)
This is the cycle friendly opening 43 miles of The Ridgeway - one of the UK's National Trails.
This section runs from Overton Hill, near Avebury in Wiltshire, to Streatley, in Berkshire, on the River Thames. The path passes through some lovely scenery including rolling downland and the woods and valleys of the Chilterns. Highlights on the route includes Wayland's Smithy - a Neolithic long barrow and chamber tomb, and the Uffington White Horse in the Berkshire Downs.
This ride is only really suitable for mountain bikes, taking place on an off road track from start to finish.
Three Downs Link
102 miles (164 km)
This is a walking and cycling path following bridleways through Hampshire, Berkshire, Wiltshire and Oxfordshire. The trail runs from Exton, in Hampshire, to Dean Hill, near Hungerford. You will pass through open chalk downland, along rivers and canals and through some pretty villages.
The route passes through or near Basingstoke, New Arlesford, Malborough, Winchester, Newbury and Hungerford. It uses the South Downs Way National Trail for part of the route and also links with the Ridgeway National Trail. It is waymarked with a light blue arrow.
For cyclists a mountain bike is advisable as most of the route takes place on off road tracks.
Westbury Circular Ride
12 miles (19 km)
This is a circular walk or cycle ride around Westbury in Buckinghamshire. Route highlights include Turweston Airfield and Biddlesden House and Park. The house occupies the site of a Cistercian Abbey, founded in 1147 and sits behind a small lake.
There's also some lovely countryside and views of the River Great Ouse to enjoy. The route mainly follows country lanes and bridleways so for cyclists a mountain bike or hybrid is required.
Your Submitted Routes
Photos are copyrighted by their owners