Hampshire Cycle Routes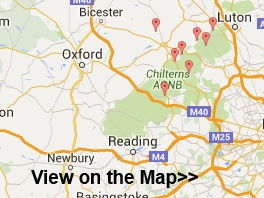 Hampshire has a number of appealing cycling opportunities with attractive coastal scenery and some beautiful countryside. Not to be missed is the wonderful South Downs Way which takes you through this Area of Outstanding Natural Beauty on miles of off road bridleways and tracks.
Also of interest to cyclists is the New Forest with its miles of peaceful traffic free cycle lanes.
Please use the links below to view full route information including descriptions, elevation profiles, interactive maps and GPS downloads.
You can also view an overview map of all the routes in the using the Hampshire Cycle Map
There are several National Cycle Network signed routes in the county many of which have been mapped and can be viewed and downloaded below.
For more information on NCN routes in the county (including free cycle maps) please click here

For more information on cycle routes in Hampshire including tips, advice and free cycle maps please click here
Route Name
Photo
Distance
Description
Alice Holt Forest
7 miles (12 km)
Explore the peaceful Alice Holt Forest on this pleasant circular route that follows National Cycle routes 224 and 22.
The route starts and finshes at Bentley rail station and follows the tracks through the forest, before returning along a lovely quiet country lane, giving splendid views of the surrounding Hampshire countryside.
The path also passes Birdworld with its 26 acres of wildlife including Maribou Stork, Sunbirds, Penguins, Owls, Parrots, Waterfowl and flamingos.
This route is also suitable for walkers although you may wish to return to Bentley rail on one of the forest trails rather than along the country lanes.
To extend your exercise you could head to Frensham Country Park and enjoy more trails around the large ponds.
Just to the east there are more nice woodland trails in Bourne Woods, site of Ridley Scott's Robin Hood Film set from his 2010 film starring Russell Crowe. View Full Details>>
Andover to Newbury
21 miles (34 km)
Follow National Cycle routes 246 and 4 from Hampshire into Berkshire on this attractive route.
You start off at Andover railway station and head north along country lanes through Hurstbourne Tarrant, Faccombe and Kintbury where you join the Kennet and Avon Canal for the final pleasant waterside stretch to Newbury.
There's some beautiful countryside to enjoy as well as a peaceful section through Faccombe wood and a short run through Inkpen common.
The route is easily accessible with train stations at either end. View Full Details>>
Basingstoke to Alton
18 miles (29 km)
Follow National Cycle routes 23 and 224 from Basingstoke to Alton on this splendid ride through North Hampshire.
The route begins in the War Memorial Park in Basingtoke and heads south along National Cycle route 23 to Medstead via Cliddesden. This section takes you along quiet country lanes and through some pleasant wooded sections at High Wood and then Cannon Wood.
At Medstead you join National Cycle route 224, heading east towards Alton. This part of the route takes you through Chawton Park Wood on off road trails before heading through Alton Town Centre and finishing at the train station. View Full Details>>
Basingstoke to Reading
24 miles (38 km)
This route takes you along National Cycle route 23 from Hampshire into Berkshire. The route starts in the war memorial park in Basingstoke heading north east through Little Basing. You'll then head into the countryside mainly on quiet roads with some short off road sections. A short stretch along the Kennet & Avon Canal takes you into Reading, finishing near the tourist information centre. View Full Details>>
Bournemouth to Ashurst New Forest
31 miles (50 km)
Starting in the south coast seaside town of Bournemouth travel east along the prom to Christchurch and then through the New Forest to Ashurst along National Cycle route 2.
Highlights include the lovely south coast scenery, the pretty town of Christchurch on the River Stour and the quiet traffic free wooded section through the beautiful New Forest. View Full Details>>
Brockenhurst to Boldre via Roydon Woods
3 miles (5 km)
This route follows bridleways between Brockenhurst and the village of Boldre in the New Forest. It's suitable for both cyclists and walkers, following country lanes and traffic free forest paths through a really pretty section of the forest. The route also passes the delightful Roydon Woods which consists of ancient woodland, pastures, ponds, heaths and the Lymington River. It's worth exploring this area and looking out for the wide variety of wildlife that dwells here. This includes Tawny owls, nightjars, various butterflies and deer. View Full Details>>
Brockenhurst to Hythe
12 miles (20 km)
Travel from Brockenhurst through the New Forest to Hythe along national cycle route 2.
You can then catch the ferry to Southampton and explore this famous port. View Full Details>>
Castleman Trailway
16 miles (26 km)
Travel from Ringwood to Poole along the disused Southampton to Dorchester railway line on this easy cycle and walking route. Route highlights include 3 lovely country parks - Avon Heath Country Park, Moors Valley Country Park and Upton Country Park.
For more information about this route please click here View Full Details>>
East Hampshire AONB
20 miles (32 km)
This circular route takes you on a tour of the beautiful East Hampshire AONB. You'll pass rolling hills,peaceful woodland, charming villages and sunken lanes.
The cycle ride starts at the attractive market town of Petersfield, near to the train station. The route then takes you through Hawkley and East Meon, passing along a series of quiet country lanes. View Full Details>>
Forest of Bere
3 miles (5.2 km)
Enjoy miles of cycling and walking trails in this lovely forest near Portsmouth. The forest is a delightful mixture of woodland, open space, heathland, farmland, downland, streams and ponds. The forest includes Creech Woods with its conifers, heather and play areas for children. The circular route below starts at the car park and takes you around the forest on wide grassy paths.
If you'd like to continue exploring this area then you could head a few miles west to Wickham where you can pick up the super Meon Valley Trail. This cycling and walking trail runs along a disused railway track from West Meon to Wickham, with great views of the River Meon. View Full Details>>
Havant to Chichester
11 miles (18 km)
Follow National Cycle route 2 on this lovely short route along the south coast. Route highlights include Emsworth Quay and a pleasant off road section near Bosham View Full Details>>
Hayling Billy Trail
6 miles (9 km)
This trail uses the Hayling Billy Coastal Path which runs along the west coast of Hayling Island near Havant.
The trail gives fabulous views of Langstone Harbour which is an internationally important site for its wildfowl and wading birds. Also watch out for brent geese, oyster catchers and dunlin in winter.
The route is very flat and entirely off road so is ideal for families looking for a safe traffic free cycle ride or for walkers looking for a pleasant waterside stroll. Please click here for more information on this route. This route links nicely with the Portsea Island Explorer View Full Details>>
Itchen Valley Country Park
2 miles (3 km)
Explore 440 acres of parkland in this attractive country park in Southampton. There are numerous walking trails and an off road cycle trail running through the park. The park contains a 250 acre water meadow nature reserve, 90 acres of ancient woodland and 60 acres of grazing land. The River Itchen also runs through the park.
The park has excellent facilities with a Visitor Centre built in the style of a 17th Century Hampshire Aisle Barn. The centre houses a gift shop and various interactive displays. View Full Details>>
Keyhaven Marshes
6 miles (10 km)
This coastal cycle or walk takes you from Lymington to Keyhaven through the beautiful Keyhaven and Pennington Marshes. The path runs along a sea wall with the marshes on one side and the sea on the other. As such you are surrounded by varied and beautiful scenery for the length of the route. In the marsh area you will pass a number of pretty lagoons where you can look out for a wide variety of birdlife including Egret, Shelduck, Curlew and Heron. On the coastal side there are fabulous views of the Isle of Wight which is less than 2 miles away. Hurst Castle is also visible for most of the way - you could extend your walk by walking along the shingle spit to Henry VIII's Device Fort if you have time.
The Solent Way and the Bournemouth Coast Path long distance walking routes also run through Keyhaven so you could also continue your exercise along these paths. View Full Details>>
Lakeside Country Park
1 miles (2 km)
Enjoy 60 acres of lakes, wet meadow and woodland located between Eastleigh and Southampton. The park has a range of birds, insects and small mammals as well as the occasional fox and deer. There is also a miniature railway and a cafe. View Full Details>>
Lepe Country Park
3 miles (5.5 km)
Lepe is a coastal Country Park located near Southampton, in the New Forest National Park. There is a large beach and stunning cliffs where there are fabulous views across the Solent to the Isle of Wight. The park has excellent facilities with Barbeque areas, picnic areas and a cafe.
The route below is designed for walkers but there is a Lepe cycle route running through the park and the surrounding area - please click here for details. View Full Details>>
Manor Farm and Country Park
3 miles (5.5 km)
This park has a number of delightful walking and cycling trails and is located just outside Southampton. The farm is 600 years old with historic buildings, barns and the 13th century St Bartholomew's church. You can feed the chickens and get up close to rabbits, chicks and ducklings. View Full Details>>
Meon Valley Trail
9 miles (15 km)
This peaceful cycling and walking trail runs along a disused railway track from West Meon to Wickham. There are splendid views of the beautiful Meon Valley and the River Meon to enjoy as well as a variety of wildlife including butterflies, redwing and egrets. View Full Details>>
Moors Valley Country Park
3 miles (5 km)
Moors Valley Country Park and Forest, is situated in Ashley Heath, on the Dorset/Hampshire border. The park has a number of peaceful woodland paths so is a great place for a safe and easy cycle or walk. There are a number of well waymarked cycle and walking routes through the park, while there is also cycle hire available throughout the year.
The park contains the Moors River and two Lakes where you can see Grey Herons, Great Crested Grebes, Mallards and Mute Swans. There is also a steam railway and a 'Go Ape' adventure park.
Moors Valley is situated right next to Ringwood Forest so there is scope for continuing your ride for several miles through more peaceful woodland. View Full Details>>
Mottisfont Abbey
3 miles (5 km)
Explore the extensive grounds of this 13th century Augustinian priory on foot or by bike. View Full Details>>
New Forest Circular
16 miles (25 km)
This route starts and ends near Brockenhurst rail station and follows cycle tracks and minor roads through the lovely New Forest park with its attractive woodland and interesting wildlife.
The half way point is the pretty town of Lyndhurst which makes for a great place to stop for lunch. View Full Details>>
Oxdrove Way
25 miles (40 km)
The Oxdrove Way is an off road cycle trail and walking path which forms a figure of eight through the rolling downland, woods and farmland of the Hampshire countryside around New Arlesford. You will pass through Preston Down, Bradley, Upper Wield, Old Alresford, Abbotstone and Itchen Down.
Click here for a full route guide from Hampshire CC View Full Details>>
Pamber Forest
2 miles (4 km)
This large forest in Tadley covers nearly 500 acres. It is criss crossed with numerous footpaths ideal for a peaceful stroll. The area consists of Oak and Birch ancient woodland and heathland. The pretty Honeymill Brook also runs through the forest.
The area is great for wildlife with many species of butterfly to look out for. White admiral, purple emperor and silver-washed fritillary are just a few you may see as you make your way through the woods. Birds such as Blackcap and Green woodpeckers are regular visitors to the woods too. Interesting flora includes wild daffodils, honeysuckle and lovely purple heather.
This circular route is more suited for walking but on the eastern side of the forest you will find a bridleway which is good for cycling. This runs from Pamber heath to Bridle's Copse, passing Silchester Common on the way.
The Brenda Parker Way runs through the woods so you could pick up this long distance footpath to extend your walking in the area. If you follow the path north east you will come to the fascinating Silchester Roman Town (Calleva Atrebatum). The town's ruined walls are still visible as are the remains of the amphitheatre, added about AD 70-80 and situated outside the city walls.
If you head west you'll come to the pretty Ashford Hill Nature Reserve where there are more nice woodland trails. View Full Details>>
Petersfield to Brighton
43 miles (70 km)
Starting in the market town of Petersfield follow the South Downs Way to Brighton on the south coast.
Much of this route is through undulating countryside on off road tracks and paths with a lovely coastal stretch on the home straight to Brighton. View Full Details>>
Poole to Ringwood
22 miles (35 km)
Travel from Poole to Ringwood along National Cycle route 25 and view some lovely coastal scenery, heathland and countryside.
Starting in Poole near the train station follow the path around Holes Bay and Upton Park before joining the Castleman Trailway to Wimborne Minster. The trailway then continues through West Moors and Ashley Heath to Ringwood on the River Avon.
This is a fairly easy route with most of it being traffic free along the Castleman Trailway which runs along a disused railway line. Route highlights are the views around Holes Bay, Upton House with its lovely grounds and the impressive Wimborne Minster. There are also views of the rivers Stour and Avon at Wimborne and Ringwood respectively. View Full Details>>
Portsea Island Explorer
18 miles (29 km)
A super cycle ride around Portsea Island in Portsmouth which links with the adjacent Hayling Billy Trail around Hayling Island.
The route starts off at Portchester railway and soon joins National Cycle route 2 on a traffic free path which takes you to Portsmouth. You will pass the iconic Spinnaker Tower, Southsea castle and South Parade Pier as you head along the coastline of this historic naval city. The route then heads back up the east side of Portsea Island, passing through Farlngton Marshes, before finishing in Havant near the train station. View Full Details>>
Queen Elizabeth Country Park
5 miles (8.5 km)
Explore 2000 acres of of open access woodland and downland in the South Downs on this circular walk or cycle in Hampshire. Highlights in the park include Butser Hill - the highest point on the South Downs with views to the Isle of Wight. There is also a Visitors Centre where you can sign up for a guided walk.
The park is very popular with mountain bikers with several off road trails running through the park. See the video below for example of what you can expect.
Several long distance trails run through the park so there is great scope for extending your walk. You can pick up the Hangers Way, Staunton Country Park and the The South Downs Way all within the park boundaries. View Full Details>>
Romsey to Andover
19 miles (30 km)
This route follows National Cycle route 24 and a long off road section along the Test Way from Romsey to Andover.
You start at Romsey railway station and soon join the Test Way path which follows the River Test passing Kings Somborne and Stockbridge. At Cottonworth you leave the Test Way and follow a series of quiet country lanes along the River Anton to Andover, finishing at the train station.
There's much to enjoy on this route with lots of traffic free, waterside cycling. View Full Details>>
Romsey to Southampton
14 miles (23 km)
Follow National Cycle routes 24 and 23 through Hampshire on this short easy route. The route starts in Romsey and heads south east into the countryside along National Cycle route 24 on a mixture of quiet roads and off road paths. You then join National Cycle route 23 near Eastleigh where you will pass through Lakeside Country Park with its 60 acres of Lakes and woodland.
There is then a pleasant stretch along the River Itchen through the delightful Itchen Park before the final on road stretch leads you past St Mary's stadium and on to the docks where you will finish on the Town Quay. View Full Details>>
Royal Victoria Country Park
2 miles (4 km)
Explore 200 acres of woodland, grassy parkland and coastline in this delightful coastal park located at Netley, near Southampton. The park features a number of delightful walking paths while National Cycle Network route 2 also passes through the park. You can take a ride on the miniature narrow-gauge railway which runs for around 1 mile through the park while there is also has a 150-ft viewing tower, giving views over the park, and across Southampton Water to Hythe and Southampton.
The park also hosts a rich variety of wildlife, with deer in the woodland and a number of coastal birds, including oyster catchers and brent geese.
The park is easily accessible with nearby train stations at Netley and Hamble. View Full Details>>
Salisbury to Romsey
19 miles (31 km)
Follow National Cycle route 24 from Wiltshire into Hampshire on this pleasant route. The route starts near the centre of Salisbury and heads east into the countryside on quiet roads. There is then a pleasant stretch along the River Dun leading to the National Trust owned Mottisfont Abbey.
The route then turns south following the River Test through Tinsbury and then onto Romsey finishing at the train station.
This is a fairly easy ride with plenty of waterside sections that has decent views of the surrounding countryside. View Full Details>>
Salisbury to Southampton
33 miles (53 km)
Follow National Cycle routes 24 and 23 from Wiltshire into Hampshire on this pleasant route. The route starts near the centre of Salisbury and heads east into the countryside on quiet roads. There is then a pleasant stretch along the River Dun leading to the National Trust owned Mottisfont Abbey.
The route then turns south following the River Test into Romsey before joining National Cycle route 23 near Eastleigh where you will pass through Lakeside Country Park with 60 acres of Lakes and woodland.
There is then a pleasant stretch along the River Itchen taking you to the Southampton docks where you will finish on the Town Quay. View Full Details>>
Southampton Common
3 miles (5 km)
Explore 326 acres of woodland, parkland, rough grassland, ponds, wetlands and nature trails on this lovely cycling and walking route in Southampton. The park also has a Wildlife Centre with interactive resources and educational facilities. Southampton Common can be found just north of the city centre near the main university campus. View Full Details>>
Southampton to Portsmouth
22 miles (35 km)
Follow National Cycle route 2 between these two major Hampshire ports. The route starts on the Itchen bridge in Southampton following the Solent Way to Netley where you will find the lovely Royal Victoria Country Park overlooking Southampton Water and the historic Netley Abbey. From there you continue to Hamble-le-Rice where you can catch the ferry over the River Hamble to Warsash. The route then continues along the coast, passing the beautiful Titchfield Haven Nature Reserve, before joining the Gosport Ferry which will take you to the finish point near Portsmouth Harbour. View Full Details>>
Staunton Country Park
4 miles (7 km)
Enjoy 1000 acres of landscaped parkland and forest at Staunton Country Park near Havant. Here you'll find a farm, two pretty lakes, a maze, a walled garden and glasshouses containing exotic tropical flowers and plants from around the world. There is also a visitor center, with animals and attractions and a number of interesting buildings including follies and a gothic library.
There are a number of trails ideal for walking and cycling while cycle hire is available at the Victorian Coach House. The route below starts and ends at the car park but Rowland's castle train station is another good access point situated less than a mile from the park. View Full Details>>
Three Downs Link
102 miles (164 km)
This is a walking and cycling path following bridleways through Hampshire, Berkshire, Wiltshire and Oxfordshire. The trail runs from Exton, in Hampshire, to Dean Hill, near Hungerford. You will pass through open chalk downland, along rivers and canals and through some pretty villages.
The route passes through or near Basingstoke, New Arlesford, Malborough, Winchester, Newbury and Hungerford. It uses the South Downs Way National Trail for part of the route and also links with the Ridgeway National Trail. It is waymarked with a light blue arrow.
For cyclists a mountain bike is advisable as most of the route takes place on off road tracks. View Full Details>>
Winchester to Basingstoke
28 miles (45 km)
This route follows National Cycle route 23 through Hampshire.The route starts by Winchester tourist information centre and follows the Rivers Itchen and Alre to New Alresford. On this section you will pass the striking Avington Park and Arlebury Park country houses.
The route then meanders through the Hampshire countryside on quiet roads to the finish point in Basingstoke near the War Memorial Park. View Full Details>>
Winchester to Farnham
33 miles (53 km)
Travel from Hampshire to Surrey on a series of country roads and off road tracks on this fairly challenging route.
The route starts by Winchester bus station and follows the Rivers Itchen and Alre to New Alresford. On this section you will pass the striking Avington Park and Arlebury Park country houses. The route then continues to the town of Alton before a pleasant off road stretch through Alice Holt Forest. The final stretch takes you into Farnham on quiet roads. View Full Details>>
Winchester to New Arlesford
10 miles (16 km)
This is a nice easy ride along National Cycle route 23 and the River Itchen from Winchester to New Arlesford.
The ride starts at the fabulous Winchester Cathedral and heads east to New Arlesford along a series of country lanes, passing Itchen Abbas and Ovington on the way. Highlights on the route include the lovely Avington Park country house and the riverside sections along the River Itchen. View Full Details>>
Winchester to Petersfield
26 miles (42 km)
Travel through Hampshire along the beautiful South Downs Way from Winchester to the pretty market town of Petersfield.
Highights include the fantastic scenery in this Area of Outsanding Natural Beauty and the miles of traffic free cycling on this route. View Full Details>>
Yately Common Country Park
6 miles (10 km)
Enjoy nearly 500 acres of heathlands, woodlands and ponds on this circular cycle or walk in Yately, Hampshire. The route begins at the car park by Wyndham's Pool and takes you along a sequence of peaceful woodland trails to Yately Heath Wood and Minley Wood, before returning to the start point.
It's easy to extend your walk by heading south to Hawley Woods and Hawley Lake.
Head north and you can visit the lovely Tri Lakes Country Park with its numerous pretty lakes and animal park. View Full Details>>
Your Submitted Routes
Panoramio: Photos are copyrighted by their owners