Leicestershire Cycle Routes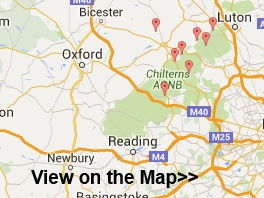 Leicestershire is now well served by a number of signed National Cycle Network routes offering many choices for the cyclist. Highlights include the northern end of the Great Central Cycle Ride which starts in Leicester and the lovely Brampton Valley Way (pictured) which runs from Northampton to Market Harborough.
Please use the links below to view full route information including descriptions, elevation profiles, interactive maps and GPS downloads.
You can also view an overview map of all the routes in the using the Leicestershire Cycle Map
There are several National Cycle Network signed routes in the county many of which have been mapped and can be viewed and downloaded below.
For more information on NCN routes in the county (including free cycle maps) please click here

For more information on cycle routes in Leicestershire including tips, advice and free cycle maps please click here
Route Name
Photo
Distance
Description
Ashby Woulds Heritage Trail
4 miles (6 km)
This lovely short cycle and walking trail runs from Measham near Ashby-de-la-Zouch to Moira along a disused railway path. The path passes old Donisthorpe Colliery site, which is now a Woodland Park and Conkers - a forest-based attraction with a number of activities to enjoy. There is also a pleasant waterside section along the Ashby Canal.
Please click here for more information View Full Details>>
Beacon Hill Country Park
2 miles (3.5 km)
Explore 335 acres of mixed woodland, grassland, wildflower meadows and farmland on this country park walk or cycle near Loughborough. At 248m (814 feet), Beacon Hill is the second highest point in Leicestershire and the site of a Bronze Age hill fort. As such there are fabulous views of the Leicestershire countryside.
The park also has a wooden boardwalk sculpture trail, a maze and a 4.8km cycle track circling the park so you can bring your bike too.
Beacon Hill is located a few miles south of Loughborough town centre and very close to the Leicestershire Round walking route. You could pick up the trail and head to Bradgate Country Park if you wished to extend your walk. View Full Details>>
Bradgate Country Park
5 miles (8.3 km)
Bradgate is a very large, 830 acre park located just outside the city of Leicester. It is hugely popular, with almost a million visitors each year. At Bradgate you will find a deer park with herds of red and fallow deer, a waterside path along the pretty Cropston Reservoir and a multitude of peaceful woodland walking trails. The route below is designed for walkers but cycling is allowed along the tarmac Carriageway within Bradgate Park and along bridleways in the nearby Swithland Woods.
Bradgate is also historically significant as the birthplace and early home of Lady Jane Grey - Queen of England for 9 days in the 16th century. In the park you can visit the ruins of Bradgate House, built some time around 1520.
To extend your walk you could follow the Leicestershire Round out of the park and visit the nearby Swithland Reservoir.
You could also follow our Charnwood Forest circular walk to Beacon Hill Country Park and enjoy wonderful views from the elevated position of the park. View Full Details>>
Brampton Valley Way
14 miles (23 km)
This walk and cycle trail runs from the outskirts of Northampton to Market Harborough along the trackbed of a disused railway line and National Cycle route 6. The route passes Brixworth, Maidwell and Great Oxendon with Brixworth Country Park just off the route. This is well worth a small detour as you will find the lovely Pitsford Water and cycle hire if needed.
As well as the beautiful rural scenery you will also pass Northampton & Lamport Railway with its old steam railway on this pleasant trail. View Full Details>>
Burbage Common
4 miles (6.5 km)
Explore 200 acres of semi-natural woodland, wildflower meadows and unspoilt grassland in this country park in Hinckley. There are a number of well maintained walking paths and a bridleway suitable for cyclists. There is also a visitor centre with displays explaining the management of the common and woods.
The park is located about a mile east of Hinckley town centre. The Leicestershire Round walking route runs through the park so you could extend your walk if you wish. View Full Details>>
Coventry to Leicester
42 miles (68 km)
Follow National Cycle routes 52 and 63 through the West Midlands, Warwickshire and into Leicestershire. The route starts on the Coventry Canal on the outskirts of Coventry and heads north along the canal and National Cycle route 52 to Bedworth. A short on road section then takes you through Bedworth before rejoining the tow path of the canal which takes you into Nuneaton in Warwickshire. A short stretch along the lovely off road Weddington Country Walk follows before an on road section by the Ashby-de-la-Zouch canal takes you onto Market Bosworth. You then turn east along National Cycle route 63 just after Shackerstone. A pleasant off road section then follows through Grange Wood before country roads take you onto Thornton, passing Bagworth Heath Woods and Thornton Reservoir. A mixture of off road paths and quiet roads takes you onto the finish point in Leicester on the Grand Union Canal. View Full Details>>
Derby to Loughborough
25 miles (40 km)
Follow National Cycle route 6 from Derby to Loughborough. Much of this route follows off road paths and tracks including a pleasant stretch along the River Derwent at the start. This section takes you past Pride Park football stadium and also through Alvaston Park. You then pick up the Cloud Trail along a dismantled railway before another waterside stretch along the Trent & Mersey Canal and then across the River Trent. You then enter Leicestershire passing by the villages of Wilson and Breedon on the Hill and through some lovey countryside on the approach to Loughborough. View Full Details>>
Erewash Canal
12 miles (19 km)
Follow the Erewash canal through south Derbyshire on this waterside cycling and walking route. The canal runs from Trent Lock near Long Eaton to the Langley Mill (Great Northern) basin. You can follow the towpath all the way on your bike or on foot. It's a nice easy route that runs for about 12 miles so it's a good family cycle ride or long walk. On the way you'll pass old mills, pretty locks and a number of stone bridges. The areas around Nutbrook Junction and Trowell Marsh are nature reserves where you can look out for a wide variety of wildlife. There's also nice views of the River Erewash and the surrounding countryside. The canal forms part of the larger Erewash Valley Trail so it's easy to extend your exercise on this circular route.
You start off at Trent Lock on the border of Derbyshire, Leicestershire and Nottinghamshire. It's a major canal junction where several significant waterways meet including the River Soar, the Trent and Mersey Canal, the River Trent and the Erewash Canal. The canal then weaves its way through the town of Long Eaton to Sandiacre. You continue north to Ilkeston, passing Gallows Inn, before finishing at Langley Mill at the basin of the Erewash Canal.
You can virtually follow part of the route along the canal from Trent Lock by clicking on the google street view link below.
To continue your walking in the area you can visit the lovely Attenborough Nature Reserve which is located near the start of the canal at Long Eaton. You can follow the Trent Valley Way along the River Trent to reach the reserve.
The canal also forms part of the Nutbrook Trail Cycle Route which runs up to Shipley Country Park on a dismantled railway line. View Full Details>>
Erewash Valley Trail
28 miles (45 km)
This splendid cycling and walking trail explores the canals, countryside, towns and villages of south Derbyshire and Nottinghamshire. It's a circular route with miles of great traffic free sections so it's ideal for families or anyone looking for a safe cycle ride. Walkers can also enjoy the nice surfaced trails along the canals and through the nature reserves on this varied route.
As a circular route there are several options for a start point. This route starts at Trent Lock on the Erewash Canal just south of the town of Long Eaton. Trent Lock is a significant canal junction where the River Soar, the Trent and Mersey Canal, the River Trent and the Erewash Canal meet (you can virtually explore this section on the street view link below). You then follow the canal towpath north through the town of Long Eaton to Sandiacre. You continue to Ilkeston, passing Gallows Inn, before coming to Langley Mill at the basin of the Erewash Canal. It's a nice section with lots of pretty locks, stone bridges and views of the River Erewash.
At Langley Mill you turn south and pick up the Nottingham Canal heading to Cossal and Trowell. The disused canal has now been declared as a nature reserve which attracts lots of dragonflies, damselflies and birdlife. The canal leads you towards Stapleford Hills and Bramcote Hills Park. The park includes a mix of woodland and parkland with a nice walled garden. You'll also pass the geologically fascinating Hemlock Stone. The stone is an outcrop of New Red Sandstone, deposited more than 200 million years ago in the Triassic Period. It's worth stopping to have a look at the plaque and stone on Stapleford Hill before continuing.
From the park you continue through Stapleford and Chilwell to the lovely Attenborough Nature Reserve. Here you'll find 350 acres of lakes, wetland, woodland, grassland and scrub with a huge variety of wildlife to look out for. The final waterside section takes you along the River Trent to Trent Lock and the finish point. Towards the end of the route you pass along the Trent Valley Way so this is a good option if you would like to continue your walking in the area.
The trail also forms part of the Nutbrook Trail Cycle Route which runs along the Erewash Canal before bearing right near Stapleford and heading up to Shipley Country Park on a dismantled railway line. View Full Details>>
Grantham to Bottesford
11 miles (17 km)
This route follows National Cycle route 15 along the Grantham Canal. You start by the tourist information centre in Grantham and soon join the towpath of the canal which takes you as far as Muston. From here you follow quiet roads to the finish point at Bottesford rail station. View Full Details>>
Grantham to Newark-On-Trent
25 miles (40 km)
This route follows National Cycle routes 15 and 64 through Lincolnshire, Leicestershire and Nottinghamshire. You start by the tourist information centre in Grantham and soon join the towpath of the Grantham Canal which takes you as far as Muston. From here you follow quiet roads to Bottesford. The route continues through the countryside on country lanes, joining National Cycle route 64 just after Orston. A couple of miles later at Cotham you begin a short stretch on a dismantled railway line, which takes you all the way to the finish point at Newark-On-Trent rail. View Full Details>>
Hicks Lodge
1 miles (2 km)
Enjoy cycling and walking trails in this converted coal mining site in Ashby-de-la-Zouch.
Cyclists can enjoy two mountain bike trails. There is an easy trail suitable for all abilities and the more challenging Shell Brook Trail which has some jumps and bumps.
Walkers can enjoy a short stroll around the lake or explore deeper into the forest on woodland trails. View Full Details>>
Leicester to Loughborough
16 miles (25 km)
On this route you will follow National Cycle route 6 from Leicester to Loughborough. The route starts by the tourist information centre in Leicester and soon joins the River Soar for some pleasant waterside riding with a stretch through the lovely Abbey Park an early highlight.
Just before Birstall you will pass through the lovely Watermead Country Park with over 12 lakes and ponds. From here you continue north towards Woodthorpe and then onto Loughborough never far from the River Soar. You finish by the tourist information centre in Loughborough. View Full Details>>
Leicester to Market Harborough
24 miles (38 km)
This route follows National Cycle routes 63 and 64 through the Leicestershire countryside. You start near the tourist information centre in Leicester and soon pass through the pretty Victoria Park. The route continues east to the village of Goadby along National Cycle route 63 before turning south along National Cycle route 64 where you will join the Midshires Way, taking you through Glooston and on into Market Harborough where you finish near the train station.
The ride takes place mainly on quiet country roads/lanes and passes through several pretty Leicestershire villages. View Full Details>>
Leicester to Melton Mowbray
30 miles (48 km)
This route follows National Cycle route 63 through the Leicestershire countryside. You start near the tourist information centre in Leicester and head east to Goadby. Here you turn north passing through the pretty villages of Somerby and Little Dalby on your way to Melton Mowbray. The ride takes place mainly on quiet country roads/lanes and passes through several pretty Leicestershire villages. You finish at the train station in Melton Mowbray. View Full Details>>
Leicester to Oakham
26 miles (42 km)
Follow National Cycle route 63 through Leicestershire and into Rutland. You start near the tourist information centre in Leicester and head east to Goadby where you turn north towards Tugby. You then continue to the village of Owston along country roads, with pleasant views of wooded areas. The route then turns east towards Oakham, finishing near the train station.
The main highlight on this route is the splendid Rutland Water Nature Reserve near Oakham with its variety of wildlife. View Full Details>>
Leicester to Stamford
39 miles (62 km)
Follow National Cycle route 63 from Leicestershire into Lincolnshire. The route starts by the tourist information centre in Leicester heading out of town through Victoria park and on to Evington. You then continue east towards Oakham on country roads, where you will pass Rutland Water Nature Reserve on a lovely off road section before more country lanes take you onto Stamford. View Full Details>>
Leicester to Syston
9 miles (15 km)
This short easy ride follows National Cycle route 6 from Leicester to Syston along the River Soar. The route starts by the tourist information centre in Leicester and soon joins the river for some pleasant waterside riding.
Just before Birstall you will pass through the lovely Watermead Country Park with over 12 lakes and ponds. From here you turn east crossing the River Wreake before heading towards Syston and finishing at the train station. View Full Details>>
Market Bosworth Country Park
6 miles (10.4 km)
This 85 acre country park in Leicestershire contains a lake, a planted arboretum with exotic species, a wildflower meadow and a community woodland. The route take you through the park to Sutton Cheney and then on to Bosworth Battlefield. This field is the site of the last significant battle of the Wars of the Roses, the civil war that took place in the 15th century.
The Leicestershire Round walking route runs through the park so you can use this path to visit the nearby Bosworth Battlefield Country Park. View Full Details>>
Melton Country Park
1 miles (2 km)
Explore 137 acres of open space in Melton Mowbray. View Full Details>>
Melton Mowbray to Grantham
22 miles (36 km)
This route follows National Cycle routes 64 and 15 from Leicestershire into Lincolnshire. You start near the train station in Melton Mowbray and head out of the town along National Cycle route 64 passing Melton Country Park on the outskirts. Country roads take you through Scalford and Knipton before you join National Cycle route 15 on the Grantham Canal. The route then follows the towpath into Grantham where you finish near the tourist information centre. View Full Details>>
Melton Mowbray to Newark-On-Trent
34 miles (55 km)
Follow National Cycle routes 64 and 15 from Leicestershire into Nottinghamshire. You start near the train station in Melton Mowbray and head north passing Melton Country Park and the village of Scalford. The route follows country roads passing Knipton Reservoir and Belvoir Lake on the way to Woolsthorpe where you join the Grantham Canal and National Cycle route 15, taking you to Bottesford. A series of country roads, followed by a pleasant off road stretch along a dismantled railway line then take you into Newark-On-Trent, finishing at the train station. View Full Details>>
National Forest Trail
25 miles (40 km)
Explore the National Forest in Leicestershire and Derbyshire on this super figure-of-eight cycle ride. The ride follows country lanes through woodland and countryside near Burton Upon Trent, visiting Donisthorpe Country Park, Conkers Waterside and Moira. View Full Details>>
Northampton to Market Harborough
20 miles (32 km)
This ride passes from Northamptonshire into Leicestershire along National Cycle route 6. You start near the tourist information centre in Northampton and soon join the lovely Brampton Valley Way - a 14 mile cycle path following the track bed of a disused railway line. This takes you all the way to the finish point at Market Harborough train station. View Full Details>>
Sence Valley Forest Park
2 miles (3 km)
Enjoy a series of lovely cycling and walking trails in this good sized country park near Ibstock. There are a number of well surfaced paths taking you past meadows, woodland and three lakes. It's great for families looking for a safe, easy cycle ride or walkers looking for a pleasant afternoon stroll. It's also good for birdwatching with various wildfowl around the lakes. Look out for Heron, swans, coots and mallard. The attractive woodland consists of Corsican pine, larch and poplar and also attracts many different species of bird.
The park has good facilities with car parking, toilets and picnic areas.
Sence Valley Forest Park is located near Coalville. If you are coming by bike you could follow National Route 52 from the town to the park.
If you would like to continue your exercise then you could head to the nearby Thornton Reservoir where there are more waterside walking and cycling paths. View Full Details>>
Swithland Woods
2 miles (3 km)
These woods in the Charnwood Forest have a series of good footpaths to try. There's also bridleways suitable for mountain bikers.
The woods are located just to the south of Loughborough with car parks at the northern end of the woods off Swithland Road and at the southern end off Roecliffe Road. From here you can pick up the trails taking you through mature oak, birch, alder and lime woodland. There's also a series of pretty streams and lots of woodland wildlife to look out for. In the spring months the forest floor is covered in carpets of of lovely bluebells.
The woods link with the adjacent Bradgate Country Park where you will find a deer park and a great viewpoint.
Just to the north east you will find the pretty Swithland Reservoir. The reservoir has a nice waterside walking trail with lots of birdlife to look out for on the water.
You could also pick up our Charnwood Forest circular walk and visit Beacon Hill Country Park. It's about a two mile walk from the woods to the park where you can climb Beacon Hill for fabulous views over the area. View Full Details>>
Thornton Reservoir
2 miles (3.5 km)
Enjoy cycling and walking around this pretty reservoir in Thornton, Leicestershire. There is a well surfaced track running along the waterside for just over 2 miles. The water is surrounded by some lovely countryside and woodland. There are good facilites with a parking area, visitor centre and picnic areas. There is also a sculpture trail to follow and a variety of wildfowl to look out for on the water.
On the northern side of the reservoir there is the option of extending your walk into the adjacent Browns Wood. The Leicestershire Round also runs past the reservoir so you could pick this up and extend your walk to the nearby Bagworth Heath Woods.
The Ivanhoe Way also runs past the reservoir so you could follow this north through the Charnwood Forest to Blackbrook Reservoir. View Full Details>>
Watermead Country Park
5 miles (8 km)
This beautiful country park contains over 12 lakes and ponds, wildflower meadows, woodland, grassland and reedbeds set in 350 acres of parkland. Also running through the park are the River Soar and Grand Union Canal. It's a great place for a peaceful waterside cycle ride or walk, located just north of Leicester city centre with National Cycle Network Routes 6 and 48 running through the park. The park also contains the lovely Reedbed Nature Reserve which is a perfect place for bird watching.
To continue your exercise you could follow the Grand Union Canal towards Leicester or Loughborough. View Full Details>>
Your Submitted Routes
Panoramio: Photos are copyrighted by their owners