Staffordshire Cycle Routes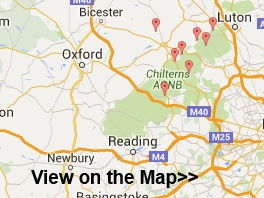 Staffordshire forms part of the West Midlands Cycle Route which has some lovely rural scenery passing through the heart of England. For a leisurely ride the Trent and Mersey Canal is a good choice.
Please use the links below to view full route information including descriptions, elevation profiles, interactive maps and GPS downloads.
You can also view an overview map of all the routes in the using the Staffordshire Cycle Map
There are several National Cycle Network signed routes in the county many of which have been mapped and can be viewed and downloaded below.
For more information on NCN routes in the county (including free cycle maps) please click here

For more information on cycle routes in Staffordshire including tips, advice and free cycle maps please click here
Route Name
Photo
Distance
Description
Baggeridge Country Park
2 miles (3.5 km)
Enjoy 150 acres of woodland and countryside in this country park near Wolverhampton. The park has four walking trails of varying levels of distance and difficulty. You will visit a number of peaceful water pools and viewpoints with terrific views of the surrounding countryside. There is also a two-mile figure of 8 mountain bike trail suitable for families with older children and beginners. Other attractions include a sensory garden, miniature railway and tea room. The park is located in Sedgley, just a few miles south of Wolverhampton city centre. View Full Details>>
Bathpool Park
2 miles (3.4 km)
Enjoy a pleasant cycle or walk around Bathpool Park in Kidsgrove, Staffordshire. Follow the tracks/paths around the main lake, the peaceful woodland and several ponds. The park also contains a mountain bike track and exercise points. Bathpool is located just south of Kidsgrove town centre. View Full Details>>
Birmingham and Fazeley Canal
15 miles (24 km)
Enjoy a walk or cycle along the Birmingham and Fazeley Canal from the city centre of Birmingham to the town of Fazeley in Staffordshire. Along the way there's lots of pretty locks, old bridges, nature reserves and wildlife to look out for.
You start off at Old Turn Junction near the National Indoor Arena in Birmingham and head through Aston and Tyburn where you pass close to Pype Hayes Park. The large park has 100 acres to explore with a lake, ornamental gardens and woodland. It's just north of the canal at Tyburn and worth a short detour. Just next to the park there is the pretty Plantsbrook Nature Reserve which consists of open water, wetland, woodland and meadow.
You leave the city and head through Minworth and Cudworth before coming to the splendid Kingsbury Water Park. The 600 acre country park is a major highlight on the route. It consists of 15 lakes with miles of good cycling and walking trails to try.
The final section takes you from Kingsbury Water Park to the town of Fazeley near Tamworth. On the way you'll pass Middleton Lakes RSPB reserve with 400 acres to explore. It's a great place for wildlife watching with common pochard, tufted duck and smew to look out for.
At Fazeley you have the option of continuing along the canal towards Whittington and Lichfield. This section passes Hopwas Woods which is good for mountain biking.
National Cycle Network route 535 runs through Aston so this is the best section for those on a bike. View Full Details>>
Birmingham to Burton-Upon-Trent
43 miles (70 km)
On this ride you will follow National Cycle routes 5 and 54 through the West Midlands in to Staffordshire. You start near Birmingham New Street Station and head west along the Birmingham Canal. You then turn north towards West Bromwich passing through Sandwell Valley Country Park with its lovely woodlands and meadows. The route continues onto Walsall where a dismantled railway line takes you onto Pelsall, crossing the Wyrley and Essington Canal. You continue north on and off road passing through Chasewater Country Park with its attractive lake. The route then turns east along National Cycle route 54 towards Burntwood and Lichfield before heading north towards Burton-Upon-Trent on a mixture of country roads and off road paths. View Full Details>>
Birmingham to Lichfield
28 miles (45 km)
This route follows National Cycle routes 5 and 54 through the West Midlands in to Staffordshire. You start near Birmingham New Street Station and head west along the Birmingham Canal. You then turn north towards West Bromwich passing through Sandwell Valley Country Park with its lovely woodlands and meadows. The route continues onto Walsall where a dismantled railway line takes you onto Pelsall, crossing the Wyrley and Essington Canal. You continue north on and off road passing through Chasewater Country Park with its attractive lake. The route then turns east along National Cycle route 54 towards Burntwood finishing in Lichfield. View Full Details>>
Burton-Upon-Trent to Derby
16 miles (26 km)
Travel through Staffordshire into Derbyshire along National Cycle route 54 on this pleasant short route. The ride begins with a stretch by the River Trent, heading north towards Etwal with views of the Trent & Mersey Canal on the way. At Etwal you join a dismantled railway line for an off road stretch which takes you to the outskirts of Derby. You then head on road into the centre of Derby. View Full Details>>
Burton-Upon-Trent to Uttoxeter
25 miles (40 km)
Travel through Staffordshire and Derbyshire along National Cycle route 54 on this interesting route. You start near the railway station in Burton-Upon-Trent and head north to Egginton in Derbyshire, with views of the River Trent and the Trent & Mersey Canal. The route continues through the countryside mainly on road but with a short stretch along a dismantled railway line near Etwal and Hilton. Other villages of note on the route are Hatton, Marston on Dove and Sudbury - home to National Trust owned Sudbury Hall with its interesting history and attractive gardens. Shortly after leaving Sudbury you will cross the River Dove and arrive at the finish point at Uttoxeter railway station. View Full Details>>
Buxton to Uttoxeter
42 miles (68 km)
Take a trip through the lovely White Peak area of the Peak District on this challenging route which also passes by the famous Alton Towers theme park . You start by the railway station in Buxton and head south along National Cycle route 68 towards Hurdlow where you join the off road Pennine Bridleway for a short stretch. Country roads take you onto Hartington shortly before crossing the River Dove at Beresford Dale. You then join the Manifold Way - a terrific off road section that follows a dismantled railway line along the River Manifold.
Country roads then take you onto Oakamoor where you join another dismantled railway line taking you along the River Churnet through the Churnet Valley. This is where you can stop for a ride on a roller coaster if the biking isn't exciting enough!
The final section takes you through Rocester and onto Uttoxeter in Staffordshire on country roads. The route finishes by the railway station in Uttoxeter View Full Details>>
Cannock Chase Country Park
6 miles (10 km)
This huge country park has 3000 acres of cycling and walking trails to explore. The route starts at the park cycle hire centre and takes you to Brindley Heath on woodland trails before returning to the start point. Cannock Chase is a designated Area of Outstanding Natural Beauty with a large variety of wildlife including 800 fallow deer. The park is located just a few miles from Stafford.
Several long distance, waymarked trails run through the area including the Two Saints Way, Heart of England Way and the Sabrina Way. These trails are a great way to extend your walking in the area. View Full Details>>
Coventry Canal
38 miles (61 km)
Enjoy waterside cycling and walking along the 38 mile long Coventry Canal towpath. Walkers can follow the whole of the route while cyclists can enjoy lovely sections through Coventry and from Marston Junction to Nuneaton.
The canal runs from the centre of Coventry to Fradley Juction, passing through Bedworth, Nuneaton, Atherstone, Polesworth and Tamworth.
Highlights along the canal include the vibrant Coventry Canal Basin with its shops, businesses and art gallery. You'll also pass the splendid Hartshill Country Park which has miles of footpaths and wonderful views over the Anker Valley. There's also some wonderful countryside to enjoy and a series of artworks by local artists on the Arts Trail from the Basin to Hawkesbury Junction. At the end of the route at Fradley Junction there is a nature reserve with excellent bird watching opportunities.
The canal links with the Ashby Canal just north of Bedworth and with the Trent and Mersyet Canal at the end of the route at Fradley Juction near Lichfield. Around here you can also pick up the Lichfield Canal through the city. View Full Details>>
Downs Banks
2 miles (3.5 km)
Enjoy a circular walk around this pretty area of woodland and heathland near Stone, in Staffordshire. The area is also known as Barlaston Downs and is run by the National Trust so there is a car park and good walking trails to follow through the area. There is some climbing on the walk but you are rewarded with splendid views over the Staffordshire countryside from the Millennium Viewpoint. There is also a pretty stream with marshland and wildflowers next to it. The route below is designed for walkers but cyclists can follow a waymarked bridleway through the area too.
If you feel like continuing your walk then you could pick up the Trent and Mersey Canal which runs through Barlaston. You could follow it towards Trentham and visit the lovely Trentham Gardens. View Full Details>>
Hanley Forest Park
1 miles (2 km)
This large park in Stoke-on-Trent has some nice walking and cycling paths to try. In the park you'll find woodland trails and a large lake. There's also a small hill with nice views over the city and surrounding countryside.
There's a good sized car park off Chell Street. From here you can pick up the trails around the lake and past the children's play area. North of the lake you can climb to the viewpoint before enjoying refreshments at the lakeside snack bar.
To continue your exercise in the area you could head to the nearby Park Hall Country Park. This large park has miles of trail which are great for dog walking and cycling. View Full Details>>
Hopwas Woods
2 miles (3 km)
Enjoy walking and cycling trails in these woods near Tamworth. There's 385 acres of ancient woodland to explore with the Coventry Canal running through the eastern edge of the forest. For mountain bikers there are opportunites for some fun off road cycling with natural single track, dirt tracks and some short steep descents.
You can gain access to the woods from the village of Hopwas by following the canal into the woods and then picking up the bridleways.
If you head south along the canal you can pick up the Birmingham and Fazeley Canal and head towards Tamworth and Birmingham to extend you outing. View Full Details>>
Macclesfield to Stoke-on-Trent
29 miles (46 km)
This lovely ride follows National Cycle route 55 through Cheshire to Staffordshire. You start in Macclesfield and head to Congleton on country roads with views of the Macclesfield canal as you go. You will also pass Gawsworth New Hall and Redes Mere on this section of the route.
The final section heads along the Biddulph Valley Way - a traffic free disused railway path that will take you near to the outskirts of Stoke. From here you will head into Stoke passing through Central Forest and Hanley parks before finishing at the train station. View Full Details>>
Manifold Way
8 miles (13 km)
Follow the River Manifold and the River Hamps through the Manifold Valley on this splendid shared walking and cycling path through the Peak District. The path runs from Waterhouses to Hulme End along a former railway line with beauitful Peak District Scenery to enjoy.
The route passes Beeston Tor, Wetton Mill and the wonderful Thor's Cave which is well worth exploring. Inside you will find fascinating rock formations and mineral colours with wonderful views over the Manifold Valley.
At the southern end of the route in Waterhouses you will find the Manifold Cycle Centre where you can hire bikes for your outing. View Full Details>>
Park Hall Country Park
2 miles (4 km)
Enjoy a cycle or walk in this large country park in Stoke-on-Trent. The park is popular with dog walkers with its nice woodland areas and two ponds. From the high points in the park there are good views over the city. You can extend your exercise by visiting the nearby Hanley Forest Park where there are more cycling and walking paths to try. View Full Details>>
Rudyard Lake
4 miles (7 km)
Enjoy a cycle or walk around this large lake in the Staffordshire Moorlands. Cyclists can cycle the whole of the route apart from a section around the north western area where you need to dismount while crossing private property. The route starts and ends at the visitor centre at the southern end of the lake. It follows good paths along the shoreline and through several long woodland sections, making use of the Staffordshire Way along the western side of the water.
The lake is a great area for wildlife spotting. Look out for Snipe, Redwind and Goldeneye Drake on the water.
If you'd like to continue your exercise then you could head to the nearby Tittesworth Reservoir for more waterside walking trails. View Full Details>>
Sabrina Way
203 miles (327 km)
This route is part of the National Bridleroute Network and primarily designed for horse riders but can be used by walkers and cyclists also. The trail starts at the deer park at Great Barrington and heads north to Hartington. The route passes through the Cotswolds, the Malvern Hills, the Wyre Forest and Cannock Chase Forest, before finishing in the Derbyshire Peak District. For cyclists a mountain bike or hybrid is advised.
The route is waymarked with a blue arrow. View Full Details>>
Silverdale Country Park
2 miles (3 km)
This pretty country park is located in Newcastle-under-Lyme, Staffordshire. It has safe, family cycle paths and well maintained walking trails taking you around the open grassland landscape. There is a large pond which attracts great crested newts, a plateau with lovely views of the surrounding countryside, farm meadows, wilidlife conservation areas and woodland areas.
The Newcastle Way walk runs past the park so you could continue your walk along this long distance path. The adjacent Apedale Country Park is also a good option if you would like to continue your outing. View Full Details>>
Stafford to Market Drayton
28 miles (45 km)
This route follows National Cycle route 55 and local signed cycle routes from Stafford to Market Drayton via Newport.
The route starts near Stafford centre on the National Cycle route 55 and follows a dismantled railway before a series of quiet signed country roads takes you through Newport and on to Market Drayton in Shropshire.
Highlights on this route include views of the Shropshire Canal and a spell through Chetwynd deer park. View Full Details>>
Stafford to Stone
11 miles (17 km)
Follow National Cycle route 5 from Stafford to Stone on this pleasant short ride through Staffordshire.
The ride starts near Stafford rail station and soon joins a pleasant traffic free section along a dismantled railway line, taking you over the River Sow and through the outskirts of Stafford. You then head into the countryside, following quiet country lanes to Aston-By-Stone. Here you join the Trent & Mersey Canal where you follow the towpath into Stone, finishing near the train station. View Full Details>>
Staffordshire and Worcestershire Canal
46 miles (74 km)
Follow the Staffordshire and Worcestershire Canal from Stourport-on-Severn to Great Haywood on this easy waterside walking and cycling route. The walk starts at Stourport-on-Severn by the Staffordshire and Worcestershire Canal Basin near to the River Severn. You then head north to Kidderminster with views of the River Stour as you go. You continue to Kinver where you could deviate from the path to visit the splendid Kingsford Country Park and Kinver Edge,. The large area of woodland and heathland has miles of walking trails with wonderful views across the region.
The next section takes you through Wolverhampton, passing the National Trust owned Wightwick Manor Gardens and Valley Park Nature Reserve.
You continue to Stafford before the final stretch to Great Haywood Junction, passing the beautiful Shugborough Park on the way. The 900 acre estate is well worth visiting with its expansive parkland and stunning gardens. At Great Haywood the canal links with the Trent and Mersey Canal. You could extend your walk into the Trent Valley and the Cannock Chase AONB.
The whole of the route is open for walkers while cyclists can enjoy a super section from Stourport to Kidderminster along National Cycle Network Route 54. It's an excellent choice for a safe, waterside cycle. View Full Details>>
Stoke-On-Trent to Northwich
32 miles (52 km)
This route starts at the train station in Stoke-On-Trent and follows National Cycle route 5 to Northwich. From the start point you head north passing through the lovely Hanley and Central Forest Parks on your way to Bruslem. A mixture of off road paths and short on road sections take you to Kidsgrove where you can enjoy a short stretch along the Trent & Mersey Canal.
The route continues through the countryside on quiet roads to Sandbach, following the canal and the off road Wheelock rail trail. More country lanes then take you onto Middlewich where you join the Shropshire Union Canal for another pleasant waterside stretch. A short on road spell then brings you to the Weaver Valley Cycleway at Winsford, which takes you along the Weaver Navigation Canal to Northwich, finishing by the canal at the tourist information centre. View Full Details>>
Stoke-On-Trent to Stafford
18 miles (29 km)
Head through Staffordshire along National Cycle route 5 on this fine cycle ride.
You start off at the train station in Stoke-on-Trent and head south to Stone along the Trent & Mersey Canal. Highlights on this section include passing the Brittania Stadium, home to Stoke City FC and a pleasant stretch by Barlaston Park.
At Aston-by-Stone you leave the canal and head to Stafford on quiet country lanes. The final traffic free stretch takes you along a dismantled railway line before finishing near the train station in Stafford. View Full Details>>
Stoke-On-Trent to Stone
9 miles (15 km)
This short easy route follows the Trent & Mersey Canal and National Cycle route 5 from Stoke-On-Trent to Stone. The route starts and finishes at the train stations in each place and takes place largely on a long traffic free section running by the canal.
Highlights on the route include passing the Brittania Stadium, home to Stoke City FC and a pleasant stretch by Barlaston Park. View Full Details>>
Trent and Mersey Canal
95 miles (153 km)
Follow the Trent and Mersey Canal through Derbyshire, Staffordshire and Cheshire on this long distance waterside walk.
The route start at Shardlow near Long Eaton in Derbyshire and heads through Weston-on-Trent and Willington to Burton-Upon-Trent where you will pass the lovely Branston Water Park with its woodland, wetland and meadow. You continue to Alrewas where you will pass the National Memorial Arboretum. The Arboretum contains over 50,000 trees with nearly 300 memorials for the armed forces, civilian organisations and voluntary bodies who have played a part in serving the country.
The next stage takes you through Handsacre to Rugeley where you will pass the wonderful Cannock Chase Country Park. It's worth taking a short detour to explore the Cannock Chase AONB with miles of woodland walking and cycling trails, lakes, ponds and wildlife including deer and various birds to look out for.
You continue through the beautiful Trent Valley passing the National Trust Owned Shugborough Hall at Great Haywood. It is worth a visit with a grand hall, museum, kitchen garden, model farm and extensive parkland with follies, woodland and a Chinese House with two Chinese-style bridges.
The route continues through Weston to Stone before coming to the outskirts of Stoke-on-Trent where you will pass the splendid Trentham Gardens. Also in Stoke you will pass Westport Lake which is worth a small detour.
You continue north to Kidsgrove where you will find the  Grade II* listed Rode Hall, surrounded by parkland and formal gardens. The hall and gardens are open to the public from April to September and are well worth a small detour from the canal.
The canal continues through Cheshire to Sandbach where you will pass close to the Watch Lane Flash Nature Reserve. Onward to Middlewhich and Northwhich where you will pass Marbury Country Park. It's a delightful area with magnificent Lime avenues, an Arboretum and the delightful Budworth Mere.
The final section takes you to Runcorn passing Barnton and Weaverham with views of the River Weaver. You finish near Runcorn where the Trent and Mersey Canal links with the Bridgewater Canal.
You can walk along the towpath for the whole route while cyclists can enjoy a long section through Stoke-on-Trent and a shorter section between Weston-on-Trent and Swarkstone. View Full Details>>
Wolverhampton to Telford
22 miles (35 km)
This route follows National Cycle route 81 through the West Midlands to Shropshire. The route starts in the centre of Wolverhampton and heads through the town and West Park to join the Staffordshire and Worcestershire canal towpath which takes you towards Bilbrook. Country roads then take you onto Codsall, Albrighton and Shifnall before a short off road section takes you past Priorlsee lake and then into Telford. View Full Details>>
Panoramio: Photos are copyrighted by their owners