Cambridgeshire Walks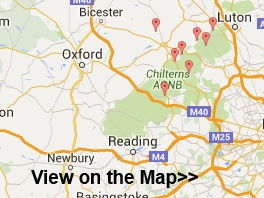 Please use the links below to view full route information including descriptions, elevation profiles, interactive maps and GPS downloads.
You can also view an overview map of all the routes in the using the Cambridgeshire Walk Map
Route Name
Photo
Distance
Description
Anglesey Abbey
3 miles (5.5 km)
Explore 114 acres of beautiful gardens surrounding this Jacobean mansion in Cambridge. You can stroll around the ornate statue garden with its mythological and biblical subjects before a peaceful walk down one of the tree lined avenues. There are also plenty of wide open spaces with expansive lawns and pretty wildflower meadows - perfect for a summer picnic.  There is also a waterside stroll along Quy Water and a visit to the working 18th century watermill where you can watch them grind wheat into flour, then buy some fresh from the chute.
In the house you can view the 36 strong collection of clocks and the extensive works of art collected by Lord Fairhaven. The dining room is the only room surviving from the Augustinian priory that once stood on the site.
Anglesey Abbey is located just a few miles east of Cambridge city centre.
Castor Hanglands
4 miles (6 km)
Explore the woodland, limestone, wetland grassland and scrub in this large National Nature Reserve near Peterborough.
Clopton Way
11 miles (17 km)
This walk runs from Wimpole Hall to Gamlingay via the abandoned medieval village of Clopton. The path runs along a prominent ridge giving wonderful views of the surrounding countryside of Cambridgeshire.
The walk start point at Wimpole Hall is particularly appealing. This 17th century country house has 3,000 acres (12 km²) of parkland and farmland and is owned by the National Trust. The route then proceeds to Croydon, Tadlow and Cockayne Hatley before a section through Potton Wood takes you to Gamlingay.
Crown Lakes Country Park
1 miles (1.5 km)
Enjoy a stroll around the pretty lakes in this country park in Peterborough. There's 85 acres to explore with a series of footpaths taking you around the meadows, woodland and lakes. Look out for butterflies such as the black hairstreak and grizzled skipper. You may also see muntjac deer, badger and fox. The park is located just to the south of Peterborough town centre. If you'd like to extend your walk then you could head to the nearby Ferry Meadows Country Park for more waterside footpaths.
Fen Rivers Way
50 miles (80 km)
This is a teriffic riverside walking route running from Cambridge to King's Lynn in Norfolk. The path runs alongside the River Cam and the River Great Ouse and passes a series of delightful riverside towns and villages including Ely, Littleport and Downham Market.
Highlights on the walk include Wicken Fen near Waterbeach in Cambridgeshire, the cathedral at Ely and the 18th century sluice at Denver.
This is a fairly flat easy walk with beautiful Fenland scenery to enjoy.
Ferry Meadows Country Park
5 miles (8 km)
This super country park in Peterborough has several pretty lakes with cycling and walking trails running alongside the water's edge. There's also a stretch along the River Nene, several pretty meadows and peaceful woodland paths. Other attractions include a miniature railway and a pitch and putt golf course. The tracks are well surfaced and flat so its perfect for families looking for a safe cycle ride or walkers looking for an easy stroll.
Ferry meadows is set within the larger area of Nene Park which also includes Thorpe Meadows with its Sculpture Park, riverside walks and a purpose built rowing lake. If you continue east through the park you'll also pass Orton Mere and Woodston Reach with more lakes and woodland to enjoy.
Also nearby is the lovely Crown Lakes Country Park with waterside footpaths, meadows and woodland.
Fleam Dyke and Roman Road
25 miles (40 km)
This circular walk explores an area of chalk grassland woodland, and farmland using the Roman Road and Fleam Dyke just to the south east of Cambridge. The walk takes place on well-maintained footpaths, bridleways and byways through gently undulating countryside and is waymarked throughout. The route visits Horseheath, West Wickham and West Wratting.
Both the Roman Road and Fleam Dyke are significant archaeological sites with sections that are classified as scheduled ancient monuments.
Grafham Water Circular Ride
11 miles (18 km)
A cycle and walking route around the beautiful Grafham Water in Cambridgeshire.
The route passes through woodland and the villages of Grafton and West Perry. There is also a nature reserve at the western end of the lake where you will see a variety of birdlife. Sailboats are also common during the warmer months of the year.
Cycle hire is available at the start of the route at the eastern end of the reservoir.
Greensand Ridge Walk
40 miles (64 km)
A walk through Bedforshire, Buckinghamshire and Cambridgeshire from Leighton Buzzard to Gamlingay. The route follows a ridge of greensand which rises from the clay vales on either side.
You will pass through Woburn, Millbrook, Maulden and Sandy and some delightful countrsyside.
Harcamlow Way
141 miles (227 km)
This long distance walk takes you to some of the most beautiful countryside, interesting historical sites and delightful country parks in the counties of Cambridgeshire, Essex and Hertfordshire.
The route is a figure-of-eight, starting in Harlow and first heading to Saffron Walden where you will pass the splendid Jacobean mansion and gardens at Audley End. You continue through the Bartlow Hills, Horseheath, the Fleam Dyke and Milton Country Park to Cambridge. You return passing along the Wimpole Way where you pass the splendid Wimpole Hall and park. This 17th century country house has 3,000 acres (12 km²) of parkland and farmland and is owned by the National Trust. You continue through Melbourn and Chrishall to Newport, and then on to Debden, Thaxted and Takeley. You then pass through Hatfield Forest with over 1000 acres of footpaths and resident deer before returning to Harlow at the end of the route.
Hereward Way
110 miles (177 km)
Starting in Oakham, in Rutland, follow the Herward Way through Stamford, Peterborough, Ely, and the Breckland forests to Thetford, in Norfolk.
Highlights on the walk include

Following the path around Rutland Water at the start of the route
The River Welland and Burghley House at Stamford
The section along the River Nene and through Ferry Meadows Country Park in Peterborough
Following the River Nene through March in Cambridgeshire
The magnificent Ely Cathedral and gardens
Following the Little Ouse River into Brandon
The delightful RSPB Lakenheath Fen nature reserve near Brandon
The final section through the Breckland Heaths and Forests


The walk is well waymarked with a yellow arrow featuring two swords.
Hertfordshire Chain Walk
39 miles (62 km)
The Hertfordshire Chain Walk is a series of circular walks running through Hertfordshire. This route is a combination of these walks, forming a linear route which runs from Enfield in London, through Hertfordshire to Ashwell & Morden Station in Cambridgeshire.
The walk begins at Crews Hill Station in Enfield and heads towards Welwyn Garden City, passing through Whitewebbs Country Park, Derry's Wood and Wormley Wood Nature Reserve on the way. Near Welwyn you cross the River Mimram, before passing through Bramfield Woods on your way to Watton at Stone, crossing the River Beane on your way. The final section then takes you through Cottered and Kelshall before finishing at Ashwell & Morden Station.
This walk gives super views of the flat lands of Cambridgshire while also visiting a series of delightful Hertfordshire parks, woods and nature reserves.
Hinchingbrooke Country Park
3 miles (5 km)
Explore 170 acres of open grasslands, meadows, woodlands and lakes in this fine country park in Huntingdon. There are a number of pleasant woodland and lakeside paths to enjoy. There is also a bridleway/cycle path running through the park while NCN route 51 runs past the perimiter. For mountain bikers there is a specially designed course with mounds of various sizes.
The park has excellent facilities with a visitor centre and cafe.
Holme Fen
6 miles (9 km)
Explore the largest Silver Birch woodland in lowland England on this walk in Cambridgeshire. There are 657 acres of acid grassland, heath, raised bog, mere and woodland with several bird hides from which to view a wide variety of wildlife. At Holme Post you will be 2.75 metres (9.0 ft) below sea level - the lowest land point in Great Britain.
If you would like to continue your walk you could head to the nearby Woodwalton Fen National Nature Reserve. Holme Fen is located between Peterborough and Huntingdon.
Icknield Way Path
110 miles (177 km)
The Icknield Way Path starts at Ivinghoe Beacon in Buckinghamshire and heads to Knettishall Heath in Suffolk along prehistoric pathways.
Milton Country Park
1 miles (2.3 km)
This lovely park in Cambridge boasts nearly 100 acres of lakes and gardens interlaced with footpaths and cycle trails. The Park includes a Visitor Centre with cafe, play-areas, viewing platforms and a sensory garden.
The park can be reached by following the River Cam and the Fen Rivers Way from the centre of Cambridge. This section also makes for a lovely traffic free cycle ride.
Nene Way
109 miles (176 km)
Follow the River Nene through the beautiful Nene Valley on this fabulous walk through Cambridgeshire, Lincolnshire and Northamptonshire.

Stour Valley Path
60 miles (96 km)
Follow the River Stour from Newmarket to Cattawade on this delightful walk through East Anglia. The walk passes through a series of pretty riverside towns and villages including Little Thurlow, Kedlington, Clare and the Clare Castle Country Park, Long Melford (with Melford Hall and Kentwell Hall), Sudbury, Nayland and Dedham. You will also pass through the Dedham Vale AONB, an area which inspired much of the work of painter John Constable.
The Three Shires Way
37 miles (60 km)
The Three Shires Way is a long distance bridleway which runs between Tathall End in north-east Buckinghamshire and Grafham Water in Cambridgeshire. The route traces the outline of ancient trackways and passes through a beautiful rural landscape. Along the way it skirts several small, historic villages, meanders through remnants of ancient woodland, and has many spectacular views.
The route is (sometimes) signposted with the Three Shires Way logo and officially runs for 37 miles, though it's nearer 39 miles long if starting/finishing at the Grafham Water Car Park. I'd recommend cycling north to south (unless faced by a strong south or south-west wind), hence : Start at Grafham Water Car Park, Cambs : TL166680 Finish at Tathall End, Milton Keynes : SP820468 A circular route around Grafham Water is also available, which extends the total distance to almost 47 miles. It passes through Easton, Spaldwick, Covington, Shelton, Yielden, Knotting, Lavendon and Emberton before arriving at Tathall End. It is generally a quiet rural route, much of it on clay and very muddy at certain times of the year. Some parts are classified as a 'Byway Open to All Traffic' or a 'Road Used as a Public Path' (generally open April to October), and are therefore legally accessible by motor vehicles. These tracks can be very rutted indeed; a notable example is Forty Foot Lane. Beware!
Note : Mapped on the 1:25,000 series Mark Worthington November 2008
Torpel Way
11 miles (18 km)
This walk runs from Peterborough to Stamford through countryside and agricultural land. The path passes Marholm and Helpston before finishing with a riverside stretch along the River Welland into Stamford.
Wandlebury Country Park
3 miles (4.5 km)
This walk takes you around the delightful Wandlebury Country Park in Cambridge. The park includes Wandlebury Hill where an Iron Age Hill Fort once stood. Wandlebury is also a Nature Reserve and is perfect for bird watching.
Cycling is not permitted in the park
Wicken Fen
9 miles (14 km)
Enjoy a walk or cycle through the beautiful Wicken Fen Nature Reserve in Cambridgeshire. National Cycle Network route 11 runs right through Wicken Fen and there are some peaceful country lanes around the reserve. Bike hire is available from just £5.
The route below starts at the pretty village of Wicken before passing through the reserve and into the surrounding countryside. You follow quiet lanes to Upware, located on the River Cam, before returning to Wicken Village.
In the reserve you will find flowering meadows, reedbeds and waterways where you can see a variety of wildlife such as hen harriers, water voles and bitterns. In the Baker's Fen area you can also see konik ponies, highland cattle, lapwings and barn owls. If you're on foot you can follow the Boardwalk Trail or the longer Nature Trail while stopping off at one of the many bird hides. In the summer months you can also enjoy a 50 minute boat trip along the waterways of Wicken Fen.
A number of options are available if you would like to continue your outing. If you're on foot you could follow the Fen Rivers Way along the River Great Ouse to Ely. For cyclists National Route 11 runs along quiet roads and the River Great Ouse to Ely. Or you can head east towards Newmarket via Burwell.
Wimpole Hall
2 miles (4 km)
This 17th century country house near Cambridge is surrounded by 3,000 acres of parkland and farmland. There are miles of walking paths taking you to the walled garden with glasshouse and vegetable plots, the glorious parterre with 12,000 plants and the delightful pleasure gardens. There's also the opportunity for a quiet woodland stroll through Cobbs Wood where you can look out for eight species of woodland bat.
The site includes Home Farm with its donkeys, shire horses and rare breed livestock. It's great for families as children can groom the donkeys and have a drive on a mini tractor.There are also 18th century farm buildings including  cart sheds, stables, cattle yards and deer pens. 
You can also explore the house with its grand rooms and collections of furniture, porcelain and paintings. 
If you would like to continue your walk you could pick up the Wimpole Way and head towards Cambridge.
Wimpole Way
11 miles (18 km)
Follow the Wimpole way through Cambridgeshire's farmland, ancient woodland and gentle rolling countryside from Cambridge to Wimpole Hall. The path starts in Cambridge by the River Cam heading ino the countryside and passing Coton, Caldecote and Kingston before finishing at Wimpole Hall. This 17th century country house has 3,000 acres of parkland and farmland and is owned by the National Trust.
Woodwalton Fen
4 miles (6 km)
Enjoy a short walk around this beautiful national nature reserve in Cambridgeshire. There are 500 acres to explore with habitats including wildflower meadows, mixed fen, marsh, reedbed, scrub, open water and woodland. There are several waymarked walking trails taking you around the reserve on wide grassy paths. You can stop at the bird hides and look out for a wide variety of wildlife before heading to Rothschild Bungalow - Charles Rothschild, a successful banker and wildlife enthusiast bought Woodwalton Fen in 1910 to preserve this lovely area.
If you would like to continue your walk you could head to the nearby Holme Fen National Nature Reserve. Woodwalton Fen is located between Peterborough and Huntingdon.
Photos are copyrighted by their owners