Cambridgeshire Cycle Routes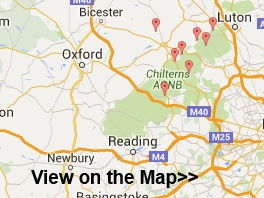 Cambridgeshire has a selection of well signed cycle routes many of which are off road and very flat. This makes it an ideal county for family cycling. There's plenty to see including the famous university town of Cambridge (pictured) which is well served by bike routes, including a lovely waterside ride along the River Cam (below).
Please use the links below to view full route information including descriptions, elevation profiles, interactive maps and GPS downloads.
You can also view an overview map of all the routes in the using the Cambridgeshire Cycle Map
There are several National Cycle Network signed routes in the county many of which have been mapped and can be viewed and downloaded below.
For more information on NCN routes in the county (including free cycle maps) please click here

For more information on cycle routes in Cambridgeshire including tips, advice and free cycle maps please click here
Route Name
Photo
Distance
Description
Cambridge to Ely
26 miles (42 km)
This route follows National Cycle routes 11 and 51 through Cambridgeshire. The route starts on the River Cam in Cambridge and heads along the river and National Cycle route 11 before joining National Cycle route 51 near Fen Ditton. A series of quiet country roads and off road paths take you to Burwell where you join National Cycle route 11 turning North West.
Country roads then take you to a pleasant stretch through Wicken Fen Nature Reserve and then onto another off road section along the River Ouse before reaching the finish point by the Cathedral in Ely. View Full Details>>
Cambridge to Huntingdon
24 miles (38 km)
This route follows National Cycle routes 11 and 51 through Cambridgeshire from Cambridge to Huntingdon. The route starts with a pleasant off road stretch along the River Cam passing by some of the city's famous University Colleges. The route then follows the Great River Ouse passing through St Ives and Godmanchester before finishing near the train station in Huntingdon. View Full Details>>
Cambridge to Newmarket
21 miles (33 km)
This route follows National Cycle routes 11 and 51 through Cambridgeshire to Suffolk. The route starts on the River Cam in Cambridge and heads along the river and National Cycle route 11 before joining National Cycle route 51 near Fen Ditton. A series of quiet country roads and off road paths take you to Burwell before an off road stretch takes you into Newmarket, home of the famous racecourse. View Full Details>>
Cambridge to St Ives along the Busway
12 miles (20 km)
Enjoy a walk or cycle along this disused railway line which now forms part of National Cycle Network Route 51. It's now a great traffic free tarmac path following the route of the new Cambridgeshire Guided Busway which connects Cambridge, Huntingdon and St Ives. It runs just alongside the busway starting near the Cambridge Science Park just north of the city centre. You then head west passing Histon and the lovely Fen Drayton Lakes. The reserve has a number of lakes, ponds and lagoons with the River Great Ouse running through it as well. Shortly after you arrive at the market town of St Ives where the route finishes. You have the option of continuing along route 51 to Huntingdon which is just a few miles to the west. It's a nice flat, safe route which is ideal for families or anybody looking for an easy cycle ride or pleasant stroll. Along the way there's great views of the surrounding Cambridgeshire countryside. View Full Details>>
Cambridge to Stansted Mountfitchet
31 miles (50 km)
Travel from Cambridgeshire to Essex along National Cycle route 11. The route starts in the centre of Cambridge and heads south to Stansted Mountfitchet on a series of country roads and off road tracks. There is much pretty countryside to enjoy on this route as well as some lovely villages inculding Sawston and Arkesden. View Full Details>>
Cambridge to Waterbeach
7 miles (12 km)
Follow the River Cam and National Cycle route 11 on this lovely easy ride. The ride starts in the centre of Cambridge taking you past some of the famous colleges in this lovely university town. You will then follow the river to Waterbeach finishing at the train station. View Full Details>>
Ely to Downham Market
24 miles (38 km)
This easy route follows National Cycle route 11 from Cambridgeshire to Norfolk. The route starts near the impressive cathedral in Ely and heads north on an off road section to Little Downham. Country roads take you to a lovely section along the New Bedford River followed by another riverside run along the River Ouse. The route finishes near the tourist information centre in Downham Market in Norfolk. View Full Details>>
Fen Drayton Lakes
3 miles (5.5 km)
This large RSPB nature reserve near St Ives has some nice walking trails and a cycle path running through it. The reserve consists of a series of lakes, ponds and lagoons with the River Great Ouse running through the northern section. There's lots of well laid out trails taking you around and between the lakes with National Cycle Route 51 running through the central section along the Cambridgeshire Guided Busway.
The reserve is a haven for water loving wildlife with huge numbers of ducks, swans and geese on the lakes in winter.  Also look out for terns, hobbies, lapwings, coots and a variety of dragonflies. 
You can extend your walk by picking up the Ouse Valley Way which runs through the reserve. If you head west it will take you into St Ives while heading north takes you along the river to Earith. Cyclists can continue along the Cambridge to St Ives busway cycle path. It's a great traffic free route running along a disused railway line. View Full Details>>
Ferry Meadows Country Park
5 miles (8 km)
This super country park in Peterborough has several pretty lakes with cycling and walking trails running alongside the water's edge. There's also a stretch along the River Nene, several pretty meadows and peaceful woodland paths. Other attractions include a miniature railway and a pitch and putt golf course. The tracks are well surfaced and flat so its perfect for families looking for a safe cycle ride or walkers looking for an easy stroll.
Ferry meadows is set within the larger area of Nene Park which also includes Thorpe Meadows with its Sculpture Park, riverside walks and a purpose built rowing lake. If you continue east through the park you'll also pass Orton Mere and Woodston Reach with more lakes and woodland to enjoy.
Also nearby is the lovely Crown Lakes Country Park with waterside footpaths, meadows and woodland. View Full Details>>
Grafham Water Circular Ride
11 miles (18 km)
A cycle and walking route around the beautiful Grafham Water in Cambridgeshire.
The route passes through woodland and the villages of Grafton and West Perry. There is also a nature reserve at the western end of the lake where you will see a variety of birdlife. Sailboats are also common during the warmer months of the year.
Cycle hire is available at the start of the route at the eastern end of the reservoir.
To extend your walking in the area you could visit the nearby Brampton Wood. The woods are located less than a mile from Grafham and can be reached by cycling along National Cycle Route 12. View Full Details>>
Grantchester Cycle Path
2 miles (3 km)
This largley traffic free path runs from Cambridge to the nearby village of Grantchester. It passes the lovely Grantchester Meadows, an idyllic spot next to the River Cam. Most of the route takes place on a flat surfaced path, ideal for families or anyone looking for a safe, easy ride.
The route starts in Cambridge city centre and heads south through Sheep's Green and Lammas Land. The area around Sheep's Green is a nature reserve with cows and sheep grazing next to the meandering river.
The route continues south past Skater's Meadow before coming to Grantchester village. Here you can enjoy a cream tea at the delightful Orchard Tea Room. It's an idyllic setting with outdoor seating amongst the fruit trees. View Full Details>>
Hinchingbrooke Country Park
3 miles (5 km)
Explore 170 acres of open grasslands, meadows, woodlands and lakes in this fine country park in Huntingdon. There are a number of pleasant woodland and lakeside paths to enjoy. There is also a bridleway/cycle path running through the park while National Cycle route 51 runs past the perimeter. For mountain bikers there is a specially designed course with mounds of various sizes.
The park has excellent facilities with a visitor centre and cafe. View Full Details>>
Huntingdon to Peterborough
27 miles (43 km)
Follow National Cycle route 12 through the Cambridgeshire countryside on this pleasant route.
View Full Details>>
Huntingdon to St Neots
16 miles (25 km)
This ride follows National Cycle route 51 through Cambridgeshire. The route starts outside the tourist information centre in Huntingdon and heads to Brampton passing Hinchingbrooke Country Park. You then continue past Brampton Wood to Grafham Water Reservoir where a pleasant off road stretch takes you along the water and onto the Three Shires Way.
Country roads then take you onto St Neots where you will cross the bridge over the River Ouse before finishing near the tourist information centre in the town. View Full Details>>
King's Lynn to Wisbech
20 miles (32 km)
This very flat ride takes you from Norfolk into Cambridgeshire through the Fenlands and along National Cycle route 1.
The route starts on the banks of the River Ouse in King's Lynn then follows a series of quiet country roads to Wisbech situated by the River Nene. View Full Details>>
London to Cambridge
81 miles (130 km)
This long distance cycle ride takes you from the Thames in London, through Essex and Cambridgeshire, to the Univeristy city of Cambridge. The route uses a mixture of National Cycle Network Routes and Local Cycle Routes to take you between these two great English cities. There's lots of traffic free sections, particularly at the start as you head through London and Lee Valley Park. The route then follows a mixture of country lanes and minor roads to Waltham Abbey, Harlow and Stansted Mountfitchet, before finishing in Cambridge.
The ride starts off at the Cutty Sark on the Thames in Greenwich. You then follow NCN Route 1 north, over the river and through the Isle of Dogs. Nice waterside sections along the Regent's Canal and the Lee Valley Navigation make for an easy, traffic free start to the ride.
The next section takes you along Walthamstow Reservoirs and through Lee Valley Park, with more traffic free paths alongside a series of lakes.
The route continues north through Waltham Abbey, passing through the pretty River Lee Country Park and Nazeing Meads. Around here you turn east through Harlow, passing Matching Tye before turning north to Matching Green.
The route then follows a series of quiet country lanes to Takely, where you pick up a section of the Flitch Way along a dismantled railway line. This takes you west, past Hatfield Forest to Birchanger. Here the route turns north, passing Stansted Mountfitchet before picking up more country lanes to take you through Ickleton, Sawston and Stapleford. The final section then takes you into Cambridge, finishing in the city centre. View Full Details>>
March to Wisbech
12 miles (20 km)
This easy route follows National Cycle route 63 through Cambridgeshire. The route starts by the railway station in March and heads north along a mixture of off road paths and country roads finishing by the tourist information centre in Wisbech. Highlights include views of the Twenty Foot River and some lovely rural views. View Full Details>>
Milton Country Park
1 miles (2.3 km)
This lovely park in Cambridge Backs boasts nearly 100 acres of lakes and gardens interlaced with footpaths and cycle trails. The Park includes a Visitor Centre with cafe, play-areas, viewing platforms and a sensory garden.
The park can be reached by following the River Cam and the Fen Rivers Way from the centre of Cambridge. This section also makes for a lovely traffic free cycle ride.
To extend your walkin in the area you can try our circular Cambridge Backs Walk which takes you on a tour of the famous university colleges. View Full Details>>
Newmarket to Ely
21 miles (33 km)
This route follows National Cycle route 51 and 11 from Suffolk into Cambridgeshire. The route starts near the tourist information centre in Newmarket and follows National Cycle route 51 to Burwell where you join National Cycle route 11 turning North West.
Country roads then take you to a pleasant stretch through Wicken Fen Nature Reserve and then onto another off road section along the River Ouse before reaching the finish point by the Cathedral in Ely. View Full Details>>
Peterborough to Kettering
31 miles (50 km)
This route takes you from Cambridgeshire to Northamptonshire along National Cycle route 53. The route starts by the railway station in Peterborough and begins with a series of off road sections before country roads take you onto Warmington, Brigstock and finally Kettering. This is a pleasant route passing near several wooded areas around Brigstock and Grafton Underwood. View Full Details>>
Peterborough to March
20 miles (32 km)
Follow National Cycle route 63 from Peterborough to March on this easy route. The start of the route follows the River Nene out of Peterborough to Whittlesey before a series of off road tracks and quiet country lanes take you into March finishing at the train station. View Full Details>>
Peterborough to Spalding
31 miles (50 km)
This lovely flat route follows National Cycle routes 63 and 12 passing through Cambridgeshire and Lincolnshire. The route starts in Peterborough first following the River Nene out of the town centre to the lovely Ferry Meadows Country Park. Much of the route is off road with pleasant stretches along various waterways including the River Welland. The route finishes in Spalding near the train station. View Full Details>>
Peterborough to Stamford
17 miles (27 km)
Follow National Cycle route 63 through Cambridgeshire and onto Lincolnshire. You start by the railway station in Peterborough and soon join a lovely off road section that runs along the River Nene and through Ferry Meadows Country Park. You then continue on road through Castor and Ailsworth before passing the lovely Castor Hanglands. The ride then progresses onto Stamford via Barnack, crossing the River Welland before finishing by the tourist information centre in Stamford. View Full Details>>
Wicken Fen
9 miles (14 km)
Enjoy a walk or cycle through the beautiful Wicken Fen Nature Reserve in Cambridgeshire. National Cycle Network route 11 runs right through Wicken Fen and there are some peaceful country lanes around the reserve. Bike hire is available from just £5.
The route below starts at the pretty village of Wicken before passing through the reserve and into the surrounding countryside. You follow quiet lanes to Upware, located on the River Cam, before returning to Wicken Village.
In the reserve you will find flowering meadows, reedbeds and waterways where you can see a variety of wildlife such as hen harriers, water voles and bitterns. In the Baker's Fen area you can also see konik ponies, highland cattle, lapwings and barn owls. If you're on foot you can follow the Boardwalk Trail or the longer Nature Trail while stopping off at one of the many bird hides. In the summer months you can also enjoy a 50 minute boat trip along the waterways of Wicken Fen.
A number of options are available if you would like to continue your outing. If you're on foot you could follow the Fen Rivers Way along the River Great Ouse to Ely. For cyclists National Route 11 runs along quiet roads and the River Great Ouse to Ely. Or you can head east towards Newmarket via Burwell. View Full Details>>
Wisbech to Boston
39 miles (62 km)
Travel from Cambridgeshire to Lincolnshire along National Cycle route 1 on this very flat route.
The route starts near the tourist information centre in Wisbech heading north through the countryside on a series of quiet roads before finishing in the centre of Boston. Highlights include the pretty village of Fosdyke in Lincolnshire which is situated on the River Welland(below) View Full Details>>
Your Submitted Routes
Panoramio: Photos are copyrighted by their owners