Nottinghamshire Cycle Routes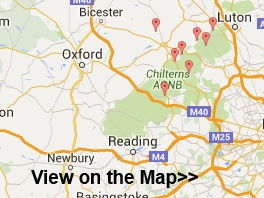 Nottinghamshire has a number of quiet lanes and tracks ideal for cycling.
Highlights include the lovely Clumber Country Park designed by Capability Brown and of course Sherwood Forest home of Robin Hood.
Please use the links below to view full route information including descriptions, elevation profiles, interactive maps and GPS downloads.
You can also view an overview map of all the routes in the using the Nottinghamshire Cycle Map
There are several National Cycle Network signed routes in the county many of which have been mapped and can be viewed and downloaded below.
For more information on NCN routes in the county (including free cycle maps) please click here

For more information on cycle routes in Nottinghamshire including tips, advice and free cycle maps please click here
Route Name
Photo
Distance
Description
Bestwood Country Park
4 miles (7 km)
Bestwood Country Park is located on the outskirts of the city of Nottingham and consists of 650 acres of open green space. The park includes Mill Lakes, where you can follow the waterside trail and look out for the wide variety of water birds that visit the park. There are also wildflower meadows and peaceful forest trails through ancient oak woodland to enjoy.
National Cycle Network route 6 runs along Mill lakes and the Robin Hood Way walking trail also runs right through the park. You could follow the trail to the nearby Burntstump Country Park for more pleasant woodland walking trails.
Clumber Country Park
5 miles (8 km)
Enjoy a peaceful walk or cycle around the fabulous Clumber Park in Worksop. Clumber Park contains over 3,800 acres of woodland, open heath and rolling farmland. There is also a beautiful serpentine lake and a picturesque avenue of lime trees that runs for 2 miles. Also of interest is the picture postcard Hardwick Village, the Gothic Clumber Chapel and the Walled Kitchen Garden.
The route below is devised for walkers but the park is excellent for cycling, particularly around the lake area. You can hire bikes and pick up route guides from within the park - please click here for more information. The routes are nice and safe so ideal for families. Route 6 of the National Cycle Network also passes through the park linking it to Sherwood Forest - see the Nottingham to Worksop cycle route for more information.
Colwick Country Park
2 miles (4 km)
Enjoy several miles of lovely, waterside walking and cycling in this country park in Nottingham. The park contains two large lakes, a marina, woodland and meadows. The River Trent also runs through the park so there is scope for continuing your walk along the Trent Valley Way walking route. There is also an excellent visitor centre with cycle hire available.
The park is located to the south of Nottingham city centre near to Nottingham Midland Railway station.
Cotgrave Country Park
2 miles (3.5 km)
This lovely country park near Nottingham is the perfect place for a peaceful cycle or walk. The park includes woodland, wetland, lakes and informal grassland while the Grantham canal also runs through the park. You could continue your exercise along the Grantham Canal walk route or head a couple of miles north where you'll find the Holme Pierrepont Country Park and Colwick Country Park.
Cotgrave is located just a few miles south east of Nottingham city centre.
Derby to Nottingham
19 miles (30 km)
This easy route takes you between two major English cities. The routes starts on the banks of the River Derwent in Derby and the follows National Cycle Network route 6 to Long Eaton and then Nottingham, finishing on the banks of the River Trent. Much of the route follows the River Derwent with the lovely Attenborough Nature Reserve a further route highlight. The final stretch into Nottingham is particularly enjoyable taking you through the lovely university park, before a pleasant stretch along the River Trent brings the ride to a close.
Grantham to Newark-On-Trent
25 miles (40 km)
This route follows NCN routes 15 and 64 through Lincolnshire, Leicestershire and Nottinghamshire. You start by the tourist information centre in Grantham and soon join the towpath of the Grantham Canal which takes you as far as Muston. From here you follow quiet roads to Bottesford. The route continues through the countryside on country lanes, joining NCN route 64 just after Orston. A couple of miles later at Cotham you begin a short stretch on a dismantled railway line, which takes you all the way to the finish point at Newark-On-Trent rail.
Holme Pierrepont Country Park
3 miles (5 km)
Enjoy a waterside walk or cycle in this splendid 270 acre country park in Nottingham. The park includes several large lakes and the delightful Skylark Nature Reserve. You can hire a bike or just go for a stroll along the lovely, lakeside paths. The River Trent also runs through the park so there is scope for continuing your walk along the Trent Valley Way walking route. Adjacent to Holme Pierrpont is Colwick Country Park which is another option for extending your outing.
The park is the home of the National Watersports Centre so you could have a go at kayaking or windsurfing. Holme Pierrepont is located just to the south of Nottingham city centre.
Lincoln to Newark-On-Trent
24 miles (38 km)
Travel from Lincolnshire into Nottinghamshire on NCN route 64. The route starts near Lincoln tourist information centre and heads east to Skellingthorpe wood on off roads tracks, and a pleasant stretch along the Fossdyke canal. You then turn south towards Newark following a series of quiet country roads with a section along the River Trent taking you to the finish point at the train station.
Long Eaton to Langley Mill
12 miles (20 km)
This lovely ride starts at the Nuttbrook trail just north of Long Eaton rail station following it north to Langley Mill.
The trail follows the Erewash canal and also includes a section through Shipley Country Park which makes it ideal for a leisurley afternoon's cycling.
The finish point is Langley Mill rail.
Melton Mowbray to Newark-On-Trent
34 miles (55 km)
Follow NCN routes 64 and 15 from Leicestershire into Nottinghamshire. You start near the train station in Melton Mowbray and head north passing Melton Country Park and the village of Scalford. The route follows country roads passing Knipton Reservoir and Belvoir Lake on the way to Woolsthorpe where you join the Grantham Canal and NCN route 15, taking you to Bottesford. A series of country roads, followed by a pleasant off road stretch along a dismantled railway line then take you into Newark-On-Trent, finishing at the train station.
Nottingham to Worksop
40 miles (65 km)
This route takes you along national cycle network route 6 from the city of Nottingham through Sherwood Forest to the town of Worksop.
You start in Nottingham and head through the outskirts to Bestwood where you join a pleasant off road section through Mill Lakes Country Park. The ride then passes through Hucknall before joining the Linby Trail for another relaxing traffic free section. From here you continue to Ravenshead passing through Newstead Park with its Gardens and Abbey. A short on road section to Blidworth takes you onto a splendid off road section along the Robin Hood Way through Sherwood Forest. You'll pass the Major Oak in the forest rumoured to be the base of Robin Hood and there are also great views around Clumber Park. The ride finishes with a nice stretch along the Chesterfield Canal into Worksop.
Rotherham to Worksop
22 miles (35 km)
This ride takes you along NCN route 6 from Yorkshire into Nottinghamshire. You start near the train station in Rotherham on the River Rother and head south towards Moorgate. The route then passes through Ulley Country Park with its lovely reservoir and wildlife.
Quiet roads then take you through Aston before a lovely traffic free stretch through Rother Valley Country Park - an award winning 750 acre park with a nature reserve, lakes and bridleways.
The route continues east on country roads, passing Harthill Reservoir and Old Spring Wood on the way to Shirehoaks where a pleasant roll along the Chesterfield Canal takes you into Worksop, finishing at the train station.
Rushcliffe Country Park
2 miles (3 km)
Explore over 200 acres of cycling and walking trails in this popular country park near Nottingham. In the park you will find wildflower meadows, grassland, conservation and landscaped areas. There is also a 2 hectare lake where you can see mute swans, great crested grebes and various duck species. Also look out for skylarks, finches, cuckoos, kestrels, sparrow hawks, reed buntings, reed warblers and sedge warblers.
Sherwood Forest Country Park
6 miles (10 km)
Explore 450 acres of peaceful woodland in this famous park and Nature Reserve in Nottinghamshire. There are numerous cycling and walking tracks running through the park with National Cycle Network Route 6 passing through the centre of the park (see the Nottingham to Worksop Cycle Route). The Robin Hood Way Walk also passes right through the park.
In Sherwood Forest you'll pass the 800 year old Major Oak which is rumoured to be the base of Robin Hood. There are also excellent facilites with a Visitor Centre and cafe.

Sherwood Pines Forest Park
5 miles (8 km)
Enjoy several waymarked cycling and walking trails in this large woodland area in Mansfield. The cycle trails include a 3 mile, green graded ride which is great for families. The Adventure Cycle Trail is blue graded and runs for 6 miles - it's also a nice flat ride which is suitable for all abilities. It takes place on a super all weather limestone surface so you can try it at any time of year. For enthusiasts there is the red graded Kitchener Trail which is a much faster and more challenging ride.
Walkers can enjoy two waymarked walking trails through mature pine woodland and lowland heathland. The Dragonfly Trail runs for 1 mile and takes place on a well surfaced path. The Nightjar Trail is unsurfaced and runs for about 2 miles.
If you'd like to continue your exercise you could visit the nearby Vicar Water Country Park for more walking and cycling trails.
Southwell Trail
7 miles (11 km)
This traffic free cycling and walking trail links Southwell to Bilsthorpe in the Sherwood Forest area of Nottinghamshire. It's a good one for families as the path is well defined, flat and safe. It runs along a disused railway line closed in 1968.
The trail runs next to the Robin Hood Way so you could pick this up and head into Sherwood Forest to extend your outing.
Vicar Water Country Park
2 miles (4 km)
Explore 200 acres of rare heathland, mature woodland and species rich grassland in this country park near Mansfield. The park offers spectacular views across to Derbyshire and Lincolnshire and is home to an abundance of wildlife including herons, kingfishers, foxes, hares, tawny owls, nightjar and woodpeckers. There are also two bodies of water - Vicar Pond and Vicar Water.
Vicar Water has super footpaths and bridleways making it ideal for a short cycle or walk. National Cycle Network number 6 runs through the park so you could continue your cycle along the Nottingham to Worksop cycle route.
You could also visit the nearby Sherwood Pines Forest Park and enjoy several waymarked cycling and walking trails.
Wollaton Park
4 miles (6 km)
This super deer park in Nottingham is ideal for a short cycle or walk in delightful surroundings. The park is located on the western edge of the city centre and consists of an exquisite  Elizabethan mansion  surrounded by acres of parkland, woodland, lakes, formal gardens and the deer park.
In the splendid Wollaton Hall you will find the Nottingham Natural History Museum, with Nottingham Industrial Museum located in the surrounding out-buildings. In the film The Dark Knight Rises Wollaton Hall was used as Wayne Manor.
Your Submitted Routes
Photos are copyrighted by their owners