Bristol Walks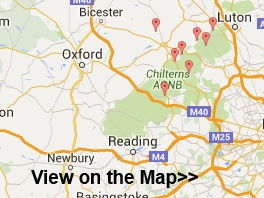 The popular city of Bristol is a great place for walkers with riverside paths, country park estates, attractive woodland and several long distance trails passing through the area.
Use the filter to show walks of a certain type such as woods, reservoirs, hills, long distance, country parks, canals and rivers.
In the spring walkers flock to the beautiful bluebell woods in Bristol. Click the 'Woodland' button below to see these.
Use the links to view full route information including elevation profiles, interactive maps and GPS downloads.
You can also view an overview map of all the routes in the using the Bristol Walk Map>>
Route Name
Distance
Description
Ashton Court Park
3 miles (5 km)
A short circular walk around one of England's most popular country parks. The Ashton Court Estate is located near Bristol and is comprised of 850 acres of woodland, parkland and gardens. Highlights include Ashton Court Meadow nature reserve which contains a wide range of flowering plants. There is also a deer park and Clarken Combe - a woodland area with a range of plant species.
The park is also good for cycling with National Cycle Route 33, known as the Festival Way running through the park. View Full Details>>
Blaise Castle
2 miles (4 km)
Explore the delightful Blaise Castle Estate in Bristol, on this circular walk through the 650 acre country park. You will follow a series of peaceful wooded paths around the landscaped grounds and visit the sham castle where there are fabulous views of Avonmouth, the Avon Gorge and South Wales. Other highlights include two pools - the Giant's Soapdish and Penny Well, and two caves - the Robber's Cave and the Butcher's Cave. View Full Details>>
Brandon Hill and Cabot Tower
1 miles (1 km)
This pretty park and nature reserve is located in the centre of Bristol. It's a splendid place to go for a stroll with a wildflower meadow, ponds and the impressive Cabot Tower. You can climb the 105 feet (32 m) high tower for panoramic views over the city.
The park is good for wildlife spotting. Look out for frogs, toads and newts in the pond and birds such as blackcap and jay in the woodland area.  You can also try the tree trail and learn about different species of trees in the park.
If you would like to continue your walking in Bristol then you could pick up the River Avon Trail and follow it to the nearby Leigh Woods. Here you will find a nature reserve with miles of peaceful woodland trails. View Full Details>>
Brean Down
2 miles (4 km)
Explore this beautiful natural pier and enjoy wonderful coastal views on this walk on the Somerset coast. The promontory stands at 318 feet (97 m) high and is a continuation of the Mendip Hills. As such there is some climbing involved but you are rewarded with wonderful views of the Bristol Channel, south Wales and Weston Super Mare. At the seaward end you will find Brean Down Fort which was built in 1865 and then re-armed in the Second World War.
The area is a nature reserve and has an abundance of interesting flora and fauna. Look out for birds including peregrine falcon, dunnock and kestrel. Butterfly species include chalkhill blue, dark green fritillary, meadow brown and marbled white. In the summer months there are lots of pretty wildflowers and plants including Somerset hair grass, wild thyme, horseshoe vetch and birds-foot-trefoil.
This circular walk starts at the car park and takes you to the fort, Howe Rock and Sprat Beach at the end of the promontory. You return on an alternative path. There is a cafe at car park where you can enjoy refreshments after your walk.
If you'd like to cycle to the reserve then you could follow National Cycle Route 33 from Burnham-on-Sea or Weston-super-Mare.
The West Mendip Way starts from Uphill next to the down. You could pick this up and head to the nearby Bleadon Hill to extend your walk. To the south east you will find the prominent hill of Brent Knoll. The hill summit provides fine views across to the down.
Just to the north of Weston-Super-Mare you will find the wonderful Sand Point. This is a similar area to Brean Down with a beautiful peninsula jutting out into the Bristol Channel. View Full Details>>
Bridgwater Bay National Nature Reserve
2 miles (2.5 km)
Explore this beautiful nature reserve on this short walk in the Somerset Levels. The reserve is situated on the mouth of the River Parrett with lovely views over the estuary to Stert Island and Burnham-on-Sea. It consists of extensive areas of mudflats, sand banks, reed beds and saltmarshes attracting a large number of birds. Look out for shelduck, curlew, redshank and oystercatcher from the excellent elevated bird hide. There is also an abundance of interesting flora with wildflowers and plants including Somerset hair grass,wild thyme, horseshoe vetch and birds-foot-trefoil.
Steart Marshes nature reserve is also located on the south side of the peninsula with otters, egrets, owls waders and wildfowl to look out for.
The River Parret Trail starts from Bridgwater Bay so you can pick this up to extend your walking in the area. The lovely waterside trail heads south to the nearby village of Combwich and then on to Bridgwater.
This walk start from the Steart car park but you could also start from Combwich or Bridgwater and follow the River Parret Trail to the reserve.
You could also head west along the estuary towards Hinckley Point Nuclear Power Station. It's a lovely walk with great views of the Sterte Flats and Catsford Common. View Full Details>>
Bristol and Bath Railway Path
16 miles (26 km)
This lovely cycle or walk takes you along a disused railway line with its series of charming stations. Starting in the historic city of Bristol you will pass through Staple Hill, Mangotsfield and then Warmley where the station platform contains a cafe - perfect for a stop for refreshments.
The route then takes you along the Avon Valley Railway and past Bitton railway station which also has a cafe.
The final delightful section takes you along the River Avon and into the historic city of Bath. View Full Details>>
Bristol Circular River Walk
5 miles (8 km)
This circular walk in Bristol visits some of the highlights of the city, including Temple Church, Castle Park, the SS Great Britain, Britol's Floating Harbour, Cabot Tower and Bristol Cathedral. It's about a 5 mile walk with lots of nice long, waterside stretches along the River Avon to enjoy.
The walk starts from Bristol Temple Meads railway station and heads to the river where you can pick up a riverside footpath. After following the river for about 5 minutes you turn left, away from the river, and visit the fascinating ruins of Temple Church. The church dates from the 12th century, but was bombed and largely destroyed in the Bristol Blitz of November 1940.
After exploring the church and adjacent Temple Gardens, the walk returns to the river, following the path to Castle Park. Here you will find the ruins of St Peter's church in the middle of the park with a sensory herb garden, and five silver birch trees as a memorial to the beaches of the D-Day landings. There's also a grassy arena, with the partially excavated remains of Bristol Castle and a preserved vaulted chamber.
The route then leaves the park, continuing along the river past the Grade II listed Bristol Bridge, which was opened in 1768. The route heads south along the river, before crossing over to Prince's Wharf where you will come to the M Shed museum. The museum has three main galleries including Bristol Places, Bristol People and Bristol Life, each telling a story of Bristol, and containing a mixture of media and exhibits. Around here you can also pick up the Bristol Harbour Railway. The heritage railway runs for about a mile along the south side of Bristol Harbour, starting at the M Shed museum.
The walk then heads west along the river to the SS Great Britain, one of the chief attractions in the city. The ship was designed by Isambard Kingdom Brunel for the Great Western Steamship Company's transatlantic service between Bristol and New York in the mid 19th century. She was the longest passenger ship in the world from 1845 to 1854 and the first iron steamer to cross the Atlantic, in a time of 14 days in 1845. The ship now contains a fascinating museum where you can learn about life on the ship all those years ago.
The walk then heads to the southern side of the harbour before heading towards Bristol Marina where you can catch the ferry over the river. You pass through Clifton Wood, to reach the splendid Brandon Hill and Cabot Tower. The lovely park and nature reserve includes a wildflower meadow, ponds and the impressive Cabot Tower. You can climb the 105 feet (32 m) high tower for panoramic views over the city.
After enjoying the park it is a short walk to the magnificent 12th century Bristol Cathedral. The eastern end of the church includes fabric from the 12th century, and the Elder Lady Chapel which was added in the early 13th century. Much of the church was rebuilt in the English Decorated Gothic style during the 14th century. The Norman Chapter House pointed arches and the 14th-century stained glass pieces are among the highlights of the site. The cathedral sits on the south side of the popular College Green which is surrounded by a number of other historic and important public buildings, including the Council House, Bristol Central Library and the Lord Mayor's Chapel.
The walk crosses College Green and heads east across the river, towards Queen's Square. You then cross to Princes Wharf and head east through Redcliffe, to return to the station. View Full Details>>
Bristol Triangular City Walk
18 miles (29 km)
This walk takes you on a tour of this fascinating and historical city, visiting several famous landmarks on the way. It was devised by the Bristol Ramblers and offers wonderful views of the city exploring the Waterfront, Durdham and Clifton Downs, Clifton Suspension Bridge, Avon Gorge and Blaise Castle Estate.
Highlights on the route include a waterside section along the River Avon with fabulous views of the stunning Avon Gorge.
Also of interest is the 18th century mansion and estate at Blaise Castle. Blaise Castle was immortalised when described as 'the finest place in England' in Jane Austen's Northanger Abbey.
The walk also includes a section through the impressive Henbury golf course and the attractive Clifton and Durdham Downs.
The walk is easily accessible, starting and finishing at Bristol Temple Meads railway. View Full Details>>
Chalford and the Toadsmoor Valley
7 miles (11 km)
Enjoy a walk along the Thames and Severn Canal before exploring the woodland of the Toadsmoor Valley on this walk from Chalford. There's nice views of the River Frome and interesting old mills to see in the area.
The walk starts at Chalford Bottom and heads through the Golden Valley, passing along the canal and the River Frome. Near Brimscombe you turn north, heading through the wooded Toadsmoor Valley before finishing at Toadsmoor Pond. View Full Details>>
Clifton Suspension Bridge
4 miles (6.8 km)
This circular walk explores the area around the Clifton Suspension Bridge over the Avon Gorge. The bridge links the Bristol suburb of Clifton with Leigh Woods. The Grade I listed structure opened in 1864 and is based on an earlier design by Isambard Kingdom Brunel.
The walk starts from the Clifton observatory on Clifton Down. The observatory is a great place to start the walk as it includes a viewing platform overlooking the bridge and the City of Bristol. There's also a museum and a Camera Obscura which is now one of the only three in the UK. You can follow a tunnel from the Observatory to St Vincent's Cave, which opens onto St Vincent's Rocks on the cliff face, 250 feet (76 m) above the floor of the Avon gorge.
From the observatory you can pick up the Bristol Triangular City Walk and follow the waymarked trail up onto the bridge which is located a short distance to the south. Walk across the bridge and you can then pick up the River Avon Trail on the other side and follow it north along the river. You can then pick up trails through Leigh Woods where you'll find oak, small leaf lime and ash forest with carpets of bluebells in the springtime. It's a lovely area with sculputre trails, ponds and lots of woodland birds to look out for.
After exploring the woods the route crosses back over the bridge and returns to the observatory. Here you can enjoy post walk refreshments at the on the 360 cafe. There's a good menu and outdoor seating with fine views to the bridge to enjoy with your meal. View Full Details>>
Community Forest Path
45 miles (72 km)
This is a varied and interesting circular walk taking you on a tour of the countryside, villages and historic estates around Bristol.
The walk starts in Keynsham at the confluence of the River Chew and River Avon and begins with a lovely waterside section along the River Avon before joining the Bristol and Bath Railway Path. You continue to Winterbourne, with a short section along the River Frome, and then through Stoke Gifford to Henbury where you will pass the splendid Blaise Castle. Described as 'the finest place in England' in Jane Austen's novel Northanger Abbey, the estate boasts a 19th century mansion, an 18th century castle, a fascinating Victorian museum and 400 acres of parkland.
From Henbury you continue through the suburbs of Bristol, crossing the River Avon on the Clifton Suspension Bridge next to the beautiful Avon Gorge Nature Reserve. This diverse ancient broad-leaved woodland is home to many rare plants and animals and is well worth exploring. Soon after you arrive at another walk highlight at the Ashton Court Park. Here you will find 850 acres of woodland and meadows including a deer park, mansions and landscaped gardens.
The final section of the walk takes you to Pensford via Dundry Hill, where you will pass the impressive Pensford Viaduct, a Grade II listed building. View Full Details>>
Cranham Woods
3 miles (5.5 km)
This circular woodland walk in the Cotswolds visits Cranham Woods, Buckholt Woods and Coopers Hill. These large peaceful woods have miles of walking trails through attractive Beech woodland. Cyclists can try a series of downhill mountain bike trails.
The walk starts from the parking area at the southern end of the woods near Cranham. You then head through Buckholt Wood towards Cooper's Hill, site of the Cheese Rolling event held on the Spring Bank Holiday which involves locals chasing a large round cheese down a near-vertical grass slope. The route then heads through Cooper's Hill Woods before returning to the car park.
If you would like to extend your walk then you could visit the nearby Prinknash Abbey Park or climb Painswick Beacon for wonderful views over the Cotswolds. Much of this walk makes use of the Cotswold Way National Trail so you could also continue east along the trail through Witcombe Wood to Birdlip Hill and the lovely Crickley Hill Country Park. View Full Details>>
Dunster Castle
8 miles (13 km)
Explore the parkland, woodland and Historic Deer Park surrounding this Norman Castle near Minehead. From the castle there are fabulous views toward the Bristol channel, the Quantock hills and Exmoor. View Full Details>>
Frome Valley Walkway
18 miles (29 km)
This pleasant and fairly easy walk takes you from Eastville Park on the outskirts of Bristol to the village of Old Sodbury along the River Frome.
The route starts passing through the parks and woodlands around Bristol before entering the open countryside of Gloucestershire.
You will pass through Frampton Cotterell, Chipping Sodbury and Yate with the Cotswold Hills providing a splendid backdrop for the route. View Full Details>>
Goblin Combe
4 miles (6 km)
Explore this peaceful wooded valley on this lovely circular walk in North Somerset. The woods are located a few miles north east of Congresbury, near the small village of Cleeve. The site includes hundreds of acres of woodland, large areas of open grassland and some moderate climbs with great views towards the Mendip Hills. There's also limestone cliffs and limestone meadows with lots of wildflowers to look out for.
You can start your walk from the car park on Cleeve Hill Road at the eastern end of the combe. Here you will find the Goblin Combe Environmental Centre, which provides educational training and residential facilities for visiting groups. From here you can pick up the footpaths heading east through the woods. Look out for a variety of woodland birds and butterflies including grizzled and dingy skippers, brown argus and green hairstreak. You can extend the walk by heading north through Wrington Warren to Brockley Wood.
If you enjoy this walk then you could head west towards Yatton, and climb to Cadbury Hill Fort.
In Congresbury you can pick up the Two Rivers Way and enjoy a walk along the River Yeo.
At Yatton you can pick up the wonderful Strawberry Line cycling and walking trail. View Full Details>>
Great Wood Quantocks
2 miles (3 km)
Enjoy miles of cycling and walking trails in this large area of woodland in the Quantocks. There is a red waymarked walking trail starting from the main car park which takes you to Ramscombe on good footpaths. The area has fine trees including ancient oaks, Majestic Douglas firs and Sitka spruce. There are also lovely streams and grassy glades to enjoy a picnic in. Look out for a variety of wildlife including red and roe deer, nightjar and sparrowhawk.
The wood has miles of wide paths which are excellent for mountain biking. You can easily extend your ride by continuing along the many bridleways in Seven Wells Wood or Quantock Combe.
To extend your walking in the area you could head east to Hawkridge Reservoir and enjoy circular walk around the water.
On the south western fringe of the wood you will find Wills Neck, the highest point in the Quantock Hills. View Full Details>>
Greyfield Woods
1 miles (1 km)
These pretty woods near the village of High Littleton have some nice woodland trails to try. There's free car parking and in the spring there's lots of bluebells within the ancient, mixed woodland. There's also a lovely waterfall and the option of picking up the Limestone Link which skirts the southern edge of the woods. You could pick up this long distance trail and head towards Clutton, Temple Cloud or Timsbury. In nearby Clutton you can join with the Three Peaks Walk and further explore the beautiful Chew Valley. Heading west will take you to the splendid Chew Valley Lake. View Full Details>>
Holnicote Estate
3 miles (5 km)
This walk visits Selworthy Beacon and Bury castle in the splendid Holnicote Estate in Somerset. You start off in the village of Selworthy next to the church, and head to the nearby Bury Castle where you will find an Iron Age enclosure dating back to 400 B.C. You then climb to the 308 metres (1,010 ft) high Selworthy Beacon where there are marvellous views across Exmoor and the Somerset coast. It is one of the highest points in the Exmoor National Park along with Dunkery Beacon. From the high point you descend on Folly Combe, returning to the church soon after.
If you would like to continue your walking in the area you could head to the nearby Dunkery Beacon. It is the highest point in Exmoor and consists of a beautiful nature reserve with woodland walks. You could also pick up the South West Coast Path and head west along this lovely stretch of coastline towards Bossington Hill and Porlock or east toward Minehead. View Full Details>>
Kilve Beach and East Quantoxhead
3 miles (5.5 km)
This circular walk explores a beautiful area of coast and countryside in the Quantocks. View Full Details>>
Leigh Woods
2 miles (3 km)
Enjoy cycling and walking trails in this forest and nature reserve in Bristol. The reserve is located in the beautiful Avon Gorge and is a popular retreat from the city. You can enjoy oak, small leaf lime and ash forest with carpets of bluebells in the springtime.  Along the way you can enjoy sculpture trails, views of the River Avon and the Clifton Suspension Bridge and a variety of wildlife. Look out for bullfinch, marsh tit, song thrush and Peregrine falcon as you make your way through the woods. The area is managed by the National Trust so the trails are well maintained.
Walkers can enjoy various waymarked walking trails including the popular one-mile woodland wander which will suit all abilities. The whole of the circular route below is designed for walkers. If you are on a bike please stick to the marked cycle trails which start from the same point as this route.
For cyclists there is a blue grade trail which makes for a nice traffic free ride for beginners or families. The video below shows this trail known as the Yer Tiz trail. There is also a red grade trail for more experienced mountain bikers to try. A National Cycle Network trail also runs through the forest.
Parking is available at the woods but you could follow the River Avon Trail from the centre of Bristol to extend your exercise. It's about a 2-3 mile walk/cycle along the river from the city centre and train station.
To extend your walk you can cross the river and visit the lovely Durdham and Clifton Downs. View Full Details>>
Lorna Doone Walk
5 miles (8.8 km)
Explore Exmoor's beautiful Doone Valley on this fine literary walk. View Full Details>>
Poets Walk Clevedon
1 miles (2 km)
This short walk in Clevedon follows the Poet's Walk footpath along the cliff tops to the west of the town. The walk is inspired by some of the poets and writers who have visited Clevedon. These include Coleridge in 1795 and Tennyson in 1834. It's also a local nature reserve and includes calcareous grassland, coastal scrub, woodland, with fine views over the Bristol Channel.
The walk starts in a lovely spot at the pretty Marine Lake at Salthouse Bay. From here you can pick up the little path heading south west along the coast. It runs down to Wain's Hill where there is an univallate Iron Age Fort. The hillfort is defined by a steep, natural slope from the south and north with two ramparts to the east. You can follow footpaths round the hill to the noteworthy St Andrew's Church.  Parts of the original 12th century church remain with 14th and 15th century additions also. It's located in a fine elevated spot overlooking the Bristol Channel, and has been designated as a Grade I listed building. View Full Details>>
Porlock and Porlock Weir
6 miles (9 km)
This circular walk from the town of Porlock uses sections of the South West Coast Path and the Coleridge Way to take you on a tour of the coast and woods surrounding the town.
The walk starts in Porock and follows the South West Coast Path east to Bossington before turning west along Porlock Bay to the pretty village of Porlock Weir. View Full Details>>
Portishead Nature Reserve Walk
2 miles (4 km)
An easy circular walk around the Portsbury Wharf Nature Reserve in Portishead. The attractive 113 acre site provides a vital buffer of green land between Portishead and the Portbury Dock industrial complex.
You can start the walk fro the Portishead Marina car park, located next to the reserve. Here you can pick up footpaths heading east onto the site, which includes two large pools, several ponds, grazing marsh, hay meadows and hedgerows. There's also a number of bird hides where you can look out for a variety of wildlife. Keep your eyes peeled for curlew, dunlin, redshank and shelduck as you make your way around the site. View Full Details>>
Portishead to Clevedon
5 miles (8.5 km)
Follow the coastal path from Portishead to Clevedon on this point to point walk in Somerset. There's pretty bays, nice beaches, sandstone cliffs and great views across the Severn Estuary into Wales. The route runs along a fairly flat path for about 5 miles.
The walk starts from the Portishead Lake where there is a nice park, lakeside cafe and car parking. Just to the north is Portishead Point lighthouse at Battery Point which is another good start point for the walk.
From the park you head south along the Mariner's Path to Black Nore lighthouse. The Grade II listed building was built in 1894 to guide shipping in the Severn Estuary as it made its way in and out of Bristol Harbour.
You continue past Redcliff Bay, Charlcombe Bay and Walton Bay where you reach the coastal golf course. The route continues past the 17th Century, Grade II listed Walton Castle and Ladye Bay before passing along the sea front in Clevedon and finishing at the pier. You can either return the same way or catch the bus back. View Full Details>>
River Avon Trail
25 miles (40 km)
Travel along the River Avon from Pill to Bath via Bristol on this delightful trail
You start off in the village of Pill, near the mouth of the river, and head to Bristol through the stunning Avon Gorge. You will pass through the lovely Leigh Woods with its woodland, plant life and wildlife on this section. There's also fine views over the Grade I listed Clifton Suspension Bridge which was built in 1864.
The path then continues through the interesting city of Bristol and then on towards Keynsham where the river is particularly picturesque. View Full Details>>
Rowberrow Warren
3 miles (5.5 km)
Enjoy miles of mountain bike trails and walking trails in these woods near Cheddar. You can start from the village of Rowberrow, just north of Shipham. Just head east from the village and you can pick up the bridleways and tracks through the woods. It's an attractive area with shady clearings, streams and interesting flora and fauna to look out for.
The woods are crossed by two long distance footpaths. In the northern end of the woods you can pick up the Limestone Link and follow it to Dolebury Warren and Burrington Combe, where there are more good mtb trails. The climb to Beacon Batch on Black Down hill starts from the car park here. The hill is the highest point in the Mendips and provides great views over the lovely Blagdon Lake. The West Mendip Way also passes along the southern end of the site. You can pick this up to head to Shipham. View Full Details>>
Sand Point
3 miles (5.5 km)
Enjoy fine views across the Bristol Channel to Wales on this coastal walk on the edge of the Mendip Hills in Somerset. View Full Details>>
Standish Wood
2 miles (3 km)
Enjoy peaceful woodland trails in this large area of woodland near Whiteshill, Stroud. In the springtime there are carpets of bluebells to enjoy.
The walk can be extended by climbing Haresfield Beacon for wonderful views over the Severn Vale and the Cotswolds. View Full Details>>
Two Tunnels Greenway
11 miles (18.5 km)
This is a super, shared cycling and walking path making use of a disused railway path through Bath and the surrounding countryside. View Full Details>>
Tyntesfield House
1 miles (2 km)
This Victorian Gothic Revival house near the Bristol is surrounded by 150 acres (61 ha) of parkland and gardens which are perfect for a peaceful walk. View Full Details>>
West Somerset Coast Path
25 miles (40 km)
Follow the beautiful Somerset coast through the Quantock Hills Area of Outstanding Natural Beauty on this lovely coastal walk.
The walk begins at the car park at Steart, next to the Bridgwater Bay National Nature Reserve Nature Reserve. You then follow the path west, along the coast, to the town of Watchet with its pretty harbour and piers.
From Watchet, you continue to Minehead along Blue Anchor Bay and Dunster Beach Nature Reserve. Here you could take a short detour inland and visit Dunster Castle where there is a lovely large deer park. View Full Details>>
Weston Woods
2 miles (4 km)
These pretty woods in Weston-Super-Mare have a series of good footpaths to try. The woods are also a local nature reserve covering 130 hectares (321 acres) on Worlebury Hill above the town. From the elevated position of the woods there are nice views over Sand Bay towards Wales.  There's also an Iron Age hillfort at the western tip of the site where the defensive ramparts can be clearly seen.
You can park at the car park on Worlebury Hill Road at the eastern tip of the woods. Then pick up the trails heading west towards the coast.
To extend your walking in the area you could pick up the West Mendip Way long distance path and explore the Mendip Hills from Weston-Super-Mare.
Just to the north of the woods you will find the splendid Sand Point where you can enjoy fine views across the Bristol Channel on a beautiful coastal peninsula.
Just to the south you can enjoy more great coastal views on Brean Down or climb to the nearby Bleadon Hill. View Full Details>>
Westonbirt Arboretum
4 miles (6 km)
Enjoy a woodland walk through this beautiful Arboretum near Tetbury in the Cotswolds. View Full Details>>
Wick Quarry
2 miles (3.2 km)
This circular walk explores the Golden Valley and the old Wick Quarry near the village of Wick in the Bristol area of the Cotswolds. View Full Details>>