Bedfordshire Walks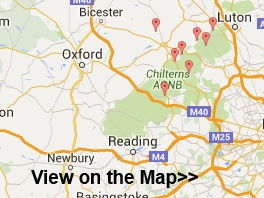 With numerous lovely parks, the beautiful Chiltern Hills and the fabulous Greensand Ridge there is much to enjoy for the walker in this county.
Please use the links below to view full route information including descriptions, elevation profiles, interactive maps and GPS downloads.
You can also view an overview map of all the routes in the using the Bedfordshire Walk Map
Route Name
Photo
Distance
Description
Ampthilll Park
1 miles (2 km)
Climb the Greensand Ridge and enjoy wonderful views over Bedfordshire in this pretty park in Ampthilll. The park has good footpaths taking you to the high points and then around the pretty lake. There are also woodland trails in Laurel Wood and the option of extending your walk to the nearby Cooper's Hill which lies just to the south. In the park you will also find Katherine's Cross - a memorial to Katherine of Aragon who stayed at the former Ampthilll Castle.
If you would like to continue your walk you could pick up the Greensand Ridge long distance walking trail which runs through the park. If you follow it east you will soon come to Maulden Woods where there are lots of nice woodland walking trails through semi-natural broadleaf woodland, acidic grassland and conifer plantations.
Ascott House
2 miles (2.5 km)
This National Trust owned estate is the countryside residence of the Rothschild family. The 16th century manor house is surrounded by over 200 acres of parkland and 30 acres of beautiful formal gardens. The house itself has a superb collection of paintings, furniture and oriental porcelain.
Please note the House and Gardens are only open to members of the public between March and September.
Ascott House is located near Leighton Buzzard. It's not far from the Grand Union Canal - a good option if you'd like to continue your walk.
Barton Hills
2 miles (3 km)
Visit the Barton Hills National Nature Reserve and enjoy peaceful walking trails in the Chilterns. A series of footpaths take you to the attractive downland, chalk grassland and beech woodland. It's delightful in the summer months with a variety of wildflowers attracting butterflies such as marbled white and dark green fritillary. Look out for vegetation including wild thyme, horseshoe vetch, marjoram and orchids as you make your way along the paths. It's a great area for wildlife too with lots of different birds and mammals such as stoats, weasels and hares. You can start your walk from the little town of Barton-le-Clay which lies just to the north of the reserve. Follow the John Bunyan Trail through the town and south to the reserve.
To extend your walking in the area you can follow the John Bunyan Trail and the Icknield Way Path through the surrounding Bedfordshire countryside. The trails can take you east towards Hexton, Pegsdon and Pirton or south towards Luton. The video below shows an exploration of the Barton and Pegsdon Hills from Hexton. From there you can enjoy a climb with wonderful views over the surrounding area. Also nearby is the village of Streatley and Sundon Hills Country Park. This includes the climb to Sharpenhoe Clappers where there is an Iron Age Hillfort and more great views to enjoy.
Bedford Park
1 miles (2 km)
Enjoy an easy stroll around this pretty park near the centre of Bedford. The park contains some nice mature woodland and a pretty lake with a fountain and ducks and swans. There is also a very good cafe.
The John Bunyan Trail runs through the park so you could pick this up to extend your walk.
Bedford to Sandy
7 miles (12 km)
This lovely route follows National Cycle routes 12 and 51 and the Bedford to Sandy way - an off road path perfect for walking or cycling. The ride is very flat with views of the Rivers Great Ouse and Ivel plus a spell through Priory Country Park the main highlights.
Also on the route is the National Trust owned Willington Dovecote & Stables - a Tudor stone-built stable, built for Henry VIII's 1541 visit
For more information on this route please click here
Chicksands Wood
2 miles (4 km)
These woods in central Bedfordshire have some good walking trails to try. In the peaceful woods you will find lots of flora and fauna with pretty bluebells in the spring and a variety of woodland birds.
You can start your walk from Appley Corner where there is some parking available. Then follow the Long Drive south west through the centre of the woods. This nice wide track includes a monument to Lord Halifax. At Pedley Wood you can pick up the Greensand Ridge Walk long distance trail to take you back to Appley Corner.
It's easy to extend your walk if you have time. Just continue south west along the Greensand Ridge Walk to Clophill where you will find Maulden Woods. Here you will find more walking trails taking you through semi-natural broadleaf woodland, acidic grassland and conifer plantations.
At the Appley Corner end of the woods you can pick up the John Bunyan Trail and follow it a short distance to Rowney Warren Wood near Shefford.  The large coniferous woodland has lots of footpaths, a BMX trail and a mountain bike trail. It includes the excellent Chicksands Bike Park which has a range of courses for all abilities.
Chiltern Way
124 miles (200 km)
This is the original 125 mile circuit of the Chilterns AONB taking you through Hemel Hempstead, Chalfont St Giles, the edge of Marlow, Hambleden, Bix Bottom, Ewelme, the Ridgeway, Stokenchurch, Great Hampden, Aldbury, the Dunstable Downs Country Park, Sharpenhoe Clappers and Harpenden. The main attractions on the route are the series of delightful villages with their ancient churches, pretty village greens and fascinating museums. The Chilterns countryside is also beautiful with rivers, canals and the rolling hills to enjoy.
The walk is waymarked with yellow and white disc.
Clay Way
11 miles (18 km)
A lovely walk or cycle through the Forest of Marston Vale along the West Bedfordshire Clay Ridge . You start at Bromham, on the River Great Ouse, and head to Cranfield, passing through Hanger Wood, Astey Wood and Stagsden as you go. The final section then runs from Cranfield to Ridgmont Railway Station passing Holcott Wood, Brogborough Lake and Brogborough Hill.
There are some terrific views of the Vale, the Ouse Valley and Milton Keynes. The path mainly follows bridleways so is suitable for cyclists with a mountain bike or hybrid.
Cross Bucks Way
24 miles (38 km)
Travel from Stratton Audley in Buckinghamshire to Linslade, near Leighton Buzzard along the Cross Bucks Way. The route meanders through the Buckinghamshire countryside passing Hillesden, Winslow and Hollingdon before a pleasant waterside stretch along the Grand Union Canal takes you to Linslade.
Dunstable Downs Country Park
4 miles (6.5 km)
Climb Dunstable Downs and enjoy breathtaking views over the Chilterns Area of Outstanding Natural Beauty on this circular walk in Whipsnade. There are miles of footpaths crossing the chalk grasslands of the Downs visiting a number of interesting sites including:
The Five Knolls - a Bronze Age cemetery constructed over 4000 years ago
Whipsnade Heath - a mosaic of grassland, scrub and woodland, with a fantastic variety of wildlife.
Whipsnade Tree Cathedral - an extraordinary 10 acre park in planted in the form of a cathedral.
The area also includes the Chilterns Gateway Visitor Centre which has a wealth of information about the area, a cafe and fabulous views in a sheltered environment.
If you'd like to continue your walk you could follow the Icknield Way Path which runs through the park. This will take you north east into Dunstable or south into the countryside.
Greensand Ridge Walk
40 miles (64 km)
A walk through Bedforshire, Buckinghamshire and Cambridgeshire from Leighton Buzzard to Gamlingay. The route follows a ridge of greensand which rises from the clay vales on either side.
You will pass through Woburn Park, Millbrook, Maulden Woods, Chicksands Wood, Ampthilll Park and Sandy with some delightful countrsyside, woodland trails and fabulous views to enjoy.
Harrold Odell Country Park
3 miles (5 km)
This park has two pretty lakes set in 144 acres of country park. It is located between Bedford and Northampton on the River Great Ouse near the villages of Harrold and Odell in Bedfordshire. You will find river meadows, a nature reserve, two picturesque lakes and a range of managed habitats. There is also free parking and refreshments in the Tea-Zels Cafe.
There are a number of well maintained walking paths around the lakes and through the nature reserve while cycling is permitted along the lakeside bridleway. The North Bedfordshire Heritage Trail also runs through the park so there is scope for continuing your walk if you have time.
Icknield Way Path
110 miles (177 km)
The Icknield Way Path starts at Ivinghoe Beacon in Buckinghamshire and heads to Knettishall Heath in Suffolk along prehistoric pathways. There's fantastic views as you climb through the hills of the Chilterns AONB. There's also a series of lovely nature reserves and country parks to enjoy on the way.
John Bunyan Trail
77 miles (124 km)
Follow in the footsteps of John Bunyan, the Puritan Evangelist and author of the book 'Pilgrim's Progress'. The walk visits many historic villages associated with Bunyan. It starts at Streatley and visits Sharpenhoe, Harlington, Westoning, Steppingley, Flitwick, Ampthill, Millbrook, Ridgmont, Cranfield, Bromham, Stevington, Pavenham, Oakley, Clapham, Bedford, Elstow, Shefford, Meppershall, Shillington, Hexton and Barton le Clay before returning to Streatley. There's some beautiful Bedfordshire countryside to enjoy including Sharpenhoe Clappers, the Barton Hills and views of the Chiltern Hills for much of the walk.
The walk is waymarked with a white disc featuring a silhouette of John Bunyan.
Kingfisher Way
21 miles (34 km)
This is a delightful walk along the River Ivel from Baldock to Roxton. You start off at the source of the river at Ivel springs, Baldock, and follow the river north through Stotfold, Henlow, Langford, Biggleswade, Sandy and Blunham.
Walk highlights are the series of pretty, riverside villages with historic churches and watermills. Wildlife lovers will enjoy the Henlow Common and Langford Meadow Nature Reserve at Langford. This 50 acre reserve is home to a variety of wildlife and consists of grassland, scrubland, native trees, bushes and a running stream.
Also of interest is the Warren Villas Nature Reserve where there is also a plethora of water loving wildlife. The reserve features an island lake, home to wintering wildfowl and in summer breeding terns. The reserve is on route and situated just to the north of Biggleswade.
Other highlights include the 17th century Henlow Grange and park which is now used as a health and beauty farm visited by the rich and famous.
Lea Valley Walk
53 miles (85 km)
A super walk with a series of delightful waterside sections along the River Lea. The walk runs from Leagrave, the source of the River Lea near Luton, to the Thames at Limehouse Basin, east London. You follow a riverside path for much of the way through, Luton, Hatfield, Hertford and Cheshunt with a swan emblem clearly waymarking the walk. The walk passes Nature Reserves, pretty riverside villages and also includes a section through the fantastic Lee Valley Park - London's largest open space.
Marston Vale Timberland Trail
13 miles (21 km)
A circular route through the beautiful Marston Vale in Befordshire. The walk passes Ampthilll Park, Jackdaw Hill, Marston Mortaine and Stewartby Lake Country Park. The walk also visits the Engligh Heritage owned ruined house at Houghton, which is free to visit and commands excellent views of the surrounding area.
Maulden Woods
3 miles (5 km)
Enjoy miles of nice woodland walking trails in this popular wood in Maulden, Bedfordshire.  The site consist of semi-natural broadleaf woodland, acidic grassland and some conifer plantations. You can access the woods by following the Greensand Ridge Walk from the village. The path takes you through some nice countryside to the woods where you can pick from several trails. The southern section takes you into Pennyfather's Woods with a path through more open countryside and grassland to enjoy. Look out for wildlife including deer, badgers and foxes. In the spring and summer months there are lots of wildflowers and bluebells. These attract a wide variety of butterflies including white admiral and purple hairstreak.
This walk starts from the village of Maudlen but there is also a car park in the north eastern corner of the site, just off the A6. There's also a picnic area in the southern section.
To extend your walk you could visit the nearby Ampthilll Park where you can enjoy fabulous views from the Greensand Ridge. If you follow the Greensand Ridge Walk east it will take you through Clophill to Chicksands Wood and Rowney Warren Wood.  This large coniferous woodland has lots of footpaths, a BMX trail and a mountain bike trail.
Milton Keynes Boundary Walk
63 miles (101 km)
Enjoy rivers, canals, woodland and beautiful countryside on this walk around the boundary of Milton Keynes.
There's nice views of the Grand Union Canal, the Great Ouse river and the countryside of Bedfordshire, Buckinghamshire and Northamptonshire.
North Bedfordshire Heritage Trail
70 miles (113 km)
A super circular walk around the North Bedfordshire countryside visiting twenty three villages, two country parks and around thirty public houses. The walk is often started at Bedford and then visits the following towns and villages: Biddenham-Bromham-Stagsden-Turvey-Carlton-Harrold-Odell-Sharnbrook-Riseley-Hatch End-Keysoe-Colmworth-Wilden-Roxton-Tempsford-Everton-Potton-Sandy-Northill-Cople-Ickwell-Old Warden-Willington.
Walk highlights include the National Trust owned Willington Dovecote and Stables (video below). This 16th-century stone-built dovecote and stable buildings are great for bird watchers with barn owls and kestrels regular visitors. Also of interest for birdwatchers is the RSPB run The Lodge Nature Reserve near Sandy and the delightful Harrold Odell Country Park. Set in 144 acres, the Park's main features are two picturesque lakes.
The walk is waymarked with a blue and white disc.
Ouse Valley Way
142 miles (229 km)
Follow the River Great Ouse from the source at Brackley, Northamptonshire, to the mouth at The Wash at King's Lynn. You begin at Brackley and head to Buckingham, Milton Keynes, Olney, Bedford, St Neots, Huntingdon, St Ives, Ely, Downham Market before finishing at King's Lynn.
Highlights on the route include the magnificent Stowe Park with its 250 acres of stunning parks and gardens. You'll also visit the delightful Paxton Pits nature reserve near St Neots.
Priory Country Park
3 miles (4.2 km)
Explore 360 acres of lakes, meadows and woodland, in this park situated on the river Great Ouse in Bedford. The park includes the pretty Priory Marina and lake which are perfect for a peaceful waterside walk or cycle. National Cycle Network route 51 passes through the park so you can continue your cycle on the Bedford to Sandy cycle route. For walkers the John Bunyan Trail passes through Bedford if you wish to continue your walk.
Ridgeway Link
7 miles (12 km)
This is a walking path which runs from the Chilterns Gateway Visitor Centre near Dunstable to the Ridgeway National Trail at Ivinghoe Beacon.
There are splendid views of the surrounding area at the start before heading through Dunstable Downs, Whipsnade and Dagnall. You will also pass the excellent Whipsnade Zoo where you can view a number of wild animals from the trail. The path finishes on Ivinghoe Beacon with more splendid views to enjoy.
Rowney Warren Wood
2 miles (4 km)
These woods in Bedfordshire have walking trails, a BMX trail and mountain bike trails to try. In one half of the woods you will find the cycling trails and in the other peaceful woodland footpaths. There's good facilities as well with a good sized car park, picnic areas and a cafe.
At the northern section of the woods you will find Chicksands Bike Park. The park has a range of trails for all abilities. See the video below to give you an idea of what you can expect to find at the site!
The woods are in a good location for extending your walking. You could pick up the John Bunyan Trail and head to the nearby Chicksands Wood. The woods have nice wide trails and pretty bluebells in the spring.
You can also pick up the Greensand Ridge Walk and visit Maulden Woods near Clophill. Here you will find more walking trails taking you through semi-natural broadleaf woodland, acidic grassland and conifer plantations.
Rushmere Country Park
3 miles (5.5 km)
Explore 400 acres of lakes, ancient woodland conifer plantations, meadows and heath in this country park in Leighton Buzzard. The park has numerous pleasant walking trails and a number of family cycle routes but a cycling permit is required for the trails in the park (see the link below for more information).
The park also has an excellent new cafe and a visitor centre.
Sharpenhoe Clappers
3 miles (5 km)
Visit this classic chalk escarpment in the Chilterns and enjoy wonderful views across this beautiful area. This circular walk makes use of the John Bunyan Trail and the Icknield Way Path to take you on a tour of the Sharpenhoe Clappers and the Smithcombe Hills. There's a degree of climbing involved with the route hitting a peak of just over 500ft at the high points.
You can park at the Sharpenhoe Clappers car park on Sharpenhoe Road to start your walk. Then head north towards the Iron Age Hill Fort and beech wood which sits atop the area. In the summer months the chalk grasslands are covered in pretty wildflowers which attract a variety of butterflies. Look out for orchids, primroses and an uncommon rose, Rosa stylosa, found in scrub areas. 
After exploring the hill fort you can head south through the Smithcombe Valley along the Icknield Way Path. You'll pass Smithcombe hill as you make your way to the village of Streatley. From Streatley you pick up the John Bunyan Trail to take you back to the car park.
There's lots of good options for extending your walking in the area. Just to the east is the lovely Barton Hills National Nature Reserve where there's lots more interesting flora and fauna to see. Just to the west if Sundon Hills Country Park with lots more walking trails and great views to enjoy.
Stewartby Lake Country Park
4 miles (6.5 km)
Also known as Millennium Country Park, this lovely area covers over 500 acres and includes woodland, grassland, meadow, lakes and wetland habitats.
There are well surfaced paths for cyclists and walkers taking you along Stewartby lake and Pillinge Lake before passing the village of Marston Moretaine. If you are on foot you can also follow the Wetlands Trail throught the nature reserve within the park. Here you will find a number of bird hides from which you can observe a variety of winged visitors.
There is also an excellent visitor centre with a Lakeside Cafe bar, gift shop and bike hire.
If you want to continue your walk you could follow the Marston Vale Timberland Trail which visits some of the most interesting and attractive parts of Marston Vale and runs right through the park.
Stewartby Lake is located right next to Millbrook and Stewartby rail stations and about 5 miles south of Bedford.
Sundon Hills Country Park
5 miles (8 km)
Climb to a height of over 500 feet and enjoy wonderful views over the Bedfordshire countryside on this circular walk near Luton. You can park at the car park on Harlington Road and then pick up the Icknield Way Path to take you across the park. The waymarked paths take you to woodland, chalk downland and grassland. It's great in the summer with lots of wildflowers and butterflies to look out for on the hills. Keep your eyes peeled for a range of flora and fauna including creeping buttercup, cowslip, orchids, great spotted woodpecker, foxes and badgers.
To extend your walk you can follow the John Bunyan Trail and the Icknield Way Path to Streatley. The path passes Sharpenhoe Clappers, Smithcombe Valley and Smithcombe Hill before coming to the village. Sharpenhoe has an Iron Age Hillfort and nice views over the area.
If you continue east along the paths then you will come to the lovely Barton Hills National Nature Reserve and Hexton where you can enjoy more climbs through the Barton and Pegsdon Hills. Heading west will take you through the countryside to Toddington. You can also follow the John Bunyan Trail south to Luton.
The Three Shires Way
37 miles (60 km)
The Three Shires Way is a long distance bridleway which runs between Tathall End in north-east Buckinghamshire and Grafham Water in Cambridgeshire. The route traces the outline of ancient trackways and passes through a beautiful rural landscape. Along the way it skirts several small, historic villages, meanders through remnants of ancient woodland, and has many spectacular views.
The route is (sometimes) signposted with the Three Shires Way logo and officially runs for 37 miles, though it's nearer 39 miles long if starting/finishing at the Grafham Water Car Park. I'd recommend cycling north to south (unless faced by a strong south or south-west wind), hence : Start at Grafham Water Car Park, Cambs : TL166680 Finish at Tathall End, Milton Keynes : SP820468 A circular route around Grafham Water is also available, which extends the total distance to almost 47 miles. It passes through Easton, Spaldwick, Covington, Shelton, Yielden, Knotting, Lavendon and Emberton before arriving at Tathall End. It is generally a quiet rural route, much of it on clay and very muddy at certain times of the year. Some parts are classified as a 'Byway Open to All Traffic' or a 'Road Used as a Public Path' (generally open April to October), and are therefore legally accessible by motor vehicles. These tracks can be very rutted indeed; a notable example is Forty Foot Lane. Beware!
Note : Mapped on the 1:25,000 series Mark Worthington November 2008
Two Ridges Link
8 miles (13 km)
This lovely, easy walk links The Ridgeway National Trail and the Greensand Ridge Walk.
You start on Ivinghoe Beacon, with terrific views of the surrounding area, and head towards Slapton where you join the Grand Union Canal taking you to Leighton Buzzard.
Whipsnade Tree Cathedral
2 miles (4 km)
This extraordinary 10 acre park in Whipsnade is planted in the form of a cathedral, using grass avenues for the nave, chancel, transepts, chapels and cloisters and 'walls' with different species of trees. It is run by the National Trust and is perfect for a peaceful stroll in beautiful surroundings.
The route below makes use of the Icknield Way Path taking you around the tree cathedral and up to Dunstable Downs. The park is located near Dunstable, Luton and Hemel Hempstead.
Woburn Park
5 miles (8.5 km)
This walk takes you through the beautiful Woburn Park in Befordshire. The park includes tranquil ponds, pretty Orchards, a 3000 acre deer park and the magnificent Woburn Safari Park with its White Rhino, Elephants, Tigers and Black Bears. There's also the splendid Woburn Abbey - a stunning country house which is the seat of the Duke of Bedford.
The walk starts in Woburn village where parking is available. Then pick up public footpaths heading east before turning south and following the Greensand Ridge Walk across the splendid deer park.
You can extend your walk by following the Greensand Ridge Walk west onto Aspley Heath where there's miles of woodland trails. Here you can also pick up the Milton Keynes Boundary Walk and explore the area further.
Wrest Park
2 miles (2.5 km)
Explore 92 acres of landscaped early eighteenth-century garden in this lovely walk in Silsoe. Stroll along the wide gravel central walk, past the long canal and then on to the Baroque style pavilion.
The gardens were landscaped by Lancelot 'Capability' Brown in the 18th century. He added canals around the park boundaries, woodland and the central canal. The grounds also include a Bath House with a thatched roof and cobbled floor, ornate marble fountains, a Chinese Temple with bridge and over 40 statues.
The Grade I listed house has a fantastic interactive exhibition which tells the story of Wrest Park. The beautiful conservatory then leads you out to the Italian Garden, Rose Garden and French Parterre Garden.
Wrest Park is located about 7 miles west of Letchworth. near Flitwick and Ampthill.
Photos are copyrighted by their owners