Essex Cycle Routes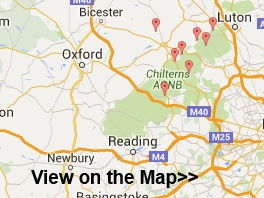 There's plenty to see on your bike in Essex with plenty of countryside and some lovely signed routes in Lee Valley park and Epping Forest.

Essex is truly a county of contrasts. Steeped in history and infused with unique architectural, historic and natural treasures, encapsulating everything that is great about the coast, the countryside and market towns. With each element there is a wealth of hidden gems waiting to be discovered and explored. For more information on walking and cycling in Essex as well as information on visitor attractions, things to do, events to go to and places to stay please go to www.visitessex.com
Please use the links below to view full route information including descriptions, elevation profiles, interactive maps and GPS downloads.
You can also view an overview map of all the routes in the using the Essex Cycle Map
There are several National Cycle Network signed routes in the county many of which have been mapped and can be viewed and downloaded below.
For more information on NCN routes in the county (including free cycle maps) please click here

For more information on cycle routes in Essex including tips, advice and free cycle maps please click here
Route Name
Photo
Distance
Description
Abberton Reservoir
10 miles (16 km)
This is a circular cycle ride on the quiet roads and country lanes surrounding this large reservoir near Colchester, Essex. It starts at the visitor centre and takes you to Great Wigborough, Peldon and Malting Green. This route is designed for cyclists but walkers can enjoy walks from the visitor centre at the start of this route. The reservoir is excellent for bird watching with thousands of wildlfowl to look out for on the water. These include Wigeon, Teal, Mallard, Pochard, Tufted Duck, Coot and Black-headed Gull which can be spotted from the three bird hides. The visitor centre also has a wealth of information on the wildlife you can expect to see in this lovely wetlands area.
If you'd like to extend your walking in the area then you could head south and visit the lovely Mersea Island. The round the island circular walk visits a number of nice beaches and the pretty Cudmore Grove Country Park.
Belhus Woods Country Park
2 miles (3.5 km)
Enjoy the pretty lakes and peaceful woodland trails in this country park near Dagenham. The park is perfect for a nice waterside cycle or walk while there are also good facilities with a visitor centre selling refreshments and gifts.
Bishop's Stortford to Braintree
22 miles (35 km)
This route follows National Cycle route 16 from Hertfordshire into Essex. You start in Bishop's Stortford with views of the River Stort and soon come to the Flitch Way - a decomissioned railway line dotted with Victorian railway stations which takes you through Hatfield Forest Country Park and the town of Great Dunmow to Braintree. It forms part of National Cycle route 16 so is well signed, largely flat and traffic free so ideal for families.
Bishop's Stortford to Witham
32 miles (52 km)
The route starts in Bishop's Stortford and after a short spell along the Flitch Way you will follow a succession of minor roads to Witham through attractive countryside.
Blackwater Rail Trail
6 miles (10 km)
This is a nice, easy cycle or walk along a disused railway line between Witham and Maldon in Essex. The route passes through the pretty village of Langford and includes views of the River Blackwater and a riverside section along the River Chelmer into Maldon.
Braintree to Colchester
31 miles (50 km)
This route starts near Braintree rail station and heads to Witham along National Cycle route 16 and country lanes. From there you join National Cycle route 1, which takes you to Colchester on a mixture of country roads and off road paths.
Cambridge to Stansted Mountfitchet
31 miles (50 km)
Travel from Cambridgeshire to Essex along National Cycle route 11. The route starts in the centre of Cambridge and heads south to Stansted Mountfitchet on a series of country roads and off road tracks. There is much pretty countryside to enjoy on this route as well as some lovely villages inculding Sawston and Arkesden.
Chelmsford to Maldon
12 miles (20 km)
This route starts on the River Can in Chelmsford and follows the river and the Chelmer & Blackwater Canal out of the town centre and into the countryside where you'll then ride on quiet roads to Maldon on the Blackwater Estuary.
The route is pretty flat with highlights including the spell on the river and some attractive woodland and rural scenery.
Cheshunt to Hertford
16 miles (25 km)
This route follows National Cycle route 1 passing through Hertfordshire and Essex. The ride starts by Cheshunt rail station by Cheshunt lake and begins with a spell through the lovely Lee Valley Park taking you onto Clayton Hill Country Park in Lower Nazeing. You then follow the towing path of the River Lee, first to St Margarets, and then onto the finish point in Hertford by the tourist information centre.
This is a nice easy ride taking place on off road paths and tracks and taking you past some lovely waterside scenery.
Colchester to Harwich
25 miles (40 km)
This route follows National Cycle route 51 to the Essex coast. The route starts in Colchester by the tourist information centre and heads to Wivenhoe along the River Colne. The route then proceeds to Harwich along country roads. The final pleasant off road stretch takes you through the town of Dovercourt on the Harwich coast before finishing by Harwich pier.
Danbury Common
2 miles (2.5 km)
This large area of woodland and heath is managed by the National Trust. As such you will find a number of well maintained footpaths taking you through the common. The site includes the Backwarden Nature Reserve where you'll find woodland, common, heath, wild flowers, streams and bogs. Look out for a variety of wildlife in this area including adders, nesting birds and butterflies.
Danbury is an excellent area for walking. You can easily extend your walk by heading north to Lingwood Common and Blake's Wood where you will find orchids and carpets of bluebells in the spring. Just a mile to the west you'll find Danbury Country Park where there's lakeside trails and wildflower meadows.
This circular route is designed for walkers but cyclists can enjoy the bridleways that criss cross the common. It's a popular area for mountain bikers with a number of trails to try.
Epping Forest
19 miles (30 km)
This circular route starts at Epping tube station and takes you through the quiet roads in and around Epping Forest.
The route is on road so will suit all types of bike but if you're on an MTB or Hybrid it's well worth exploring the signed off road paths and tracks in the forest.
Flitch Way
15 miles (24 km)
The Flitch Way is a cycle and walking route running along a decomissioned railway line through Essex. Starting in Bishops Stortford, the path takes you through Hatfield Forest and the town of Great Dunmow to Braintree. Highlights include the Victorian railway stations dotted along the path, deer in Hatfield Forest Country Park and views of the River Chelmer near Great Dunmow.
Great Notley Country Park
3 miles (5 km)
A short walk or cycle around the 100 acre Great Notley Country Park in Braintree, Essex.  The park is a mixture of wetland and open grassland with views of the Essex Countryside. Cycle hire is available within the park and there is also a cafe for refreshments. Great Notley is located a couple of miles south west of Braintree.
Greenwich to Cheshunt
21 miles (34 km)
Follow National Cycle route 1 on this pleasant ride or walk through north London into Hertfordshire. You start by the Thames at the Cutty Sark in Greenwich and crosses to the Isle of Dogs via the Greenwich tunnel. This section gives splendid views of the River Thames and Canary Wharf.
Shortly after leaving the Thames behind you will come onto the Lee Valley path which will take you along the Regent's canal and through Tower Hamlets and Victoria Park. You then join the River Lee near Lea Bridge for some more waterside riding. The off road path then takes you past various Reservoirs until you reach the lovely Lee Valley Park - London's largest open space. After going through the park you will soon pass close to Waltham Abbey in Essex before you arrive at the finish point at Cheshunt station next to Cheshunt lake.
Hadleigh Country Park
3 miles (5.5 km)
This lovely park is located on the Thames Estuary near Southend on Sea. The park is nearly 400 acres in size and includes a mix of woodland, pasture, hay meadow and marsh. There are a number of great trails suitable for cyclists and walkers. There is also the 13th century Hadleigh castle ruins where there are fabulous views of the surrounding Essex countryside and the River Thames.
The Saffron Trail passes through the park so you can pick this up to extend your walk. The long distance trail takes you from the coast at Southend-on-Sea to Saffron Walden through some lovely Essex countryside.
Just to the east of the park you will find the Two Tree Island nature reserve. The expansive site has some nice footpaths taking you around grassland, scrub, reedbed and lagoons.
If you head south from the park you can cross Benfleet Creek and pick up the coastal path around Canvey Island.
Hainault Forest Country Park
4 miles (7 km)
This country park contains open space parklands, numerous public footpaths, a large lake, the Hainault Forest Golf Club and Fox Burrow Farm. There are 336 acres to explore with several paths suitable for cyclists so you can bring your bike and enjoy miles of traffic free cycling.
The park is located between Chigwell and Romford with Hainault underground station a good access point.
If you'd like to extend your outing you could follow the London Loop to the nearby Havering Country Park.
Harlow to Chelmsford
22 miles (35 km)
Starting in Harlow follow National Cycle route 1 through Essex to Chelmsford. The route takes you through the countryside on quiet roads, passing through the villages of Fyfield and Newney Green. A pleasant off road section along the River Can takes you into Chelmsford, finishing by the tourist information centre.
Hatfield Forest
4 miles (7 km)
Enjoy a cycle or walk around this ancient royal hunting forest in Bishop's Stortford, Essex. There are over 1000 acres to explore on a multitude of peaceful woodland paths. These include two waymarked walking routes and the Flitch Way cycle route which runs along a decomissioned railway line in the northern part of the forest. Cycle hire is available at reasonable rates.
Park highlights include the many resident deer, the large lake where you can hire row boats and the waterside Georgian Shell House where you can get a bite to eat.
The Harcamlow Way, Forest Way -Essex and the Three Forests Way walking trails run through the forest so can be picked up if you would like to continue your walk.
High Woods Country Park
2 miles (4 km)
This country park in Colchester includes woodland, open spaces, ponds, a lake and wildflower meadows. The park contains a number of well maintained, waymarked trails suitable for cycling and walking. There are very good facilities including a visitor centre where you can find details of all the walking and cycling trails in the park.
High Woods is conveniently located just a mile north of Colchester town centre.
Ingrebourne Valley
3 miles (5 km)
This is a nice easy, family cycle ride or walk through the Ingrebourne Valley near Upminster. The route includes a stretch through Hornchurch Country Park with its ponds, lakes and pleasant scenery. You will also visit Ingrebourne Hill which offers brilliant views across the Thames and a variety of wildlife. Finally, there is a lovely stretch along the Ingrebourne River to enjoy, making for a peaceful, varied easy walk or ride.
Good access points are the stations at Upminster and Rainham.
Ipswich to Colchester
31 miles (50 km)
This route takes you through the Suffolk countryside along National Cycle route 1. You start by the tourist information centre in Ipswich heading out of town to join the River Gipping where you can enjoy a short riverside stretch. You then continue west through the countryside to Hadleigh with lovely views of the River Brett. Shortly after leaving Hadleigh there is a nice off road stretch along the Hadliegh Railway Walk taking you through Raydon Great Wood. You then continue to Colchester on country roads passing through High Woods Country Park as you go. The final stretch takes you across the River Colne and past Colchester castle before finishing near the tourist information centre.
Langdon Hills Country Park
5 miles (7.5 km)
This splendid country park in Basildon includes 400 acres of meadows, farmland and woodlands with an abundance of wildlife from Green Winged Orchids to the Great Crested Newt. There are miles of walking and cycling paths taking you through the parkland, the local farmland and on to the Plotlands Nature Reserve.
Lee Valley
9 miles (14 km)
This short, pleasant traffic free ride takes you through Lee Valley Park and along the River Lee.
This is an easy ride through a scenic country park with designated cycle paths.
The nearest town to the route start point is Broxbourne just to the north.
Marsh Farm Country Park
4 miles (6 km)
This country park in South Woodham Ferrers has miles of splendid waterside walking trails to enjoy. The River Crouch and the Clementsgreen and Fenn Creeks all run through the park so you can follow well laid out footpaths right along the water. There's 300 acres of grazing marsh to explore with a wide variety of water loving birds to spot. Look out for dark bellied brent geese and many other species of waders and ducks. Sedge warblers, cuckoos and sky larks can also be seen in the area. 
This route is designed for walkers but cycling is also permitted in the park but please keep to the designated routes.
The park has a large car park and a lovely tea room for refreshments.
Pilgrimage Way
23 miles (37 km)
This is a largely traffic free cycle ride or walk from Barking Abbey to Waltham Abbey via Three Mills, Limehouse Basin and the Olympic Site.
The route starts at Barking Abbey and heads through Plaistow and Mill Meads to the Limehouse Basin. This section follows a cycle track for most of the way and includes a stretch along the River Lea.
From Limehouse the route turns north through Victoria Park and Hackney Marsh to Lea Bridge where you begin a section along a series of reservoirs including West Warwick Reservoir and Lockwood Reservoir. The final section takes you through the lovely Lee Valley Park and along the River Lee Navigation Canal to the finish point at Waltham Abbey.
As this ride is mostly on off road paths and tracks it is also suitable for walkers.
Rainham Marshes
6 miles (9 km)
Explore the RSPB Rainham Marshes Nature Reserve on this easy cycle or walk along National Cycle route 13. The route runs mostly along a riverside path by the River Thames from Purfleet to Rainham. The reserve has a variety of regular winged visitors, including peregrines, lapwings and wild ducks. There are also water voles and rare dragonflies to be seen across the boardwalks. Also take time to explore the visitor centre which has a wealth of information about the area.
This route is easily accesible with train stations at either end at Purfleet and Rainham.
River Roding
6 miles (9 km)
This cycling and walking route follows the River Roding from Roding Valley station to Ilford in Greater London. It's a nice trail on mainly traffic free paths so it is suitable for anyone looking for an easy cycle ride or pleasant stroll.
The route starts at Roding Valley station in Buckhurst Hill just west of Chigwell. The start point is close to the lovely Roding Valley Meadows nature reserve which is well worth a visit. The trail heads south past Woodford, Charlie Brown's Roundabout, Redbridge and Wanstead Park before finishing in Ilford. If you're on foot then Wanstead Park is a great place for a stroll. The river runs past the eastern side of the park which also includes a Heron pond and an Ornamental canal. The 140 acre park also has the splendid Chestnut Trail to try.
There's lots more to see in the area if you would like to extend your outing. The Epping Forest Centenary Walk can be picked up on Wanstead Flats near the end of the route. Knighton Wood at the start of the route has the circular Rowan Trail to follow through the popular rhododendron wood.
St Albans to Harlow
28 miles (45 km)
Starting in St Albans follow National Cycle route 61 from St Albans to Harlow via Welywn Garden City and Hertford.
You start with a lovely off road section along the Smallford Trail taking you from St Albans to Hatfield. Highlights include some off road tracks and a pleasant stretch along the River Lea.

Thorndon Country Park
5 miles (8 km)
This large country park is located near Brentwood in Essex and contains a number of fine woodland trails, ideal for walking or cycling. The park is made up of ancient woodland, an ancient deer park, grassland and three small lakes. There is also a useful Countryside Centre with a permanent exhibition and a shop selling gifts and refreshments.
Weald Country Park
6 miles (9 km)
Enjoy lakes, tree-lined avenues, parkland and woodland in this 500 acre country park in Brentwood, Essex. The park is excellent for cyclists and walkers with a large number of tracks and footpaths to enjoy. A large area of the park is sectioned of for the large collection of deer. They are very friendly and will come over to eat out of your hands. The park also has a large lake with a variety of winged visitors and a bird hide.
There are also very good facilities with a visitor centre and cafe. Weald Country Park is located in Brentwood, near the train station, and is an ideal countryside escape from London.
Your Submitted Routes
Photos are copyrighted by their owners