Hertfordshire Walks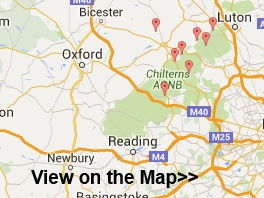 Please use the links below to view full route information including descriptions, elevation profiles, interactive maps and GPS downloads.
You can also view an overview map of all the routes in the using the Hertfordshire Walk Map
Route Name
Photo
Distance
Description
Alban Way
6 miles (9 km)
Follow the disused Hatfield to St Albans railway line on this route from St Albans to Hatfield. It is a shared cycle and walk path and makes for an easy and safe stroll or ride.
Aldenham Country Park
3 miles (5.5 km)
Enjoy 100 acres of woodland and parkland adjacent to a 60 acre lake at this splendid park near Elstree/Borehamwood. The park also has a rare breeds farm, pony rides and nature walks. The lakeside trail also makes for a lovely, peaceful cycle ride.
Ashridge Boundary Trail
16 miles (26 km)
This walk takes you on a tour of the National Trust owned Ashridge Estate in the Chiltern Hills. The estate consists of 5,000 acres of woodlands, commons and chalk downland which supports a rich variety of wildlife.
The walk starts at the Ashridge Estate Visitor Centre next to the Bridgewater Monument, erected in 1832 to the Duke of Bridgewater. You can climb the monument for fabulous panoramic views of the estate before starting the circular tour of the beautiful grounds.
Highlights on the walk include the Golden Valley to the north-east of Ashridge house which was created by famous landscape gardener Capability Brown in the 18th century. You will also visit Ivinghoe Beacon, with its splendid views of the Vale of Aylesbury, Berkhamsted Common and Dunstable Downs. Another highlight of the walk is the popular Dockey Wood. The little wood is located towards the north eastern section of the estate and is covered in pretty bluebells in the spring months.
Ayot Greenway
5 miles (7.5 km)
Follow this disused railway line from Wheathampstead to Welwyn Garden City on this easy cycle or walk in Hertfordshire. It's a nice flat, traffic free path making it ideal for families or beginners looking for an easy cycle ride. Along the way there's good views of the River Lea and a woodland section through Sherrardspark Wood at the end of the route. The woods are also a nature reserve with lots of birdlife and butterflies to look out for.
If you're on foot you can extend your walk by picking up the Lea Valley Walk which runs alongside the greenway. If you're on a bike then you could head east to Hertford from Welwyn Garden City along the Cole Green Way. It's another similar rail trail along National Cycle Network Route 61.
Berkhamsted Canal Walk
6 miles (10 km)
This walk takes you along the Grand Union Canal from Berkhamsted to Tring and then on to Mawsworth. It's a very pretty section of the canal with a series of locks and nice views over the Hertfordshire and Buckinghamshire countryside.
The walk starts in the town centre near the train station and the pretty Canal Fields park. You can then follow the towpath north west past Northchurch Common on the Ashridge Estate. The common has some nice woodland walking trails and feeds into the pretty Berkhamsted Common. You continue towards Tring where you will pass the lovely Tring Reservoirs. The reservoirs are a great place to extend your walk with a series of waterside footpaths and lots of birdlife to look out for on the water. After passing round Marsworth Reservoir the walk finishes in the village of Marsworth. Here the canal splits of in two directions. If you head west you can follow the Aylesbury Canal to Aylesbury. Continuing north would take you into Leighton Buzzard.
Berkhamsted Common
4 miles (6.5 km)
This large area of common land has some nice waymarked footpaths to try. The area is made up of attractive Silver birch woodland and gorsey heath with miles of ancient tracks to follow. You can start the walk from the car park off the New Road which leads north to the common from Berkhamsted. From here you can pick up the waymarked trails around the site. The circular trail takes you past Coldharbour Farm and Frithsden Beaches before returning to the car park. Look out for wildlife including wild deer and a variety of woodland birds.
The common is part of the wider Ashridge Estate which includes 5,000 acres of woodlands, commons and chalk downland. You can further explore the area on the long distance Ashridge Boundary Trail or the Icknield Way Path. Heading north will take you through Thunderdell Wood and Aldbury Common to Moneybury Hill.
Broxbourne Woods
9 miles (14.5 km)
Follow the Broxbourne Woods Nature Trail on this splendid walk in Hertfordshire. The site is Hertfordshire's only National Nature Reserve and includes Wormley Woods, Cowheath Wood and Hoddesdonpark Wood. You'll pass attractive Hornbeam coppice, tranquil ponds, pretty meadows and field edges as you make your way along the figure of eight trail. The woods have car parks on White Stubbs Lane where you can pick up the waymarked trails.
This 9 mile walk takes you around most of the site but there are shorter walks and mountain bike trails for cyclists too. In the heart of the forest there is a 1km sculpture trail with several beautifully carved wooden pieces. These include a life size Roman soldier and a magnificent stag.  Each sculpture illustrates something interesting about the forest, highlighting the historical importance of the woods and taking a close up look at the nature and wildlife that lives there.  The video below gives and example of what you can expect to see on the trail. For cyclists there are some fun single-track rides to enjoy too.
If you'd like to extend your walking in the area then there are several good options. You could head west and visit Northaw Great Wood. This country park has 300 acres of woodland to explore.
The Hertfordshire Chain Walk and the Hertfordshire Way also pass the site. The Hertfordshire Chain Walk actually passes through the western end of the woods. You could pick this up and head south towards Cuffley and Enfield where you will pass Whitewebbs Park.
Cassiobury Park
2 miles (4 km)
Enjoy an easy circular walk around this large park in Watford. There's 190 acres to explore with good footpaths and a section along the Grand Union Canal Walk at the western end of the park. There's also a waymarked nature trail where you can look out for a variety of wildlife including Herons, Kingfishers, Woodpeckers, Butterflies, Bats, Dragonflies, Newts and Snakes. The western end of the park, near the canal, is also a designated nature reserve. Look out for flycatchers, redwings and fieldfares. 
Cycling is also permitted in the park on designated paths.
If you'd like to extend your walk you could head a mile west to the ancient woodland of Whippendell Woods. Also nearby is Chipperfield Common where you'll find waymarked, woodland walking trails to try.
Chess Valley Walk
10 miles (16 km)
Follow the River Chess through the Chess Valley on this delightful trail through Buckinghamshire and Hertfordshire.
You start at Chesham Station passing Latimer, Chenies and Loudwater before finishing at Rickmansworth Station. This is a nice easy waterside walk with plenty of attractive countryside and a series of quiet little villages to enjoy. It is also easily accessible with train stations at either end. Route highlights include the Grade I listed Chenie Manor House with its beautiful gardens and the splendid grounds of the Chorleywood House Estate near Loudwater.
Click here for more information on this walk.
The walk links with the long distance Chiltern Heritage Trail around Chenies so it's easy to extend your walk on this path.
Chiltern Heritage Trail
51 miles (82 km)
Travel through the Chilterns Hills on this splendid circular walk and visit numerous delightful hamlets, villages and towns in Buckinghamshire. The walk begins at Chesham and passes Amersham, Chenies, Chorleywood, Chalfont St Peter, Chalfont St Giles and Great Missenden.
Highlights on the walk include the splendid Chenies Manor House and Gardens. Located in the village of Chenies the estate is highly recommended with its enchanting Tudor Manor House and award winning gardens.
Near Chalfont St Peter you will find the fascinating Chiltern Open Air Museum. The museum rescues and restores common English buildings from the Chilterns and relocates them to its 45-acre site, which includes woodland and parkland.
At Chalfont St Giles you will find John Milton's cottage where the famous poet completed Paradise Lost. Now a musuem it houses an extensive collection of his works and also includes a Grade II Registered Historic Garden.
Also of interest is the 13th century St Mary's Church and the award winning Amersham Musuem. As well as the sequence of interesting historical attractions there is some beautiful countryside and a long waterside stretch along the River Chess from Chesham to Chenies to enjoy.
Chiltern Way
124 miles (200 km)
This is the original 125 mile circuit of the Chilterns AONB taking you through Hemel Hempstead, Chalfont St Giles, the edge of Marlow, Hambleden, Bix Bottom, Ewelme, the Ridgeway, Stokenchurch, Great Hampden, Aldbury, the Dunstable Downs Country Park, Sharpenhoe Clappers and Harpenden. The main attractions on the route are the series of delightful villages with their ancient churches, pretty village greens and fascinating museums. The Chilterns countryside is also beautiful with rivers, canals and the rolling hills to enjoy.
The walk is waymarked with yellow and white disc.
Chipperfield Common
1 miles (1.5 km)
The 117 acre common in Chippefield has some waymarked woodland walking trails. Features on the common include eight veteran Spanish sweet chestnut trees, two early Bronze Age burial mounds and the Apostles Pond which is surrounded by willow trees.  After your walk you can enjoy a stroll around the pretty village of Chipperfield with its nice pubs, cricket pavilion, war memorial, village green and old churches.
To extend your walking in the area you could pick up the Grand Union Canal towards Hemel Hempstead or Watford. The Chess Valley Walk also passes to the south of Chipperfield, near Sarrat and Chenies.
Cole Green Way
5 miles (8 km)
Travel from Welwyn Garden City to Hertford along a disused railway line on this easy cycle or walk in Hertfordshire. The route follows National Cycle Network Route 61 on a flat, traffic free path. There's nice tree lined sections and views of the surrounding open countryside.
The route starts on the outskirts of Welwyn Garden City and runs through Letty Green before finishing at Hertford.
The route links with the Ayot Greenway at Welwyn Garden City. It's a similar rail trail which runs to Wheathampstead along National Cycle Route 57. The Alban Way also runs from nearby Hatfield to St Albans. Walkers can pick up the Lea Valley Walk and enjoy a riverside stroll.
Colne Valley Trail
7 miles (11 km)
Follow the Colne Valley Trail from Uxbridge to Rickmansworth and enjoy riverside and canalside walking or cycling.
The trails follows the Grand Union Canal and the River Colne while also passing a series of pretty Lakes including Lynsters, Stocker's and Batchworth Lake. The trail finishes at Batchworth Lake by the car park in Rickmansworth.
Dollis Valley Green Walk
11 miles (17 km)
This pleasant walk takes you from Mill Hill near Edgware in North London to the edge of Hampstead Heath along the Dollis Brook. You will pass through Scratchwood and Moat Mount Open Space and the Totteridge Fields Nature Reserve on this flat easy walk through North London.
Ebury Way
3 miles (5 km)
This is an easy short cycle and walking route ideal for families. It runs along National Cycle route 61 and a dismantled railway line from Ricksmanworth to Watford and passes through a variety of habitats, including open moor, woodland, and wetlands. The trail crosses a number of waterways including the rivers Colne, Chess and Gade and the Grand Union Canal.
Please click here for a pdf guide from watford council
Fairlands Valley Park
3 miles (5 km)
Enjoy a cycle or walk through this popular park in Stevenage. There are several pretty lakes with waterside cycling and walking paths to enjoy.
Grand Union Canal Walk
145 miles (234 km)
Follow the towpath of Britain's longest canal from London to Birmingham on this fabulous waterside walk. You start in West London in a lively and attractive area with canalside bars and restaurants, before heading towards the Chiltern Hills, on through rural Northamptonshire and Warwickshire and into the Birmingham suburbs. Highlights include

Little Venice - the start of the walk in West London with trendy bars/cafes and historical old factories and warehouses
Iron Trunk Aqueduct - a magnificent Georgian structure, which carries the Grand Union Canal over the River Ouse, connecting the villages of Cosgrove and Wolverton
Willen Lake - Milton Keynes' most popular park with cycling, pedalos, mini-golf and a cafe.
Tring ReservoirsThese four reservoirs in Tring are one of the best places for birdwatching in England.
Linford Lakes-this lovely nature reserve in Milton Keynes has a number of pretty lakes and ponds
Hatton Locks - located near Warwick, this flight delivers 21 locks in less than two miles
The Canal Museum - located at the lovely village of Stoke Bruerne the museum houses stories, films, collections and displays all about our waterways.
Cassiobury Park and Whippendell Woods are right next to the canal in Watford and are worth exploring if you have time.

Greenwich to Cheshunt
21 miles (34 km)
Follow National Cycle route 1 on this pleasant ride or walk through north London into Hertfordshire. You start by the Thames at the Cutty Sark in Greenwich and crosses to the Isle of Dogs via the Greenwich tunnel. This section gives splendid views of the River Thames and Canary Wharf.
Shortly after leaving the Thames behind you will come onto the Lee Valley path which will take you along the Regent's canal and through Tower Hamlets and Victoria Park. You then join the River Lee near Lea Bridge for some more waterside riding. The off road path then takes you past various Reservoirs until you reach the lovely Lee Valley Park - London's largest open space. After going through the park you will soon pass close to Waltham Abbey in Essex before you arrive at the finish point at Cheshunt station next to Cheshunt lake.
Harcamlow Way
141 miles (227 km)
This long distance walk takes you to some of the most beautiful countryside, interesting historical sites and delightful country parks in the counties of Cambridgeshire, Essex and Hertfordshire.
The route is a figure-of-eight, starting in Harlow and first heading to Saffron Walden where you will pass the splendid Jacobean mansion and gardens at Audley End. You continue through the Bartlow Hills, Horseheath, the Fleam Dyke and Milton Country Park to Cambridge. You return passing along the Wimpole Way where you pass the splendid Wimpole Hall and park. This 17th century country house has 3,000 acres (12 km²) of parkland and farmland and is owned by the National Trust. You continue through Melbourn and Chrishall to Newport, and then on to Debden, Thaxted and Takeley. You then pass through Hatfield Forest with over 1000 acres of footpaths and resident deer before returning to Harlow at the end of the route.
Hatfield Park
6 miles (9 km)
Explore the extensive grounds of Hatfield House on this lovely walk in Hertfordshire. The park is perfect for walking with a number of well maintained paths and three well defined routes:
The Blue Walk - (2 miles / 3.2 kilometres / 50 minutes)
The Red Walk (3.2 miles / 5.2 kilometres / 90 minutes)
The Green Walk (1.1 mile / 1.8 kilometres / 30 minutes)
You can pick up an information leaflet from the Gift Shop or Kiosk.
The park boasts extensive woodlands, a deer park and views of the River Lee.
Heartwood Forest
3 miles (5 km)
This large forest near St Albans has some fine cycling and walking trails to try. The forest includes over half a million trees, ancient woodland, wildflower meadows and miles of waymarked walks. There's also bridleways suitable for mountain biking. It's great in the spring with carpets of bluebells and lots of wildlife to look out for. This includes barn owls, tawny owls, kestrels and 27 species of butterfly. There is also a community orchard with apple and pears trees plus an arboretum which, once fully grown, will be the only one known in the UK to contain all 57 of our native tree species.
There's three waymarked walks to try all of which are fairly easy and of similar lengths. These take place on a mixture of surfaced tracks and grassy paths.
You can park at the car park near the village of Sandridge to start your walk. The bridleways can also be picked up from the High Street in the village.
The area includes Langley Wood and Pudler's Wood with Nomansland Common just to the north. If you are on a bike please keep to the marked bridleways.
The forest is located near to a number of excellent cycling and walking trails. If you head north towards Wheathampstead you can pick up the Ayot Greenway. This rail trail will take you to Welwyn Garden City on a marked National Cycle Route. You can also pick up the Lea Valley Walk and enjoy a riverside stroll.
Hertfordshire Chain Walk
39 miles (62 km)
The Hertfordshire Chain Walk is a series of circular walks running through Hertfordshire. This route is a combination of these walks, forming a linear route which runs from Enfield in London, through Hertfordshire to Ashwell & Morden Station in Cambridgeshire.
The walk begins at Crews Hill Station in Enfield and heads towards Welwyn Garden City, passing through Whitewebbs Park, Derry's Wood and Wormley Wood Nature Reserve on the way. Near Welwyn you cross the River Mimram, before passing through Bramfield Woods on your way to Watton at Stone, crossing the River Beane on your way. The final section then takes you through Cottered and Kelshall before finishing at Ashwell & Morden Station.
This walk gives super views of the flat lands of Cambridgshire while also visiting a series of delightful Hertfordshire parks, woods and nature reserves.
Hertfordshire Way
166 miles (267 km)
Explore some of the finest countryside and prettiest towns and villages in this fascinating county. The path is circular, visiting Ashridge Forest, St Albans, Hetford, Codicote, Tring, King's Langley, Cuffley and Bishop's Stortford. There's also some lovely scenery to enjoy with much of the walk taking place with the Chiltern Hills in the background. Places of interest include the beautiful Ashridge Estate near Berkhamsted (video below) and Shaw's Corner - the former residence of playwright Bernard Shaw located at Ayot St Lawrence, near Welwyn. The Friends of the Hertfordshire way have split the walk into the following manageable sections, each of about 12 miles in length:



| | |
| --- | --- |
| Royston to Wallington | 11.1 miles |
| Wallington to Willian (Letchworth) | 11.4 miles |
| Willian to Codicote | 11.8 miles |
| Codicote to St. Albans | 12.6 miles |
| St. Albans to Markyate | 11.0 miles |
| Markyate to Tring Station | 10.9 miles |
| Tring Station to Kings Langley | 15.0 miles |
| Kings Langley to Shenley | 12.8 miles |
| Shenley to Cuffley | 11.5 miles |
| Cuffley to Hertford | 12.6 miles |
| Hertford to Broxbourne | 12.0 miles |
| Broxbourne to Hertford | 12.5 miles |
| Hertford to Widford | 13.6 miles |
| Widford to Bishop's Stortford | 11.1 miles |
| Bishop's Stortford to Hare Street | 11.4 miles |
| Hare Street to Royston | 12.7 miles |


The walk is waymarked with a green sign featuring the head of a deer.
Icknield Way Path
110 miles (177 km)
The Icknield Way Path starts at Ivinghoe Beacon in Buckinghamshire and heads to Knettishall Heath in Suffolk along prehistoric pathways. There's fantastic views as you climb through the hills of the Chilterns AONB. There's also a series of lovely nature reserves and country parks to enjoy on the way.
John Bunyan Trail
77 miles (124 km)
Follow in the footsteps of John Bunyan, the Puritan Evangelist and author of the book 'Pilgrim's Progress'. The walk visits many historic villages associated with Bunyan. It starts at Streatley and visits Sharpenhoe, Harlington, Westoning, Steppingley, Flitwick, Ampthill, Millbrook, Ridgmont, Cranfield, Bromham, Stevington, Pavenham, Oakley, Clapham, Bedford, Elstow, Shefford, Meppershall, Shillington, Hexton and Barton le Clay before returning to Streatley. There's some beautiful Bedfordshire countryside to enjoy including Sharpenhoe Clappers, the Barton Hills and views of the Chiltern Hills for much of the walk.
The walk is waymarked with a white disc featuring a silhouette of John Bunyan.
Kingfisher Way
21 miles (34 km)
This is a delightful walk along the River Ivel from Baldock to Roxton. You start off at the source of the river at Ivel springs, Baldock, and follow the river north through Stotfold, Henlow, Langford, Biggleswade, Sandy and Blunham.
Walk highlights are the series of pretty, riverside villages with historic churches and watermills. Wildlife lovers will enjoy the Henlow Common and Langford Meadow Nature Reserve at Langford. This 50 acre reserve is home to a variety of wildlife and consists of grassland, scrubland, native trees, bushes and a running stream.
Also of interest is the Warren Villas Nature Reserve where there is also a plethora of water loving wildlife. The reserve features an island lake, home to wintering wildfowl and in summer breeding terns. The reserve is on route and situated just to the north of Biggleswade.
Other highlights include the 17th century Henlow Grange and park which is now used as a health and beauty farm visited by the rich and famous.
Knebworth Country Park
3 miles (5.5 km)
A walk through the delightful country park surrounding Knebworth House in Stevenage. The park consists of 250 acres of rolling hills with ancient chestnut and lime avenues. There are also herds of Red and Sika deer to look out for.
Lea Valley Walk
53 miles (85 km)
A super walk with a series of delightful waterside sections along the River Lea. The walk runs from Leagrave, the source of the River Lea near Luton, to the Thames at Limehouse Basin, east London. You follow a riverside path for much of the way through, Luton, Hatfield, Hertford and Cheshunt with a swan emblem clearly waymarking the walk. The walk passes Nature Reserves, pretty riverside villages and also includes a section through the fantastic Lee Valley Park - London's largest open space.
London Loop
149 miles (240 km)
Also known as the London Outer Orbital Path, this walk takes you on a tour of the parks, woods and fields around the edge of Outer London. You start at Erith, on the River Thames and pass through Crayford, Orpington, Petts Wood, Coulsdon, Kingston upon Thames, Uxbridge, Elstree, Cockfosters, Chingford and Upminster Bridge before finishing back on the River Thames at Purfleet, opposite Erith.
The walk has been divided into 24 manageable sections as follows:
Erith
Old Bexley
Petts Wood
West Wickham Common
Hamsey Green
Coulsdon South
Banstead Downs
Ewell
Kingston Bridge
Hatton Cross
Hayes
Uxbridge
Harefield
Moor Park
Hatch End
Elstree
Cockfosters
Enfield Lock
Chingford
Chigwell
Havering-atte-Bower
Harold Wood
Upminster Bridge
Rainham

The walk is waymarked with a disc featuring a kestrel.
New River Path
28 miles (45 km)
Follow the man made New River from Hertford to Islington on this easy waterside walk. There's much to enjoy on this walk including regular views of the River Lea and riverside Nature Reserves. The walk passes through Hoddesdon, Cheshunt, Enfield and Finsbury park with urban sections towards the end of the walk.
Nicky Line-Hemel-Hempstead to Harpenden
8 miles (13 km)
This short off road cycle or walking route runs along the Nicky Line - a disused railway track running from Hemel Hempstead to Harpenden.
This is a nice safe and easy route making it ideal for a family ride.
Northaw Great Wood
2 miles (4 km)
Explore 300 acres of woodland and parkland in this popular country park near Hatfield. There's miles of good walking traills to follow around the 121 hectare (300 acre) site. The park consists mainly of ancient hornbeam woodland, with other trees including oak and silver birch. It's a pretty area with glades, streams, springs and lots of interesting plants and flowers. These include Honeysuckle, Bluebell and Foxglove.
There is a car park at the southern edge of the wood, just of The Ridgeway. From here you can pick up trails to take you to Rowbourne Hill, Justice Hill and over Grimes Brook. The walk is generally fairly flat but there are some moderate climbs.
The Hertfordshire Way runs through nearby Cuffley so this is a good option if you would like to extend your walk. You could also follow the Hertfordshire Chain Walk to the nearby Broxbourne Woods. These extensive woods have miles of cycling and walking trails and a delightful 1km sculpture trail with several beautifully carved wooden pieces. If you follow the trail south east towards Enfield you can visit Whitewebbs Park which has woodland trails, ponds and the Cuffley Brook.
Oxhey Woods
2 miles (3 km)
These peaceful woods near Watford have nice footpaths and a popular sculpture trail to follow. You can park at the Oxhey Woods car park off Oxhey Drive which runs through the centre of the woods. There are lots of trails in the woods but the main attraction is the excellent sculpture trail. Along the 1km trail you will find numerous carved wooden sculptures of the wildlife you can see in the area. Watch the video below to see the pieces being carved.
The woods are also a local nature reserve so look out for a variety of interesting flora and fauna.  Plants includes bluebells, anemones and violets amongst the ancient woodland. There's also a rhododendron trail running through the southern section of the site near the sculpture trail. Wildlife includes the tiny pipistrelle bat and a variety of woodland birdlife.
The London Loop passes through the wood so there is scope for extending your walk in the area. If you head east the trail will take you to Harrow Weald Common, Bentley Priory Nature Reserve and Stanmore Common. The commons have nice woodland trails, heathland and wildlife including muntjac deer to look out for.
Sherrardspark Wood
1 miles (1.5 km)
Enjoy a walk or cycle around these pleasant woods near Welwyn Garden City. There's lots of footpaths for walkers and bridleways for cyclists to try. The area is great for wildlife. Look out for nuthatches, treecreepers, woodpeckers, thrushes, robins, tits and wrens. You may also see Muntjac Deer and foxes.
The Ayot Greenway runs through the woods so you can extend your exercise on this great rail trail.
Stanborough Park
2 miles (2.5 km)
Explore 126 acres of countryside park on the outskirts of Welwyn Garden City at Stanborough Park in Hertfordshire. Attractions include a Watersports Centre, Nature trail, Lakes, a Restaurant and a Coffee Shop.
Stevenage Outer Orbital Path
27 miles (43 km)
This well maintained walking path circles Stevenage in Hertfordshire. It is easily accessible from Stevenage via 8 linked paths and is waymarked throughout.
The STOOP circuit passes through Graveley,Walkern, the Beane Valley, Datchworth,  Woolmer Green, Knebworth Park, St Ippollitts, Little Wymondley and back to Graveley, using local footpaths and bridleways. 
One of the highlights of the walk is the delightful Knebworth Country Park. Famous for its music concerts you will also find a fine stately home surrounded by beautiful gardens.
Stort Valley Way
28 miles (45 km)
A lovely circular walk around Harlow, Nazeing and Roydon.
The path runs along the River Stort from Roydon and then onto Harlow and Sawbridgeworth. This section involves some easy riverside walking and a series of pretty locks. The route then heads through Matching Park, Harlow Park and Latton Park before heading back to Roydon through Bumble's Green and Nazeing.
Three Forests Way
60 miles (96 km)
This circular walk links three fine forests in the Essex/Hertfordshire area - Hatfield Forest, Hainault Forest and Epping Forest. The walk passes Harlow, Loughton, the Roding Valley, Arbidge, Chipping Ongar and Chigwell. All three forests have long peaceful walking paths while the route also includes a splendid waterside section along the River Stort near Harlow.
Tring Park
3 miles (5.5 km)
This splendid park in the Chilterns AONB has lots of good walking trails to try. In the park you will find expansive areas of grassland and pretty bluebell woods ideal for a peaceful afternoon stroll. There's lots of wildflowers and butterflies in the summer months and great views from the park's high points.
It's a great area for wildlife watching with orange tip, marbled white and common blue butterflies to look out for. Also keep your eyes peeled for kestrel, red kite, woodpeckers, nuthatch, chifffchaff, willow warbler and blackcap.
The park is located just to the south of the Tring town centre. You can park at the Natural History Museum car park and then pick up the trails into the park.
Tring park is in a great location for extending your walking in the area. The Icknield Way Path and the Ridgeway long distance trails both pass through the southern section of the park. If you head west you can enjoy woodland cycling and walking trails in the expansive Wendover Woods. It's only about 2 miles west of the park and includes waymarked walks, sculptures and more great views of the Chilterns countryside.
Just to the east of the park is the Grand Union Canal which you can follow north to Marsworth and the lovely Tring Reservoirs.
Tring Reservoirs
5 miles (8.5 km)
Enjoy a waterside walk around these pretty reservoirs in Hertfordshire. The four reservoirs include Startops End, Marsworth, Tringford and Wilstone. They are fantastic for birdwatching with visitors including grebes, bitterns, peregrine falcon, pied flycatcher and ringed plovers.
This circular walk starts at the village of Marsworth and takes you around the reservoirs on a series of footpaths before returning along the Grand Union Canal. It's a nice easy walk with many waterside sections.
The walk can be extended by picking up the Aylesbury Ring or Grand Union Canal Walk which run through the area. You could head west along the Aylesbury Canal into Aylesbury which is about 6 miles from the reservoirs.
Ver-Colne Valley Walk
15 miles (24 km)
Follow the rivers Ver and Colne on this waterside walk through Hertfordshire.
The walk starts at Redbourn and follows the River Ver to the historic town of St Albans with its impressive cathedral and the delightful Verulamium Park. The path continues south, joining the river Colne for the final stretch into Watford.
This walk has much to enjoy including, lakes, weirs and numerous species of river dwelling wildlife.
Verulamium Park
2 miles (3 km)
Explore over 100 acres of beautiful parkland and gardens on this short walk in St Albans. In the park you can follow waterside walking trails along the River Ver and the beautiful ornamental lakes. Look out for a variety of wildlife on the water including grey heron, mallards, swans, herons, great crested grebes, coots, pochards and tufted ducks. There is also a cycle path running through the centre of the park.
The park has a fascinating history stretching back 2000 years. It is named after the Roman city of Verulamium on which it now stands. There are still large sections of the Roman city wall still intact and a fascinating museum where you can learn all about the history of the area.
The Ver-Colne Valley Walk passes through the park so there is scope for extending your walk. You can follow the path along the rivers Ver and Colne to Watford or Redbourn.
Watling Chase Timberland Trail
10 miles (16 km)
Follow the Watling Chase Timberland Trail through the Watling Chase Community Forest on this historical path used by travellers for at least two thousand years.
The walk starts at Elstree and Borehamwood Station and heads north to Shenley where you will pass though the pretty Shenley park. This 45 acre park boasts woodlands, a wildflower meadow and an apple orchard. Also at Shenley you will find the Shenley Cricket Centre with its 19th century pavillion designed by W.G Grace. The path then heads to London Colney, joining the River Colne which leads you to the picturesque Colney Heath and then onto the finish point at Smallford, near St Albans and Hatfield.
Click here for a pdf guide from Hertfordshire CC.
Whippendell Woods
2 miles (3 km)
Explore 165 acres of ancient woodland on this circular walk through Whippendell Woods in Watford. There are a series of good trails to follow with an avenue of lime trees dating back to 1672. Other trees include oak, beech, ash and silver birch. In the spring months the woods are covered with huge numbers of pretty bluebells.
The area is also very good for wildlife spotting. Look out for birds such as woodpeckers, tawny owls and sparrow hawks. Other creatures you might see include bats, badgers and deer.
The woods were used as the location for The Gungan Forest in Star Wars Episode 1 The Phantom Menace. The video on the page shows scenes from the film.
This walk starts at the car park, just off Grove Mill Lane and takes you on a circuit around the outskirts of the wood.
It's easy to extend your walk if you have time. You can head a mile east to the nearby Cassiobury Park crossing the Grand Union Canal on the way. Also nearby is Chipperfield Common where you'll find waymarked, woodland walking trails to try.
Photos are copyrighted by their owners