Gloucestershire Walks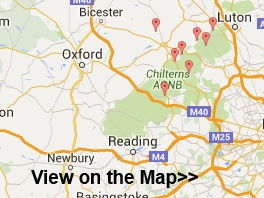 The attractive county of Gloucestershire includes part of the Cotswold Hills, the valley of the River Severn, and the entire Forest of Dean. It's also close to the popular city of Bristol where there's lovely trails through the Avon Gorge and along the River Severn.
Use the filter to show walks of a certain type such as woods, reservoirs, hills, long distance, country parks, canals and rivers.
In the spring walkers flock to the beautiful bluebell woods in the Gloucestershire area. Click the 'Woodland' button below to see these.
Use the links to view full route information including elevation profiles, interactive maps and GPS downloads.
You can also view an overview map of all the routes in the using the Gloucestershire Walk Map>>
Route Name
Distance
Description
Badminton House and Estate
5 miles (8 km)
Enjoy a walk through the Duke of Beaufort's estate on this easy circular walk in the Cotswolds. The walk starts in Great Badminton and heads to Little Badminton through Badminton Park. In the park there are two large ponds, several deer, attractive parkland and the 17th century Badminton House. At Little Badminton you will pass the pretty Dovecote before heading into the surrounding countryside. You'll pass along the woodland of the Seven Mile Plantation before returning to Great Badminton via a countryside bridleway and a short woodland section. The area is best known for the annual Badminton Horse Trials held here since 1949. The game of Badminton was also invented in the house in 1863.
The Macmillan Way long distance trail runs just to the east of the estate. To extend your walking in the area you could pick it up and head south to the delightful village of Castle Combe. View Full Details>>
Barrington Park
4 miles (7 km)
This circular walk takes you around the delightful Barrington deer park in the Great Barrington area of the Cotswolds. The walk starts in the village of Barrington Parkand follows footpaths around the deer park before a waterside section along the River Windrush returns you to the village. There are splendid views of the Cotswolds hills to enjoy also.
The village is located just a short distance east of the National Trust's Sherborne Park. If you head west you could visit the pretty Windrush Mill and then continue on to the park. There's nice footpaths here with pleasure grounds, wildlife sculptures, woodland trails and waterside paths along the Sherborne Brook. Near here you will also find Lodge Park where there are more good National Trust footpaths. The Cotswold Way and Monarch's Way long distance trails can also be picked up to the west of the village. View Full Details>>
Batsford Arboretum
1 miles (2 km)
This beautiful arboretum and botanical garden near Moreton-in-Marsh is perfect for a peaceful afternoon stroll. There are 56 acres to explore on a series of good footpaths with woodland consisting of Japanese maples, magnolias and pines. It's a special collection with many rare trees and plants, particularly from the Far East. There are over 2,850 specimens including Bamboo, Acer and Pinus, all with helpful labels. There is also a lovely wildflower meadow which attracts a variety of insects, butterflies and birds. Other highlights include the Japanese bridge, streams, a number of statues and a lake.
Batsford Arboretum is located just over a mile from Moreton-in-Marsh in the Cotswolds. You could walk to Batsford from Moreton-in-Marsh or Blockley by following the Monarch's Way long distance trail. You could also head south along the Heart of England Way to the nearby Sezincote House where you'll find beautiful gardens surrounding an unusual Neo-Mughal house. View Full Details>>
Bibury-River Coln-Arlington Row
6 miles (10 km)
This circular walk takes you around the delightful village of Bibury and the surrounding countryside. Bibury is a typically lovely Cotswolds village with pretty stone cottages and a wonderful Saxon church. This walk takes you through the village and then along a riverside footpath to the nearby village of Coln St Aldwyns. You'll follow the River Colne into the village before returning to Bibury through the countryside on footpaths and bridleways. You'll also pass the famous Arlington Row cottages, built in the 14th century. The picturesque dwellings are one of the most photographed Cotswold scenes. View Full Details>>
Blaise Castle
2 miles (4 km)
Explore the delightful Blaise Castle Estate in Bristol, on this circular walk through the 650 acre country park. You will follow a series of peaceful wooded paths around the landscaped grounds and visit the sham castle where there are fabulous views of Avonmouth, the Avon Gorge and South Wales. Other highlights include two pools - the Giant's Soapdish and Penny Well, and two caves - the Robber's Cave and the Butcher's Cave. View Full Details>>
Bourton on the Water
3 miles (5 km)
Enjoy a walk through this lovely village known as the 'Venice of the Cotswolds'. The High Street is particularly picturesque with the River Windrush running through it with several pretty little stone bridges crossing. This walk makes use of the North Cotswold Diamond Way and the Oxfordshire Way to take you through the countryside to the nearby fishing lakes. You could also extend your walk by following the Windrush Way west along the river. View Full Details>>
Bristol and Bath Railway Path
16 miles (26 km)
This lovely cycle or walk takes you along a disused railway line with its series of charming stations. Starting in the historic city of Bristol you will pass through Staple Hill, Mangotsfield and then Warmley where the station platform contains a cafe - perfect for a stop for refreshments.
The route then takes you along the Avon Valley Railway and past Bitton railway station which also has a cafe.
The final delightful section takes you along the River Avon and into the historic city of Bath. View Full Details>>
Bristol Circular River Walk
5 miles (8 km)
This circular walk in Bristol visits some of the highlights of the city, including Temple Church, Castle Park, the SS Great Britain, Britol's Floating Harbour, Cabot Tower and Bristol Cathedral. It's about a 5 mile walk with lots of nice long, waterside stretches along the River Avon to enjoy.
The walk starts from Bristol Temple Meads railway station and heads to the river where you can pick up a riverside footpath. After following the river for about 5 minutes you turn left, away from the river, and visit the fascinating ruins of Temple Church. The church dates from the 12th century, but was bombed and largely destroyed in the Bristol Blitz of November 1940.
After exploring the church and adjacent Temple Gardens, the walk returns to the river, following the path to Castle Park. Here you will find the ruins of St Peter's church in the middle of the park with a sensory herb garden, and five silver birch trees as a memorial to the beaches of the D-Day landings. There's also a grassy arena, with the partially excavated remains of Bristol Castle and a preserved vaulted chamber.
The route then leaves the park, continuing along the river past the Grade II listed Bristol Bridge, which was opened in 1768. The route heads south along the river, before crossing over to Prince's Wharf where you will come to the M Shed museum. The museum has three main galleries including Bristol Places, Bristol People and Bristol Life, each telling a story of Bristol, and containing a mixture of media and exhibits. Around here you can also pick up the Bristol Harbour Railway. The heritage railway runs for about a mile along the south side of Bristol Harbour, starting at the M Shed museum.
The walk then heads west along the river to the SS Great Britain, one of the chief attractions in the city. The ship was designed by Isambard Kingdom Brunel for the Great Western Steamship Company's transatlantic service between Bristol and New York in the mid 19th century. She was the longest passenger ship in the world from 1845 to 1854 and the first iron steamer to cross the Atlantic, in a time of 14 days in 1845. The ship now contains a fascinating museum where you can learn about life on the ship all those years ago.
The walk then heads to the southern side of the harbour before heading towards Bristol Marina where you can catch the ferry over the river. You pass through Clifton Wood, to reach the splendid Brandon Hill and Cabot Tower. The lovely park and nature reserve includes a wildflower meadow, ponds and the impressive Cabot Tower. You can climb the 105 feet (32 m) high tower for panoramic views over the city.
After enjoying the park it is a short walk to the magnificent 12th century Bristol Cathedral. The eastern end of the church includes fabric from the 12th century, and the Elder Lady Chapel which was added in the early 13th century. Much of the church was rebuilt in the English Decorated Gothic style during the 14th century. The Norman Chapter House pointed arches and the 14th-century stained glass pieces are among the highlights of the site. The cathedral sits on the south side of the popular College Green which is surrounded by a number of other historic and important public buildings, including the Council House, Bristol Central Library and the Lord Mayor's Chapel.
The walk crosses College Green and heads east across the river, towards Queen's Square. You then cross to Princes Wharf and head east through Redcliffe, to return to the station. View Full Details>>
Bristol Triangular City Walk
18 miles (29 km)
This walk takes you on a tour of this fascinating and historical city, visiting several famous landmarks on the way. It was devised by the Bristol Ramblers and offers wonderful views of the city exploring the Waterfront, Durdham and Clifton Downs, Clifton Suspension Bridge, Avon Gorge and Blaise Castle Estate.
Highlights on the route include a waterside section along the River Avon with fabulous views of the stunning Avon Gorge.
Also of interest is the 18th century mansion and estate at Blaise Castle. Blaise Castle was immortalised when described as 'the finest place in England' in Jane Austen's Northanger Abbey.
The walk also includes a section through the impressive Henbury golf course and the attractive Clifton and Durdham Downs.
The walk is easily accessible, starting and finishing at Bristol Temple Meads railway. View Full Details>>
Cam Peak Dursley
4 miles (6 km)
Enjoy a circular walk across Cam Long Down to Cam Peak on this lovely walk in Dursley. The down is on a splendid section of the Cotswold Escarpment with marvellous views, wildflower rich limestone grassland and attractive woodland.
You can start the walk from the centre of Dursley and follow the Cotswold Way across the down. It climbs from the town to Cam Peak, reaching a height of over 700ft at the high points. From here there are really lovely views over the River Severn to the Forest of Dean, May Hill and the Welsh mountains.
The route takes you over Cam Long Down with the option of continuing a little further east and visiting Uley Bury. This long, flat-topped hill is an impressive multi-vallate, scarp-edge Iron Age hill fort dating from around 300 BC.
If you would prefer a shorter walk then you can start from the car park on the down.
It's easy to extend your walk by continuing along the Cotswold Way. If you follow it north east you can visit Coaley Peak for more great views.
Also nearby is the expansive Woodchester Park which includes a series of lakes and woodland trails. View Full Details>>
Cannop Ponds
1 miles (2 km)
These two large ponds in the Forest of Dean are a lovely spot for an easy afternoon stroll. It's a nice gentle circular walk of just over a mile on good footpaths with lovely scenery and wildlife to enjoy.
You can start the walk from the car park on the New Road, next to the northern pond. Then pick up the waymarked trail which heads between the ponds and then south along the pretty Cannop Brook to the other ponds. Look out for Mandarin ducks, reed warblers and a pair of nesting mute swans on the water. There's also lots of interesting plants with common spotted-orchid, marsh pennywort, common valerian, skullcap and creeping jenny adding to the area's charm. View Full Details>>
Chalford and the Toadsmoor Valley
7 miles (11 km)
Enjoy a walk along the Thames and Severn Canal before exploring the woodland of the Toadsmoor Valley on this walk from Chalford. There's nice views of the River Frome and interesting old mills to see in the area.
The walk starts at Chalford Bottom and heads through the Golden Valley, passing along the canal and the River Frome. Near Brimscombe you turn north, heading through the wooded Toadsmoor Valley before finishing at Toadsmoor Pond. View Full Details>>
Chedworth Roman Villa
4 miles (7 km)
This circular walk around the village of Chedworth visits the fascinating Chedworth Roman Villa and Chedworth Woods.
The walk starts in Chedworth and follows the Macmillan Way long distance trail to the National Trust owned villa. Here you will find the ruins of a large, 4th century Romano-British villa complete with wonderful mosaics, bathhouses and latrines. You can also see costumed guides bring Roman history to life and join a free tour of the site. The walk then continues through the lovely Chedworth woods, returning to Chedworth on public footpaths. For much of the walk you are also surrounded by some beautiful Cotswolds countryside.
If you'd like to continue your walking in the area then you could pick up the Macmillan Way or the Monarch's Way which both run through the area. View Full Details>>
Cheltenham Circular Footpath
25 miles (40 km)
Situated on the edge of the Cotswolds this large spa town is a fantastic base for walkers. There's woods, hill climbs, reservoirs and several waymarked trails running through the beautiful countryside that surrounds the Gloucestershire town.
This circular walk was devised by Cheltenham Borough Council and takes you around the town giving wonderful views of the Cotswolds escarpment. The walk starts and ends near Pittville Park and passes Cheltenham racecourse and the pretty Dowdeswell Reservoir.
The route starts from the Pitville Park just to the north of the town centre. The ornamental park has a magnificent Pump Room and lakes. The Grade I listed Pump Room was the last and largest of the spa buildings to be built in Cheltenham. From the park you head north past Cheltenham racecourse. The course hosts the the Cheltenham Festival, held in March, which features several Grade I races including the Cheltenham Gold Cup, Champion Hurdle, Queen Mother Champion Chase, Ryanair Chase and the Stayers' Hurdle.
Follow the footpaths round the racecourse and then head south through Prestbury, Oakley and Charlton Kings to Dowdeswell Reservoir. There's some nice waterside trails here with woodland paths in the adjacent Dowdeswell Wood and Lineover Wood as well.
The route then turns west past as series of hills including Wistley Hill, Hartley Hill and Leckhampton Hill. View Full Details>>
Chipping Campden to Dover's Hill
3 miles (5 km)
This walk climbs to Dover's Hill from the lovely market town of Chipping Campden in the Cotswolds. The hill is a high point on the limestone escarpment that effectively forms the northern edge of the Cotswolds. There is a spectacular view northwards across the Avon valley from here.
You start off in the centre of Chipping Campden with its wonderful limestone terraced main street which dates from the 14th century to the 17th century. The 17th century market hall arches are a particularly iconic Cotswolds piece of architecture.
From Chipping Campden you pick up the Cotswold Way and follow it out of the town to Dover's Hill. The hill stands at a height of 754 feet (230 metres) with splendid views over the surrounding Cotswolds countryside. On a clear day you can also see the Black Mountains of South Wales and the Long Mynd in Shropshire. 
If you would like to continue your walking from Chipping Campden then you could follow the Monarch's Way to the nearby Hidcote Manor Garden.
You can also follow the path to the village of Ebrington where you can pick up the Ebrington and the Foxcote Estate circular walk. View Full Details>>
Cirencester Park
9 miles (14 km)
Explore 3000 acres of parkland and woodland on this fine circular walk in Cirencester. This extensive park has miles of woodland trails, a large lake and a deer park. You can walk along the wonderful tree lined Broad Ride and visit the 19th century Polo-ground - the oldest in Great Britain. There are also great views into the surrounding Cotswolds countryside. The park entrance is located on the western side of the town centre so is easy to reach.
The Monarch's Way and the Macmillan Way both run past the park so you could pick up these trails to continue your walking in the area. View Full Details>>
Claude Duval Bridleroute
63 miles (102 km)
This shared walking and cycle path runs from Quainton, near Aylesbury in Oxfordshire to Great Barrington in the Cotswolds.
This route is named after the well-known local highwayman, Claude Duval. It starts at Quainton and passes Stratton Audley, Bicester and Bucknell before crossing the Oxford Canal near Woodstock. The route then heads towards Chipping Norton and then Spelsbury where you join the River Evenlode for a short waterside stretch to Ascott d'Oyley. You then head onto Great Barrington via Fifield. View Full Details>>
Cleeve Hill Circular
5 miles (8 km)
Climb to the highest point in the Cotswolds on this splendid circular walk. The walk makes use of the Cotswold Way so is well defined and way-marked. It begins at the car park at the southern end of Cleeve Common before crossing the common and climbing up to the peak of Cleeve Hill which stands at 1,083 ft (330 m). From here there are marvellous views:  to the west, over Cheltenham and the racecourse, over the River Severn and into Wales, and to the north over Winchcombe. View Full Details>>
Coaley Peak
2 miles (4 km)
This walk takes you to the Coaley Peak viewpoint from the village of Uley in the Cotswolds. The walk uses part of the Cotswold Way National Trail to take you through Coaley Wood to the viewpoint. At the peak there is a display showing all the landmarks you can see in the area.
The walk starts from the car park on Crawley Hill road next to Uley Bury. It's worth exploring the Iron Age hill fort on Uley Hill before starting your climb to the peak. From here you head north through the woods for about 1.5 miles before reaching the viewpoint. Here you will find farmland and a wildflower meadow. There are also splendid views over the Severn Vale and the Forest of Dean.
There is a good sized car park at the site if you prefer to visit directly. See the google street view link below for the view from there.
Near the hill you will find Woodchester Park which is a great place to extend your walk. The extensive park includes a series of lakes and woodland trails.
Just to the south west is the lovely Cam Peak near Dursley. You can cross Cam Long Down on the Cotswold Way with more great views to enjoy. View Full Details>>
Coleford Milkwall and Parkend Railway Path
3 miles (5 km)
This short cycling and walking path follows the disused Coleford Milkwall and Parkend railway from Coleford to Parkend. You will head into the peaceful Forest of Dean passing Milkwall station and the disused Darkhill Ironworks on the way. The route links with National Cycle route 42 with more details on the Forest of Dean Family Route.
Also nearby is the fascinating Forest of Dean Sculpture Trail where you'll find a lovely walking trail taking you to a collection of high-quality, contemporary sculptures in a beautiful woodland setting. View Full Details>>
Community Forest Path
45 miles (72 km)
This is a varied and interesting circular walk taking you on a tour of the countryside, villages and historic estates around Bristol.
The walk starts in Keynsham at the confluence of the River Chew and River Avon and begins with a lovely waterside section along the River Avon before joining the Bristol and Bath Railway Path. You continue to Winterbourne, with a short section along the River Frome, and then through Stoke Gifford to Henbury where you will pass the splendid Blaise Castle. Described as 'the finest place in England' in Jane Austen's novel Northanger Abbey, the estate boasts a 19th century mansion, an 18th century castle, a fascinating Victorian museum and 400 acres of parkland.
From Henbury you continue through the suburbs of Bristol, crossing the River Avon on the Clifton Suspension Bridge next to the beautiful Avon Gorge Nature Reserve. This diverse ancient broad-leaved woodland is home to many rare plants and animals and is well worth exploring. Soon after you arrive at another walk highlight at the Ashton Court Park. Here you will find 850 acres of woodland and meadows including a deer park, mansions and landscaped gardens.
The final section of the walk takes you to Pensford via Dundry Hill, where you will pass the impressive Pensford Viaduct, a Grade II listed building. View Full Details>>
Cotswold Canals
41 miles (66 km)
Follow a series of delightful waterways from Framilode to Lechlade on this waterside walk through Gloucestershire.
The walk starts at Framilode, next to the River Severn and follows the Stroudwater Canal and the River Frome to the market town of Stroud. You continue to Sapperton, following the River Frome and the Thames and Severn Canal. A wooded section through Hayley Wood follows before coming to Kemble where you will pass the source of the River Thames.
From Kemble you head to the village of Siddington and then on to South Cerney where you will pass the fabulous Cotswold Water Park which boasts 150 lakes, Nature Reserves and plenty of options for refreshment. View Full Details>>
Cotswold Country Park
6 miles (9 km)
This country park is located in the Cotswolds Water Park at Ashton Keynes on the Gloucestershire/Wiltshire border. The Park includes the largest inland beach in the UK, boat hire, crazy golf, a cafe and two lakes. It's a nice place for an easy inland beachside walk. There's also some woodland trails on the eastern side and lots of water loving birds to see on the water. View Full Details>>
Cotswold Round
217 miles (349 km)
Travel through some of the most beautiful countryside and prettiest villages in England on this circular walk. You will visit a series of classic Cotswolds towns and villages including Cheltenham Spa, Winchcombe, Stanton, Broadway, Chipping Campden, Moreton-in-Marsh, Stow on the Wold and Bourton on the Water (video below). There is much to enjoy with lush green countryside, historic houses, beautiful parks, woodland sections and homely country pubs for refreshments. View Full Details>>
Cotswold Water Park
10 miles (16.5 km)
This fabulous attraction has numerous waterside cycling and walking paths taking you around the park's 150 lakes. There are 40 square miles to explore within the water park but with the Thames Path National Trail and National Cycle Route 45 running through the park there is great scope for continuing your exercise along these trails (bike hire is available in the park). There is a wide variety of wildlife to see too - look out for otters, water voles and beavers.
The western section of the park shown in the map is located between Swindon and Cirencester. There is also an eastern section located near Fairford and Lechlade. Our Fairford Walk starts from the town and explores that section of the park before heading to Lechlade for a stroll along the Thames. View Full Details>>
Cotswold Way Circular Walk - Chipping Campden
10 miles (16.5 km)
This splendid circular walk uses the Cotswold Way and the Donnington Way to explore the countryside and landmarks surrounding the Cotswold villages of Chipping Campden and Broadway. It's a great one to try if you are staying in either of these villages as it uses well maintained waymarked footpaths to take you to such highlights as Broadway Tower Country Park and Dover's Hill. The route runs for just over 10 miles taking you through some beautiful Gloucestershire and Worcestershire countryside. View Full Details>>
Cranham Woods
3 miles (5.5 km)
This circular woodland walk in the Cotswolds visits Cranham Woods, Buckholt Woods and Coopers Hill. These large peaceful woods have miles of walking trails through attractive Beech woodland. Cyclists can try a series of downhill mountain bike trails.
The walk starts from the parking area at the southern end of the woods near Cranham. You then head through Buckholt Wood towards Cooper's Hill, site of the Cheese Rolling event held on the Spring Bank Holiday which involves locals chasing a large round cheese down a near-vertical grass slope. The route then heads through Cooper's Hill Woods before returning to the car park.
If you would like to extend your walk then you could visit the nearby Prinknash Abbey Park or climb Painswick Beacon for wonderful views over the Cotswolds. Much of this walk makes use of the Cotswold Way National Trail so you could also continue east along the trail through Witcombe Wood to Birdlip Hill and the lovely Crickley Hill Country Park. View Full Details>>
Crickley Hill Country Park
3 miles (5.3 km)
A short circular walk around Crickley Hill country park near Birdlip in Gloucestershire. The park is set in 143 acres of countryside within the Cotswolds AONB and includes Limestone Grassland, Beech Woodlands and panoramic views of this beautiful area. The park also overlooks the Severn Vale, with fabulous views of the Cotswolds Hills, the Brecon Beacons and Black Mountains beyond.
The walk begins at the Crickley Hill car park and follows footpaths to Shurdington Hill, passing the site of an ancient Roman Villa, before returning to the car park via Dryhill farm. View Full Details>>
Daffodil Way
9 miles (14 km)
Explore the pretty countryside, orchards and woodland surrounding the village of Dymock on this circular walk in the Forest of Dean. The trail runs for about 9 miles through Dymock Woods and Kempley Green with lots of wild Daffodils to see in early spring. Also look out for bluebells and butterflies in the section through Dymock Woods. View Full Details>>
Devil's Pulpit
3 miles (5 km)
Climb to this wonderful viewpoint and enjoy views over the Wye Valley AONB on this circular walk in Tintern in the Forest of Dean.
You can start the walk from the car park off the B4228 just north of Tidenham. You then head west through woodland before a moderate climb to the Devil's Pulpit. From here there are splendid views over Tintern Abbey and the River Wye.
After taking in the views you pick up the Offa's Dyke Path to take you through Worgan's Wood to Tidenham Chase. You then follow Miss Grace's Lane back to the woods from the start of the route.
To extend the walk you could continue along the Offa's Dyke Path to Woodcroft and Chepstow in Wales. If you head north you can visit Caswell Wood and Oakhill Wood. Caswell Woods consist of a variety of interesting plants and trees with bare limestone rock which attract Kestrels. At Brockweir you can cross the river then follow it round to the fascinating Tintern Abbey ruins.
Heading south along the path will take you to the magnificent limestone cliffs at Wintour's Leap. View Full Details>>
Donnington Way - Cotswolds Pub Walk
62 miles (99 km)
Visit the 15 pubs of the Donnington Brewery on this super pub walk through the Cotswolds. The walk starts in Stow on the Wold and heads to a series of delightful Cotswold villages including the famous picture postcard settlement of Bourton on the Water. View Full Details>>
Dowdeswell Reservoir
1 miles (2 km)
Enjoy a stroll through Dowdeswell Wood to Dowdeswell Reservoir on this circular walk near Cheltenham. It's a pleasant area for a walk with footpaths leading through the woods and along the water. The area is also a nature reserve with lots of wildlife to look out for in the woods and on the reservoir. Keep your eyes peeled for wildfowl such as Moorhen, Coot, Mallard, Little Grebe and Great Crested Grebe. There's lots of interesting plants to see in the woods including Bluebell, Ramsoms (wild garlic),Common Spotted Orchid, Pyramidal Orchid and Cowslip. Roe and Muntjac deer are also visitors to the wood.
The Cotswold Way passes along the western edge of the wood so you can pick this up to extend your walk. If you head south you can visit Lineover Wood. Here you will find ancient woodland and limestone grassland with splendid views of Cheltenham and the Malvern Hills. Heading north will take you to Cleeve Common and Cleeve Hill.
The Cheltenham Circular Footpath also passes the area. This long distance waymarked walk around Cheltenham gives wonderful views of the Cotswolds escarpment. View Full Details>>
Dymock Woods
2 miles (2.5 km)
These pretty woods in the Forest of Dean have miles of peaceful woodland trails to follow. You can park at the medium sized Queens Wood car park to start your walk. It's located just to the south of Kempley. From here you can pick up several different trails, heading west into Queen's Wood in the Dymock Forest. Heading east takes you into Dymcock Wood.
The woods consist of Norway Spruce, Douglas Fir, Oak and Beech. In the spring months you will see lots of wildflowers including bluebells, heather, wood anemone and the Wild Daffodils which are a feature of the area.
You should see lots of butterflies fluttering around the flowers too. Look out for pearl-bordered fritillary, wood white and the uncommon white admiral as you make your way around the site.
This walk takes you along a pretty stream to a large pond in Queen's Wood. Leave the car park and head west before turning south along the stream. You then return on other paths through Brandhill Wood.
The long distance Daffodil Way passes through the eastern section of the woods. You can pick it up to extend your walking through the Forest of Dean. It will take you on a tour of the countryside, orchards and woodland surrounding the village of Dymock. View Full Details>>
Dyrham Park
2 miles (3.5 km)
A circular walk through this lovely 270 acre deer park near Bath. View Full Details>>
Ebrington and the Foxcote Estate
4 miles (6.5 km)
This circular walk takes you around some beautiful countryside on the Gloucestershire/Warwickshire border in the Cotswolds AONB. It's a fairly easy walk, running for about 4 miles on good footpaths marked with yellow and blue arrows.
The village of Ebrington is close to Chipping Camden and has pretty thatched Cotswolds cottages and a popular pub dating from the 17th century. There is also Ebrington Manor which dates from the 14th century.
The walk starts in the centre of the village and climbs steadily through the countryside to Foxcote House. On the way you'll pass pretty streams, woodland and a lake near to the house. Look out for wildlife including buzzards, pheasants and deer.
Ebrington is located just a few miles to the east of Chipping Camden. If you prefer you could start the walk from here and follow the Monarch's Way and the Heart of England Way to the estate.
To extend your walk just head a mile or so north of Ebrington and you could visit the splendid Hidcote Manor Garden. There's also our Ilmington Walk which visits the delightful village with its thatched cottages and Norman church. View Full Details>>
Forest of Dean Family Cycle Trail
9 miles (14.22 km)
A fine Family Cycle ride around the beautiful Forest of Dean - submitted by David Curtis.
This circular route takes you along National Cycle route 42 and the Wye Valley path through the delightful Forest of Dean. The easy route takes place on off road paths making it ideal for families.
This route is also suitable for walkers.
The trail passes close to the fascinating Forest of Dean Sculpture Trail. The trail takes you to a unique collection of high-quality, contemporary sculptures in a beautiful setting. You'll also pass the RSPB's wildlife rich Nagshead Nature Reserve and the delightful Cannop Ponds which is a lovely place to stop for a picnic.
You could also try the Coleford Milkwall and Parkend railway path. The trail follows the disused Coleford Milkwall and Parkend railway from Coleford to Parkend. It is suitable for both cyclists and walkers. View Full Details>>
Forest of Dean Sculpture Trail
2 miles (3.5 km)
This delightful walking trail takes you to a unique collection of high-quality, contemporary sculptures, within the Forest of Dean. Highlights include include Kevin Atherton's 15 foot by 10 foot stained glassed window 'Cathedral' which hangs high in the canopy over the heads of walkers and Neville Gabie's 'Raw', a giant cube assembled from the entire mass of an oak tree.
You can park at the visitor centre car park off Speech House Road to start your walk. From here you can pick up the marked trails to the artwork. The trail is free to access and the visitor centre also includes a picnic site and a nice childrens' playground.
Just to the east of the site you will find the interesting Woorgreens Lake and Marsh Nature Reserve. Here you'll find a pretty lake with lots of wildlife to look out for. This includes several species of dragonfly and birds such as spotted redshank, greenshank, green sandpiper and curlew. It's well worth a small detour from the main trail. Also nearby is the Speech House Oaks. The site is a linear band of open woodland of oak on either side of the Speech House Road near the trail. There is a variety of interesting flora here and a wonderful mosaic of different types of tree. Look out for the redstart bird in this area. View Full Details>>
Frome Valley Walkway
18 miles (29 km)
This pleasant and fairly easy walk takes you from Eastville Park on the outskirts of Bristol to the village of Old Sodbury along the River Frome.
The route starts passing through the parks and woodlands around Bristol before entering the open countryside of Gloucestershire.
You will pass through Frampton Cotterell, Chipping Sodbury and Yate with the Cotswold Hills providing a splendid backdrop for the route. View Full Details>>
Geopark Way
111 miles (179 km)
Meandering its way for 109 miles through the Abberley and Malvern Hills Geopark from Bridgnorth to Gloucester, the Geopark Way passes through stunning countryside as it explores 700 million years of geological history. The trail offers varied walking alongside rivers, through forests, along ridges and across valley floors; all with majestic views to match. Passing through an assortment of habitats there is a plethora of wildlife adding to the occasion. Quaint villages and towns dot the route bringing further elements of exploration and enchantment.
Highlights on the route includes a stretch through the lovely Eastnor Deer Park next to the 19th century mock castle. The climb through the Malvern Hills is also wonderful with splendid views over the countryside of Herefordshire, Worcestershire and Gloucestershire. View Full Details>>
Glevum Way
24 miles (39 km)
This circular walk takes you through the suburbs, countryside and villages around the city of Gloucester.
The walk starts at Gloucester's Victorian docks next to the Gloucester Waterways Museum which tells the story of England's canals and rivers. The walk then includes two consecutive waterside sections along the River Severn and the towpath of the Gloucester and Sharpness Canal, taking you to the village of Hardwicke. View Full Details>>
Gloucester and Sharpness Canal
16 miles (26 km)
Enjoy cycling and walking along the towpath of this lovely canal in Gloucestershire. The whole of the route is suitable for walkers while cyclists can enjoy several sections as well. National Cycle Route 41 of the National Cycle Network runs along the canal from Gloucester Docks to the outskirts of the city. There's also another section from Frampton on Severn to Shepherd's Patch.
The canal runs from Gloucester Docks to Sharpness with wonderful views of the Severn Estuary, the Forest of Dean and the Cotswolds. Route highlights include Gloucester Docks with its variety of shops, leisure facilities, marina and fascinating Gloucester Waterways Museum. You will also pass the wonderful Slimbridge Wetland Centre where you can see thousands of migrant birds. The route finishes at the dock of Sharpness Port which was opened in 1874.
The canal links nicely with the River Severn in several places so you have the option of picking up the Severn Way and continuing your walk. View Full Details>>
Gloucestershire Way
94 miles (151 km)
Travel from Chepstow in Wales to Tewkesbury in Gloucestshire and visit the Forest of Dean, the Severn Plain and the Cotswolds on this beautiful and varied walk.
The recommended stages for the walk are:
Chepstow to Parkend - 13.5 miles
Parkend to May Hill - 14 miles
May Hill to Gloucester - 13 miles
Gloucester to Crickley - 12 miles
Crickley to Salperton - 12 miles
Salperton to Stow on the Wold - 11 miles View Full Details>>
Guiting Power and Temple Guiting
3 miles (5 km)
This easy walk visits these two idyllic Cotswolds villages. It follows the North Cotswold Diamond Way through the countrsyide from Guiting Power to the nearby Temple Guiting. There's waterside paths along the Guiting Stream and a woodland section through Castlett Wood to enjoy. Both villages are also delightful. In Guiting Power there is a pretty village green and a Norman doorway to the church.
If you would like to continue you walking in the area then you could follow the Warden's Way to the Slaughters and Bourton on the Water which are both close by. View Full Details>>
Gustav Holst Way
34 miles (55 km)
Follow the Gustav Holst Way through the Cotswolds from Cranham to Wyck Rissington and enjoy the scenery and villages enjoyed by the composer.
The walk starts in the pretty village of Cranham where Holst lived for a while in 'Midwinter Cottage'. The first section of the walk takes you from Cranham to Cheltenham, passing through Buckholt and Witcombe Wood, Birdlip and the delightful Crickley Hill Country Park. The park is set in 143 acres of countryside within the Cotswolds AONB and includes Limestone Grassland, Beech Woodlands and panoramic views of this beautiful area. This section of the walk also passes the Devil's Chimney - an unusal limestone rock formation that stands above a disused quarry at Leckhampton Hill.
The walk then takes you through the interesting city of Cheltenham (Holst's birthplace), passing the attractive Cheltenham College Grounds and the Gustav Holst memorial statue.
After leaving Cheltenham you continue through the lovely Cotswolds countryside towards the village of Guiting Power. On this section you will pass Cleeve Hill, the highest point both of the Cotswolds hill range and in the county of Gloucestershire, at 1083 ft. Here you will also find Belas Knap neolithic chambered long barrow. A scheduled ancient monument in the care of English Heritage, it has been described as an 'outstanding example representing a group of long barrows commonly referred to as the Cotswold-Severn group'. After leaving Cleeve Hill the path passes through the peaceful Guiting Wood, before arriving at the pretty village of Guiting Power.
The final section of the walk follows the River Windrush to the popular tourist destination of Bourton on the Water. The village is particularly picturesque with the River Windrush flowing through the centre where it is crossed by several low, arched stone bridges. Shortly after, the walk comes to an end at Wyck Rissington where Holst was the resident organist for the church. View Full Details>>
Haresfield Beacon
5 miles (7.5 km)
Enjoy woodland trails and wonderful views over the Severn Vale and the Cotswolds on this circular walk near Stroud. There are miles of walking and cycling trails on which to explore the large estate. On the way you will pass wildflower meadows, an Iron Age hill fort and the Bronze Age Long Barrow of Haresfield Beacon.
This walk starts at the car park and follows the Cotswold Way National Trail through Standish Wood. You pass the Long Barrow and Standish Quarry before heading through the countryside to Oxlynch. The path then passes Vinegar Hill and Ring Hill before reaching the topograph where you can enjoy splendid views. From the topograph it is a short walk back to the car park and the finish point.
The area is superb for interesting flora and fauna. Look out for bluebells in Standish woods and orchids and butterflies in the limestone grasslands. You may also see buzzards and kestrels from the viewpoints.
The whole of this route is for walkers but much of it is suitable for mountain bikers too.
If you would like to continue your walking in this beautiful area then you could head south of Stroud and visit Rodborough Common and Woodchester Park for more great walking trails. You could also pick the Cotswold Canals Walk and enjoy waterside walking along the Stroudwater canal through Stroud. View Full Details>>
Heart of England Way
101 miles (163 km)
Follow the Heart of England Way through the Midlands of England. The walk starts from Milford Common on Cannock Chase and heads through Staffordshire, Warwickshire and Gloucestershire before finisihing at Bourton on the Water in the Cotswolds.
Major towns and cities on the route include:

Castle Ring
Drayton Bassett
Shustoke
Meriden - the geographical centre of England
Rowington
Chipping Campden
Longborough

Walk highlights include the delightful Cannock Chase Country Park at the start of the route, Kingsbury Water Park, the beautiful Arden Countryside and the Cotswolds AONB. There's also a nice waterside stretch along the Birmingham and Fazeley Canal near Tamworth. View Full Details>>
Hidcote Manor Garden
2 miles (2.5 km)
Explore these stunning National Trust owned gardens on this short walk in the Cotswolds. The gardens were created by American horticulturist, Major Lawrence Johnston and contain a number of beautifully designed outdoor 'rooms'. Highlights include the kitchen garden, plant house, herbaceous borders and the orchard. There are also a number of peaceful footpaths to follow to the various secret gardens.
If you would like to continue your walk you could follow the Monarch's Way to the pretty Cotswold hamlet of Hidcote Bartrim.
Just a mile or so to the south you will find the pretty village of Ebrington with a wonderful 17th century pub and the 14th century Ebrington Manor. You can explore the area on our Ebrington and the Foxcote Estate Walk which takes you through some lovely countryside with streams, woodland and ponds.
The Heart of England Way also runs through the nearby village of Mickleton. View Full Details>>
Highnam Court
1 miles (1.2 km)
Enjoy a stroll through Highnam Park and Highnam Court gardens on this short walk in Gloucester. Highlights include the 19th century Pulhamite winter garden with rock gardens, waterfalls, evergreens and ferns. There is also an orangery, a kitchen garden, a number of ornate statues and a formal flower garden. The footpaths are well laid out and include a great surfaced path alongside the lake with views to the 17th century grade I listed country house. Look out for a series of attractive wooden sculptures as you make your way through the park. The gardens are only open at selected times and for private visits by request. Please see the link below for more details.
To extend your walking in the area you could enjoy a stroll around the village of Highnam with its attractive 19th century church of the Holy Innocents and village hall. You could also visit the nearby Highnam Woods. It is located just a mile to the west and has a 2km nature trail through ancient woodland. View Full Details>>
Highnam Woods
1 miles (2 km)
Follow the 2km nature trail through this pretty RSPB reserve near Gloucester and Maidenhall. There are nice woodland paths where you can look out for a variety of bird species including the Lesser Spotted Woodpecker, Marsh Tit, Nightingale, Song Thrush, and Spotted Flycatchers. Also look out for woodland butterflies such as white admirals and white-letter hairstreaks. 
The Wysis Way and the Gloucestershire Way both pass close to the reserve so there is scope for extending your walk along one of these long distance paths.
If you head a mile to the east you will come to the lovely Highnam Court with its beautiful gardens, lake and 17th century grade I listed country house. View Full Details>>
Jubilee Way
16 miles (26 km)
Follow the Jubilee Way from Old Sodbury to the Severn Bridge on this delightful walk. View Full Details>>
Lechlade River Circular Walk
5 miles (7.5 km)
This lovely circular walk takes you along the River Thames and through the countryside surrounding this pretty town in Gloucestershire. You'll visit the nearby villages of Inglesham and Buscot and enjoy nice views of the surrounding Gloucestershire and Oxfordshire countryside.
The riverside town is a very attractive tourist destination and popular with boaters and walkers. Boats of different types can be hired from here, from rowing boats to river cruisers.
The town also includes St Lawrence's parish church. Here you will find a path through the churchyard named Shelley's Walk, after the poet Percy Bysshe Shelley who composed 'A Summer Evening Churchyard' here.
The walk starts in the town centre and picks up the Thames Path to take you along the river to the little village of Inglesham. Here you will find the Grade I listed parish church of St. John the Baptist which dates from the 13th century. Around here the route leaves the river and follows a country lane east towards Buscot Wick and Buscot. This pretty Oxfordshire village includes a village hall, tea shop and many National Trust owned properties. There is also a church dating from 1200 which includes lovely stained glass windows and a bell cast at Bristol in about 1399. In the summer months you can visit Buscot Park where you will find delightful grounds and gardens surrounding a fine 18th-century mansion.
At Buscot Lock you pick up the riverside path, heading west back into Lechlade. This section passes St John's Bridge and St John's Lock, where there is a 19th century statue of Old Father Thames outside the lock house. There's also nice views of the River Leach in this area.
To extend your walking in the area you can head west from the town and visit the Fairford/Lechlade section of the Cotswold Water Park. Here you can enjoy nice footpaths along a series of lakes.
If you follow the Thames Path south west you can visit Cricklade.
The town of Faringdon is also located nearby. Here you can enjoy a climb to Faringdon Folly for great views over the area.
The Cotswold Canals long distance trail also starts from the town. View Full Details>>
Leckhampton Hill
4 miles (6 km)
This circular walk takes you along a particularly beautiful section of the Cotswold Way National Trail visiting Leckhampton Hill and Hartley Hill. The walk starts at a parking area next to the A435 about three miles south of the centre of Cheltenham. From here you can pick up the Cotswold Way and follow the track to Charlton Kings Common and Hartley Hill. You cross the hill to to the Devil's Chimney, an iconic Cotswold landmark. This unusual limestone rock formation stands above a disused quarry in Leckhampton. It's a picturesque spot with fabulous countryside views providing a wonderful backdrop to the chimney. The area of Leckhampton Hill and Charlton Kings Common is a biological and geological Site of Special Scientific Interest and a Key Wildlife Site. Look out for a variety of interesting flora and fauna such as meadow pipit and grasshopper warbler. Rare plants include fly orchid, musk orchid and purple milk-vetch.
The walk finishes with a stroll along a country lane which leads back to the start point.
If you would like to extend your walk then you could continue along the Cotswold Way to the delightful Crickley Hill Country Park. View Full Details>>
Limestone Link
36 miles (58 km)
Starting at Cold Ashton in St Catherine's Valley, Gloucestershire follow the Limestone Link from the Cotswolds to the Mendip Hills in Somerset.
The walk first heads south towards Batheaston where you join the River Avon and the Kennet and Avon Canal for a lovely waterside stretch to Monkton Coombe. You will also pass near to Little Solsbury Hill, made famous by the Peter Gabriel song 'Solsbury Hill'.
The second section of the path then takes you through the Mendip Hills with fabulous views of the Chew Valley, Burrington Combe limestone gorge, Dolebury Warren Iron Age Hill Fort, the waterfall at Hallatrow and the final stretch through Burrington common the main highlights. View Full Details>>
Lydney Harbour
4 miles (6 km)
Enjoy a walk along the Lydney Canal and Lydney Harbour on this delightful waterside stroll in Gloucestershire. There's nice views over the River Severn towards Sharpness on the opposite side and the two Severn Bridges further down. It's an idyllic spot with well marked footpaths and lots of birdlife to look out for on the water.
The walk starts from Lydney Train Station on the Dean Forest Heritage Railway. You can catch the old steam train from Lydney Town and then pick up the footpath along the canal to the harbour. It's a pleasant waterside stroll with lovely views across Saniger Sands on the Severn towards the end of the walk.
To extend your walking in the area you can head to the Lydney Park Estate where there are beautiful gardens, woodland trails and a fascinating Roman temple.
Lydney is also located near to the Forest of Dean where there are miles of nice cycling and walking trails to try. The Devil's Pulpit and the Coleford Milkwall and Parkend railway path are two highlights of the area and located not far from Lydney. View Full Details>>
Macmillan Way
290 miles (467 km)
This epic long distance path links Boston in Lincolnshire to Abbotsbury in Dorset. It is promoted to raise money for the charity Macmillan Cancer Relief.
The route starts from Boston and then runs across the Fens to Bourne before joining the limestone belt. You then head to Stamford and then along the shoreline of Rutland Water. You'll also pass through the medieval market town of Oakham where there's some wonderful old architecture at the Norman castle and the 16th century Oakham School.
The trail then heads south and west via Warmington to Stow-on-the-Wold, then into the Cotswolds via Cirencester and Tetbury to Bradford-on-Avon. After leaving the Cotswolds you follow the path through Somerset passing Castle Cary before entering Dorset and the final section to Abbotsbury via Sherborne.
The route joins with other popular trails including the Viking Way at Oakham, the Thames Path National Trail near Thames Head and with the South West Coast Path towards the end of the route. View Full Details>>
Mallards Pike Lake
1 miles (1 km)
Enjoy an easy stroll around this pretty lake in the Forest of Dean. There's a well surfaced trail running around the lake which is suitable for wheelchairs and pushchairs. There's also a car park at the southern end of the lake and a nice picnic area. Trails head off into the surrounding woodland towards Staple-Edge Wood and Blakeney Walk Woods.
The Forest of Dean Family Route passes the lake so you could pick this up to extend your exercise. Heading west will take you to the RSPB's wildlife rich Nagshead Nature Reserve and the delightful Cannop Ponds. Just north of there you will find the splendid Forest of Dean Sculpture Trail. View Full Details>>
Mary Michael Pilgrims Way
275 miles (443 km)
This route begins on the Cornish coast, near Land's end, and passes through Cornwall, Devon and Gloucestershire to finish at Glastonbury. However, the vision is to extend the route to the Norfolk coast in the near future. View Full Details>>
May Hill
1 miles (2 km)
Climb this hill on the Gloucestershire/Herefordshire border for wonderful views over the two counties, the Forest of Dean and the River Severn. On a clear day you can also see the Cotswolds and the Black Mountains in Wales.
The walk starts from the May Hill Common car park about a mile north of the hill. You then climb to the 1000ft (305m) summit where you will find a distinctive row of Corsican pine trees planted to commemorate Queen Victoria's Golden Jubilee in 1887. The summit is also covered in interesting flora such as acid grassland, heather and bluebells in the spring. Look out for wildlife including ponies and meadow pipits on the way.
You can return the same way or venture into the adjacent Newent Woods and visit Glasshouse Hill and Castle Hill Wood to extend your walk. The Gloucestershire Way and the Wysis Way both pass the hill so you could also pick up these long distance walking trails.
An alternative route to the hill would be to follow the Wysis Way from nearby Mitcheldean. View Full Details>>
Minchinhampton Common
2 miles (4 km)
This large area of common land near Nailsworth is criss-crossed with miles of nice footpaths. The common is also in an elevated position so there are great views of the surrounding Cotswold hills, countryside and villages. You'll reach a height of well over 600ft on the edge of the Cotswold Escarpment. On a clear day you can even see across the Severn Vale into Wales. It's also great for flora and fauna with skylarks and various orchids to look out for.
This walk starts from the little village of Amberley on the western side of the common. From here you can pick up the footpaths leading towards Bownham, Burleigh and Box.
To extend your walking in the area you can head to the nearby Rodborough Common. The common is located just to the north and consists of nearly 300 acres of attractive grassland, scrub and woodland.
Also nearby is Selsley Common. It's located just to the west and has more nice paths and rare flora and fauna to discover.
The common is located very close to the popular town of Stroud where you can enjoy a nice waterside walk along the Stroudwater Canal. View Full Details>>
Misarden Park
2 miles (2.5 km)
This delightful circular walk in the Cotswolds visits the pretty village of Miserden and explores Misarden Park with its pretty lake and woodland trails.
The walk starts in Miserden with its lovely Cotswold stone cottages, St Andrews Church, Village Hall, Post Office, Shop and Pub. From the village it is a short stroll to Misarden Gardens where you will find a 17th century Manor House surrounded by attractive topiary, a walled garden, herbaceous borders, specimen trees and a parterre. There is a nice waymarked footpath leading through the woodland and along the pretty lake with views of the River Frome. You can extend your walk by following a bridleway east through the woods to Winstone or heading south east through the countryside to Duntisbourne Abbots. The village of Edgeworth lies just to the south and the Macmillan Way long distance trail can be picked up near here. View Full Details>>
Monarch's Way
615 miles (990 km)
This incredible 615-mile walk approximates the escape route taken by King Charles II in 1651 after being defeated in the Battle of Worcester.
The Monarch's Way starts at Worcester then travels north to Boscobel and then south to Stratford upon Avon. It then continues south through the Cotswolds to Stow on the Wold before turning south west towards Bristol via Cirencester. The route then heads south through the Mendip Hills to Wells and then on through Somerset towards Yeovil and then south west to Charmouth. You then follow the Dorset coast before turning north again to Yeovil, before heading east across the Downs to Brighton and then onto the finish point at Shoreham-by-Sea.
The walk also takes you through two World Heritage Sites, one National Park and six Areas of Outstanding Natural Beauty. For those interested in the history of the walk there is ample opportunity to learn and discover more with a series of museums and historical sites dotted throughout the route.
The walk is waymarked with a picture of the ship The Surprise, the Prince of Wales crown and the Royal Oak tree at Boscobel House.
The route has been split into two separate gpx files. The first includes the section from Worcester to Bridport via the Midlands and Somerset. View Full Details>>
Moreton-in-Marsh Circular Walk
7 miles (11 km)
This circular walk from Moreton-in-Marsh makes use of the Monarch's Way and the Heart of England Way to explore the countryside, villages and woodland surrounding the popular Cotswolds town. Moreton-in-Marsh is a good base for exploring the Cotswolds with a train station and lots of good hotels to choose from. It's also very close to two major Cotswolds attractions. This includes the magnificent Sezincote House and Batsford Arboretum which are both on this route.
Starting in the town you follow the Monarch's Way south to the village of Longborough where you will find a 12th century church and an opera house home to the Longborough Festival Opera in June and July each year.
At Longborough you turn north along the Heart of England Way towards the exquisite Sezincote House. Here you will find a fascinating Mogul Indian palace surrounded by beautiful gardens including an orangery, spring-fed pools, canals and a large lake.
After passing Sezincote you continue north to the pretty village of Bourton-on-the-Hill where you will find the Grade I listed St. Lawrence's Church, the 17th century Slatters Cottage and the fine Horse and Groom pub.
After leaving the village you head towards Batsford Arboretum where there are 56 acres of woodland consisting of Japanese maples, magnolias and pines. View Full Details>>
Newark Park
3 miles (5 km)
Explore the 700 acre estate of this Grade I listed building in Wotton-under-Edge, Gloucestershire. In the park you will pass lakes, a walled garden and a woodland area. Also look out for the many resident deer and peacocks.
The park is located on the edge of the Cotswold escarpment so there are fantastic views of the Cotswold AONB. It is extensive and there are many well signed footpaths to enjoy.
The house dates from the 16th century and includes unique stained glass windows and a beautiful dining room with William Morris wallpaper.
To extend your walking in the area you could pick up the circular walk around Wotton-under-Edge which uses part of the Cotswold Way. View Full Details>>
North Cotswold Diamond Way
65 miles (105 km)
This diamond shaped walk was created by the RA's North Cotswold Group to celebrate the 60th Jubilee in 1995. The circular trail takes you through a series of pretty Cotswold villages including Moreton-in-Marsh, Blockley, Icombe, Turkdean, Bourton on the Water, Naunton, Guiting Power and Chipping Campden. View Full Details>>
Northleach
4 miles (6 km)
Enjoy a circular walk around the market town of Northleach. The interesting town has a 14th century church and is home to the Old Prison museum and visitor centre, also called Escape to the Cotswolds. The route makes use of the waymarked North Cotswold Diamond Way and the Monarch's Way to explore the countryside around the town and visit the neighbouring village of Farmington.
Starting in the centre of town head south along the Diamond Way to Helen's Ditch. You then head east to Upper End, before turning north to Farmington. The little village has an old church, pretty cottages and a village green. At Farmington you pick up the Monarch's Way and head west back into Northleach, passing the noteworthy Eastington Manor on the way.
To extend your walking in the area just head a couple of miles east and visit Sherborne Park. The National Trust owned estate includes pleasure grounds, woodland trails and a 19th century ice house. View Full Details>>
Painswick Beacon
3 miles (5 km)
Visit the delightful Cotswolds village of Painswick and climb the nearby Painswick Hill on this walk near Stroud.
The walk starts from Painswick known as the 'Queen of the Cotswolds' because of its picturesque cottages, pretty churchyard with yew trees and the splendid Rococo Gardens. You can then follow the Cotswold Way National Trail north to the beacon. The trail is well signposted and takes you through the local golf course and past the aptly named Paradise valley. You soon come to the beacon where you will find an Iron Age Hill Fort and fabulous views over the Severn Vale, the Forest of Dean and the Welsh Mountains.
From the top of the hill you can descend back to the village or if you'd like to extend your walk, you could continue along the Cotswold Way to the nearby Pope's Wood and Kites Hill. A little further on is Coopers Hill where the annual Cheese Rolling event is held on the Spring Bank Holiday. It involves locals chasing a large round cheese down a near-vertical grass slope.
If you enjoy this walk you could head a couple of miles south west and visit Haresfield Beacon for more great walking trails and panoramic views of the Cotswolds.
You could also follow the Wysis Way long distance trail south and visit the beautiful Slad Valley. View Full Details>>
Palladian Way
118 miles (190 km)
Walk from Buckingham to Bath through the beautiful countryside of Buckinghamshire, Gloucestershire, Oxfordshire and Wiltshire on this trail named after Andre Palladio's Italian architecture.
The walk runs from Buckingham to Brackley, Woodstock, Burford, Cirecncester, Malmesbury and then Bath.
You can enjoy waterside sections along the Oxford Canal near Kirtlington and along the River Windrush between Woodstock and Burford. There is also a section through the beautiful Cotswolds countryside around Burford.
Other route highlights include the National Trust Owned Stowe Park, and the magnificent Blenheim Palace - birthplace of Winston Churchill . View Full Details>>
Pittville Park
1 miles (2 km)
Enjoy a short waterside walk or cycle around this pretty park in Cheltenham. In the park you will find aviaries , small areas of woodland and three lakes with waterside paths. You will also pass the impressive Grade I listed Pittville Pump Room. Built in 1825 it is the last and largest of the spa buildings to be built in Cheltenham. There are also play areas for children, a boat house and cafe. Cyclists can cycle around the two western lakes so it's a nice option for anyone looking for a safe family ride in the town. View Full Details>>
Prinknash Abbey Park
1 miles (1.5 km)
This delightful bird park in the Cotswolds has nice walking trails taking you around a series of pretty ponds and woodland. There's a variety of wildllife including deer, peacocks, goats, waterfowl and donkeys. It's a very peaceful place and perfet for destressing with the animals. The park is located near Gloucesterand Stroud, just off the Cotswold Way. View Full Details>>
Purton Hulks
2 miles (3.5 km)
This walk visits the abandoned boats and ships on the banks of the River Severn at the village of Purton in Gloucestershire. The boats were deliberately beached beside the river to reinforce the river banks between 1909 and 1965. The proximity of the canal to the river meant that at high spring tide they were separated by little more than the width of the towpath. The vessels included steel barges, Severn trows and concrete ships which were towed from the dock at Sharpness and released to be carried up the bank on the tide.
You can now follow a section of the Severn Way along the Gloucester and Sharpness Canal past the decaying boats which provide atmospheric photo opportunities.
This easy two mile walk starts in the main parking area in Purton and runs along the river to the nearby port of Sharpness. On the way you will pass the former site of the Severn Railway Bridge which was demolished in 1967. You can still see the remaining tower of the swing section over the canal.
The walk also includes lovely views across the water to the surrounding Gloucestershire countryside for the duration of the route.
The route finishes at impressive Sharpness dock located at the head of the Bristol Channel. The port is one of the most inland in Britain and handles ships of up to 6,000 tonnes. View Full Details>>
River Avon Trail
25 miles (40 km)
Travel along the River Avon from Pill to Bath via Bristol on this delightful trail
You start off in the village of Pill, near the mouth of the river, and head to Bristol through the stunning Avon Gorge. You will pass through the lovely Leigh Woods with its woodland, plant life and wildlife on this section. There's also fine views over the Grade I listed Clifton Suspension Bridge which was built in 1864.
The path then continues through the interesting city of Bristol and then on towards Keynsham where the river is particularly picturesque. View Full Details>>
Robinswood Hill Country Park
3 miles (5.5 km)
Robinswood Hill country park is located in Gloucester, just to the south of the city centre. The walk explores the 250 acres of park which includes a Local Nature Reserve, an orchard, Robin's Wood Hill Quarry (a Site of Special Scientific Interest) and a dry ski slope. From the 650 ft (198 m) top of Robinswood Hill there are spectacular views of the surrounding area including the Cotswolds, the Malvern Hills, May Hill, the city of Gloucester and on a clear day the Severn Bridges. View Full Details>>
Rococo Gardens
1 miles (1 km)
Enjoy a short stroll around these beautiful gardens in Painswick in the Cotswolds. There are woodland trails, a maze, several attractive follies and gardens with a variety of flowers. There is also a wildflower meadow with various types of orchid, a Kitchen Garden and great views of the surrounding Cotswolds countryside.
If you would like to continue your walking in the Painswick area then you could climb to Painswick Beacon for wonderful views over the Cotswolds.
There is a car park at the gardens or you could follow the Cotswold Way from the village of Painswick to reach the entrance. The village known as the 'Queen of the Cotswolds' because of its picturesque cottages and pretty churchyard with yew trees. View Full Details>>
Rodborough Common
2 miles (3 km)
Enjoy splendid views over the Severn Vale from this lovely open space near Stroud. The common covers nearly 300 acres and is criss crossed with miles of nice footpaths. There is a car park towards the eastern side of the common with direct access to the well surfaced paths.
The area is a biological and geological Site of Special Scientific Interest and also a Local Nature Reserve. Look out for various wildflowers and several species of orchid including Frog Orchid, Bee Orchid and Musk Orchid. The common consists of attractive grassland, scrub and woodland with Beech and Ash trees.
It's also great for wildlife with over 30 species of butterfly flying around the pretty wildflowers. Look out for the rare Duke of Burgundy and Adonis blue.
The common is in an elevated position above Stroud so on a clear day there are far reaching views towards the Forest of Dean and the Welsh hills.
If you would like to extend your walk then you could head to the nearby Woodchester Park. This National Trust owned park has miles of good footpaths taking you through the tranquil wooded valley to five pretty lakes. The National Trust also manages Minchinhampton Common which has more nice footpaths and views to enjoy.
You could also pick up the Cotswold Canals Walk and enjoy waterside walking through Stroud and the surrounding countryside.
Also nearby there is Selsley Common which has more nice footpaths, interesting vegetation and great views. Just north of Stroud is Haresfield Beacon with miles of cycling and walking trails. View Full Details>>
Ross Round
18 miles (29 km)
This delightful circular walk takes you through the Herefordshire countryside around Ross-on-Wye.
You start on the River Wye, in the pretty market town of Ross-on-Wye, and follow the river north to the riversde settlement of Hole-in-the-Wall. The walk then leaves the river, visiting Crow Hill, Weston Under Penyard, Penyard Park, Warmhill Wood and Howle Hill as you head through the Herefordshire countryside.
There's much to enjoy on this varied walk including rivers, woodland and a series of pretty villages. View Full Details>>
Sabrina Way
203 miles (327 km)
This route is part of the National Bridleroute Network and primarily designed for horse riders but can be used by walkers and cyclists also. The trail starts at the deer park at Great Barrington and heads north to Hartington. The route passes through the Cotswolds, the Malvern Hills, the Wyre Forest and Cannock Chase Forest, before finishing in the Derbyshire Peak District. View Full Details>>
Samaritans Way South West
103 miles (166 km)
Starting at Bristol follow the Samaritans Way to Lynton, in Devon, and visit the Avon Gorge, the Chew Valley, the Cheddar Gorge, the Mendips, the Quantock Hills and the Brendon Hills. The walk also takes you through the beautiful Exmoor National Park where you will visit the lovely Doone Valley. Here you can try our lovely Lorna Doone Walk. View Full Details>>
Sapperton Circular Walk
9 miles (14.5 km)
The Cotswolds village of Sapperton has some good trails to follow through the extensive local woodland and attractive Cotswolds countryside. This walk visits the Sapperton Canal Tunnel where there are footpaths along the well known local structure. There's also nice waterside walking along the canal and rivers which run through the area.
The walk starts in the village and heads west to Sapperton Wood and Frampton Wood, before picking up waterside paths along the River Frome to the village of Frampton Mansell. It then turns south east, following the old Sapperton Tunnel and other tracks towards Tarlton. You then pick up the Macmillan Way to take you along the Sapperton Canal Tunnel. With a length of 3,817 yards it was the longest canal tunnel, and the longest tunnel of any kind, in England from 1789 to 181. This section runs through Hailey Wood, before following country lanes back into the village. View Full Details>>
Selsley Common
2 miles (3 km)
This large open area near Stroud has miles of footpaths and wonderful panoramic views over the Cotswolds. It covers 97 acres and consists of wide open grassland with a variety of rare flora and fauna. Look out for wildflowers and orchids including the Green-winged Orchid and Fragrant Orchid. Butterflies such as Small Blue, Grayling and the Duke of Burgundy Fritillary fly around the flowers in the summer months.
The common is in an elevated position above Stroud so there are far ranging views to enjoy. On a clear day you can see the Malvern Hills, the Welsh Hills and the River Severn. The area is very popular with walkers, paragliders and hang gliders.
This circular walk starts from the car park at the southern end of the common but you could also follow the the Cotswold Way from Stroud. You can follow the trail from the town centre along the Stroudwater Canal before turning south near Ebley, towards the common. The Cotswold Way runs across the common so if you would like to extend your walk you could follow this trail west into Pen Hill Wood and Stanley Wood.
Also nearby is the delightful Rodborough Common and Woodchester Park which has similar trails and viewpoints.
The common is located just to the west of Woodchester so you could also start your walk from here. View Full Details>>
Severn Beach
7 miles (12 km)
The village of Severn Beach is located in a lovely spot on the Severn Estuary. There is a popular walkway along the length of the sea defences where you can enjoy views across the estuary. It's also a fine spot for birdwatching with several species of wader to look out for on the way. View Full Details>>
Severn Way
224 miles (360 km)
Follow the River Severn from its source at Plynlimon in Powys, to Bristol, the mouth of the river. You start the walk at Plynlimon in upland Mid Wales, before descending into Llanidloes, Newtown, Powys, and Welshpool. The route then follows the towpath of the Montgomery Canal passing The Wrekin and continuing on through Shrewsbury, the Severn Gorge, and the historic town of Ironbridge. You then cross into Worcestershire passing Bewdley, Stourport-on-Severn, Worcester and Upton-upon-Severn in the Malvern Hills. The next section passes through Gloucestershire and includes a section along the Gloucester and Sharpness Canal which takes you past the fascinating abandoned ships at Purton Hulks. You'll also visit Tewkesbury, Gloucester, the 12th century Berkeley Castle before heading to the Severn Estuary and the mouth of the Severn near Oldbury on Severn. View Full Details>>
Sezincote House
3 miles (5 km)
This walk takes you to the extraordinary Mogul Indian palace of Sezincote House near Moreton-in-Marsh in the Cotswolds. The walk starts in the pretty village of Bourton-on-the-Hill and follows the Heart of England Way through the countryside to the nearby Sezincote Estate. The gardens are stunning with a curving orangery, spring-fed pools, canals and a large lake. There are also fascinating ornaments and statues including an Indian style pavilion, a temple to Surya the sun god and a snake coiled around a column in the Snake Pond. The house was built in 1805 by the grandsons of the diarist Samuel Pepys. The Prince Regent visited in 1807 and change his plans for the Royal Pavilion in Brighton after seeing Sezincote. The architect John Nash then designed the Royal Pavilion in a similar Indian style.
If you would like to continue your walking in the area then the delightful Batsford Arboretum is only about a mile to the north. The pretty village of Blockley with its interesting Norman Church is also close by. View Full Details>>
Shakespeare's Avon Way
92 miles (148 km)
This terrific waterside walk follows the River Avon from its source near Naseby to its confluence with the Severn at Tewkesbury.
Starting at Naseby in Northamptonshire the walk heads to Welford,Rugby, Leamington Spa, Warwick, Stratford Upon Avon and Evesham before finishing at Tewkesbury. There are frequent waterside sections alongside the River Avon and also a section along the Grand Union Canal at Warwick. View Full Details>>
Sherborne Park
2 miles (3.5 km)
Enjoy a short circular walk around this National Trust owned estate near Cheltenham. The walk takes you through attractive woodland, farmland, and the delightful little village of Sherborne.
There is a car park at Ewe Pen about a mile west of the village. You start the walk from here and then head through woodland and the Pleasure Grounds to the village. Look out for wildlife sculptures and the 19th century ice house on this section. At the village you can enjoy refreshments at the tea shop.
The route continues passing the St. Mary Magdalene church and the pretty Sherborne Brook, before another woodland section takes you back to the car park.
The estate is great for wildlife spotting. Look out for skylark, yellowhammer, linnet and hare.
The Cotswold Way and the Monarch's Way long distance walking trails run through the nearby villages of Northleach and Farmington. You could pick up one of these trails to extend your walking in the area.
Head east from the estate and you could visit the pretty Windrush Mill and the village of Great Barrington. Here you can explore Barrington Park where there's riverside paths along the River Windrush and lots of deer to look out for. You could also head a couple of miles south west to Lodge Park and enjoy more good National Trust footpaths. View Full Details>>
Slad Valley
4 miles (6 km)
This circular walk explores the area surrounding the Gloucestershire village of Slad near Stroud. The Slad Valley is famous for its associations with the author Laurie Lee, who based his book 'Cider with Rosie' on his own life in the village. It's a beautiful area of the Cotswolds and well worth exploring with a copy of the book under your arm!
The walk starts in the centre of the village and follows various footpaths and country lanes around the village. You'll pass woodland areas and attractive farmland with pretty streams and brooks to look out for. Also on the route is the lovely Steanbridge Mill and its pond with ducks. It is mentioned in the book as the place where a young Lee used to ice skate in the winter. In the village you can also visit Lee's grave in the peaceful churchyard and visit the Woolpack Inn for refreshments. It's a lovely walk and of particular appeal to fans of the book who will recognise many of the locations.
Part of the walk uses the Wysis Way long distance footpath. This section is at the northern tip of the route. You can follow the path east towards Piedmont and visit the Snows Farm Nature Reserve on the way. It consists of limestone grassland with a huge variety of wildlflowers including early purple orchid, fragrant orchid and pyramidal orchids. It's located just to the north east of the village and worth a visit. You can further extend your walk by continuing along the Wysis Way south to Bisley or north towards Painswick Beacon. Here you will find an Iron Age Hill Fort and fabulous views over the Severn Vale, the Forest of Dean and the Welsh Mountains.
The Cotswold Way National Trail runs to the west of the village through the Painswick Valley and is another good option for continuing your walking in this lovely area. View Full Details>>
Slimbridge Wetland Centre
1 miles (2 km)
Enjoy a stroll around this super nature reserve between Bristol and Gloucester. There are 120 acres to explore on good footpaths and boardwalks which pass over the lakes. The reserve boasts the largest collection of amphibians in the UK and the splendid Flamingo lagoon with the UK's largest flock of flamingos. You can view the birds from a fantasic sunken observatory.
There is a well equipped bird hide and a wonderful rain garden which featured at the Chelsea Flower Show. You can also climb the Sloane Observation Tower for fantastic views of the Cotswolds and the River Severn.
The Gloucester and Sharpness Canal and the Severn Way pass the site so it's easy to continue your waterside walking in this lovely area. View Full Details>>
Snowshill
4 miles (6 km)
This circular walk around the village of Snowshill makes use of the Cotswold Way long distance footpath to explore the surrounding countryside. The village is delightful with typical Cotswold cottages surrounded by lovely rolling hills. It also contains the wonderful Snowshill Manor, owned by the National Trust. This 16th century manor house contains an extensive collection of various objects collated by the architect and poet Charles Paget Wade. These include 26 suits of Japanese samurai armour, bicycles, toys and musical instruments. You can also stroll around the delightful gardens with pretty terraces and ponds.
This 3.5 mile walk takes you into the wider countryside around the village, visiting Littleworth Wood and Buckland Wood on the way. If you would like to extend your walk you could continue along the Cotswold Way to the nearby village of Broadway and visit the splendid Broadway Tower Country Park. View Full Details>>
Source of the Thames
3 miles (5.5 km)
This walk takes you from the village of Kemble to the source of the River Thames at Thames Head, in Gloucestershire. The walk starts from the train station in the village. You can catch a train direct from London Paddington, Cheltenham or Gloucester. Head east from the station and you will soon come to the Thames Path National Trail. It's about a 1.5 mile walk north along the path to Thames Head. Here you will find a monument with an inscription to mark the source of the river. A nearby basin of stones marks the spring, although there is usually only water present during a wet winter. You can return to the village on the same path and then visit the interesting village church. It contains a Norman door and a tower dating from 1250, to which a spire was added in 1450.
You can extend the walk by continuing north west along the Thames and Severn Canal, past Trewsbury House and into Hailey Wood.
The Monarch's Way and Macmillan Way long distance trails also pass through the area. You can pick them up just to the north of Thames Head and then follow them deeper into the Cotswolds. If you prefer you could visit the site from Cirencester. Just follow the Monarch's Way west from the town and it will take you straight to Trewsbury House where you turn south to get to the source.
If you follow the Thames Path in a south easterly direction you will soon come to the splendid Cotswold Water Park. Here there are miles of cycling and walking trails to follow around the 150 lakes. View Full Details>>
Standish Wood
2 miles (3 km)
Enjoy peaceful woodland trails in this large area of woodland near Whiteshill, Stroud. In the springtime there are carpets of bluebells to enjoy.
The walk can be extended by climbing Haresfield Beacon for wonderful views over the Severn Vale and the Cotswolds. View Full Details>>
Stinchcombe Hill
1 miles (2 km)
This circular walk climbs to the lovely viewpoint at Stinchcombe Hill in the Cotswolds. The hill is located just to the west of Dursley so you could start your walk from there and follow the Cotswold Way to the hill. This circular walk, however, starts from the car park about half a mile east of the hill. You follow the Cotswold Way to the hill summit where you will find a topograph displaying all the landmarks you can see from the peak. It's a lovely view with the Tyndale Monument and the village of North Nibley visible across the attractive countryside and woodland below. You can also see the Vale of the River Severn and Forest of Dean from the 219 metres (719 ft) Drakestone Point.
The public footpaths pass Stinchcombe golf course so please keep to the signposted paths only.
After descending back to the car park you have the option of extending your walk along the Cotswold Way. You can follow it through the series of woods on the outskirts of Dursley. This includes Sheep Path Woods, Cockshott Woods and Hermitage Woods. If you continue south along the path you can visit the Tynedale Monument view point and the town of Wotton-under-Edge. View Full Details>>
Stow on the Wold
5 miles (8 km)
The picturesque Cotswolds town of Stow-on-the-Wold has a number of popular long distance trails running through it. You can use these to make a nice circular walk visiting the surrounding countryside and villages.
This 5 mile circular walk starts in the centre of Stow-on-the-Wold and follows the Gloucestershire Way to Upper Swell where there is a reservoir and a small Norman church dating from the 12th century. You then head south to Lower Swell along the Heart of England Way. It's a very pretty little village with the River Dikler, a nice village green and several mellow stone cottages.
The route continues south to Hyde Mill before turning east along the Macmillan Way to Maugersbury. Country lanes then return you to Stow-on-the-Wold.
If you would like to extend the walk then you can head south west along the Gloucestershire Way at Hyde Mill to The Slaughters. Here you can enjoy a lovely walk between Lower Slaughter and Upper Slaughter along the River Eye. It's about a 4 mile walk with more details on the Stow on the Wold to the Slaughters Walk page. View Full Details>>
Stroud
5 miles (8 km)
The market town of Stroud has several long distance walking trails running through it and a number of woods, parks and hill climbs to try. As such it's a fantastic place for walkers and makes a great base for exploring this lovely area of the Cotswolds.
This route is a popular walk along the Stroudwater Canal to the village of King's Stanley using a section of the Cotswold Canals Walk and the Cotswold Way National Trail.
The walk starts in the centre of Stroud, near the train station. Here you can pick up the canal towpath and follow it west to Cainscross. The path continues to Ryeford where you head south on the Cotswold Way to King's Stanley. Here you can visit the 12th century parish church of St George before heading back to the town. You can extend the walk by continuing along the trail south to Middleyard where you will find Pen Hill and Pen Woods. Just to the east of King's Stanley you can enjoy more walking trails across Selsley Common with its variety of flora and fauna. View Full Details>>
Stroud Valleys Trail
6 miles (9 km)
This route runs from Stonehouse to Nailsworth following a disused railway line. The route is traffic free with splendid views of the Cotswolds and makes for a pleasant afternoon's cycling or walking particularly for families.
Click here for more information on this route.
You can further explore the area by following our walk to King's Stanley on the Stroud Canal. View Full Details>>
Symonds Yat Rock
2 miles (4 km)
Enjoy wonderful views over the Wye Valley from this well known viewpoint on the Herefordshire and Gloucestershire border. From the elevated position you have a great view of the beautiful wooded gorge below. It's also a popular spot for birdwatching with peregrine falcons, buzzards, goshawks and hobbies regularly seen. The area is great for walking and cycling with miles of waymarked woodland trails and riverside paths to try. This circular walk starts from the car park and follows good footpaths to the viewpoint. You then continue along the river through the woodland, passing Huntsham Hill on the way. A section along the Perigrine Path then takes you along the River Wye before heading through Riddings Wood to the car park.
There are several other waymarked trails in the area which visit the Iron Age Hillfort and Mailscot Wood. There is also a nature trail with nature boards through an attractive section of mixed woodland. You can buy refreshments from the excellent Log cabin cafe.
This route is designed for walkers but cyclists can try the Symonds Yat Rock Cycle Trail which runs for about 3 miles from the campsite. You can also pick up the Perigrine Path cycle route which runs through Symonds Yat. View Full Details>>
Tetbury
10 miles (16 km)
The classic Cotswolds town of Tetbury has a number of lovely waymarked trails running past it. You can pick these up to explore the attractive countryside surrounding the town and to visit some of the local attractions. This walk makes use of the Monarch's Way and the Macmillan Way to visit the wonderful Westonbirt Arboretum, the 16th century Chavenage House and the nearby village of Avening. It's about a 10 mile walk in total with the option of getting the bus back from Avening to Tetbury. View Full Details>>
Tewkesbury
11 miles (17 km)
This riverside circular walk explore the town of Tewkesbury in Gloucestershire. It's a great place for waterside strolls with the River Avon and River Severn running past the town.
The walk starts in the town centre near to the 12th century Tewkesbury Abbey. You then follow trails north along the River Avon, passing the attractive meadows at Severn Ham. There's lots of pretty wildflowers to see here in the summer months.
Just before Tewkesbury Quay you cross the bridge and follow the Avon round to where it meets up with the River Severn. Cross the Mythe Bridge and head south along the Severn towards Tirley.
The route then crosses the Haw Bridge and follows the footpath on the opposite side of the river towards the village of Deerhurst. Take a short detour here to visit the fasctinating Odda's Chapel. The Grade I listed Anglo-Saxon church dates from the 11th century.  It is partly incorporated into a 16th or early 17th century farmhouse and was being used for accommodation when in 1865 its historic significance was realised.
After exploring Deerhurst continue along the Severn Way back to the town centre and the finish point. View Full Details>>
The Downs Bristol
3 miles (4.5 km)
This walk explores Clifton Down and Durdham Down next to the Avon Gorge in Bristol. The Bristol Downs are a popular place for walkers and runners with nice footpaths, woodland trails and panoramic views of the Avon Gorge and the Clifton Suspension Bridge. It's a great area for birdwatching with 65 species to look out for. Keep your eyes peeled for jays, great tits, song thrush and bullfinch.
In the summer months the meadows and grassland are covered in pretty wildflowers which attract butterflies including small skipper, comma, orange-tip and gatekeeper. There's also a nice tree trail with hornbeam, lime, monkey puzzle and sycamore trees. The trees are numbered with discs so you can easily identify them.
The downs are on the opposite side of the river to Leigh Woods where you will find miles of cycling and walking trails through the attractive woodland.
The Bristol Triangular City Walk passes over the downs, so you could pick this up to extend your walk.
The River Avon Trail also passes the downs. Pick up this long distance trail to explore the course of the river. View Full Details>>
The Slaughters
2 miles (3 km)
This short walk between these two delightful Cotswolds villages is a favourite for visitors to the region. It follows the pretty River Eye from Lower Slaughter to Upper Slaughter. It's a special place with pretty little riverside cottages, stone footbridges, old watermills and picturesque village greens. Don't miss the wonderful 19th-century water mill in Lower Slaughter. It has an excellent museum, craft shop and riverside tea room. View Full Details>>
Three Choirs Way
100 miles (161 km)
Visit the cities of Gloucester, Hereford, and Worcester on this long distance circular walk. View Full Details>>
Tintern Abbey
6 miles (9.5 km)
Visit the fascinating ruins of this 12th century monastery and then explore the surrounding area on this walk on the England-Wales border. This route makes use of the Wye Valley Walk and Offa's Dyke Path to visit local woodlands, countryside and viewpoints. It's a beautiful area with the atmospheric ruins and the river flanked by the attractive woodland of the Forest of Dean.
The walk starts at the abbey car park and heads west along the river to the pretty village of Brockweir. Here you cross the river and head through Caswell Woods where you will find a variety of interesting flora and fauna. The path then climbs to the Devil's Pulpit where you can enjoy fabulous views back towards the abbey and over the Wye Valley. More woodland trails then take you back to the village and the car park.
It's a great area for wildlife spotting with heron, kingfisher, otter to look out for on the river. Also look out for Kestrels around the limestone rocks in Caswell Wood. View Full Details>>
Tyndale Monument
2 miles (3.5 km)
This is a climb to the Tyndale Monument from the popular Cotswolds town of Wotton-under-Edge. It uses a section of the Cotswold Way National Trail to take you from the town to Westridge Woods and then on to the tower. The 19th century monument is an impressive landmark standing at a height of 111 ft (34 m). It was built in honour of William Tyndale, a translator of the New Testament who was born in the area. From the tower viewpoint there are wonderful views across the Cotswold Hills AONB and into south Wales. You can actually climb the spiral staircase of 121 steps for even better views! A topograph displays all the places you can see from the summit. This includes the Somerset Monument at Hawkesbury Upton, another local landmark you can climb to.
The site is next to the geologically significant Nibley Knoll which shows a thick section of Lower and Middle Jurassic rocks. After your climb you can descend into the village of North Nibley and enjoy refreshments there. 
To extend your walking in the area you could try the Wotton-under-Edge circular walk which takes you through the farmland and woodland surrounding the town. It also passes the Newark Park estate with 700 acres of parkland, gardens and lakes to explore.
If you follow the Cotswold Way north then you can visit Stinchcombe Hill where there is another great viewpoint. View Full Details>>
Warden's Way
14 miles (22 km)
Follow the Warden's Way through the beautiful Cotswolds on this delightful 14 mile walk. View Full Details>>
Westonbirt Arboretum
4 miles (6 km)
Enjoy a woodland walk through this beautiful Arboretum near Tetbury in the Cotswolds. View Full Details>>
Winchcombe Way
42 miles (68 km)
This super figure of eight trail takes you on a tour of the stunning northern area of the Cotswolds. The route runs for a distance of just over 40 miles.
The walk begins at the lovely town of Winchcombe and heads to Dumbleton via Gretton and Alderton. At Dumbleton you turn south over Dumbleton Hill and through Alstone toward Cleeve Hill and Common. Cleeve Hill is the highest point both of the Cotswolds hill range and in the county of Gloucestershire, at 1083 ft. Here you will also find Belas Knap neolithic chambered long barrow. A scheduled ancient monument in the care of English Heritage, it has been described as an 'outstanding example representing a group of long barrows commonly referred to as the Cotswold-Severn group'.
Shortly after Belas Knap you return to Winchcombe where the next section of the walk takes to Temple Guiting, passing through Guiting Wood on the way.
The path continues to Snowshill where you can explore the delightful Snowshill Manor. View Full Details>>
Windrush Way
14 miles (22 km)
This lovely walk through the Cotswolds runs from Bourton on the Water to Winchcombe. The path follows the River Windrush to Naunton and proceeds through Hawling and onto Winchcombe. Walk highlights are the easy riverside walking paths and the 15th century, Sudeley Castle with its beautiful, award winning gardens and lovely chapel. View Full Details>>
Wintour's Leap
2 miles (4 km)
Climb to this magnificent limestone viewpoint on this walk in the Wye Valley. You can start the walk from the south western end of the village of Woodcroft. View Full Details>>
Woodchester Park
4 miles (6 km)
This National Trust owned park in the Cotswolds is the perfect place for a peaceful afternoon stroll. View Full Details>>
Wotton-under-Edge
5 miles (8 km)
A circular walk around this pretty Cotswolds town using the Cotswold Way and other public footpaths. It's about a 5 mile walk so should take roughly 2 to 3 hrs to complete.
The walk starts in the centre of the town and takes you through farmland to Wortley before climbing through the woodland on Wortley Hill. The route then passes Newark Park where you have the option to explore the lovely 700 acre estate. The extensive park includes lakes, gardens and more woodland trails.
After leaving the park the route descends to Coombe and Holywell before returning to the town.
To extend your walk you can visit Westridge Woods just to the north west of the town. You can follow the Cotswold Way to the site which includes the Tyndale Monument. View Full Details>>
Wychavon Way
40 miles (64 km)
Follow the Wychavon Way through the Worcestershire countryside on this splendid 40 mile walk.
The walk begins at the town of Droitwch Spa, where you can pick up the waymarked trail just to the east of the town centre and train station. You start of heading east along the River Salwarpe before turning south to Hadzor.
The route then heads through the countryside to Goosehill Wood, Earl's Common, Flyford Favell, Abberton and Church Lench. This section includes a short stroll along the Worcester and Birmingham Canal and woodland walks through Grafton and Old Yew Hill Woods.
At Craycombe Hill you turn west to head through Craycombe Woods towards Wyre Piddle. Here you follow the River Avon to Pershore and Great Comberton. There's nice riverside sections to enjoy here with rushing weirs and lots of wildlife to look out for on the way.
The next section takes you past Banbury Stone Tower which is the high point on the walk. There's splendid views over the Cotswolds countryside from the elevated position of the tower.
From the tower you descend to the east, toward Ashton Under Hill and Cropthorne whose church dates back to the 12th century. You'll also pass Bredon Hill near Ashton under Hill where you can visit the Iron Age Hill Fort of Kemerton Camp and a small stone tower known as Parsons Folly at the summit.
The final section then runs from Ashton to Sedgeberrow and Ashton Somerville before finishing in the popular Cotswolds village of Broadway where you can enjoy a visit to the splendid Broadway Tower Country Park. View Full Details>>
Wye Valley Walk
138 miles (222 km)
This walk takes you through the beautiful Wye Valley in Gloucestershire, Herefordshire and Wales.
The walk begins on the mouth of the River Wye at Chepstow Castle in Monmouthshire and follows the River Wye north to Monmouth, passing the fascinating ruins of Tintern Abbey on the way. You continue through Ross on Wye to Hereford and then onto Hay on Wye. You then return to Wales and head to Builth Wells, Newbridge and Rhayader before the final stretch takes you towards the source of the Wye on the slopes of Plynlimon mountain in the Cambrian Mountains of Powys. View Full Details>>
Wysis Way
55 miles (88 km)
The Wysis Way runs for 55 miles from Monmouth in Wales to Kemble, in Gloucestershire. The way links the Offa's Dyke Path and Thames Path national trails.
Starting from the Wye Bridge in Monmouth the Wysis Way heads eastwards up to The Kymin and on into the Forest of Dean. Continuing east the trail goes through Hillersland before continuing through the Forest, passing through Nailsbridge, Harrow Hill and Mitcheldean on its way to the top of May Hill where there are fabulous views of the River Severn. From May Hill, it continues eastward through Glasshouse, Taynton, Tibberton and the edge of Highnam before reaching Gloucester. At Gloucester, the trail heads south east to Robinswood Hill, before continuing southeasterly through Painswick, Bisley and Oakridge Lynch before reaching its end in Kemble, where it meets the Thames Path. View Full Details>>